Trends
All is not well in Ladakh, Sonam Wangchuk urges to PM.
Sonam Wangchuk, the Ladakhi social reformist whose life story inspired the Bollywood blockbuster '3 Idiots,' has urged Prime Minister Narendra Modi to ensure the safety and security of Ladakh, as studies show that almost two-thirds of the Union Territory's glaciers are vanishing.
The need for the appeal in Ladakh.
Sonam Wangchuk emphasized that if the irresponsibility continues and Ladakh is not protected from industry, the glaciers here may go extinct, causing significant issues due to water shortage in India and its neighbors.
"If no action is done, industry, tourism, and trade will continue to thrive in Ladakh, eventually destroying it. Previous findings from Kashmir University and perhaps other research groups have determined that if glaciers in Leh-Ladakh are not adequately cared for, they will be reduced by approximately two-thirds. According to a study conducted by Kashmir University, glaciers surrounded by roadways and human activity are melting at a substantially quicker pace "Wangchuk explained.
Global warming caused by America and Europe is not the only cause of climate change; geographic pollutants and emission levels are also to blame, as increasing human activity in places like Ladakh is compromising the glaciers and preventing them from surviving nice and clean for residents here and across the country," he stated.
The engineer-turned-education reformer also urged Prime Minister Narendra Modi to preserve Ladakh as well as other Himalayan territories from "industrial exploitation," emphasizing the need of adopting sustainable development. It would assist to protect people's lives and jobs, he continued.
Wangchuk urged that the honorable PM preserve Ladakh and other Himalayan areas from commercial exploitation, which would have an impact on and protect people's lives and jobs. He did, however, argue that not just the government, but also residents, should be conscious of climate change and act to mitigate it. The need of adapting to a sustainable way of life, in which resources are used to accomplish development goals while simultaneously being protected for future generations, so that nature may continue to give resources and services to humans, should be emphasized.
He also urged the students to avoid wasting food and clothing since it negatively impacts the environment.
Wangchuk 'desperately' urged the citizens of the nation and the globe to help conserve the "environmentally fragile" region of Ladakh in a 13-minute video uploaded on his YouTube page. He has also urged Prime Minister Modi to act and protect the ecology under the Indian Constitution's sixth schedule.
"Sonam Wangchuk in Ladakh (in the Indian Himalayas) is pleading with the people of India and the rest of the world to help conserve the environmentally fragile territory of Ladakh. He requests that the Prime Minister of India intervene and protect this vulnerable environment by the sixth schedule of the Indian Constitution "the YouTube video's description said.
Wangchuk began a five-day climatic fast to "rescue Ladakh" on the summit of the Himalayan Institute of Alternative Ladakh (HIAL) in Phyang on Republic Day. He is pursuing constitutional protection for the region's unique geography and environment.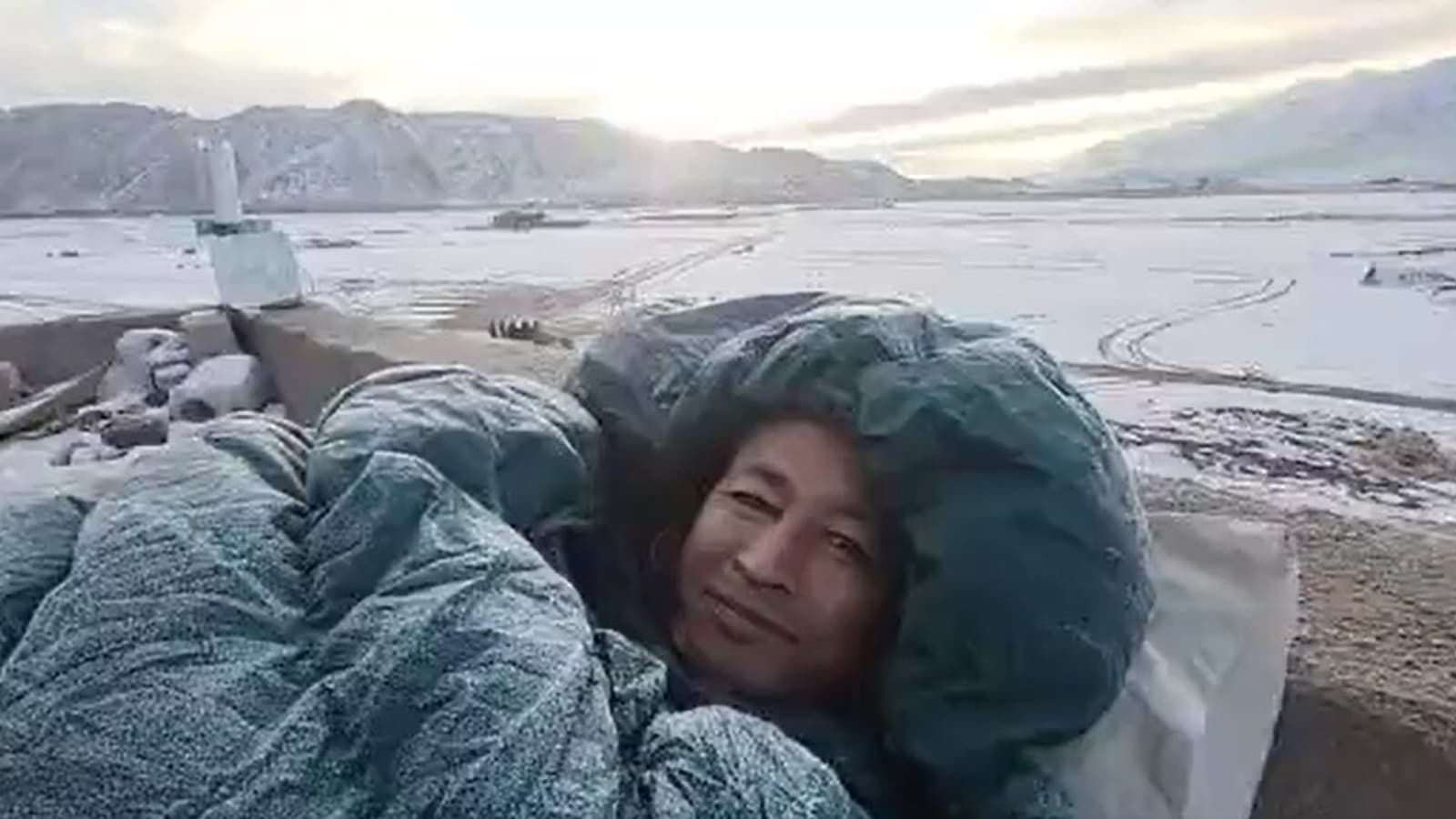 Wangchuk, a BJP supporter, states that following the repeal of Article 370 and Article 35 (A) in Jammu and Kashmir in 2019, the government vowed to safeguard the culture, land, and ecology by granting Ladakh special status under the Constitution's Sixth Schedule.
It's been a triple of years, and still, the regional folks haven't received any protection, even though over 90% of Ladakh's population is tribal. According to reports, major industrial players are eager to acquire property for tourist and infrastructure projects. "Imagine if it is left open to everyone; there would be large mining enterprises, and then much worse can happen," Wangchuk says, adding that his carbon-neutral climate fast is an expression of solidarity with the territory under immense anthropogenic pressure.
He was supposed to fast for five days at the height of 18,500 feet at Khardungla, one of the world's highest motorable roads. But Wangchuk believes that the local authorities have confined him to HIAL for there is a worry that if "I reach the Khardungla peak, it might attract global notice".
Wangchuk believes that the effects of the development projects will be far-reaching since the Himalayan glaciers provide water to the entire northern plains, and the lives and livelihoods of millions of people are dependent on the Indus, which transports water to the plains' rivers.
According to a study, Himalayan glaciers are melting fast as a result of rising temperatures and increased anthropogenic activities. Ladakh residents have become water refugees as surrounding water supplies have run dry, forcing them to evacuate their homes. Wangchuk says that now is the time to talk and shout for such measures before it is too late because large-scale infrastructure and development activities in the valley have yet to begin.
Before we get into how tourism and development projects might send a depressing message to Ladakh and its people, let's look at what has changed since the area became a Union Territory (UT) in 2019.
The last call. 
The alarms were not heard in the past, and the result is in front of us as a result of the Joshimath Saga. Hope the concerned authorities listen to this plea before it is too late. 
Edited by Prakriti Arora