If your app usage revolves around social media, email, and transportation, you may want to breathe some fresh, creative energy into your smartphone rotation. There is something satisfying about drawing on paper with an old fashioned pen or pencil.
But when the inevitable time comes to delete your mistakes, the command+Z doesn't quite seem to work. Luckily, technology is on your side. With the best art and design apps ready to go on a mobile device, artists and creatives can quickly move through changes and iterations to create their best work yet.
Ranging from an enticing digital drawing experience to social media tailored for artists, these apps will help you create and share your own art or discover the work of others, from peers to art historical masters.
1. Adobe Comp
2. Layout for Instagram posts
3. Adobe Capture: Tool for Photoshop, Illustrator
4. Graphionica Photo & Video Collages: sticker & text
5. Desygner: Free Graphic Design Maker & Editor
6. Adobe Spark Post: Graphic Design & Story Templates
7. Poster Maker 2021 Flyer, Banner Ad graphic design
8. Infinite Design
9. Mockup Generator Mockitup
10. Unfold — Story Maker & Instagram Template Editor
Lay out an idea with real assets like photos, text, shapes and fonts. Send the wireframe to Photoshop, Illustrator, InDesign to refine and finish.
Graphic designers and artists can explore a concept using:
• Prebuilt mobile, print and web sizes. Create your own custom size.
• Gestures that drop in placeholder text, basic shapes, graphics and editable text boxes.
• Guides and grids to align and work with spacing controls.
• Professional fonts powered by Adobe Fonts.
• Send the idea to the desktop where it will automatically open in InDesign, Illustrator or Photoshop.
Try using Comp with:
Photoshop
Illustrator
InDesign
You can also take advantage of other Creative Cloud services like:
ADOBE STOCK
Incorporate high-res, royalty-free photos and images as temporary or licensed assets.
LIBRARIES
Get easy in-app access to your assets — including Adobe Stock images or vectors and color themes from Capture.
LINKED ASSETS
Assets you pull into Comp from your Library will display as linked files in Illustrator and InDesign and as Smart Objects in Photoshop.
POWERED BY CREATIVESYNC
Adobe CreativeSync ensures that your files, fonts, design assets, settings and more all instantly appear in your workflow wherever you need them.
2GB FILE STORAGE
Use of Adobe mobile apps requires a free, basic level of Creative Cloud membership, which includes 2GB of complimentary storage for file syncing and sharing.
2. Layout for Instagram posts : Panoslice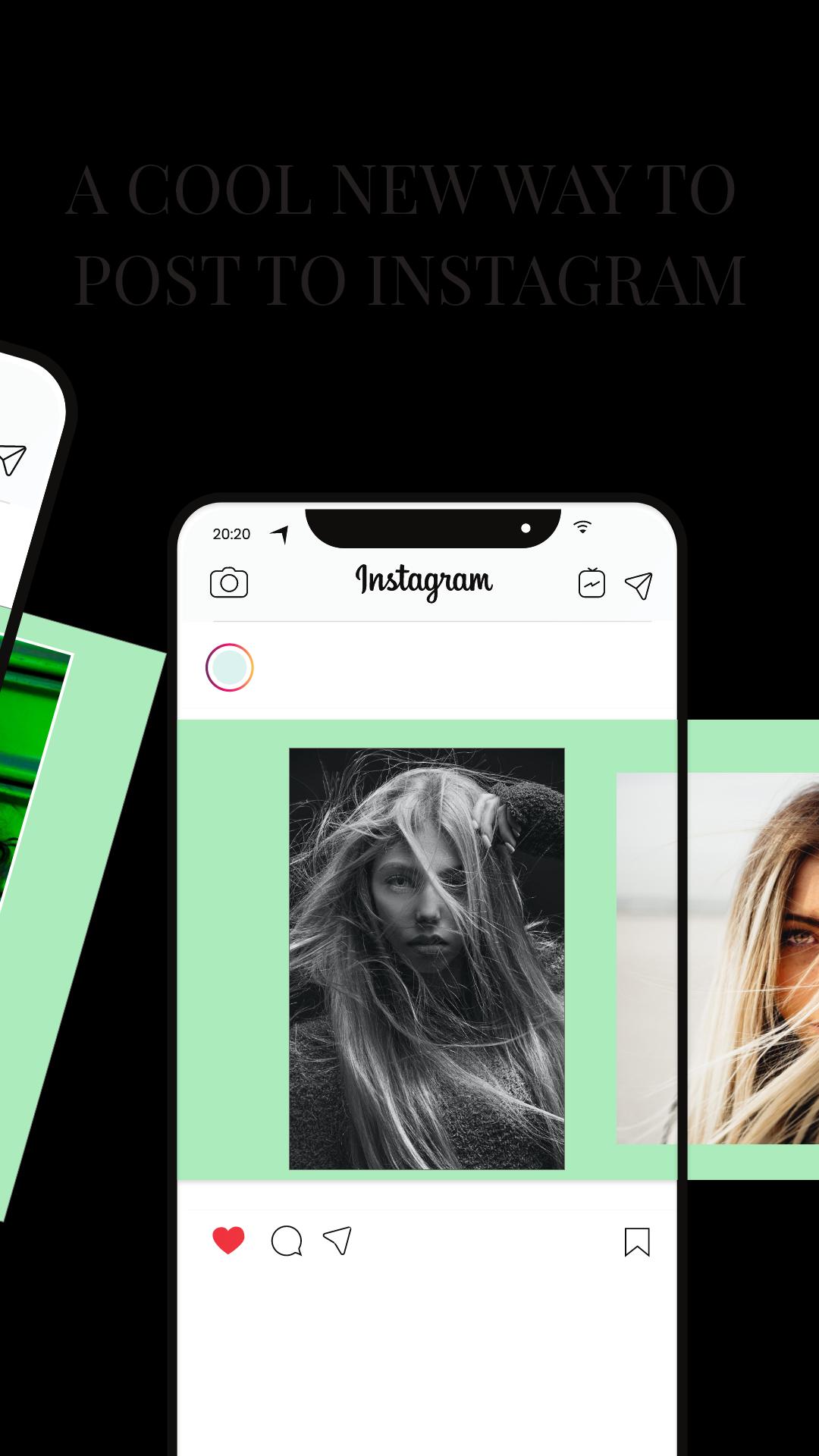 Create beautiful scroll posts, story & collage layouts with 200+ design templates for your instagram profile. Panoslice is a unique & powerful canvas editor that let's you design creative multiple posts, instagram carousels, stories & more.
Create compelling photo grid collage for posts in minutes, keep your followers hooked with every swipe. Panoslice is a creative instagram post maker that offers 200+ professional designs for instagram feed layouts & story collage templates. Create stunning photo collage layouts for instagram & insta stories with our easy-to-use designs, fonts & tools that will take your content creation to the next level.
– Instagram grid & post templates from collections like Ripped Paper, Polaroid frames or FILM templates
– Use advanced typography tools to create the perfect message for your followers
– Add Photo filters, stickers, textures & backgrounds
– Share to instagram, facebook, linkedin, whatsapp & more
|Seamless Canvas|
|Templates & Collage Layouts|
|Fonts & Text editing|
|Filters, Effects, Image shapes & more|
|Backgrounds & Stickers| 🎨
|Aspect Ratios|
|Panoslice Premium|
Panoslice premium is a membership that will unlock your creative potential without any limits. Become a member to unlock the full experience of Panoslice.
– Access to unlimited templates & fonts & all premium assets like stickers, masks etc
– No ads
– Cancel Anytime
No rush though! Until you're ready, use the app for free & make the most with free instagram templates.
Panoslice helps you create unique content for your audience & gain new followers to. Design combinations that are never seen before almost like creating unique story art. Unfold new opportunities with design on our seamless canvas. Start creating unique brand posts now!
3. Adobe Capture: Tool for Photoshop, Illustrator
Adobe Capture turns your Android phone/tablet into a creation machine. Imagine looking through your camera to see patterns, vectors, and even fonts. Now imagine turning those visions into design materials to immediately use in Adobe Photoshop, Adobe Illustrator, Adobe Premiere Pro, Adobe Fresco, and more. The power to transform the world around you into creative assets to build your projects is in the palm of your hands today.
Vectorize on the Go
Create vectors instantly with Shapes. Turn images into smooth, detailed, scalable vectors with 1-32 colors, for use in logos, illustration, animation, and more. Point and shoot at your drawing or upload a photo and watch it magically transform into clean, crisp lines.
Identify Typography
Find your perfect font using Adobe Capture. Take a photo of the type you like (in a magazine, on a label, a sign, anywhere!) and watch a list of similar Adobe Fonts magically appear.
Create Color Themes and Gradients
Designers, rejoice! Looking for customized color palettes? Find an inspiring gradient? Aim your camera at the scene that has the colors you want and capture them to use in your artwork.
Build Beautiful Digital Brushes
Can't find the right brush to paint? Take a photo or use an image to create digital brushes that match your creative vision. Use your brushes in Photoshop, Illustrator, or Fresco for rich painterly effects.
Craft Intricate Patterns
Capture inspiring images and generate patterns with Capture preset geometrics. Easily create beautiful, colorful patterns that fit with your creative projects by using your vector shapes with our precision pattern builder.
Generate 3D Textures
Generate realistic PBR materials for use in 3D design straight from the camera. Modify your materials for even more texture or blend the edges for seamless repeat tiling on your 3D objects.
Capture Light and Color
Collect light and hue to turn into beautiful color grading profiles for your images and videos with Looks. Record the magic of a sunset and transfer that feel to use in your photos and video projects.
Seamlessly Sync Creative Elements
All your assets save to Adobe Creative Cloud libraries. Instantly access your digital elements from your Creative Cloud account in all compatible applications.
MediaPost Appy award winner 2016!
Compatible Adobe Apps and Programs for Creative Assets
Photoshop, Adobe Fresco, Photoshop Sketch, Premiere Pro, Illustrator, Illustrator Draw, InDesign, Dimension, After Effects, Dreamweaver, Animate, and Muse
2GB FILE STORAGE
The free, basic Creative Cloud membership includes 2GB of complimentary storage for file syncing and sharing.
4. Graphionica Photo & Video Collages: sticker & text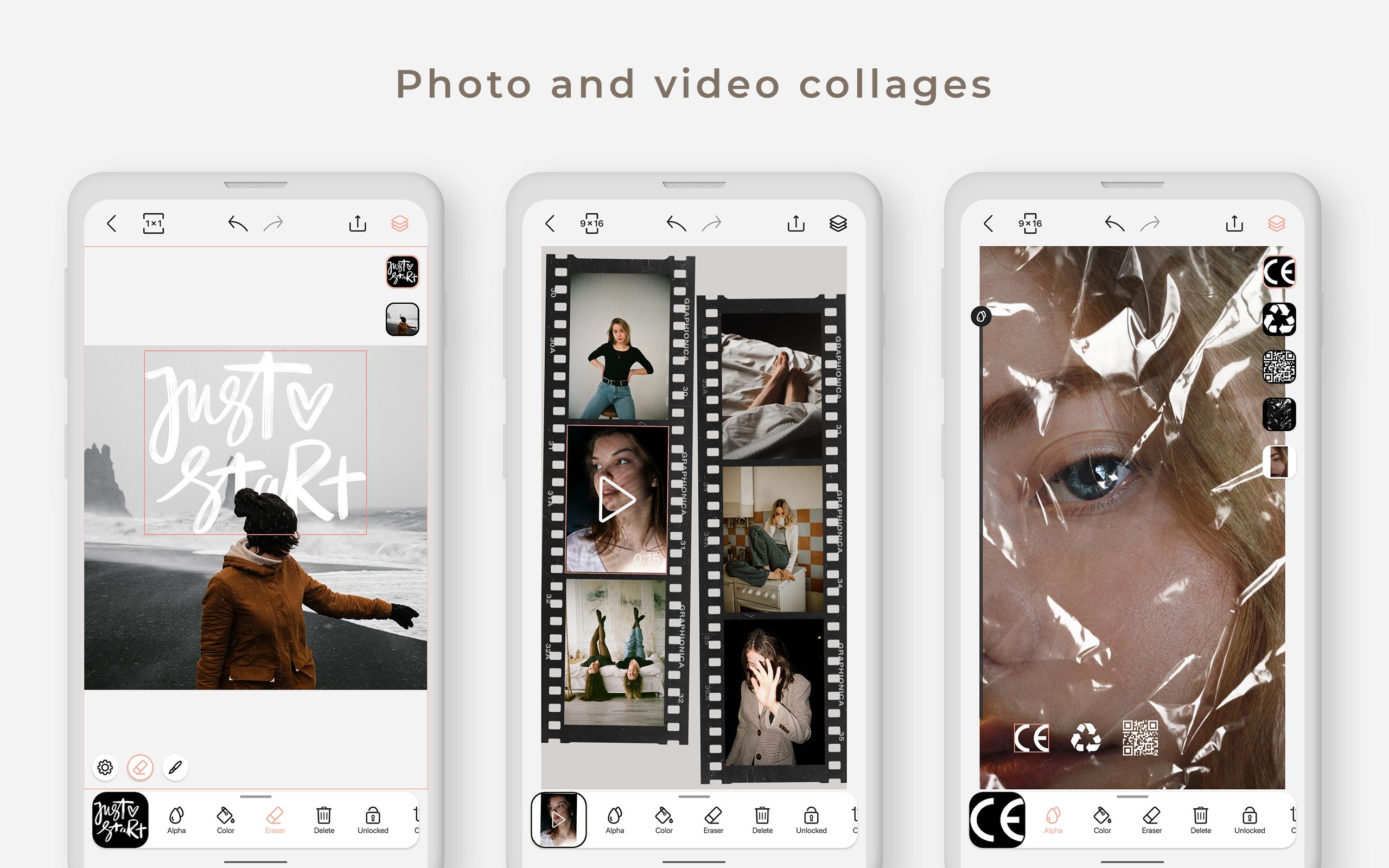 Graphionica is a stylish free photo editor, where you can create awesome beautiful Instagram stories and make designs for any social network. Create beautiful collages, combine several photos and videos at the same time, add drawings, stickers, and textures for backgrounds.
You can add text on photo or video, add stickers on photo or video, add lettering on photo or video, add inscription on photo or video and plan social network feed. You can erase the background from any photo and save the result as your own sticker. You can erase video! Surprise your Instagram followers! Add awesome fonts to your Instagram stories! You'll also find unique editable templates for Instagram (stories).
Add free ready letterings from regularly replenished sticker packs or write your own text with one of many fonts available in the application, as some fonts support Cyrillic.
Use ready templates.
Start your project in a second: just use a ready template! Templates are fully editable, like your own projects! Create project from a template, add stickers, add photos and videos, change some layers and you are ready!
Create your own templates.
Find your unique style, save collages and plan social feeds. Now creating beautiful Instagram stories has become even faster! Templates can be deleted, swapped and duplicated! Create one template and reuse it many times.
Graphionica supports all popular resolutions for stories and Instagram feeds. Export your story in high resolution and without quality loss.
Add anything: drawings, calligraphy and inscriptions in png format.
Erase photos, stickers and your custom texts, work with layers: change order. Objects can be duplicated and reflected horizontally and vertically, as you create collages even faster!
Graphionica supports video. You can create collages, erase the background, and even add stickers, custom texts and inscriptions on your video!
History.
We have implemented history in the photo editor – you can undo any action: changing the position, changing the size, changing the transparency, changing the color or eraser. You can use up to 50 history states!
5. Desygner: Free Graphic Design Maker & EditorFrom
From social media posts and ads to infographics and book covers, Desygner lets you design, edit and customize incredible graphics for any purpose!
With 1000s of unique templates to help you get started, you can make beautiful graphics in minutes!
WHY USE DESYGNER?
• No paying for individual graphics or image packs
• Access millions of royalty free images, fonts and icons
• Lots of free fonts and graphics added each day
• 1000s of professionally designed templates for you to customize
• Pre-made templates for any purpose, from ads to album covers
• Create your own custom templates and layouts
• Add text, graphics and effects to your photos
• Make and edit designs from anywhere, on your phone, tablet or PC
• Share your designs with friends in seconds
• Print your graphic designs directly from your phone
• Manage your designs and downloads from your project page
• Customize your privacy settings
LOGO DESIGN
Choose from and customize a wide range of logos for your brand or business. Our drag and drop editor makes it easy to edit logos to suit your business, or you can create your own with our huge library of shapes, graphics, fonts and colors.
BLOGS & WEBSITE POSTS
Take your blogs and Websites to the next level. Eye-catching graphics are key to engaging your users and creating high quality blog posts.
AD DESIGN
Desygner has a range of templates already sized perfectly. All you need to do is take them for your brand or business. Create ads for social media or any other platform, such as:
• Facebook Ads
• Google Ads
• IAB
… and many more!
MARKETING MATERIALS GALORE
Any marketing material you can think of, you can create it in Desygner. Such as:
• Posters – Sale, Events, Clubs, Party, Inspirational, Music
• Business Cards – Photographic, Modern, Minimalist
• Flyers A5, A4, DL, US, international – Events, Clubs, Band, Real Estate, Business
• EBook covers, Kindle covers & Book covers
• Album Covers, CD, Podcast & Mixtape Covers
• Menus
• Letters
• Invoices
• Certificates
• Price Lists
• Newsletters
• Email Campaigns
• Wattpad
• Banner ads
PRESENTATIONS
Create and edit stunning, professional looking presentations on the go! You can even present directly from your phone!
PERSONAL AND FUN
• Resumes/CV Creator
• Invitations, Cards – Birthday, Party, Wedding, Engagement, Christmas, and more
• Postcards & Greeting Cards – Birthday, Thank You, Parties, Weddings, Engagement, Love
• Photo Collages – Birthdays, Love, Families, Babies
• Magazine Covers
• Planners, Vision Boards and Mood Boards
• Memes & Awards
PHOTO LAYOUTS
Create photo collages and convey messages in your photos with text or captions. Choose from 1000s of fonts, graphics and effects to suit your style. Adjust the line height, line spacing, alignment, position, color, and size to create your perfect photo design to share on social media or anywhere else.
DESIGN ANYTHING
You can create your own custom layouts and templates any size, dimensions and for any purpose. With Desygner, you have total creative freedom!
6. Adobe Spark Post: Graphic Design & Story Templates
Adobe Spark Post is the fun, fast and easy way to create stunning graphics for any occasion — no design skills necessary!
Get started in seconds with professionally-designed templates you can tweak to make your own with just a few taps. Pick your images, add text on photos, and apply Design Filters to instantly create stunning, thumb-stopping graphics. Explore completely new layouts, color palettes, typography styles or filters in a single tap. Promote your work and your brand online and make flyers, ads, collages and invitations for free.
Easily share your designs via your favorite platforms to wow your followers. Add flair to social media posts and upgrade your Instagram stories with video.
WHY YOU'LL LOVE SPARK POST:
STUNNING GRAPHIC DESIGNS IN SECONDS
◆ Animated Video Posts — One tap to create eye-catching animated posts and share them as videos on your Instagram stories
◆ Design Filters — Turn your text and photos into professional-looking graphics in one tap
◆ Auto Resize — Instantly resize your design to perfectly fit each social platform
◆ Auto Recolor — Tap to change the color palette of your design for a new feel
◆ Magic Text — Apply beautiful typography to make your text pop! Resize the text and watch the magic happen on the fly!
◆ Text Effects — Enhance your creativity with shadow, outline and cut-out effects. Use them individually or combine them to create awesome text styles
◆ Magic Layout —Place text on photos. Combine your photos and text with ease for dynamic layouts
◆ Text Cutouts — Reveal the background image through your text with a single tap
INSPIRATION EVERYWHERE
◆ Remix Feed of Fresh Designs — Get started in seconds with thousands of impactful, professionally-designed templates
◆ Hand-Picked Fonts & Shapes — Curated by graphic designers to fit every occasion
◆ Millions of Free Photos — Access over a million high-quality stock photos for free directly in the app
SHARE WITH IMPACT
◆ Sync Everywhere — Everything is backed up to the cloud so you can start your design on your phone, tablet or computer and continue on another device without missing a beat
◆ Instant Sharing — Save your designs for later or share them directly to Instagram, Facebook, or any other social platforms
BRAND YOUR DESIGNS
Available with your Creative Cloud subscription or purchase @ https://adobe.ly/2ISYI5U
◆ Add Your Brand Ingredients — logos, colours, and custom fonts — to make your designs uniquely yours
◆ Brandify — Instantly apply your branding to any projects in one tap
Adobe Spark Post is the ultimate design app for solopreneurs, small business owners and anyone who wants to create ads, flyers, collages, invitations and more for free. No more blank slate anxiety! Layouts let you get started instantly. Our templates are ideal for sharing your ideas to Instagram Stories and across your social media. Powered by Adobe Sensei, our AI intelligently resizes designs so they are picture perfect for every platform.
7. Poster Maker 2021 Flyer, Banner Ad graphic design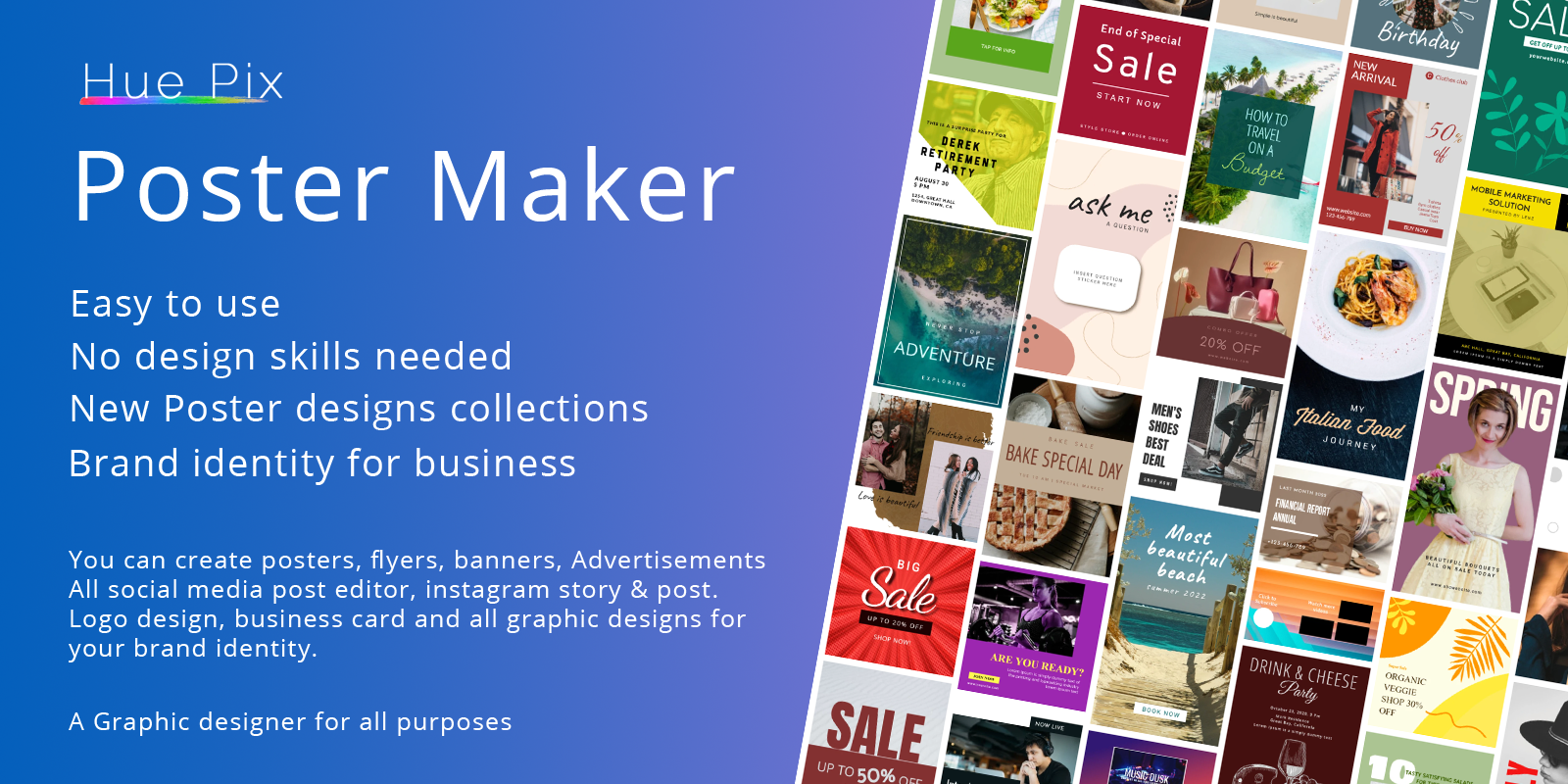 Huepix Poster Maker 2021 is the new graphic design editor for creating Posters, Flyers, Advertisement Banners, Social Media Posts, Invitations, Business Cards, Logo Designs and any kind of graphic designs for business promotion and marketing.
Huepix Poster Maker 2021 features:
1. Ready to use poster templates and layouts.
2. Easy to edit flyer templates.
3. Huge collections of fonts, images and SVG vector illustrations.
4. Remove background from photos automatically.
5. Upload your Image or search for online stickers.
6. Text art & text effects.
7. Add your own fonts.
8. Crop image by shapes.
9. Photo Editor & photo Filters – adjust brightness & contrast, blur and overlay effects to make your designs look professional.
10. Brand Tools kit for your business – Add brand Logo, fonts & brand colors.
11. Layer management, Undo and Redo.
12. Auto Save your flyer.
13. Save your image as PNG, JPEG and PDF.
14. Share on Facebook, WhatsApp, Instagram, twitter and other social media in a tap.
15. Print the banner in high quality.
The Poster Maker will fulfil all your business graphic design needs. Become a professional poster designer for your company by creating unique branding and advertisement banner graphic designs. It is the Perfect tool for branding, marketing and brand identity.
What you can Create with Huepix graphic designer:
Create posters for business promotion, brand marketing and events. The Poster maker has creative graphic designs with new collections of sales posters, music party posters and business Advertisement posters.
With Flyer Maker create flyers for marketing. Choose a template and edit in the flyer maker with photo and text to customize your designs. It is useful to create advert for your shops like sales flyer designs. With Flyer Maker you can print flyers, business pamphlets and marketing leaflets for distribution in just 5 minutes. Create trifold brochure catalogues similar to a product booklet.
8. Infinite Design
Rebuilt from the ground up: blazing fast, incredibly stable, with an improved interface.
An unparalleled experience
• Infinite canvas (pan, zoom, or rotate)
• Intuitive path editing
• Boolean operations
• Align and distribute objects
Superior tools
• Experiment with four types of symmetry
• Unlimited layers
• Unlimited undo with a history slider; scrub through from start to finish
• Easily construct shapes with the pen tool
• Draw 3D cityscapes with five different perspective guides
• Text tool: horizontal, vertical, circle, or text on path
Streamlined interface
• It's simple. It's organized. It's out of the way.
• Move your favorite tools to the top bar for quicker access
• Drag out the color wheel with two fingers
Advanced features
• Transform tool: Translate, Scale, Rotate, Flip, Distort, and Skew
• Gradient and Pattern Fill
• Rotate and flip the canvas
• Automatic shape detection
• Grid for reference or snapping
• Vectorize: turn any image into fully editable vector paths
Import and export
• Import and export SVG
• Add images from Gallery, Camera, or search the web
• Export images as JPEG, PNG, or SVG
• Share to Infinite Studio community or Instagram
• Search millions of colors, palettes, and patterns via ColourLovers
9. Mockup Generator Mockitup – Shirts Mockups & More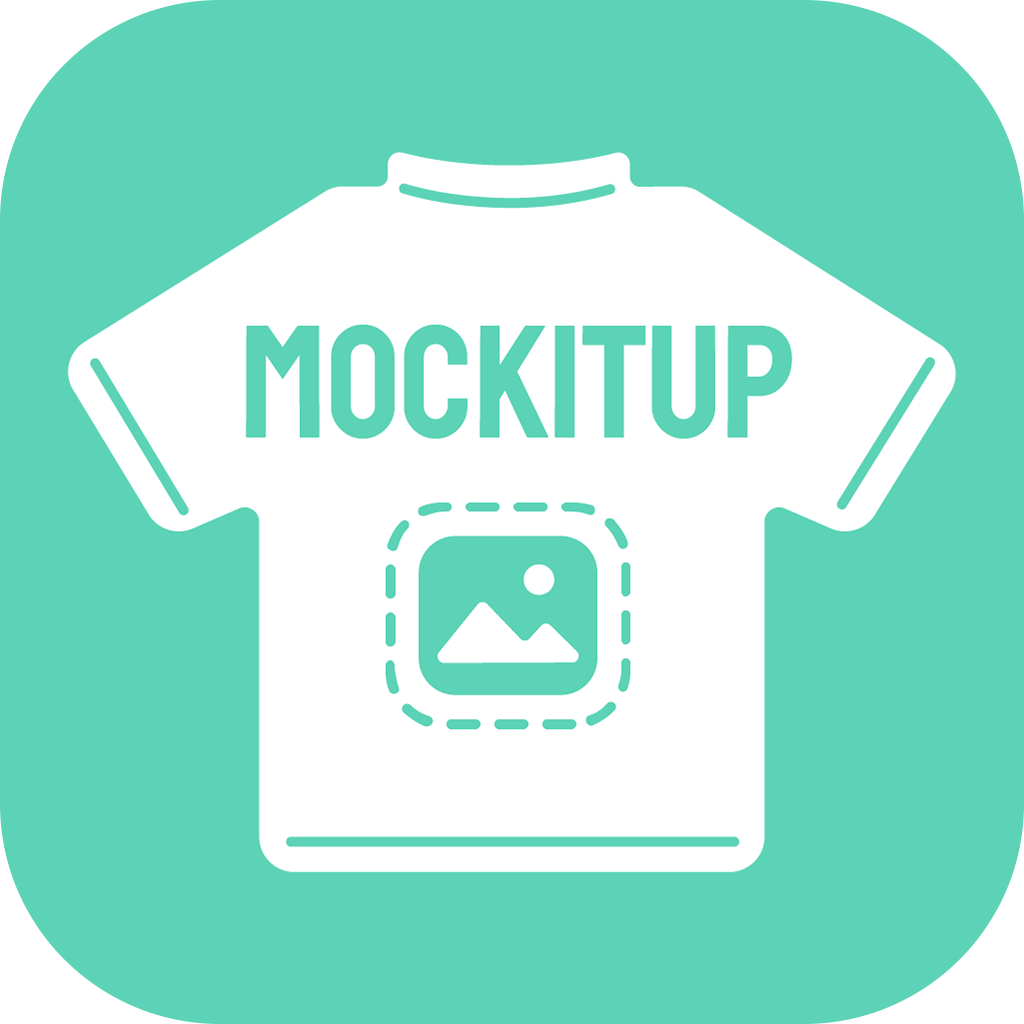 Super simple to design. Present your logo graphic designs with ready-to-use & massive mockup library in Mockup Creator! Post mockups to your social media and boost your online print business.
Mockitup is a completely new way to create mockups or view packaging designs on your phone. There is an ever-growing library of various mockup options. Each user can easily get extraordinary mockup result in 30 seconds with just a few taps on the phone. The features provided by such a mockup logo maker are the perfect blend of ease of use and flexibility when you need it!
In Mockup Generator, you can easily:
– Turn your creative canva logo graphic idea and packaging design into a 3D zazzle T-shirt, hoodie, mug or other product mockups without complicated skills required.
– Personalize everything: favorite mockups, change colors, automatically save projects, and choose advanced export options.
– Use the works directly to free prints, zazzle, Shutterfly, Printicular, Mixtiles, MyPostcard, etc.
– Quickly share your masterpieces on Whatsapp, Instagram, Facebook, etc. and boost your online business on Etsy, Shopify, Printful, Redbubble.
•Rich mockup options
Make Cricut DIY craft designs easily with our rich mockup library. Free mockups for T-shirts design, brands and logos design, books design, boxes and bags design, mugs and bottles design, phones and desktops display, etc. And we will add more and more mockups in the future version. You will find one that you like.
•Multifunctional mockup maker
A versatile mockup maker for book, business card, product, mobile and more. A combination of logo maker, logo designer, flyer maker, poster maker, mockup generator with hundreds of free templates.
•T-shirt design maker
Transform your photo into a unique T-shirt, hoodie, tank top with this t-shirt design app. Use this mock app design t shirt you like. The t shirt design app front and back helps to present your T-shirt designs in a canva super effectively. And there is no limit to how you create the most unique and zazzle clothes with this t-shirt maker! Getting mockup effects like Snapfish and Shutterfly is never easier.
•Mug mockup creator
Choose from tons of mug mockup styles featuring diverse models and canvas. Visualize your design, in a photorealistic way, with our variety of mug mockup items and templates.
•Bag mockup designer
There are many professional bag mockups for your mock up logo maker. Change the bag's color with the help of mockup maker with just a click, it couldn't be easier.
•Great color tool
We not only offer you the widest range of colors to change the look of the template, but also provide the color picker and advanced palette tool for you to get the right color. Just custom ink immediately!
•Powerful searching feature
This mockup maker provides the searching feature so that you can quickly find the mockup you need. And more and more 3D mockup will be added as soon as possible based on your search terms.
Mockup Creator is a large and free mockup placeit for every user to display realistic previews of their logo design works. This is a universal marketing mock-up editor, invitation maker & card designer. Use convenient features to make your snaptee mugs, photo gifts, business card, clothing, and T-shirt in a tap.
In our app, whether you are a professional designer or a design enthusiast, you can always find a suitable mock-up to display your works.
10. Unfold — Story Maker & Instagram Template Editor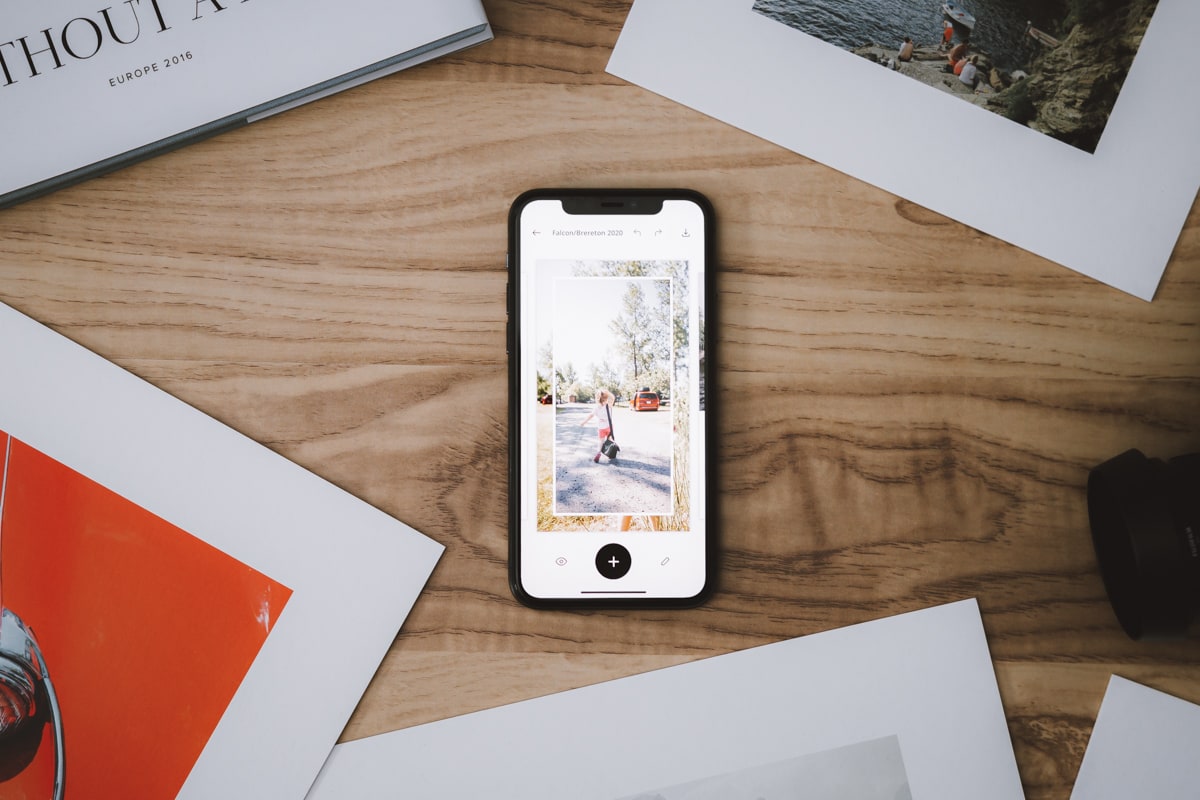 Unfold is a photo editor and video maker for stories that offers a collection of 400+ award-winning Instagram story templates. Create beautiful collages for IG Stories, schedule posts with our easy-to-use feed planner and use designs, filters, fonts and tools to take your content to the next level.
— Templates & Collages
Explore spectacular template collections and use the Unfold Studio to upgrade your feed. Add any photo or video into the frames with our photo editor and video maker tools and use our feed planner to instantly design gorgeous social feed content and IG Stories like an influencer.
— Fonts & Text Editor
Apply new fonts to elevate your stories with text with our powerful text editing tools and hand-picked fonts. Use our text editor and maker tools to add text to any photo or video and take them to the next level.
— Filters & Effects
Use our photo editor to create and edit photos with filters, such as Tulum, Reykir, Canarias and Bedford. Our video maker has animated templates and effects like Glitter, VHS and Glitch. Photo editor tools include Brightness, Contrast, Shadows, Highlights, Saturation, Warmth, Crop and Tint — so you can get the perfect look every time.
— Backgrounds & Stickers
Add backgrounds and textures to your layouts. Select from color presets and texture patterns. Edit with the color picker or eyedrop tool to get the perfect hue or tone, or use hex codes to keep your brand cohesive. Unfold is your art lab and feed planner for luxe design.
— Feed Planner
Unfold is perfect for planning and scheduling Instagram feed posts. Sync Unfold with your Instagram account and use it to build an eye-catching feed, in advance and with ease.
— Bio Sites
Design and create your personalized, online business card with Unfold's Bio Sites. Present your bio, social media and professional website links, add support me buttons to receive payments via PayPal or Venmo – all in one personalized design with your profile picture and custom URL. Make the most of your Instagram feed by linking it to your Bio Site.
Unfold+ is a subscription created to help you reach your creative potential. Become a member to unlock the full experience.
· Access any story template or font
· Early access to new collections
· Exclusive releases and designs
· Cancel anytime
Unfold Pro is a subscription to bring your creative flair to life on social. Create engaging content for your personal brand from anywhere with the feed planner.
· Upload custom fonts to use in your stories or use a template
· Add your brand colors
· Sync your logos and stickers
· Share your stories to the web with a stories link
· Includes Unfold+ membership