Trends
Bolsonaro, Trump: A tale of populists and two capital city riots
Trump and Bolsonaro: A tale of populists and two major city riots. The events of January 6, 2021 and January 8, 2023 are eerily similar, as are the leaders of the two violent mobs: Donald Trump and Jair Bolsonaro. We clarify.
The Congress, the Presidential Palace, and also the Supreme Court of Brazil were among the important government buildings in Brasilia that Jair Bolsonaro's supporters stormed and ransacked on January 8. Bolsonarists agitated for the outcome of the October 2022 presidential election in scenes reminiscent of the uprising in Washington, DC on January 6, 2021.
A little more than three hours were spent during the uprising. The wrongdoers will be "punished," according to President Luiz Inacio Lula da Silva, who also accuses Bolsonaro—who is currently residing in Florida and has not yet officially conceded defeat—of inciting his supporters by making up stories about election fraud.
Bolsanaro and Trump are two examples of right-wing populist leaders who have seized power in a number of nations by capitalising on widespread anti-establishment sentiment through strident anti-globalist and anti-minority rhetoric. These leaders have since attacked and undermined numerous democratic institutions in their respective nations.
Trump has previously urged Brazilians to support Bolsonaro, also known as the main "Trump of the Tropics," and the two have openly expressed their admiration and support for one another.
Bolsonaro, Trump: Election losses and ensuing uprisings
The events that occurred in Brazil on January 8 were almost a carbon copy of what transpired at the US Capitol two years prior. In both instances, the country was "taken back" by enraged supporters of a president who had lost an election unfairly, in their opinion. They stormed the government buildings. Their leaders, Trump and Bolsonaro, encouraged them in both instances by making flimsy allegations of election fraud.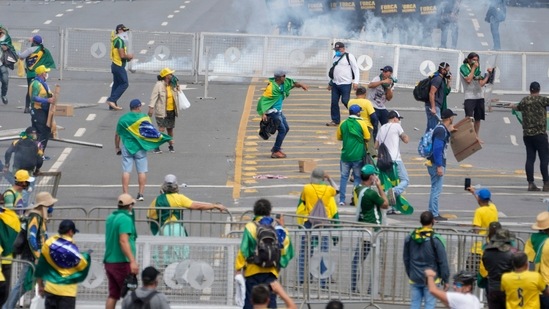 Trump stated, "If we don't root out the fraud, the tremendous and also horrible fraud that's taken place in our 2020 election, we also don't have a country anymore," in a speech on December 2, 2020.
Two years later, Bolsonaro's son claimed that his father was the main victim of "the greatest electoral fraud ever seen," using nearly identical language.
Authorities and the media in the two nations refuted both claims. But for many, the leaders' assertions and their ardent followers' repeated repetition of them constituted "proof" enough. Disinformation was disseminated and protests against the "stolen elections" were organised using social media.
A standard playbook
The similarities between the protests in Brasilia and Washington, DC, are not mere coincidence. Instead, they are a staple of a strategy that rightwing populists have employed to capitalise on anti-institutional rage and ultra-nationalist urges.
Trump is Bolsonaro's idol and role model, according to political analyst Thomas Traumann of Rio. Trump then did what? He fought back, refused to concede defeat, incited violent protests, left office without quitting, and kept up the pressure on his base by engaging them in ways that prevented them from accepting the legitimacy of the new government. This is Bolsonaro's road map in my opinion.
Brazil expert Brian Winter told The Guardian that Bolsonaro's strategy of contesting the results of the election after he lost was "100% Trump inspired."
They (Bolsonarists) have noticed that Trump's continued denial of the election since January 6 has not endangered his future; in fact, it might have done the opposite. Because of how crucial the idea of invincibility is to both of these movements, and because the only way Donald Trump could lose and remain in power was by maintaining that he won, Winter said.
Elites who pass themselves off as "men of the masses"
To convince almost half of a nation to start questioning the integrity of its democratic institutions and elections, it takes years of undermining rhetoric and action.
The criticism of "Washington elites" and promises to "drain the swamp" became a recurring theme in Trump's speeches in 2015–16 as he began his campaign for president. After a crippling recession and a string of corruption scandals rocked Brazil, Bolsonaro won the presidency and vowed to "clean things up."
Both men pushed for unscientific and risky public policy responses to the Covid-19 pandemic, pledged to de-regulate businesses and lower taxes, and sought to undermine environmental protection frameworks in their respective nations.
To advance their agendas, they seized on racial tensions and nativist anxieties. Importantly, in order to appeal to their supporters, both Trump and Bolsonaro publicly opposed "political correctness" and used openly racist, misogynistic, and homophobic messaging.
Development of the populist right
The rise of main leaders like Trump and Bolsonaro, as well as Viktor Orban of Hungary, Marine Le Pen of France, and Geert Wilders of the Netherlands, has been framed by widening wealth disparities, shifting racial and gender dynamics, and a generalised sense of insecurity. This has a direct impact on right-wing populism, which thrives by exploiting people's anxieties and resentments.
Right-wing populism is a manifestation of the "general collapse of the main centrist political institutions during the neoliberal period," according to philosopher and political scientist Noam Chomsky, who made this claim in an interview.
"What is happening is reminiscent of Gramsci's observations about an earlier period, 'when the old is dying and also the new cannot be born,'" he claimed, "and in this interregnum a great variety of morbid symptoms appear."
Thousands of far-right supporters of former Brazilian President Jair Bolsonaro stormed the country's Supreme Court, Congress, and the presidential palace on Sunday in what appeared to be a repeat of the attack on the US Capitol on January 6, 2021. (8 January).
The riots started a few weeks after Bolsonaro's defeat in Luiz Inácio Lula da Silva, a leftist former president, in the October 2018 presidential election. Lula da Silva accused Bolsonaro's predecessor of enticing his supporters by feigning election fraud.
In a tweet, Bolsonaro, who travelled to Florida just days before his term came to an end, refuted the charge, saying that while peaceful protests are a component of democracy, the invasion of government buildings "crossed the line."
Concerns about the involvement of Trump's supporters are being raised given the similarities between the riots at the US Capitol and the ransacking of important government buildings in Brazil.
According to reports, the allies of former US president Donald Trump have fueled claims that Brazil's presidential election was "stolen" in order to cast doubt on the results.
How do the Brazilian attack and the US Capitol uprising on January 6th differ from one another? Did Trump's supporters have an impact on the riots in Brazil? Let's look more closely.
Brazilian attack and US Capitol riots
Hundreds of protesters, including far-right organisations like the Proud Boys and the Oath Keepers, attacked Congress on January 6, 2021, in opposition to the outcome of the 2020 US presidential election.
The assault happened on the day that US senators gathered in the Capitol to certify Joe Biden, the leader of the Democratic Party, as the winner of the 2020 presidential election.
Trump, who was in office at the time, addressed supporters at a "Save America" rally close to the White House and urged them to march "peacefully" to the Capitol.
He further encouraged them to "fight like hell," according to the BBC, in support of the unverified claims and rumours of widespread voter fraud.
Then, hundreds of protesters pushed through barriers on their way to the Capitol grounds while shouting, "Whose Capitol? Our Capitol," according to NPR.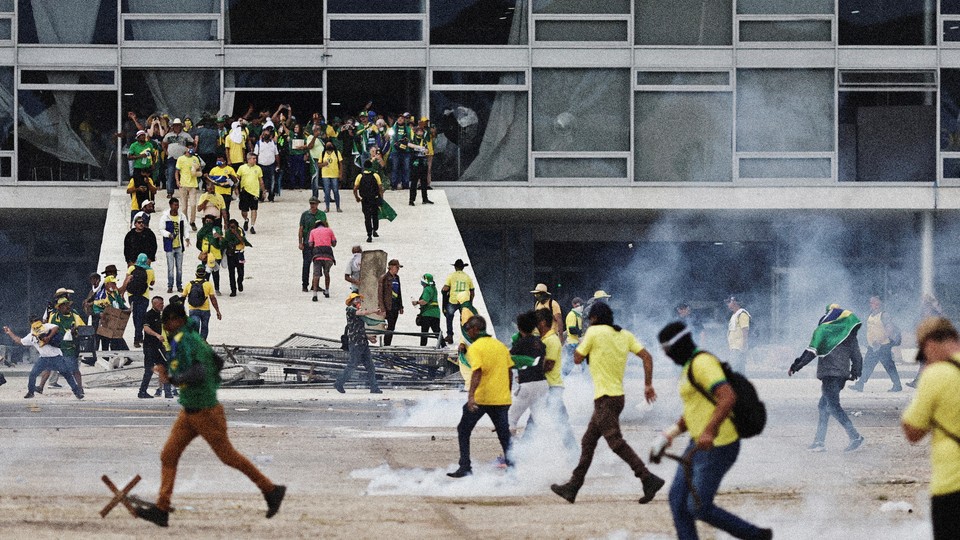 They quickly overpowered the Capitol police as they entered the structure.
After four hours, the police were finally able to restore order. In a startlingly similar series of incidents, Bolsonaro's supporters broke into the country's institutions in the capital Brasilia while wearing bright yellow and green shirts bearing the Brazilian flag; they damaged artwork, broke windows, and stole the country's original 1988 Constitution, according to Reuters.
The three government buildings are situated in Brasilia's Three Powers Square, which has been under military police control for more than three hours.
During a press conference held while on an official visit to the state of Sao Paulo, President Lula said, "These vandals, who we could call… fanatical fascists, did what has never been done in the history of this country." "We'll find all these people who did this, and we'll punish them."
Similar to the Capitol riots, allegations of election fraud were made long before the attack in Brazil.
According to Independent, Bolsonaro, known as "Trump of the Tropics," adopted similar strategies to the former US president after losing the election, including contesting poll results, refusing to admit defeat, and skipping his successor's inauguration.
According to Rolling Stone, the right-wing populist Bolsonaro has long claimed that there has been election rigging in Brazil. These claims have been vehemently refuted by election officials, election security experts, and fact-checkers.
He had earlier asserted that there had been unsuccessful attempts to steal his victory in the 2018 general election.
Even before the Brazilian elections started last year, social media was flooded with allegations of electoral fraud, according to NPR.
Bolsonaro's Liberal Party had contested the results of the 2022 Brazilian election, asking the Superior Electoral Court to throw out votes cast on about 2,50,000 machines produced before 2020 on the grounds that the second round of voting had been tampered with.
In over 20 cities, thousands of Bolsonaro's supporters have camped out in front of military installations, some of whom are calling for a military takeover.
To support their claims of election fraud, demonstrators held homemade signs with the hashtags "#BrazilianSpring" and "#BrazilWasStolen" in English.
Bolsonaro is supported by Trump
During the Brazilian presidential election last year, Trump made a public endorsement of Bolsonaro. Trump praised Bolsonaro as a "great" leader and urged Brazilians to vote for him in October of last year.
On his Truth Social platform, Trump urged people to "VOTE for President JAIR BOLSONARO — HE WILL NEVER LET YOU DOWN!!!" after calling the runoff election a "big day for Brazil."
AFP reports that he also attacked Lula da Silva, referring to him as "a Radical Left Lunatic who will quickly destroy your Country."
Examined is the role of Trump's supporters
The BBC claims that the connection between Bolsonaro and the Trump movement first gained attention in November of last year.
The Washington Post reported at the time that Jair Bolsonaro's son Eduardo travelled to Florida to meet with Trump. He also spoke with Steve Bannon and Jason Miller, two of the former US president's allies who have reportedly been advising Bolsonaro ever since his election victory.
Bannon has promoted the hashtag #BrazilianSpring and spread unfounded rumours about election rigging in Brazil.
Bannon had previously stated to The Washington Post in November that "what's happening in Brazil is a global event." "The populace claims to have been severely denied their rights. Similar to how it has moved past Trump in the US, [the movement] has surpassed the Bolsonaro's.
The former Trump strategist Bannon claimed that "Lula stole the Election" following the riot on Sunday. Brazilles are aware of this. According to the BBC, he also referred to the demonstrators who stormed the buildings as "Freedom Fighters."
Notably, Bannon had also been a key player in fueling claims of election tampering in the US in 2020. According to the BBC, Ali Alexander, a pro-Trump "Stop the Steal" movement leader, exhorted Bazilian mobs, "Do whatever is necessary!"
edited and proofread by nikita sharma