Trends
Would it be possible to boycott Chinese goods and products in India until 2022?
Would it be possible to boycott Chinese goods and products in India until 2022?
A country like India has a very calm atmosphere, and every project it has undertaken has shown resilience. In order to maintain that image of a peaceful country, the government and all diplomats work extremely hard. The phrase "peaceful and calm" does not mean that India tolerates whatever nonsense the world throws at it.
A boycott of Chinese goods began to take hold. In large numbers, China-made products were boycotted from the market.
China struck India at a very crucial point in a series of incidents. Two of the world's largest countries clashed on their borders, resulting in fatalities. Things began to happen in India, and it was definitely a new phenomenon. 
Attempts were made to harm the Chinese economy with the hope that the effect would be negative. Chinese retaliation across the border prompted the move. Never before had there been such a backlash. The incident took place along the border between India and China.
The people of India didn't think about the after-effects of this action when this happened in 1998, and they began to believe that they would reduce the consumption of Chinese goods until they reached zero. Did they not even consider that boycotting at the national level would be tough?
Here is the article for those who have ever wondered about this topic. Throughout the article, we will discuss how Chinese goods have been boycotted, and how a country like India has been able to boycott the products of China.
The conflict between India and China
In India, this was the issue that presented itself, and it is also the reason why Chinese products are being boycotted in India. In India, China had some severe problems along its border. Indian citizens considered revenge against China. Using Gandhian methods was the quickest solution. Banning everything that was manufactured in China was the fastest way to solve the problem.
The backlash against Chinese products was universal. American consumers boycotted Chinese products across the board. The act of patriotism was blind, but it revealed the incredible zeal with which the Indian people function.
Anti-China sentiment began here, with the focus on eradicating every Chinese product from the market. Traders in the capital, Delhi, burned Chinese goods in protest as residents of Ahmedabad threw Chinese TV sets down their balconies.
India's government, however, did nothing when people overwhelmingly boycotted Chinese products. The Indian government did not announce anything official about the anti-Chinese sentiments that were expressed in the country.
While the government of India didn't say anything about the boycotting of Chinese goods, something was going on in the background. The backstage role of Indian public sector undertakings and government departments was to minimize the influence of Chinese counterparts and Chinese involvement in the process. When the government's financial statements are scrutinized, it can be clearly seen.
The railroads were among the organizations that held numerous tenders for all the projects that they performed. Moreover, it was the organization that cancelled a lot of work that was outsourced to companies listed in the record. Chinese participation in all significant decisions in India, really raises eyebrows.
Additionally, a report stated that the government also asked that all electronic commerce on the internet display product origins. 
Transparency and fluency in electronic commerce can be promoted by this, but this can also relate to the anti-Chinese movement.
Over time, India continued to take even more strides to stop Chinese involvement and influence in India. In terms of privacy and safety, more than half of the apps were flagged as inappropriate by the government. The list included TikTok, UC browser, and CamScanner.
Clearly, bilateral relations were terrible after the backlash caused by China, and this was a sign of poor relations from China's perspective. When the trade war began, China became the cause of the whole world's problems, and India's trade with China deteriorated. Furthermore, it was noticed that bilateral trade was already down by as much as 15 per cent between countries. According to official data, this was the lowest share since 2018.
Further, the Indian government has been rumoured to be increasing its tax on China-made items. Eventually, this would demotivate the people of India to buy from China and seek out other options. Choosing an alternative to China was a big question.
Chinese labour is very cheap, so things can be manufactured at a meagre cost in China, as the world knows. The country has a substantial competitive advantage over the rest of the world because of this. Compared to other countries, it has a large population and relatively inexpensive products.
Chinese suppliers are used by many multinational companies worldwide as part of their supply chains. That's why this question is so important. Does India have any other alternatives to China? Can it even afford to boycott China? How can we reduce the number of products coming from China and still maintain the growth levels in our country? Here are a few reports.
Does China have a substitute?
While there was a solid anti-Chinese sentiment sweeping through India, very few people were thinking, "If not China, then who?"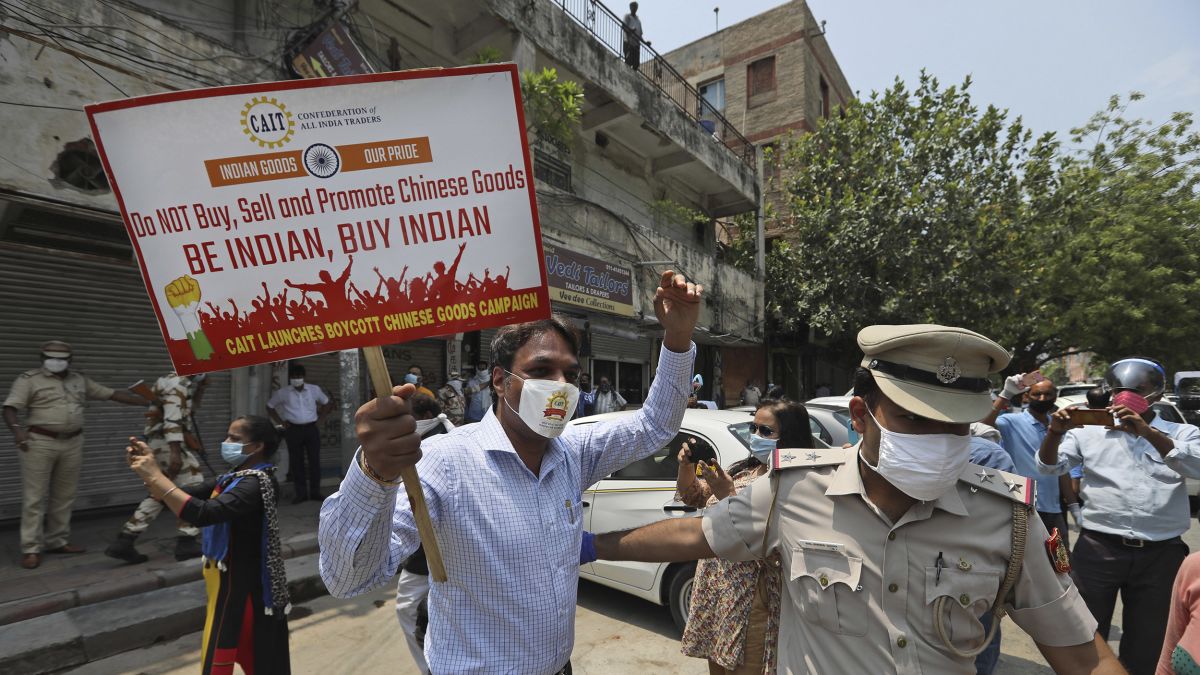 In terms of India's imports from China, China is probably the largest exporter. China is a significant supplier of raw materials to a number of industries that carry out their productions.
Sudarshan Jain, president of the Indian Pharmaceutical Alliance, told the BBC that China fulfils at least 70 per cent of India's drug intermediary needs.
India is an important market not just for India but also for China. They are heavily dependent on each other, but China has a competitive advantage as the world's premier manufacturer. Other than the United States, China is India's second-largest trading partner. Therefore, it is crucial that China does not damage its relationship with India.
Additionally, all imports from China represent about 12 per cent of sectors like chemicals, pharmaceuticals, consumer electronics, and automotive components.
Despite India's booming smartphone market, the local market remains heavily dependent on cheap Chinese phones like those produced by Oppo, Xiaomi, and others.
"Finished goods are not important to us. "But most producers of air conditioners, air purifiers, and water coolers throughout the world import key components from China," says B Thiagarajan, managing director and CEO of Blue Star Limited.
Additionally, he says that setting up supply chains that are indigenous to a country generally takes a lot of time. Establishing a local supply chain will be a massive challenge in a country like India, where every product and service is in great demand. 
It is essential for products that have few substitutes. According to the 2020 financial year, India imported $431 million worth of merchandise from China in the category of handicrafts without experiencing an opposite trend in exports.
The Chinese market is one of the most prominent players in the world, not just in China but also in India. Investors from China have invested considerable amounts in India on numerous occasions. China has invested money in Indian startups that later became unicorns and are now globally recognized brands.
A lot of money flows into the Indian economy via startup tunnels, which are funded by technological giants such as Alibaba and Tencent, which invest in India. Many household names and famous ones are included in the list, such as Zomato, Paytm, Big Basket, and Ola, a mobile taxi service.
With the help of investors around the world, all of these companies started out as small companies or startups. Among the investors was a Chinese investor who had a serious business approach to generating profits and wealth for both parties.
Over the last five years, China has invested in more than 90 Indian startups. Amit Bhandari, an analyst at Gateway House, says that 18 out of 30 Indian unicorns have Chinese investors.
In India, direct Chinese investment is relatively small, at $6.2 billion. However, Mr. Bhandari says, limiting the spread of monopolies in the Indian market by companies like Alibaba is so crucial because of the "outsized impact" of such investments.
A significant mention here is the foreign direct investment. A bill aimed at preventing hostile takeovers of Indian companies has already been enacted in India.
In an email interview, Zulfiqar Memon, managing partner at MZM Legal, said that while China has accused India of violating WTO principles, such allegations are unlikely to succeed given the present situation.
India will be able to decrease its dependency on Chinese imports through this arrangement. It is simply the mantra of self-reliance, which merely means that if you are self-sufficient yourself, you can reduce imports—almost 50 billion dollars in India's trade deficit.
Scheme Atma Nirbhar Bharat of the government
In the discussion around boycotting China and letting the bird run wild, the question is what will be done about satiating the land. There are some rare alternatives to China that can be found. It can also be accomplished by Bharat becoming self-sufficient in its goods and produces. In India, the government is at the moment promoting the self-reliant scheme. It aims to encourage and motivate initiatives that will make India self-sufficient in some way or another.
India is thinking of reliance in an effort to lessen its dependence on imports amid anti-Chinese sentiments. Hence, it is now essential for the government in India to emphasize "Atma Nirbhar," or "self-reliance." Self-reliance describes an entity that can sustain itself without any help from others. With Atma Nirbhar Bharat Yojana, we are trying to address five critical issues in an economy: economics, infrastructure, systems, prosperous demography, and demand.
Chinese restraint is not weak, according to a recent report in The daily Global Times. It notes that it would be precarious for India to allow anti-China groups to stir public opinion, thus escalating tensions, and adds that "economic recovery" should be of paramount importance.
New findings from Acuité, a rating agency, point to India's manufacturing industry replacing 25% of China's imports. In a single year, the import bill would be reduced by over $8bn.
The move towards self-reliance will introduce much retraining to the market, but it is a huge step forward. The issue of supply and demand would also be relevant in that matter. In terms of value-added, Bhandari believes that boycotting apps such as TikTok might be more effective than boycotting physical goods since there are a number of alternatives.
Conclusion
China and India, as we see, are enormous stores of supply and demand. Several major industries in India import about 12 per cent of their goods from China. After the United States, China is India's second-largest trading partner. Therefore, both economies are generating a lot of demand and supply to help both countries prosper.
A strong anti-China sentiment spread across India, which impacted the magnitude and quality of Indian imports and exports. After the Coronavirus hit the world, the effect intensified.
A million times more equipment and medicines were needed for doctors as the covid 19 pandemic swept the globe. China's imports to India increased by 7.2% between June and July 2020. Furthermore, exports to China have declined by 1.4% despite a slowdown in demand caused by COVID-19. For treating the Covid 19 disasters, PPE kits and emergency equipment were the most crucial instruments in India.
Furthermore, Chinese capital has been an excellent source of foreign direct investments in India as well as contributing to the development of new relationships. By doing so, the two countries benefit from economic growth.
India's domestic market is home to more than 800 Chinese companies, according to Invest India. India's brutal response to China on territorial issues is one of these factors. Indian citizens have also been boycotting Chinese products.
There is no way to eliminate Chinese production from India entirely, but it is good to be self-sufficient. After all this time of anti-China sentiment, the government has probably found a silver lining. It is a sustainable method for growth to improve the nation-building process.