Trends
Top 10 Children's Hospitals (Pediatrics) in Bengaluru
Paediatricians are medical specialists working with children, infants, adolescents, and young adults.
Children undergo fast physical, emotional, and behavioural changes as they age. Children and teenagers have unique medical demands that may be beyond the scope of experts who specialize in treating adults.
Please continue reading to discover more about paediatricians, including what they do, who they treat, and the requirements for becoming one. A list of paediatric subspecialties is also included in this article.
Who is a paediatrician?
A paediatrician is a doctor who specialises in paediatrics, adolescent medicine, and young adult medicine. Pediatric treatment can start before conception and continue all the way through the pregnancy.
According to the American Academy of Paediatrics, setting an upper age limit for paediatric care is complicated. The Academy advises against an age restriction on paediatric treatment because it depends on a person's physical and mental needs.
Children go through a variety of physical and mental changes as they get older. Paediatricians are aware of this and examine a child's health using age-appropriate norms.
Paediatricians can assist in the diagnosis of medical problems in children. Depending on the situation, parents or caregivers may take their children to a primary care paediatrician or a paediatric specialist.
What is Pediatrics, exactly?
Paediatrics is the branch of medicine concerned with the health and medical care of infants, children, and adolescents from birth to the age of eighteen. Paediatrics is derived from two Greek words: pais (child) and iatros (doctor or healer). Paediatrics is a relatively new medical speciality that originated around the turn of the century. Abraham Jacobi (1830–1919) is known as the father of paediatrics.
What is the role of a paediatrician?
A paediatrician provides medical care to children who are acutely or chronically unwell and preventative health services to healthy children. At every stage of development, a paediatrician controls the physical, mental, and emotional well-being of the children under their care.
Paediatricians are concerned not only with the sick child's immediate care, but also with the long-term effects on quality of life, disability, and survival. Paediatricians are involved in the prevention, early detection, and treatment of a wide range of difficulties in children, including:-
Developmental delays and abnormalities Behavioral issues

Functional impairments

pressures from society

Mental diseases include depression and anxiety disorders.
Collaboration with other specialists
Paediatrics is a field that values collaboration. Paediatricians must collaborate with other medical professionals, healthcare providers, and paediatric subspecialists to aid children with difficulties.
What sets paediatrics apart from adult medicine?
In various respects, paediatric medicine differs from adult medicine. An infant's, neonate's, or child's physiological constitution differs greatly from that of an adult. As a result, you can't treat children like adults when it comes to their behaviour.
Paediatricians are more concerned with congenital malformations, genetic variance, and developmental difficulties than physicians who treat adults. In addition, paediatrics has several legal challenges. Children are minors, and in most jurisdictions, they cannot make their own decisions. Every paediatric procedure should consider guardianship, privacy, legal responsibility, and informed consent.
What type of training do they need?
A paediatrician must first complete medical school. They then complete three years of education in an authorized paediatric residency programme before becoming a primary care paediatrician. During this time, they learn how to care for infants, children, adolescents, and young people.
After completing the paediatric residency, the doctor can apply for board certification with the American Board of Paediatrics by passing a comprehensive written exam.
What are its Types?
A lot of paediatricians work as primary care doctors. This sort of paediatrician does routine health and wellness examinations. They also diagnose and treat various general health problems, provide immunizations, and provide sound health advice to children and their parents or carers.
Other paediatricians focus on particular medical conditions or age groups. The following are some examples of paediatric subspecialties:
Adolescent medicine is concerned with the treatment of children and adolescents aged 11 to 21.
Intensive treatment Pediatricians are in charge of healthcare teams that treat children who are sick or in danger. These paediatricians typically work in hospital intensive care units.

Paediatricians that specialize in developmental behavioural paediatrics assess children and teenagers' behaviour. Young people's developmental, learning, and behavioural difficulties are diagnosed and treated by specialists in this discipline.

Paediatricians specialising in child abuse have the knowledge, expertise, and ability to determine whether a kid has been abused or neglected.

Doctors that specialise in detecting and treating cancer in children are known as paediatric oncologists.

Cardiologists for children diagnose and treat a wide range of heart conditions. Many paediatric cardiologists work closely with paediatric heart surgeons to determine the best therapy options.

Children with breathing issues or lung disorders are diagnosed, treated, and managed by paediatric pulmonologists.

Children and adolescents with musculoskeletal problems, such as juvenile rheumatoid arthritis and persistent pain, are treated by paediatric rheumatologists.

Children's nephrologists treat illnesses of the urinary system, such as urinary tract infections and kidney disease.

Pediatric neurologists are specialists who specialise in the treatment and management of children's neurological issues. Problems with the nervous system that begin in childhood can linger long into adulthood. Paediatric neurologists are in charge of their patients' care from diagnosis to adolescence.

Neonatal and perinatal care paediatricians look after babies before, during, and after birth. They also look after premature or seriously ill newborns.

Pediatric gastroenterologists are clinicians that specialise in the digestive health of children and adolescents.

Children's endocrinologists are experts in the endocrine system and the hormones it produces. Children with diabetes, for example, can benefit from the services of an endocrinologist.
When should a child see a paediatrician?
Parents and caregivers can regularly take their children to the paediatrician for well-child visits. During well-child visits, parents and caregivers have the opportunity to ask any questions they may have concerning their child's health. During these visits, paediatricians may deliver immunizations if necessary.
One out of every six children aged 3 to 17 has at least one developmental or behavioural issue, according to a Trusted Source from the Centers for Disease Control and Prevention (CDC). Early detection and treatment can help young children have better long-term outcomes.
A paediatrician analyses a child's physical and emotional development during a well-care visit. They may also inquire about the child's eating, sleeping, and social habits. If a kid exhibits any indicators that point to a health or behavioural concern, paediatricians can alert parents and schools.
According to the March of Dimes, parents or caregivers should take their infant to a paediatrician for a well-child visit around seven times during their first year. A paediatrician should see children between the ages of one and two years once every three to six months.
Parents or caregivers concerned about their child's health should contact their paediatrician or schedule an appointment. If a kid develops a temperature of 104°F (40°C) or higher, or if the fever is followed by seizures, confusion, frequent weeping, or difficulties breathing, they should go to the emergency department. If a baby under two months develops a rectal temperature of 100.4°F (38°C), call 911.
Anyone who believes their child is experiencing a medical emergency should take them to the nearest emergency room.
Top 10 Children's Hospitals (Pediatrics) in Bengaluru
1. Rainbow Children's Hospital, Marathahalli
Address
Survey No. 8/5, Marathahalli-KR Puram Outer Ring Road, Doddanekundi, Marathahalli, Bengaluru – 560 037.
Rainbow Children's Hospital is India's first corporate children's hospital. In South India, the hospital has several locations. Only superior infrastructural support and doctor knowledge can result in excellent medical outcomes. Countless infants have been saved thanks to the hospital, which has given them a second chance at life.
Important Characteristics
The National Accreditation Board for Hospitals and Healthcare Providers (NABH).

In 2010, CNBC, T.V. 18, ICICI Lombard named it the "Best Children's Hospital in the Country." It is an ISO 9001:2008 accredited hospital group.

For three years in a row, 'The Week' and 'HANSA Research' named it one of India's "Five Best Children's Hospitals."

At the first Asia Pacific International Conference in 2013, he received the "Six Sigma Healthcare Excellence Award."

Neonatologists, Pediatric Intensivists, Neurologists, Pediatric Surgeons, Pediatric Cardiologists, and other specialists treat children with complex problems.

Every year, 12,000 children are admitted to Rainbow Hospitals.
Esteemed Panel of Doctors working in Rainbow Children's Hospital, Marathahalli
Dr Prakash Vemgal- Director (Neonatology & Pediatrics)

Dr Ajay Reddy Hande- Consultant (Neonatologist & Pediatrician)

Dr Altaf Jamil Khan- Consultant (Pediatrics)

Dr. Sridhar M- Consultant Pediatric Intensivist & Pediatrician

Dr Gurmeet Soni Bhalla- Consultant (Pediatrics)

Dr Kavitha Bhat- Consultant Pediatrician & Pediatric Endocrinologist
2. Motherhood Hospital, Indira Nagar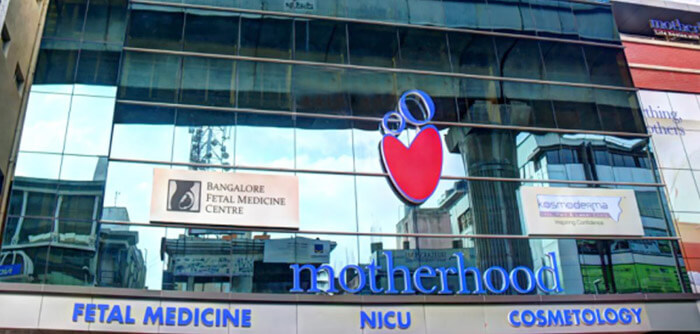 Address
324, Chinmaya Mission Hospital Rd, First Stage, Hoysala Nagar, Indiranagar, Bengaluru, Karnataka 560038
In Bangalore, the Motherhood Group operates several well-equipped tertiary care hospitals. The Indira Nagar branch provides world-class medical facilities dedicated solely to paediatric and gynaecological medical treatment. The department of paediatrics is run by some of the country's best doctors and surgeons, providing patients with world-class care.
Important Characteristics
Hospital with 42 beds

All paediatric and neonatology medical specializations are available under one roof.

Congenital abnormalities in newborns are treated with advanced surgical procedures.

The vaccination schedule prescribed by the Ministry of Health was given to paediatric patients of all ages.

Prematurely born newborns that require life support and other medical care have their critical care unit.

Counselling and training programmes for children with delayed mental and physical development are available.
Esteemed Panel of Doctors
Dr Prathap Chandra – Pediatrician

Dr Deepa Sharma – Pediatrician

Dr. Aruna Savur – Pediatrician

Dr Lathiesh Kumar Kambham – Neonatologist

Dr Suresh Gowda – Pediatrician

Dr. Sejal Shah – Pediatric Cardiologist
3. Aster CMI, Hebbal
Address
Aster CMI Hospital 43/2, New Airport Road, NH-7, Sahakara Nagar, Hebbal, Bengaluru 560092
Aster CMI is a well-known international healthcare company. They have a capacity of 500 beds and provide medical care in all areas of medicine. They give some of the most outstanding paediatric services available. Doctors and other medical personnel are compassionate and adhere to established hygiene and safety standards.
Important Characteristics
Pharmacy services are accessible 24 hours a day, seven days a week.

Blood donation centre

14 fully equipped operating rooms

Paediatricians who are well qualified

Employees who are kind and friendly

Pediatric emergency services are available 24 hours a day, seven days a week.

NICU and PICU at Level 3

Pediatric newborn critical care team with years of experience
Esteemed panel of doctors
Dr Parimala V Thirumalesh, Pediatrician

Dr Sudheer K A, Pediatrician

Dr Chetan Ginigeri, Pediatrician

Dr Harish Kumar, Pediatrician

Dr. Divya Srirangarajan, Emergency Medicine Pediatrician

Dr Sunil Kumar K, Pediatric Pulmonologist

Dr Sagar Bhattad, Pediatric Immunologist and Rheumatologist

Dr Mahadev D Dixit, Pediatric Cardiac Surgeon

Dr Vidyashankar P, Pediatric Nephrologist

Dr Ravish I R, Pediatric Urologoist

Dr Narendra Babu M, Pediatric Surgeon

Dr Latha V, Pediatric Surgeon
4. Motherhood Hospital, Sarjapur Road
Address
 514/ 1-2-3, Kaikondara Village, opp. More mall, Sarjapur Road, Bengaluru, Karnataka 560104
The Motherhood group owns several well-equipped maternity and child care hospitals in Bangalore. The Sarjapur Road branch is run by highly trained doctors specializing in paediatrics, gynaecology, and other medical areas. Paediatrics is the most sought-after department in Bangalore.
Important Characteristics
Hospital with 48 beds

In Bangalore, the best immunization and vaccination services are provided to paediatric patients of all ages.

Some critical care management characteristics for newborn babies include I.N.O. therapy, whole-body cooling, and ventilation support.

Incubator berths are available for prematurely born babies requiring further medical attention.

Pediatric malignancies are diagnosed and treated using cutting-edge medical and surgical approaches.

Congenital abnormalities can be corrected using a reconstruction surgery facility.
Esteemed panel of doctors
Dr Prashanth Gowda – Pediatrician

Dr Nutan Anand – Pediatrician

Dr Lini Balkrishnan – Pediatrician

Dr Meena Kumari – Pediatrician

Dr. Deepti Mahajan – Pediatrician
5. Fortis hospital, Bannerghatta Road

Address
54/9, Bannerghatta Road, Opposite IIM-B, Bengaluru 560076
The Fortis hospital has locations all around the country. It is a well-known and dependable healthcare company that has proven its worth through its services. It boasts a board of competent paediatricians that can handle even the most complex cases. Fortis Hospital is one of the best hospitals in Bangalore for children because of its dedication to the patients' well-being and constant efforts to deliver the best services.
Important Characteristics
There are 276 beds available.

The laboratory is well-equipped.

State-of-the-art operation theatres

Medical personnel who are highly qualified

Pediatric surgeries have their panel.

NICU (Neonatal Intensive Care Unit) is a type of intensive care

Pediatric cardiology has its department.
Esteemed panel of doctors
Dr. Deepti V, Pediatric Surgeon

Dr Hetal Mehta, Pediatric Cardiologist

Dr Joseph Xavier, Pediatric Cardiac Surgeon

Dr Ashok M V, Pediatrician

Dr Janaki Narayanan, Pediatrician

Dr Nagesh, Pediatrician

Dr Nalini G Shenoy, Pediatrician

Dr. Sreenath Manikanti, Pediatrician
6. Manipal Hospital, H.A.L. Road
Address
 98, H.A.L. Airport road, Bangalore – 560 017
The Manipal group of hospitals is regarded as one of Bangalore's healthcare pioneers. They are one of the primary healthcare organizations in the country, with a network of 15 hospitals. They have one of the best teams of doctors in every field of medicine on board. Their paediatricians are trustworthy and knowledgeable. You may always put your child in their care and be confident that they will receive the best possible care.
Important Characteristics
The National Accreditation Board for Hospitals and Health Care Providers (NABH) has granted certification to this facility.

Among the country's top ten multi-speciality hospitals

All forms of paediatric issues are treated with consultation and treatment.

Standard hygiene and safety procedures are followed.

Intensive Care Unit for Children

NICU (Neonatal Intensive Care Unit) is a type of intensive care
Esteemed panel of doctors
Dr Anand P. Rao, Pediatrician

Dr Anjana B. Choudhury, Pediatrician

Dr. Anuradha Vinod, Pediatrician

Dr Bhaskar Shenoy, Pediatrician

Dr Chitra Sankar, Pediatrician

Dr Chittur Radhakrishnan, Pediatrician

Dr Jagadish Chinnappa, Pediatrician

Dr Karthik Nagesh, Pediatrician

Dr Nilima Rao, Pediatrician

Dr. Praveen K Venkatagiri, Pediatrician

Dr. Ravikiran C.S, Pediatrician

Dr Ravneet Joshi, Pediatrician

Dr Shaila Shamanur Bhattacharyya, Pediatrician
7. Malathi Manipal, Jayanagar
Address
45/1, 45th Cross, Marenahalli Road, Kottapalya, Jayanagara 9th Block, Jayanagar, Bengaluru, Karnataka 560069
Dr Malathi Manipal Hospital specializes in women's and children's health. The hospital employs highly qualified paediatricians and neonatologists who can handle and manage many paediatric disorders. Paediatricians are pleasant toward children, which makes getting treatment simple and stress-free.
Important Characteristics
All paediatric services are available.

There are dedicated consultation units for children.

Well-equipped operation theatres

State-of-the-art laboratories

365 days a year The neonatal intensive care unit (NICU) and the blood bank

Various room types to fit different budgets
Esteemed panel of doctors
Dr. Allappa V Bankar, Pediatrician

Dr Bharath AP, Pediatric Cardiologist

Dr Chethan M J, Pediatric Surgeon

Dr Ravi Hiremangalore, Pediatrician

Dr Ravi Kiran, Pediatrician

Dr Sameera Reddy, Pediatrician

Dr Venkataraman Krishnan, Pediatrician

Dr Shivkumar S, Pediatrician

Dr Sushma V., Pediatrician

Dr Bidisha Banerjee, Pediatric Neurologist
8. Fortis La Femme, Richmond Road

Address
Fortis La Femme No. 62, Richmond Road, Behind Sacred Heart Church, Entry from Mother Teresa Road, Richmond Town, Bangalore 560025
Fortis La Femme is a facility focused on women's health and child care. It is a 70-bed multi-speciality hospital with a total floor area of roughly 70000 square feet. The hospital provides high-quality, cost-effective medical care. They are one of the best paediatric hospitals in Bangalore because of their dependability and history of successful paediatric treatments.
Important Characteristics
Pharmaceutical services are accessible 24 hours a day, seven days a week.

Cutting-edge ambulance service

Prenatal and postnatal care are separated, with services such as antenatal and postnatal sessions, Lamaze classes, counselling, and massage therapies available.

For foetal, neonatal, and paediatric care, counselling sessions are available.

There are a variety of hospital rooms available, ranging from suites to standard rooms.
Esteemed panel of doctors
Dr Marie Shalini Chico, Pediatrician

Dr. (Major) Chandrashekhar Karnad Sudheer, Pediatrician

Dr Sampath Kumar N, Fetal Medicine

Dr Chethan M J, Pediatric Surgeon

Dr Santhosh Olety, Pediatric Surgeon

Dr Shashirekha Shetty, Pediatric Surgeon
9. Columbia Asia Hospital, Hebbal

Address
Kirloskar Business Park, Bellary Road, Hebbal, Bangalore – 560 024
Columbia Asia Hospital in Hebbal is a multi-speciality medical facility with 90 beds. It is India's first branch of this worldwide healthcare business, having opened in July 2005. The hospital has carved out a niche and is well-known for its high-quality service and medical skills. The hospital's paediatrics department is famous for its effective treatments and favourable outcomes.
Important Characteristics
State-of-the-art operation theatres

The laboratory is well-equipped.

Have a paediatric intensive care unit.

A group of highly skilled and experienced paediatricians

Pharmaceutical services are available 24 hours a day, seven days.

All paediatric concerns are treated.

Video-assisted thoracoscopic surgery (VATS), mal-rotation and volvulus surgery, congenital diaphragmatic hernia (C.D.H.) surgery, and other paediatric operations are available.

Surgical techniques that are performed laparoscopically are also used.
Esteemed panel of doctors
Dr Ananda R, Pediatrician

Dr Kishore Gopal Das, Pediatrician

Dr. Salim A Khatib, Pediatrician

Dr Sujatha Ramesh, Pediatrician

Dr Vishwanath Kamoji, Neonatologist and Pediatrician
10. Manipal Hospital, Whitefield
Address
143, 212-2015, K.R. Puram Hobli, Off Hoodi Village, EPIP Industrial Area, Bengaluru, Karnataka 560066
The Manipal Group is one of India's oldest and most reputable healthcare companies. They have set up well-equipped hospitals in several Indian cities. The Whitefield Hospital is a contemporary, state-of-the-art facility that offers patients the highest quality medical care. A team of highly efficient physicians and surgeons leads the department of paediatrics.
Important Characteristics
Hospital of 280 beds

Paediatricians with competence in various medical and surgical disciplines provide excellent care to all patients.

A highly skilled group of medical experts has received significant training in managing juvenile children who require immediate medical assistance.

Prematurely born newborns have their own I.C.U.

Congenital abnormalities are surgically corrected utilizing less invasive techniques.

Newborn newborns who require extra medical attention and precautions are housed in incubator chambers.
Esteemed panel of doctors
Dr Rajeev M.R. – Pediatrician

Dr Ravishankar Swamy – Pediatrician

Dr. Gururaj Bradar – Pediatrician
Edited by Prakriti Arora