Stories
Bharti Airtel purchases a 19867.8 MHz spectrum; 5G deployment will start in August.
Bharti Airtel purchases a 19867.8 MHz spectrum; 5G deployment will start in August.
Through the 5G spectrum auction, the telecommunications services provider paid Rs 43,084 crore to purchase a 19867.8 MHz spectrum in the 900 MHz, 1800 MHz, 2100 MHz, 3300 MHz, and 26 GHz frequency bands.
The telecom giant claimed that by acquiring a pan-India footprint of the 3.5 GHz and 26 GHz bands, it had received 19,800 MHz of spectrum. The business was also able to boost the mid-band scope in specific areas. In the most recent spectrum auction held by the Department of Telecom, Government of India, this enormous spectrum bank was acquired for a total value of Rs 43,084 cr. Through this auction, Airtel obtained a 5G spectrum for 20 years.
With this, the business won't have to spend much money on the spectrum for many years. Airtel stated on Wednesday that this spectrum acquisition has also allowed it to significantly lower the payout toward spectrum use fee (SUC) and remove the unfavourable SUC arbitrage relative to new entrants (August 4 2022).
The business announced that it will now roll out 5G services across the nation, beginning in the nation's major cities. The company is confident that the nation's higher-quality client base will quickly adopt 5G technology. A multitude of industrial use cases will also be made possible by Airtel's presence in the Enterprise segment, thus solidifying Airtel's position in the B2B market.
The implementation of 5G will start in August 2022, according to a separate announcement by Airtel, which said that it had signed 5G network agreements with Ericsson, Nokia, and Samsung.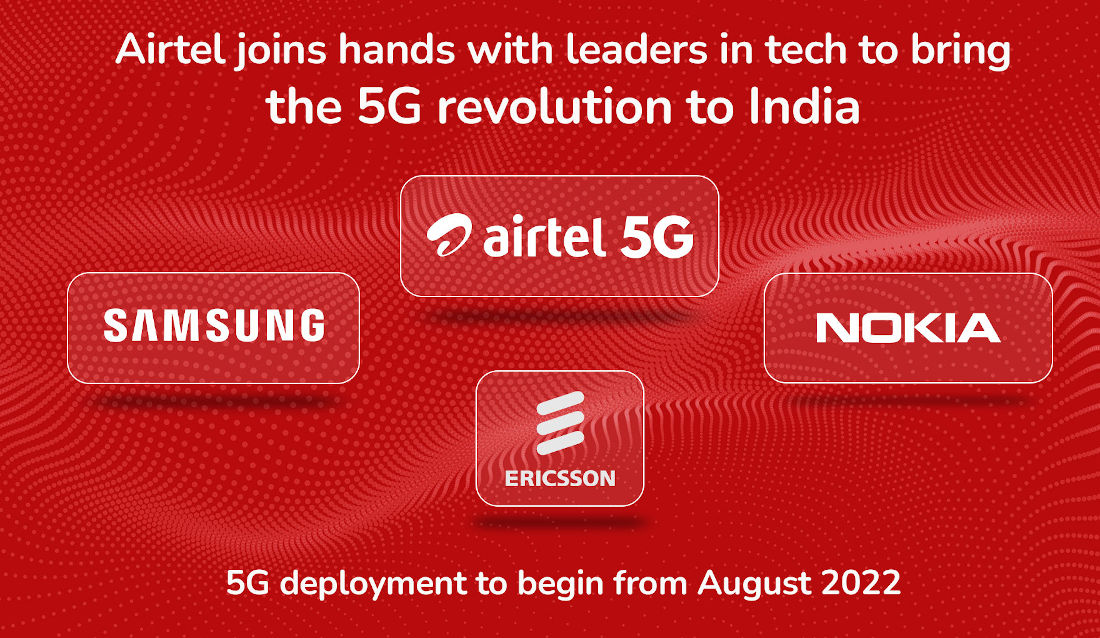 Airtel said that while it has a long-standing cooperation with Ericsson and Nokia for connectivity and Pan-India managed services, its engagement with Samsung will start this year.
Airtel will be able to bring out 5G services with ultra-high speeds, low latency, and enormous data handling capabilities thanks to its choice of numerous partners. To ensure the most extraordinary end-user experiences, Nokia will deliver equipment from its market-leading AirScale range, solutions, and services for network administration, deployment, planning, and optimization. To deploy Airtel 5G, Airtel would also enlist South Korean giant Samsung as a network partner.
The two businesses will collaborate for the first time on this project.
Over 490 million people use Airtel's communications offerings, available in 17 South Asian and African nations. With over two billion people covered by its networks, the firm is one of the top three mobile providers worldwide. Airtel is the second-biggest mobile operator in Africa and India's largest integrated communications solutions provider.
On August 8, 2022, the board of Bharti Airtel will discuss Q1 results. In Q4 FY22, compared to Q4 FY21, the company's consolidated net profit increased by 164.5% to Rs 2,007.80 crore and its net sales by 22.3% to Rs 31,500.30 crore.
On August 3, 2022, Bharti Airtel's stock increased 0.92 per cent to Rs 692.95.
Samsung is a recognized supplier of 5G network hardware to Airtel in India.
The first network operator in India, Bharti Airtel, has revealed its 5G hardware manufacturers. While Samsung was not the company's first pick, it is one of those manufacturers.
The other companies Airtel partnered with to provide 5G to the Indian populace across 12 different geographic areas are Ericsson and Nokia. Samsung is not, however, Airtel's primary or first supplier of 5G technology.
The Indian network operator selected Ericsson as its initial supplier of 5G hardware. Since Ericsson has been powering Airtel's network for the past 25 years, the two businesses have a long history together. The deployment of 5G RAN, radios, and microwave mobile transport systems is reportedly a joint effort between Ericsson and Airtel.
According to reports, around 45 per cent of Airtel's 5G equipment share will be made up of Nokia's 5G RAN solution. The Finnish company will provide MIMO radios and modular, scalable baseband components to India's network operator.
Given that the Samsung-Airtel partnership is the most recent compared to the other two manufacturers, Samsung has a minor percentage of Airtel 5G equipment after Ericsson and Nokia.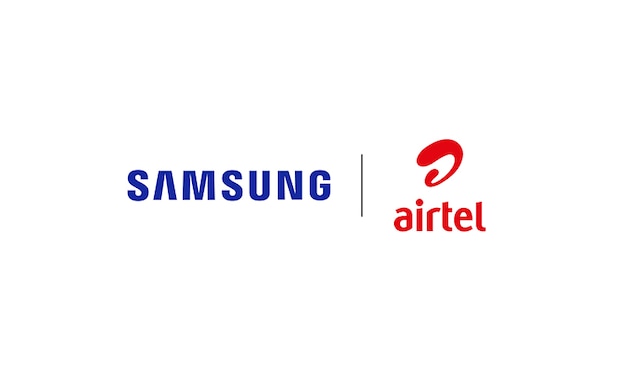 For the development of 5G technology, Bharti Airtel invested about $5.4 billion. Its network uses spectrum in the 900MHz, 1800MHz, 2100MHz, 3300MHz, and 26GHz bands, totalling 19,800MHz.
Regarding Samsung, the business may or may not provide Airtel with locally made 5G network hardware. In March, the South Korean electronics giant announced that it intended to produce 4G and 5G network gear locally for Indian service providers such as Airtel and Reliance Jio.