Trends
China Issues Stern Warning Against NATO-like Alliances: A Clear Message For India
China's defense minister issued a warning against establishment of NATO-like military alliances in the Asia-Pacific
China's Warning against NATO-like Alliances
In the words of China's defense minister Li Shangfu, forming military associations such as NATO in the Asia-Pacific region would plunge the region into a war zone. Li made this declaration during Singapore security conference. Richard Marles of Australia's military department and Lloyd Austin of the USA 's defense department both became a part of this most important security conference in the region.
Li Shangfu made his remarks a day following US and Chinese military warships cruised in close proximity to one another in the volatile Taiwan Strait, igniting resentment on both sides.
Attempts to push for NATO-like (alliances) in the Asia-Pacific is a way of kidnapping regional countries and exaggerating conflicts and confrontations. 

Li said these alliances would "plunge the Asia-Pacific into a whirlpool of disputes and conflicts."
Li also stated during the conference that the Asia-Pacific region needs broad, transparent collaboration rather than forming little cliques. In a clear reference to World War III, he continued by warning against allowing such horrific history to happen again and urging people not to disregard the terrible catastrophes that the first and second world Wars caused for the population of all nations.
Li's remarks reaffirmed long-standing Chinese criticism of American efforts to fortify regional alliances and thwart China's growth.  Li aimed to portray China as attempting to defuse tensions while portraying the USA as the cause of unrest in the region.
Moreover, this statement clearly indicates an indirect message for India. India was offered NATO Plus membership few days back by USA. China, thus, issued a direct warning against NATO like alliances in Asia-Pacific region.
The Chinese defense minister also said that certain governments have been escalating the weapons race and meddling in the domestic affairs of other countries. He emphasized that respect for one another should triumph over intimidation and domination, while issuing a warning that a cold war mindset is already re-emerging, considerably raising security dangers.
Although the Chinese defense chief did not specifically mention any nation, it was apparent that he was alluding to the United States, which is now a member of a number of coalitions and alliances in the area. After US Defense Secretary Lloyd Austin stated that his nation is not attempting to forge a NATO-like association in the Asia-Pacific area, Li made his comments.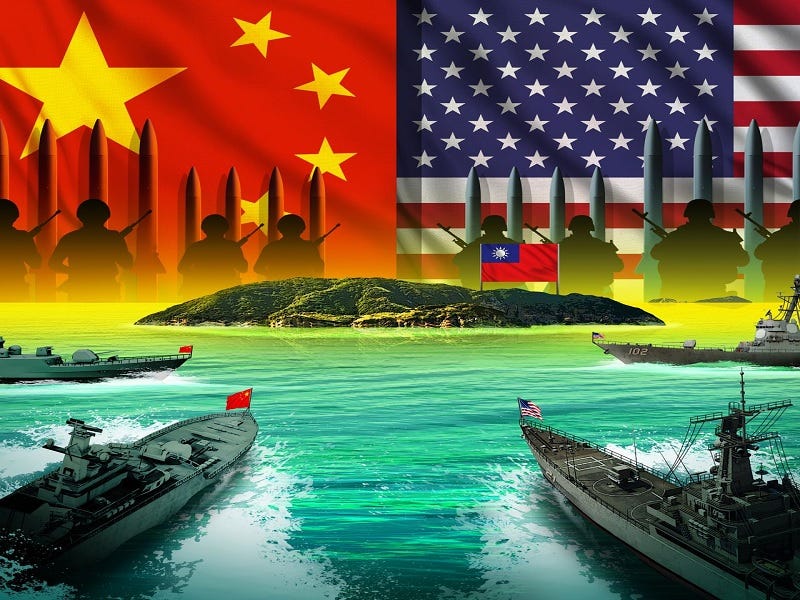 China and USA
The globe is large enough for China and the United States to develop together, according to Li, and it is undisputed that a serious war or conflict involving China and the USA will be an impending doom for the whole world. He said that his nation preferred discussion to conflict. However, these comments came days after he turned down an invite to initiate conversations with his American colleague.
It is believed that prior to the conference, Li declined the offer to speak with USA ministers because of tensions surrounding the two rival nations. It happened China was sanctioned by former American president Donald Trump, for buying weaponry from Russia.
Li pointed out that China and the United States have many differences from one another in his speech, which was his first large overseas address since being appointed China's Minister of National Defense in March. He further said that these differences should not prevent the two parties from looking for areas of agreement and shared objectives in order to strengthen their bilateral relations and further collaboration.
Through a new trade agreement, the Western superpower is additionally boosting its ties with Taiwan, which was officially referred to as the Republic of China. Given the support of world leaders for the East Asian nation, internal forces in Taiwan are pushing to secede from China.
Even before the most contemporary direct confrontations, American military assets – the first island Chain Centre in Okinawa, the second island Chain Centre in Guam, in addition to the military chokepoints in Singapore – controlled the "throat" of the exportation of Chinese lifeblood of trade along with the importing of energy, according to Andrew Leung, an independent analyst. These maritime routes of communication are not only the Taiwan Strait but also the South China Sea. Therefore, he argued, it would be logical for a person in China who was being encircled to build up many fortifications.
Li has made it clear that Taiwan is a Chinese domestic matter, which is a fundamental and undeniable reality. Taiwan is China's Taiwan, and it is up for the Chinese to figure out how to settle the Taiwan issue. He declared that the Chinese military would not think twice if someone dared to secede Taiwan from China.
Rendering it apparent yet again, he asserted, the more fervently separatists pursue efforts for Taiwan's independence, the stronger their resolution tactics would be, hence making any foreign powers to meddle ineffective in every way. According to Minister Li, China is still dedicated to the road of peaceful advancement, however they are never going to be afraid to stand up for their fundamental rights and interests.
China and India
India possesses the capacity to manage traffic via the most important waterway in the world owing to its geographic position, which also allows it to secure its interests in the Indian Ocean.  If Pakistan let the Navies of Indian rivals to operate, there would be danger at four crucial Pakistani ports: Jiwani, Gwadar, Pasni, and Ormara. But the IAF can neutralize all four ports since they are all within striking distance. If there is a threat, it will come via Pakistani ports.
The USA tries to shoot at China from the Indian shoulder. Indeed, this grim fact ought to be known to our decision-makers. Instead, since mutual enmity will be bad for both countries, India and China could swiftly come to an amicable resolution. It is necessary to see the standoff in the region of Galwan Valley as an opportunity in disguise. India was able to use its power to defend its national borders.
The message has reached China. Therefore, both from a position of power must resolve their issues. Any attempt to establish order over one another will be unsuccessful. India needs to avoid the "white skin" strategy of putting India in front of China in order to corner it, as demonstrated by the treacherous political decision to grant India NATO Plus membership.
In contrast to the World Wars, I and II, both of which were basically battled by "White Skins" for international and regional dominance, the WW III, on the other hand, may be waged based on preserving the superiority of color of skin. One of the worst strategic moves was the creation of AUKUS and the USA's transfer of nuclear submarines to Australia; these actions also contribute to sowing the seeds for WW III. 
A large portion of the funds spent for defense spending might be diverted to other areas like medical care, schooling, and green technologies if the Asian superpowers choose to cooperate and engage in trust-building mechanisms. India and China must share global responsibilities in the post-Ukraine 2023 international order. Pakistan would immediately follow suit and lessen its endorsement for terrorism, if India and China usher in an age of peace and stability.
Published, Naveenika