Trends
NATO Plus Membership- A Wicked Trap: Diabolical Politics By USA To Turn India Into A Scapegoat
NATO plus membership seems like a trap to lure India into the diabolical politics of USA and turn it into a scapegoat just like Ukraine.
Will NATO plus membership really benefit India?
According to Article 5 of the NATO treaty, any assault on one member state must be treated as a war on all, necessitating the support of all signatory nations. This article, which is actually viewed as a protection for India against Chinese or Pakistani aggression, is a wolf in sheep's clothing. Due to this article, India will be drawn into several pointless wars and become involved in conflicts and disputes started by the US or other NATO nations, which may not always be to India's advantage.
Isn't it intriguing that NATO, the most potent military alliance in the world, wants India to be a part of it? At this point, India is being provided with the identical bait that Western nations previously presented to Ukraine.  We all know what occurred in Ukraine today, given that none of the NATO forces, including the USA, went to help Ukraine when it was attacked by Russia. All of this is part of an elaborate scheme under diabolic politics of USA to use India as a scapegoat, just like they did with Ukraine.
Further, India would be the first country to suffer if NATO ever truly launches a military action against China. Given our closeness to China, rapid Chinese mobilization will result in significant military losses for us. The Chinese can deploy their soldiers and supplies much more rapidly due to improved roads and infrastructure setups near the border. The fact that the main NATO members are hundreds of kilometers away should be acknowledged. While the borders of our cities are destroyed by the Chinese, their cities would be completely protected.
As a result, joining NATO Plus cannot bring India any benefits; on the contrary, it would only bring burdens and expose the nation to unnecessary troubles.
What is the real motive of USA behind offering NATO plus membership to India?
Making India a member of NATO Plus has been a goal of America for a while now. A lobby in the United States has indeed long advocated for India to become a member NATO Plus. India will be disconnected from Russia along with its network of weaponry, if it joins this organization. India's access to cutting-edge weaponry will be contingent on the United States and its allies.
Is India truly ready to risk losing its sovereignty by joining NATO Plus and opening its doors to American military bases? Membership in NATO Plus is only an American Trojan Horse used to maintain a careful watch on India's neighbors, notably China, Afghanistan, and Russia.
In addition, there is a good likelihood that the United States wants to put India against China, utilize it as a bulwark, and restrain the developing Chinese economy. Given that India is anticipated to be the key strategic rival to the US following China's collapse, this sounds like a well-calculated plan. There would be no clear winner if China and India are locked in a protracted military and economic battle. Both will experience severe setbacks, depleted morale, and drastic economic reversals.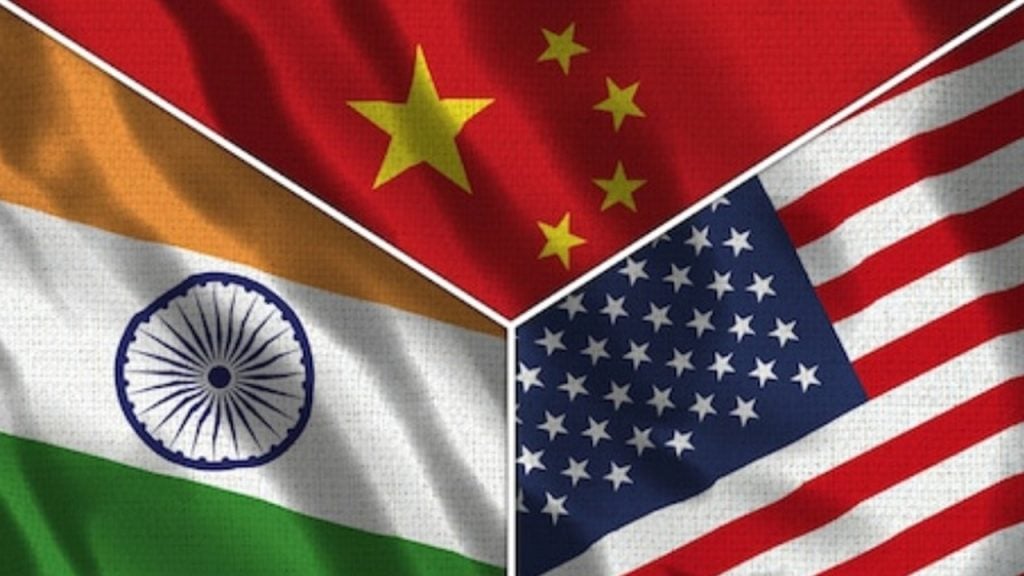 Is USA a reliable country?
"America has no permanent friends or foes, only interests."- Henry A. Kissinger.
This statement from the former US secretary of state encapsulates the essence of American foreign policy. America has changed its allies into sworn enemies over time, and its enemies into allies.
America's backstabbing and imposition of sanctions against India go back a long way. Some of them include- 
Jawaharlal Nehru requested Franklin D. Roosevelt, the US president at the time of the Second World War, to convince Britain to grant India its freedom. Nehru was dissatisfied that Roosevelt chose not to pursue the issue.

Following India's independence, Prime Minister Nehru had a bold plan to industrialize the country. He sought to increase the nation's independence. However, the nation had to collaborate with others because of a lack of resources and knowledge. US first engaged in discussions to construct a steel facility in Bokaro. Negotiations, however, broke down due to underlying ideologic divisions in the economy. Finally, the Soviet Union intervened to save the day.

Our Indian Prime Minister Indira Gandhi visited Washington in March 1966 to seek food relief during the Great Famine. The World Bank and the White House pressurized her to devalue the Indian rupee. Despite her giving into this pressure and agreeing to their condition, the promised assistance arrived slowly. In response to India's criticism of US policies towards Vietnam, then-President Lydon B. Johnson utilized food aid as a weapon to teach India a lesson.

US, UK, and China all supported Pakistan during the 1971 India-Pakistan War. While the UK sent its aircraft carrier HMS Eagle to the Arabian Sea, the US sent US TASK FORCE 74 to the Bay of Bengal. According to the 1971 India-Soviet Union Peace and Friendship Treaty, Russia sent a nuclear-armed flotilla to confront this British-American menace. India's political leadership consequently did a good job of laying the groundwork for Bangladesh's triumph and liberty, with the help of Russia.

Despite understanding it would be harmful to India's safety, America did everything it could to strengthen Pakistan's military strength. Modern F-16 fighter planes from the United States were given to Pakistan and are the foundation of its air force. In reality, American officials regularly trained Pakistani pilots and updated their equipment. Even recently, the USA sanctioned Pakistan's F-16 modernization programme despite repeated protests from India.

The US declined to supply India cutting-edge weaponry. On the other hand, it kept bolstering Pakistan's armed forces. The US has never allowed joint ventures in India to produce weapons internally. The United States even prevented India from purchasing Israel's Arrow missile defense system.

America rejected to supply India with technological assistance for defense-related disciplines including study of space, connectivity, and missile advancement in 1974, when India conducted its initial nuclear tests at Pokhran. India conducted its subsequent nuclear test on May 11, 1998, and the United States immediately sanctioned India economically. However, when Pakistan conducted its nuclear test, that was not the case.

USA has consistently attempted to meddle in India's domestic issues. Furthermore, it is well known that the United States has consistently backed Pakistan in all international discussions involving the Kashmir conflict.
History has shown that the West tends to be more adept at causing issues for everyone and finding solutions that serve only its own interests, even when the remnants of its "self-help" might be put to good use in the future.  In times of need, the USA has an extensive record of abandoning its friends. The previous commander of the Indian Army, Gen. Bikram Singh, reaffirmed this. He said that when dealing with America, India needs exercise caution.
Who has been a friend to India in times of need?
Russia is the only nation that has ever truly supported India when it has needed it. There are several historical examples of this, including-
India-Pakistan War of 1971

The backing of Russia in the Kashmir conflict has had political ramifications. In 1957, 1962, and 1971, it vetoed United Nations Security Council resolutions that sought foreign involvement in Kashmir.

India has been leasing Russian nuclear-powered assault submarines from the Chakra family. India operates 14 conventional submarines, 9 of which are Russian. The sole operational aircraft carrier in India, INS Vikramaditya, is Russian-made.

A cooperative partnership between India and Russia produced the Brahmos, the most rapid cruise missile in the history of the globe. The bulk of the 30 squadrons in the Indian Air Force are Russian.

Gissar Military Aerodrome in Tajikistan, India's sole foreign military installation, was established with Russian assistance in the late 1990s.

India's first two satellites were launched by Russia before India created the Polar Satellite Launch Vehicle (PSLV). In 1975, Aryabhatta was launched aboard a Kosmos rocket. Bhaskara riding on an Intercosmos spacecraft in 1979. Rakesh Sharma, an Indian, was our nation's first citizen to travel to space under the same Intescosmos mission.

Four Indian astronauts have completed a general space flight training session in Russia in preparation for India's first human space flight mission, Gaganyaan. Between ISRO and ROSCOMOS, an MoU for the Human Space Lift Programme has been signed.

Buildings in partnership with Russia include the Tarapur Reactor in Maharashtra and the Kudankulam nuclear power plant in Tamil Nadu.

Russia continues to be India's top weapons supplier, even if its proportion of the country's arms imports has dropped from 69 percent between 2012 and 2017 to 46 percent between 2017 and 21.
How can India truly gain in International Politics?
India has significantly altered its non-alignment stance since Prime Minister Narendra Modi took office in 2014 and has undertaken a number of pro-US initiatives. Along the lines of the Quad mechanism, trade, investment, and other areas, India has sped up its progress towards the US. America and India have signed several security agreements over the past ten years, and India has evolved into a sort of military ally of the USA.
However, America has never truly seen India as a close friend and has always felt that India has not been submissive enough.  After the crisis between Russia and Ukraine began, the US and its allies, applied pressure on India in an effort to persuade it to adopt a more confrontational position towards Russia.
Russian friendship and years of support were already not valued by India. Instead of supporting Russia at its moment of need, they sent humanitarian aid to Ukraine. China wisely took advantage of the situation to strengthen its ties with Russia.
Here, it is important to remember that China, which has formally backed Pakistan in its dispute with India over Kashmir, has established the Sino-Pak axis to deal with India. The China Pakistan Economic Corridor project in Pakistan Occupied Kashmir (POK) is moving forward. China continues to incite Nepal to bring up the border issue with India.
In Bhutan, it is difficult to relocate trijunction south in the dangerously constrained Siliguri corridor. Given the aforementioned neighborhood difficulties, India needs at the very least the backing of Russia, a longtime ally and true friend, in order to cope with China near the border.
India has to understand that the days of staying neutral are over while bearing in mind all the points made in the article. It must adopt an assertive stance and pick a side. India must turn down the invitation to join NATO Plus and keep its distance from the United States and other western countries. This is necessary to convey to the world that India would never accept acting as a mere puppet in another country's clutches and will always act in its own best interests. India must also rekindle its relationship with Russia and support it unconditionally.