Hijab ban controversy in Karnataka, Government says "Don't wear clothes that disturb law and order"
On 5th February 2022, Government of Karnataka made a statement that 'clothes that disturb equality, integrity and public law & order should not be worn' related to the hijab ban in the state. Muslim women students were denied entry in their respective schools for wearing hijab.
The Government of Karnataka said ban of wearing hijab in classrooms of the school is not a violation of fundamental rights guaranteed by the constitution of India. Invoking section 133 of the Karnataka Education Act, 1983. 
There were protests all over the state by these women demanding their rights to wear a hijab over students not being allowed to enter their schools. 
On 8th February Karnataka High Court will hear petitions from 5 girls studying in a government pre-university college in Udipi, questioning the restrictions imposed by the said order of banning wearing hijab in the classrooms
Karnataka Education Act, 1983 –
Padmini SN from the education department (pre university) invoked section 133(2) of the act. It was notified that students have to wear a uniform chosen by appellate committee of the administrative board of pre-university colleges or college development committee. The act states to provide:
Planned development of educational institutions

Inculcation of healthy educational practice

Maintenance and improvement in standards of education

Better organization discipline and

Control over educational institutions in the State,
With the objective of fostering harmonious development of mental and physical faculties of students.
An order of the Supreme Court was also cited the case of Asha Ranjan and Others vs State of Bihar and Others in 2017 which summarized that the larger public interest prevails upon individual interest not by negating the individual rights but by upholding larger interests and to ensure relationship between institutions and students.
Minister for Kannada and culture, V Sunil Kumar said a hijab or a burqa can be worn from home to college, but on entering the classroom, everyone should be in uniform.
B C Nagesh, minister for school education, announced plans for a uniform policy: "What if tomorrow someone comes to the college in shorts saying it is hot? We cannot allow it. Colleges had set their own rules and it was being followed. There are Christian missionary-run colleges and a few of them do not allow Hindu students to wear bangles or bindis. Nobody has questioned it because it was the college's decision."
Section 133(2) of Karnataka Education Act –
Section 133 (2) of the act mandates that, a uniform style of clothes has to be worn compulsorily. However, private school administration can choose uniform of their choice.  It provides state the power to "give directions to officers or authorities under its control, which are necessary or expedient to carry out purposes of the Act. It shall be the duty of officer or authority to comply with the directions.
Initially the controversy started from Udipi and Chikkamagaluru in the beginning of the month of January when Muslim girls started wearing hijab to school and in protest of that Hindu students started attending the school with a saffron scarf around their neck. Slowly this also spread to other parts of the state where Muslim girls demanded the permission to attend school wearing hijab.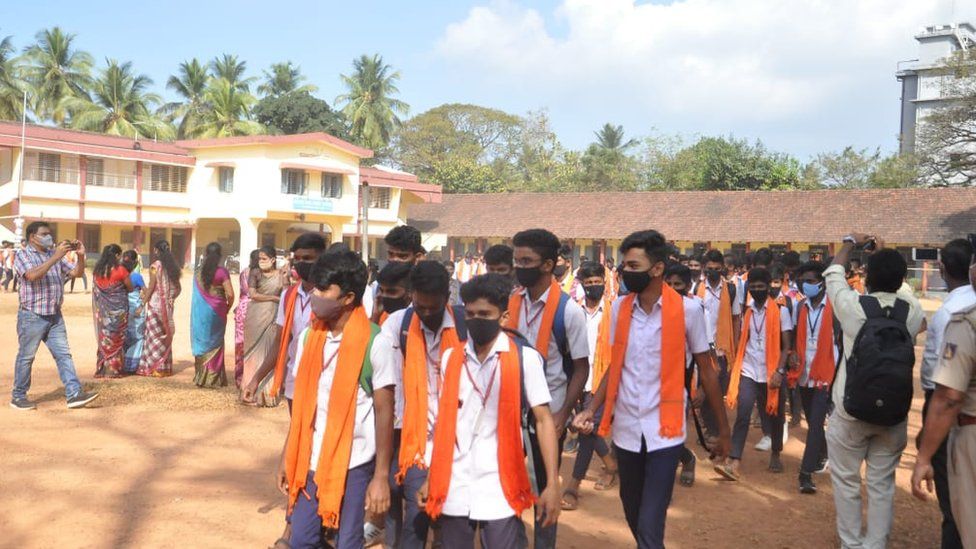 Blue scarves were worn by Dalit students who were in support of the hijab and backing hijab wearing students. After days the Government junior PU college in Kundapur in Idipi allowed the women wearing hijab to enter the campus but were seated in separate classrooms and that too without any lessons.
An order by the government officials "In the event of the administrative committee not selecting a uniform, clothes which disturb equality, integrity and public law and order should not be worn".
Different political parties had different views on the matter of this hijab ban. Where Congress leaders backed wearing of hijab, the BJP leaders stated they will not allow 'Talibanization' of educational institutions.
Congress legislature party leader and former Chief Minister Siddaramaiah who is backing the wearing of hijab by women accused the BJP and RSS trying to create disharmony by using the name of hijab. "The constitution has given the right to practice any religion which means one can wear any clothes according to their religion. Prohibiting women wearing hijab from entering the school is violation of fundamental rights."
Nalin Kumar Kateel, BJP's state president and Member of Parliament said the government will not allow hijab at educational institutions and will take strict measures to ensure that things go as per rules of the school and won't let things be turned into 'Taliban like'. There is a BJP government in this state, there is no room for hijab or any other related incidents. Schools and temples of mother Saraswati, everyone should abide by rules and regulations there. Bringing religion there is not rights, what students need is education, if someone can't follow rules, they can choose their path elsewhere he added.
Amid growing protest over the hijab row, former chief minister and Congress leader Siddaramaiah urged the BJP government in the state to declare a holiday to all the schools and colleges and to conduct online classes. 
According to the former J&K Minister and Peoples Democratic Party (PDP) President Mehbooba Mufti – "The government cannot thrust its decision on different religions as every religion has its own teachings. Nobody can be forced to refrain from following religions obligations". She said India is a country of diversity, it is not possible to impose one dress, one language here.
On 8th February Karnataka Chief Minister Basavaraj Bommai has ordered closure of all high schools and colleges for next three days.
Justice Krishna S Dixit is hearing the petitions filed by the Muslim students, while petitioners are represented by senior advocate Devdutt Kamat.
In the Karnataka High Court Senior Advocate Devdutt Kamat, appearing for the petitioner, said wearing a headscarf is essential for Muslim culture. According to him, the circular depicts non application of mind on the part of state government. He further claimed that wearing of Hijab is an essential religious practice as prescribed by holy Quran. Reading out the Quranic verse, Kamat said Quranic verse 24.31 on dress code mandates that neckline should not be revealed to anyone other than husband.
The final decision is yet to come. 
Edited and published by Ashlyn Joy