Trends
In 2023, mechanical engineering education will take a new turn as automation and robotics combine
In 2023, mechanical engineering education will take a new turn as automation and robotics combine
The field of mechanical engineering became more established as a means of creating, managing, and maintaining equipment throughout the first two industrial revolutions. In general, its core field of knowledge expanded to encompass manufacturing, materials, mechanics, thermodynamics, fluid mechanics, and machine design. It is both the forerunner and the recipient of other engineering forms. They will keep enriching it by coming up with, designing, constructing, and operating increasingly advanced gear with increased complexity, flexibility, connectedness, and automation.
In comparison to prior industrial revolutions, the fourth industrial revolution is currently significantly increasing the multidisciplinary nature of this corpus of knowledge. These revolution's core technologies include AI and ML, IoT, Robots and Cobots, Big Data, 5G, Augmented and Virtual Reality, and 3D and 4D printing, among others.
A portion of the boring, risky, and unclean activities are taken over by machines, which also assist in increasing productivity and service levels. They simplify or change our job, but they also develop new types of experiences, surroundings, enterprises, and even societal structures, which grow and change our culture. Machines have been a part of numerous civilisations from the beginning of time. Without the aid of various tools and equipment, their monuments, textiles, and handicrafts would not have been feasible. One of the sixty-four acknowledged art forms in prehistoric India was the understanding of tools and machines. China was undoubtedly the world leader in manufacturing machines up to the fourteenth century.
Since prehistoric times, machines have been equipped with automation systems. The first self-operating devices were possibly traps used to catch games. Some examples of early autonomous devices are the Chinese south-pointing chariot, Persian windmill, and Egyptian water clock. In Alexandria, active teaching and research projects focused on automatic devices from the third century BC. Hero's "Pneumatics," which had various inventive design descriptions, became a key source for the creation of automated machines.
During the Middle Ages, the Arab world produced several treatises on machine design, building on this basis. The Chinese and the Japanese created some fascinating self-operating devices more than a thousand years ago for entertainment and other uses. These machines were created to automatically carry out a sequence of actions.
In the fifteenth century, the machine renaissance began in Italy and quickly expanded throughout the rest of Europe. The printing press made several publications on machine design widely available. The evolution of hydraulics was amazing. Numerous inventive residential appliances, such as fountains and fanning mechanisms, as well as commercial appliances, including saws, wineries, fabric washing, and wheat mills, were also created. Steam energy, the machine tool industry, and mechanized industries defined the first industrial revolution, which began in the UK in the eighteenth century.
To specify the weaving of patterns and images, the Jacquard loom, developed in 1802, utilised punched cards. The internal combustion engine, electricity, gas, communication technologies, control systems, and factories with assembly lines driven by electricity were all part of the second industrial revolution that occurred in the next century. Innovative mechanisms, a variety of energy sources, and electromechanical devices for automation and industrial process control were used to create several new machines with increased capacity and power.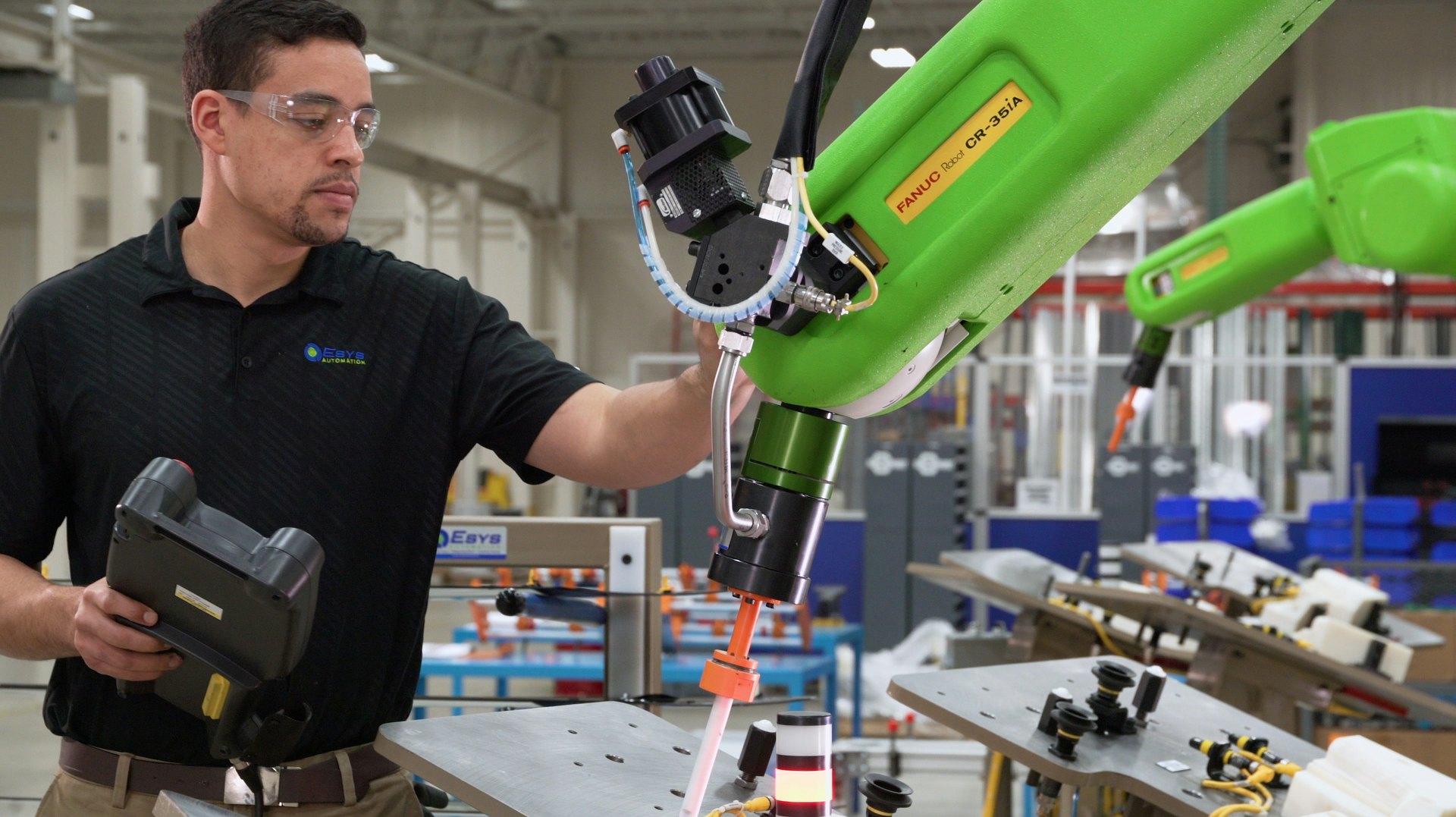 Microelectronics, digital computers, and automation based on programmable controllers were the catalysts for the third industrial revolution. Mechatronic systems have now begun to develop from machine systems. The machine systems improved in sophistication, efficiency, size, and weight, while the control mechanisms got quicker, more dependable, and more adaptable. Fusions between the physical, cyber, and biological worlds, as well as intelligent automation, are characteristics of the current fourth industrial revolution.
Advancing industrial automation
At Ford, the term automation was first used in 1953. Nowadays, the benefits of industrial automation go far beyond the reduction of labour costs and include several advantages like improved designs, simpler capacity expansion, decreased inventory, consistency in quality, improved downtime, decreased setup time and transition costs, improved preventive maintenance, extended equipment life, increased safety, simpler failure detection and rectification, flexible products, lower energy consumption, etc.
Automation engineers employ a variety of technologies to optimize, simplify, and automate manufacturing, mining, power generating, warehousing, and other activities. Robotics and industrial automation are anticipated to be embraced by more than 60% of businesses, according to the World Economic Forum's 2020 study on the Future of Jobs.
According to a Global Survey from 2021, automation is being tested by organizations in 70% of the world's respondents' countries. It estimates that $37 trillion will be produced by smart manufacturing by 2025. The Global Warehouse Automation Market is expected to reach more than 64 billion USD by 2030, according to research from 2022 Acumen Research and Consulting.
Process automation and factory automation are two concepts that collectively make up industrial automation. Although the idea of a digital computer managing a production facility first surfaced in 1948, real applications didn't become accessible for another ten years. AI-based dynamic reasoning is mixed with static reasoning in automation software. According to an estimate by Maximize Industry Research, the automated process control market would likely reach or surpass 27 billion USD by 2027.
Tetsuro Mori first used the word "mechatronics" in 1969, in the early stages of the third industrial revolution. Robots and mechatronic systems have increasingly become necessary parts of automated manufacturing and logistical systems. The robot is a word that originated in Czech and was first used in a play in 1923. Industrial robots can be stationary or mobile. Unimate, the first industrial robot installed by a firm, was created by General Motors in 1961. In 1970, machine vision was also used for the first time in an industrial context. Numerous industrial robots were developed in the 1960s and 1970s.
Robots are employed for greater accuracy and quality work as well as to aid or replace human operators in risky, unpleasant, and boring tasks. Construction, agriculture, defence, healthcare, infrastructure, retail, leisure and entertainment, law enforcement, and other industries are all impacted by the uses of robotics and mechatronics, which reach well beyond the industrial and logistical sectors. According to a forecast from Market Research Future from 2022, the entire robotics market will surpass 214 billion USD by 2030 as a result of the availability of affordable and energy-efficient robots.
The Business Research Company predicted that the market for machine vision will likely surpass 18 billion USD by 2026 in a research from 2022. A Reportlinker analysis from 2022 predicts that by 2028, the worldwide market for AI in manufacturing will exceed 21 billion USD.
The new manufacturing facility is evolving into an intelligent network of technologies that allows for the autonomous management of buildings, equipment, and logistical chains with a minimum of human involvement. The ability to track operations at all levels and collect pertinent data from equipment and assets in real-time, thanks to industrial IoT, makes activities completely transparent across the production chain. Effective insights on preventative maintenance, asset utilization, worker and asset safety, lowering energy and material requirements, lowering downtime, etc., may be produced by a strong data analytics environment.
According to Statista, the Industrial IoT market will reach more than USD 1.1 trillion by 2028. Digital twins are being developed and regularly examined throughout their life cycles using real-time data as well as other sources. By a survey by 2921 Verified Market Research, the digital twin market is anticipated to reach more than 108 billion USD by 2028. A recent report claims that the engineering services outsourcing (ESO) sector has experienced a paradigm shift from core engineering services to embedded engineering solutions that combine automation, robotics, AI, ML, analytics, IoT, etc. The global ESO market is anticipated to reach more than USD 9 trillion in 2030.
This exponential expansion has enormous potential for Indian businesses, which will open up several employment options for our engineering graduates with the necessary skills. Students should learn the concepts and methods of machine design, process control, mechatronics, cyber-physical systems, robotics, and artificial intelligence to be prepared to work in this field. They should also be able to design, implement, and manage automation systems. We cannot change our manufacturing facilities with automation and robots and achieve the goals of Make-in-India, Atma-Nirbhar Bharat, and Developed India.
Both in India and abroad, there will likely be a high need for positions in automation and robots. Numerous significant Indian industrial equipment, machinery, and car manufacturers should quickly take advantage of the rapidly growing worldwide demand for robotics and mechatronic systems to invest heavily in the development and manufacture of automation tools and robots. Interdisciplinarity and systems thinking, along with technical skills, lifelong learning, complex problem solving, critical thinking, interpersonal skills, and the capacity to work in multidisciplinary teams, are critical competencies for engineers, given that Industry 4.0 is about the fusion of various diverse technologies.
By including several such intriguing fusions in their engineering courses, certain Indian engineering institutes are successfully adapting to the situation.
Edited by Prakriti Arora