Trends
Overview of new and Clean India 2014-2022
Overview of Clean India 2014-2022
Our Prime Minister Narendra Modi has stressed the importance of "Clean India" to fulfil Gandhiji's dream and the dream of many other reformers. He called for its implementation as a compulsory schedule in honour of Independence Day.
Dust and dirt are everywhere in today's world. Unclean surroundings surround us. Filth, squalor, and garbage are constantly present in our environment. Throughout the streets are piles of waste. The insult doesn't end there, as our sacred rivers are not spared either. We are only concerned about our homes.
Garbage, dead bodies, etc., from domestic and industrial sectors, get dumped in the same sacred rivers, e.g., the Ganga and Yamuna, which we revere as much as God.
Our atmosphere is not only becoming dirty due to this menace, but it is also becoming difficult to breathe. In my opinion, this is due to a combination of rapid industrialization and deforestation to establish industries and build new colonies, which has led to the abrupt decline in oxygen density.
Although we know these facts, the dream of a cleaner and greener India cannot be realized until we recognize the problem and take remedial measures. Our city, especially our rivers, should also be kept pollutant-free and clean by planting more trees.
Green India, Clean India
Our homes, offices, and public spaces should all be clean, and a clean environment is essential to a civilized lifestyle. Our nation's father, Mahatma Gandhi, gave the motto "Cleanliness Is Godliness", and our honourable Prime Minister Narendra Modi launched the Swachh Bharat Mission that reflects his legacy. Mahatma Gandhi, therefore, has been honoured in the logo of the Swachh Bharat Abhiyan.
The Swachh Bharat Abhiyan – Clean India Mission
Keeping our surroundings clean is just as important as keeping our personal belongings and homes clean. Since the Clean India Mission began in October 2014, efforts have been made to eradicate open defecation.
Government of India statistics reveal that more than ten crore toilets have been built throughout the country as part of the Swachh Bharat Mission. The mission has helped improve the quality of life of a typical Indian, as 36 Indian states have been declared defecation-free.
As responsible citizens, we have to make sure that we do what we can to help our government with its noble mission of keeping our country clean and hygienic every day. In addition to cleaning our own houses, we must also do so in public places such as parks, tourist attractions, and public restrooms.
Our fellow citizens' living standards are improved by cleanliness in public areas. At the same time, foreign tourists who visit India also have a positive impression of the country because it gives off a very positive image of the country.
During his lifetime, Mahatma Gandhi repeatedly emphasized a cleaner and healthier India. We call for a clean India as part of the Swachh Bharat Abhiyan. As part of the Swachh Bharat Abhiyaan initiative, Narendra Modi launched an awareness drive about the mission and its importance.
As the Prime Minister swept the nation with a broom, he said people should not litter or let others litter. He made Swachh Bharat Abhiyan the nation's most significant mass movement. Na gandagi karenge, Na karne denge was the mantra he gave.
Throughout history, people have always emphasized the importance of cleanliness since they knew it was essential for living a long and healthy life. Our religion also emphasizes the importance of cleanliness, so all religious ceremonies are performed in clean surroundings all across the country.
We should also realize that a clean lifestyle isn't always about removing dirt from our surroundings, but it also involves being more organized in our lives. Leading a happy and comfortable life depends mainly on keeping our belongings, time, and thoughts organized.
Our Cleanliness Drive
Narayan Seva Sansthan also organized a cleanliness drive in connection with this mission to spread awareness about the issue. During the cleanliness drive, the officials of our NGO encouraged the locals to dispose of their waste safely and hygienically.
In the aftermath of the Swachh Bharat Abhiyaan, the waste disposal method for the entire nation was changed. Thus, it is essential to make the citizens of our country aware of the correct methods of disposing of waste.
As a result of the waste disposal system, the cleanliness crews can separate waste into different categories to quickly dispose of or recycle the waste. All can contribute to the vision of "Clean India, Dream India" if they are more aware of waste disposal.
With the launch of the Swachh Bharat Mission, an immense shift in Indian society can be observed, as more and more people are taking part in cleanliness drives, and even small actions from individuals enable "Clean India, Dream India" to become a reality. There is more awareness about waste management in general and littering in public places.
In addition to beach cleanups and other campaigns, cleanliness campaigns are being promoted in tourist attractions. Even with little or no help from the government, the people are systematically cleaning up places. For this revolution in mindset and the country's improvement, we must thank our government.
Keeping one's body and mind clean is an indication of godliness. By observing how a person dresses, we can determine who that person is. People will assess a person's character if he wears careless clothing. A good character produces a good heart. Spiritual perfection comes from clarity of mind.
Cleanliness is essential no matter where we live, work, or visit. A healthy lifestyle depends on cleanliness. Sustainability in India can be viewed as two sides of one coin, i.e., Clean India and Green India. The dream of the father of the nation was to create a clean India called Swachh Bharat Abhiyan (SBA).
Mahatma Gandhi emphasized cleanliness and sanitation as a means to survive due to the poor position of Indian rural people at the time. Former Indian President Pranab Mukherjee addressed Parliament in June 2014 and said, A "Swachh Bharat Mission" will be set up to ensure cleanliness and waste management across the nation".
It will be our way of celebrating Mahatma Gandhi's 150th birthday, celebrated in 2019. A "Swachh Bharat Mission" is proposed by the Narendra Modi Government.
Under the National Action Plan on Climate Change (NAPCC), the Green India Mission is one of eight missions to help the country adapt to the impacts of climate change on natural resources, lifestyles, and livelihoods. Taking Green and Clean India as a model of sustainable development as a close companion to the models of sustainable development, this paper aims to magnify it.
On 2-10-2014, the Hon'ble Prime Minister of India launched Clean India Green India, a Swachh Bharat Mission initiative. As part of its mission to make India a cleaner and better place, Swachh Bharat Abhiyan has several objectives and appeals to all citizens. Making it possible requires everyone in the country to do their best.
He wanted to make people aware of these issues by creating awareness campaigns about health and education. Following that, an important goal will be to teach citizens how to dispose of waste responsibly.
In summary, Swachh Bharat Abhiyan is an essential step towards a cleaner, greener India. India would soon flourish if all citizens participated in this drive. Additionally, as India's situation improves in terms of hygiene, you will all gain equally. The tourist population in India will grow year after year, and the country's environment will become cleaner and happier. 
On October 2 2014, Shri Narendra Modi, the Prime Minister of India, launched the Swachh Bharat Abhiyan. The program promotes a clean environment and has been implemented in 4041 cities. The government of India has established it as one of the major campaigns, and maintaining a clean environment is its primary objective. Clean India drives or Swachh Bharat Abhiyan are other names for the campaign. State governments are also involved in this national campaign.
Such programs are based on a concept.
Whether at home, in public areas, or at work, cleanliness is our right, and it is essential. Maintaining a clean environment is an integral part of staying civilized. To eradicate open defecation throughout the country, the mission aims to eliminate it. The mission started on October 2, 2014, and significant efforts have gone into it since then. 
According to government statistics, over ten crore toilets have been constructed across India. These toilets encourage cleanliness and public health. The mission has achieved defecation-free status in 36 Indian states, heading for success. People in many states have had a better quality of life.
To achieve this goal, our government is not leaving any stone unturned. People have become more responsible for keeping a clean environment through the scheme. To assist with this noble endeavour, we must do our part.
Rural areas are affected.
Most of the missions have substantially impacted rural areas as the campaigns are designed to make our country healthier and cleaner. The lack of adequate toilets in villages meant that sanitation programs were typically vast in scope. Since the government initiative, both the rural and urban landscapes have improved. 
Small towns have benefited from the Swachh Bharat Abhiyan when cleaning up streets and other areas. Our homes are not the only thing to maintain and adhere to, but public places such as parks and other tourist attractions also need our attention. Maintenance of cleanliness not only helps in the improvement of the standard living condition but also provides a positive image when foreigners visit our country.
A Clear Determination of the Objectives
The primary objective of Swachh Bharat Abhiyan is to spread awareness of cleanliness and let people understand its importance. To provide basic sanitation facilities, dispose of liquid and solid waste, and supply clean drinking water to the village, we have set the motto, "Sanitation to the fullest extent".
The Ministry of Drinking Water has laid out an action plan for sanitation and water. There have been a lot of unhygienic practices being controlled since 2019. As part of the plan, Open Defecation Free India is also being implemented.
A summary of action plans is given below :
An increase from 3% to 10% in the number of toilets.

Increase the number of toilets constructed each day from 14000 to 48000.

We use mobile devices, audiovisuals, telephone and local programs to launch a media campaign at the state or national level.

Engaging school children in activities to increase their awareness of water, sanitation, and hygiene.
Besides creating eco-wash clubs, the campaign aims to hold open sessions and discussions on menstrual health and hygiene. Rather than focusing on the pollution problem, it highlights its side effects and encourages people to be more cautious in the future.
Through its plantation and awareness drives, this organization strives to make India a cleaner, greener place.
The Britannia Chowk area in Delhi is notorious for its piles of garbage and unpleasant odours. The place, however, went through a total renovation a few months ago. An NGO team of young and enthusiastic people collected all litter on the area with shovels and swept it until it was spotless. 
Despite its importance to the site, the government had disregarded the piling trash in the National Capital Region's commercial and industrial area. 
In India, however, waste management is just one of several problems. India ranked 177 out of 180 countries in the 2018 Environmental Performance Index (EPI), which evaluated hygiene, air quality, waste management, and ecological sustainability. According to this report, several parts of the nation suffered from high pollution levels and struggled to handle their solid waste scientifically and efficiently. 
Several factors contribute to this, including rapid urbanization, inadequacies in infrastructure, and loopholes in the waste disposal system.
The government launched the Swachh Bharat Mission in October 2014 to ensure a cleaner India. There is still a long way to go even though the campaign made tremendous progress towards improving sanitation systems and transforming waste processing and recycling facilities. 
He was eager to contribute to India's Clean India mission as a 23-year-old. In 2019, he and some of his childhood friends founded the Vrikshit Foundation in Delhi. Since then, the voluntary organization has worked tirelessly to create hygienic and breathable environments.  
The people who live in their neighbourhoods often blame the government for not keeping it tidy, and they fail to realize that cleanliness is collectively responsible. According to Shankar Singh, Founder and President of Vrikshit Foundation, the foundation aimed to educate and involve citizens on the ground. 
Cleanliness drives, awareness programs, and planting events are ways the foundation attempts to accomplish its goal. 
We are beginning with the initial phase.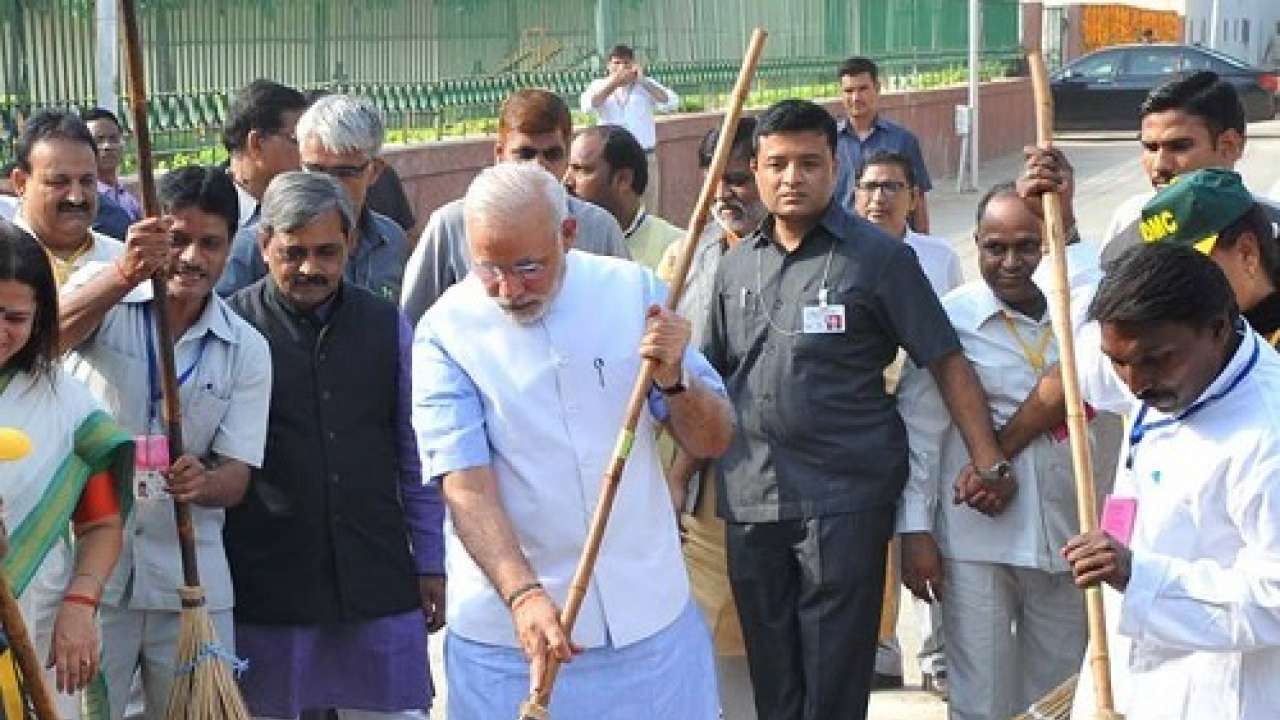 Originally from Delhi, Shankar grew up in a city known for its traditional bazaars and botanical gardens. At the university where he studied, he earned a PhD in Computer Engineering, and he began his professional career as a software engineer with a tech company. 
Shankar, an eco-conscious individual, was deeply committed to the sustainability of eco-initiatives and preserving nature.
His attention was drawn to a poster that ASSOCHAM put up in May. The campaign involved citizens cleaning up the city of Mumbai, and his city could benefit from a similar event when he organized one. 
My knowledge of the Yamuna was Delhi's principal water source, and the surface of its water was also frosted with layers of foam. There have been reports that the pollution of the river had been caused by sewage, industrial wastes, and pollutants. Thus, I, a few friends, and a few others decided to clean a river channel," recalls Shankar.
Shankar and his pals pulled out many plastic covers, paper waste, rotten fruits and garlands, discarded clothing, and other items during their long hike across knee-deep water. The before and after pictures of the river they posted on social media was met with a great deal of interest. 
People on Facebook and Instagram expressed their appreciation for our work and asked when we would do another activity like this. Shankar says that some even inquired about joining our future cleanup efforts. 
On the spot, Shankar started thinking about setting up a volunteer organization to clean up public spaces. The seeds for Vrikshit Foundation were sown in September 2019. 
Community involvement 
Only four citizens participated in the first cleanup drive organized by the foundation. The initiative slowly grew as more individuals participated. 
For the convenience of students and working professionals, most of the organization's initiatives take place on weekends. The location is determined either through citizens' requests or physical surveys performed by the team. As well as that, the NGO uses individual donations and online crowdsourcing platforms to fund most of its events.
"Both inside and outside Delhi, our volunteer base has grown in the last year. We are currently working with volunteers in 11 states. They inform the foundation whenever they encounter a playground, slum, or water body overfilled with garbage. Observing a quick check before beginning a cleanup drive is standard practice," explains Shankar. 
The NGO posts the event's details on its social media pages and a registration link when the time and location are determined. There is no fee for the drives organized by Vrikshit Foundation, and everyone is welcome to participate. As soon as volunteers arrive at a job site, they are provided with safety equipment and tools, including gloves, masks, shovels, etc.  
We collect, separate, and send all the waste to municipal or private recycling facilities or hand it over to them. 
(Swachh Bharat Mission) The Clean India Mission is meant to clean up and sanitize India. 
With this goal, open deprecation will be eradicated by 2019. Through constructing toilets for households and communities, eliminating manual scavenging, introducing municipal solid waste management practices, the mission seeks to eliminate open defecation. Finally, changing people's attitudes about sanitation will be necessary, encouraging the private sector to participate in this sector.
A clean India would significantly improve public health in India. By protecting the poor's income, the national economy would benefit.
(Clean India Mission) Benefits of Swachh Bharat Abhiyan 
It Will Improve the Health of the Masses
It is less likely that a person will contract a life-threatening disease when open defecation is stopped. Cleanup campaigns are beneficial for human health.
The adoption of clean technologies

Among the project's goals is the promotion of non-polluting/unpolluting technology. Biodegradable fuels and products are used to prevent pollution. To shift from fossil fuel-based goods to greener ones, young people will have to use sophisticated technology and be creative.
It Is Possible To Increase Individual Productivity

A person's health influences their productivity at work. The more healthy an individual is, the more they will work.

Incorporating Foreign Direct Investments (FDI)

Swachh Bharat may aid India in increasing foreign direct investment and accelerate growth.
Disadvantages/Demerits
There is no way for individuals to make a real difference by themselves. Most individuals don't participate in the cleaning campaign because they don't have the time or desire to help.
It needs a lot of help.

Unless and until the broader public is engaged fully, the campaign will not meet its objectives.

People's views are hard to change overnight.
Sustained Effort's Impossibility
The government does not make continuous efforts; cleaning campaigns, for instance, are held in fits and starts but not regularly.
It is unlikely that government workers will take the task of maintaining cleanliness seriously due to their laid-back demeanour. Collaboration across departments is also essential.
Enforcement is challenging.
Swachh Bharat Abhiyan participants are encouraged to clean up the streets, but those who litter are neither arrested nor punished.
We cannot run the campaign independently, and legal foundations are also required. These rules, however, cannot be implemented or enforced, as a considerable portion of Indians, particularly in rural regions, still defecate in the open.
Conclusion
In addition to water supply and waste disposal, sanitation must consider waste treatment and infrastructure maintenance. To ensure that toilet usage is monitored regularly, the state must support the construction of toilets and public awareness campaigns.
edited and proofread by nikita sharma