This list features the top 10 most popular communication apps available on the Google Play Store in India in 2021.
Messenger – Text and Video Chat for Fre

Discord – Talk, Video Chat & Hang Out with Friends

Skype – free IM & video calls

Messenger Lite: Free Calls & Messages

WhatsApp Business

OnePlus Community

Viber Messenger – Free Video Calls & Group Chats

GroupMe

Plus Messenger

imo free video calls and chat
1. Messenger – Text and Video Chat for Free
Be together whenever, with our free* all-in-one communication app, complete with unlimited text, voice, video calling and group video chat features. Easily sync your messages and contacts to your Android phone and connect with anyone, anywhere.
CROSS-APP MESSAGING AND CALLING


Connect with your Instagram friends right from Messenger. Simply search for them by name or username to message or call.

VANISH MODE




Send messages that only last for a moment. Opt in to use vanish mode where seen messages disappear after you exit the chat.

PRIVACY SETTINGS




New privacy settings let you choose who can reach you, and where your messages are delivered.

CUSTOM REACTIONS




Lost for words? You can customize your reactions, with lots more emojis to choose from, including 🎉 and 🔥.

CHAT THEMES




Choose from fun themes and colors, like Tie-Dye or Love, to make your chats more personal.

WATCH TOGETHER




Watch videos, tv shows, and movies with your friends over Messenger Video Chat and Rooms when you can't be together. Capture every moment and reaction in real-time.

GET THE GROUP TOGETHER WITH ROOMS




Send a link to group video chat with anyone, even if they don't have Messenger. Host up to 50 people with no time limits.

FREE* VIDEO CALLS TO STAY CONNECTED




Keep your friends and family close with unlimited live video chatting. Host group video calls with up to 8 people, with high-quality audio, high definition video, and interactive video features like face filters.

UNLIMITED FREE* TEXT & PHONE CALLS




Skip exchanging phone numbers and simply send a message to your Facebook friends, even if they're across the world. Enjoy high-quality voice and text messaging on mobile, tablet, and desktop.

TURN OFF THE LIGHTS IN DARK MODE




Give your eyes some rest with a sleek new look that darkens the colors of the chat interface.

*RECORD AND SEND VOICE AND VIDEO MESSAGES




When text just won't cut it, just hit record and send. Say, sing, show, or shout it out loud.*

EXPRESS YOURSELF WITH STICKERS, GIFS, AND EMOJIS




Use custom stickers to show your creative side. You can even add effects and filters to video calls.

*SEND FILES, PHOTOS, AND VIDEOS




There's no limit to the number of files you want to share with your friends.*

PLAN AND MAKE IT HAPPEN




Make plans to get together with polls and more. Suggest a meeting spot or tell friends where you are by sharing your location with just a few taps.

*SEND MONEY SECURELY AND EASILY (within US only)




Send and receive money securely and easily with friends and family right in the app by adding your debit card, PayPal account or reloadable prepaid card (single-source cards eligible for sending money only).*

CHAT WITH BUSINESSES




Easily connect with your favorite businesses to make reservations, get customer support, find deals and more.

BRING SMS INTO MESSENGER




No need to open multiple apps to stay in touch. Use one app for SMS and Messenger.
2. Discord – Talk, Video Chat & Hang Out with Friends
Discord is where you can make a home for your communities and friends. Where you can stay close and have fun over text, voice, and video. Whether you're part of a school club, a gaming group, a worldwide art community, or just a handful of friends that want to spend time together, Discord makes it easy to talk every day and hang out more often.
Create an invite-only place
• Discord servers are organized into topic-based channels where you can collaborate, share, and just talk about your day without clogging up a group chat.
• Voice channels make hanging out easy. Grab a seat in a voice channel when you're free. Friends can see you're around and pop in to talk, without having to call.
• Reliable tech for staying close. Low latency voice and video feels like you're in the same room.
STAY CLOSE WITH TEXT, VOICE, AND VIDEO
• Wave hello over video, watch friends stream their games, or gather up and have a drawing session with screen share.
• Turn any image into your own custom emojis and share them with friends.
• Share anything from a funny video to your latest group photos, and pin your favorites to remember later.
FOR A FEW OR A FANDOM
• Custom moderation tools and permission levels can group up your friends, organize your local book club, or bring together music fans from around the world.
• Create moderators, give special members access to private channels, and much more.
3. Skype – free IM & video calls
Skype keeps the world talking. Say "hello" with an instant message, voice or video call – all for free. Use Skype to send SMS messages to mobiles worldwide and with SMS Connect you can now also read and reply to your phone's SMS messages right from your computer. SMS connect will be released gradually.
• Video calls – Don't just hear the cheers, see them! Get together with 1 or 24 of your friends and family on a HD video call. Watch everyone's smiles and cries when you tell them "We're engaged!!!"
• Chat – Reach people instantly. Send messages to your friends, grab someone's attention with @ mentions, or create a group chat to plan a family reunion.
• SMS Connect – Read and reply to your phone's SMS messages in Skype on your PC or Mac.
• Share – Send photos and videos with your family and friends. Save shared photos and videos to your camera roll. Share your screen to make travel plans with friends or present designs to your team.
• Voice calls – Camera shy? Make voice calls to anyone in the world on Skype. You can also call mobile and landlines at low rates.
• Express yourself – Liven up conversations with emoticons, click on the "+" in chat to send a Giphy or images from the web, and annotate images with words, lines and more.
4. Messenger Lite: Free Calls & Messages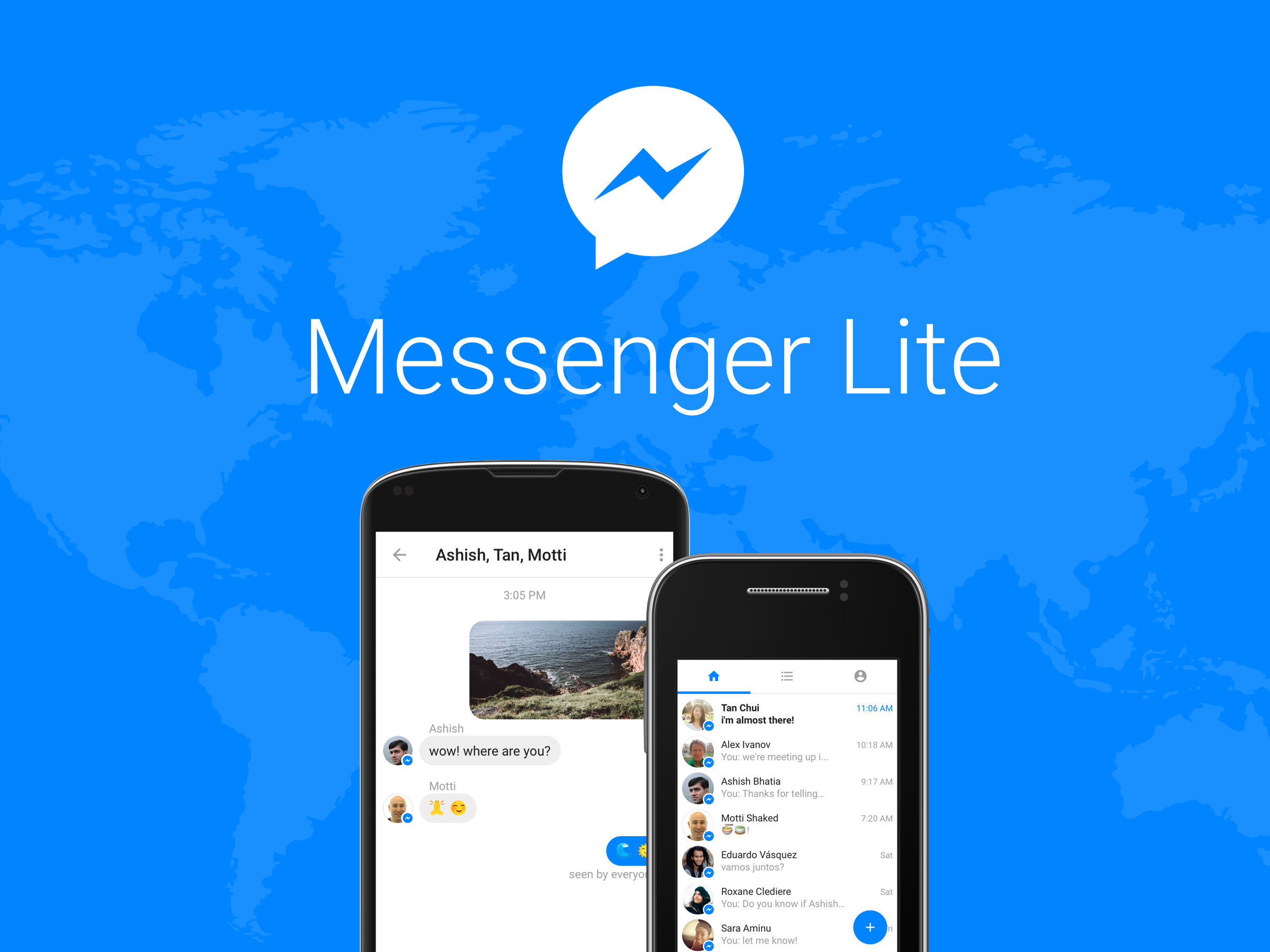 A fast and data-efficient messaging app to reach the people in your life.
Messenger Lite:
– Installs quickly. It's less than 10MB to download!
– Saves data. It loads fast, runs efficiently and uses less mobile data.
– Works everywhere. Reach people when you're in an area with a slow or unstable internet connection.
With Messenger Lite, you can:
– Contact anyone on Messenger, Facebook or Facebook Lite.
– See when people are active and available to chat.
– Message people one-on-one or in groups to catch up or make plans.
– Send photos, links, or express yourself with stickers.
– Make one-on-one voice and video calls for free over Wi-Fi (otherwise standard data charges apply). Talk as long as you want, even with people in other countries!
5. WhatsApp Business
WhatsApp Business enables you to have a business presence on WhatsApp, communicate more efficiently with your customers, and help you grow your business.
If you have separate business and personal phone numbers, you can have both WhatsApp Business and WhatsApp Messenger installed on the same phone, and register them with different numbers.
In addition to the features available in WhatsApp Messenger, WhatsApp Business includes:
• BUSINESS PROFILE: Create a profile for your business to help your customers find valuable information — like your website, location, or contact information.
• BUSINESS MESSAGING TOOLS: Be more responsive to your customers by using Away messages to indicate when you're away or Greeting message to send your customers an introductory message when they first message you.
• LANDLINE/FIXED NUMBER SUPPORT: You can use WhatsApp Business with a landline (or fixed) phone number and your customers can message you on that number. During verification, select the "Call me" option to receive the code over a phone call.
• RUN BOTH WHATSAPP MESSENGER AND WHATSAPP BUSINESS: You can use both WhatsApp Business and WhatsApp Messenger on the same phone, but each app must have its own unique phone number.
• WHATSAPP WEB: You can more efficiently respond to your customers right from your computer's browser.
WhatsApp Business is built on top of WhatsApp Messenger and includes all the features that you rely on, such as the ability to send multimedia, free calls*, free international messaging*, group chat, offline messages, and much more.
6. OnePlus Community
Stay up to date on the latest news, events, and community happenings with the official OnePlus community app. View and create forum threads, check your notifications, and manage your account via our brand new mobile interface.
Key features:
1. Enjoy complete access to the OnePlus Community Forums
2. Experience a brand new mobile-optimized user interface
3. Catch up on the latest official news
4. Participate in all kinds of contests
5. Share your ideas with the community
6. Join the Open Beta Program to help create better technology
7. Viber Messenger – Free Video Calls & Group Chats
Viber is the FREE, simple, fast, and secure messaging and calling app. It's the messenger of choice for millions of users worldwide! Viber is a free calling and messaging app, all you need is a data plan or a WI-FI and you're good to go. Make international calls, use video, open a group chat, and so much more. There is no need to spend money on sms or calling apps, with Viber your talking is unlimited!
With Viber, you'll have access to unlimited calls, endless messaging, and high-quality video calls. Why is Viber the perfect chat and video messaging app for you?
Make Free Calls in Audio and Video Messenger

Make crystal-clear audio and video calls to friends and family. A group video chat with up to 20 people is a great opportunity to see your loved ones. Enjoy completely free Viber-to-Viber video calling and chatting every day. Note that free calling is unlimited and can be used both with WiFi and mobile data.

Open a Group Chat

Catch up with friends, family, and coworkers by opening a group chat for up to 250 members. Group chat is a perfect free texting tool for discussing your favorite movies, or sharing family events, jokes, and photos.

Send Free Messages

Staying in touch has never been easier. Send a text message, a photo, a sticker or a

GIF, or any other file. If you enjoy chatting apps, Viber is a great alternative for the fans of SMS texting!

Call and Text with 100% Privacy

End-to-end encryption is on by default. Encrypted messaging means that texts you send make their way from your device to the recipient's in the form of an encrypted code that only their device can translate to plain text using an encryption key. So no one, not even Viber, can read your messages.

Self-Destructing Messages




Send Disappearing Messages in your 1-on-1 chats by setting a timer for each message. Choose how long the recipient has to read your message – 10 seconds, 1 minute, and up to 1 day!

Express Yourself with GIFs and Viber Stickers




Words can only say so much! Express your every emotion with endless GIFs and over 55,000 stickers from the Viber Sticker Market. Create your own GIFs and stickers and enjoy free international texting in more creative ways!

Start a Viber Community with Unlimited Members!

Start your own community! Video Messenger Chat is a great opportunity to talk with an unlimited number of people. Enjoy admin controls and new conversation features in a unique live chat space.

Do More in Group Chats

Spice up your group chats with polls and quizzes, mention any participant you think is missing out on the fun! React to messages with unlimited likes, lol, shock, anger, sadness! Call the group for free for more personalized experience.

Make Low-cost Calls to Landlines with Viber Out

Call landlines, non-Viber users, or anyone who doesn't have an internet service or a mobile phone with Viber Out's low-cost service. Viber is not meant only for free talk and text but also for international calling!


Viber is a free calling and texting app that will bring your international texting and calling experience to the new level.
8. GroupMe
GroupMe – the free, simple way to stay connected with those who matter most.
Family. Roommates. Friends. Coworkers. Teams. Greek Life. Bands. Faith Groups. Events. Vacations.
– START CHATTING
Add anyone to a group via their phone number or email address. If they are new to GroupMe, they can start chatting over SMS immediately.
– CONTROL NOTIFICATIONS
You're in charge! Choose when and what type of notifications you receive. Mute specific chats, or the entire app – you can even leave or end group chats.
– SAY MORE THAN WORDS
Go ahead – fall in love with our exclusive emoji.
– THE WHOLE INTERNET IN YOUR GROUP
Meme images, search and send GIFs, and see content shared from URLs displayed in the chat.
– SHARE NOW, RELIVE LATER
The gallery saves your memories. Easily explore the photos and videos shared in your group now, or later.
– LEAVE TEXTING BEHIND
With direct messages, you can use all the features you love for group chat, but one-on-one. It's like texting, but better.
– CHAT WHEREVER YOU ARE
Including from your computer at groupme.com
Whether separated by a hallway or a hemisphere, GroupMe allows you to stay in touch with the connections that count. Get your group together.
9. Plus Messenger
Plus Messenger adds some extra features to official Telegram app:
• Separated tabs for chats: users, groups, channels, bots, favorites, unread, admin/creator.
• Many options to cutomize tabs.
• Multi-account (up to 10).
• Categories. Create custom groups of chats (family, work, sports…).
• Categories can be saved and restored.
• Change default app folder.
• Different sorting methods for chats.
• Increased limit of pinned chats to 100.
• Increased favorite stickers limit to 20.
• Show floating notifications when users are online/writing.
• Select all chats and apply different options (read, mute/unmute, archive…).
• Forward messages without quoting. Edit message/caption before forwarding.
• Save documents using original name.
• Copy selection of text message.
• Set photo quality before sending.
• Show user's bio in chat.
• Add time to floating date in chat.
• Start round video using main camera.
• Show download progress.
• Quick switch between chats through the quick bar.
• Show user messages and media in group chat.
• Show/hide mute/unmute button from channels.
• More than 10 different bubbles and checks designs.
• Hide mobile number from navigation menu drawer and settings menu.
• Show username instead of mobile number in navigation menu.
• Easily switch to night mode from navigation menu.
• Show/hide options from navigation menu.
• Use phone emojis.
• Use phone font.
• Save and restore Plus settings.
• Chat counter.
10. imo free video calls and chat
mo is a free, simple and faster video calling & instant messaging app. Send text or voice messages or video call with your friends and family easily and quickly, even the signal under bad network.
New feature highlights:
Group Video & Audio Chats
Support real-time group video chats up to 20 members. Enjoy live talks with colleagues, friends and families, create a conference room for online meeting, and send large size videos or documents as you like. It is the perfect tool for throwing an online party or working from home.
Why imo?
✔️Compatible with All Networks: Free and unlimited instant messages and audio or video calls over 2G, 3G, 4G* or Wi-Fi. Consistent & stable audio calls even with 2G network! Avoid SMS and phone call charges, no fees or subscription for every message or call.🆓
✔️Multimedia: Fast photo📷 and video sharing📹, you can also send and receive voice messages or documents of any type(.DOC, .MP3, .ZIP, .PDF, etc.).📄
✔️Free International Calls: Make international calls to your friends & family for free! No extra charge to send international messages. Experience crystal clear & HD quality instant video calls to friends and family all around the world!👪
✔️Powerful: Enjoy group chats up to 100,000 members, share large videos and documents of all types, send hundreds of free emotional stickers!🤼
✔️Apps for All Devices: imo messenger is fully accessible from Android, iOS, Windows and MacOS. You can see all your messages, calls and share other media directly from your desktop or Android tablet.🖥️
✔️Less Data Usage: Enhanced data traffic usage efficiency, less data usage and save more money!
✔️Customized Profile: Express yourself with customized profile, select from hundreds of cool avatars, music themes and backgrounds!
✔️Quickly Find Your Contacts: Login to imo app only with your phone number, you don't need to remember extra username or PIN. You can use your address book to quickly connect with friends & family.🦄
✔️Cloud-based: All of your messages history and files can be securely synced in imo Cloud to free up your phone storage. You will never miss any notifications or messages even if you close the app!☁️
✔️Other Features: imo Big Group, imo Zones, imo Live Streaming, imo Video and many other new features are coming!🔥
✔️Make international calls to landlines or mobile phones with imo Out at lower rates. imo out will save you more compared with traditional carries as for international calling. No expensive fees or subscription for each calls anymore!