Trends
SEBI Fails To Investigate Adani For 6 Years: What Is The Reason- Cyril Shroff or Modi?
Who is the main reason SEBI did not investigate Adani for more than 6 years? Cyril Shroff or Modi SEBI fails at job!
The Adani-Hindenburg inquiry hearing before the Supreme Court (SC), which is overseen by the Securities and Exchange Board of India (SEBI), took a tempting turn when it embarrassed the finance ministry.
'Allegations' that SEBI has been looking into the Adani group since 2016 were deemed 'factually false' by the agency on May 15. The finance ministry attempted to quell the uproar on online forums by tweeting that it "stood" by its answer in Parliament, which was the basis for the argument as it was in reality a very clear-cut response regarding a question in Parliament on July 19, 2021. Yes Ma'am, the minister of state (MoS) said to Mahua Moitra, a member of parliament (MP), continuing that some Adani Companies are being investigated by SEBI for possible violations of SEBI regulations.
The finance ministry claimed that SEBI had looked into Adani stocks in relation to the issuing of global depository receipts (GDRs), but SEBI has also refuted this and in an affidavit claimed  that Adani is not the subject of any investigations.  The agency made it clear that the subject of their prior inquiry, which was performed, was the issue of GDRs of 51 Indian listed firms. The afore-mentioned 51 firms did not include any Adani Group listed companies, though.
The Adani Group's transactions, which Hindenburg had flagged as breaking Indian law, are extremely complicated and involve several sub-transactions that span numerous jurisdictions, according to SEBI. In order to determine if the Adani-owned business had broken any rules surrounding its public shares, the market regulator stated it needed some time and it had already contacted 11 foreign regulators for information.
To the Supreme Court, SEBI further defended the need for an additional six months of its investigation into the Adani Group. Any wrong or hasty conclusion to the case, according to the market regulator, would not forward the interests of justice. The regulator said that, contrary to what some of the petitioners seeking an investigation on the allegations presented by Hindenburg Research regarding the Adani Group claimed, it has not looked into any Adani Group entities since 2016.
Startled by the stance of SEBI, Mahua Moitra, belonging to Trinamool Congress called all this a joke. She stated, "SEBI has been investigating since October 2021 when they replied to my letter of July. While they prima facie see violations (no surprise)- they want 6 months to protect their favourite businessman so that he can get maximum time to cover up."
Jairam Ramesh, general secretary of the AICC, in this regard said,
"Hope this request by SEBI is not an effort to bury the scam or drag it out in the hope that the furore will die down." He further tweeted, "Now SEBI tells the Supreme Court that they have not been investigating any of the serious allegations against Adani! Which is worse-misleading Parliament, or being fast asleep as lakhs of investors are duped by alleged money laundering and round-tripping using offshore shell companies? Or even worse, was there a restraining hand from above?"
Another tweet highlighting this concern was posted by Priyanka Chaturvedi-
So, SEBI denies any investigation into Adani companies since 2016, denies its own statement to the court? Was the junior finance minister lying to the country regarding the investigation in his answer on 19 July 2021? This smells of a cover-up but at whose behest?
The Rajya Sabha MP from Shiv Sena-UBT further posed another question-
If what SEBI saying to the court is correct, goes to prove that Adani Group has almost been given a free rein to manipulate markets through offshore companies since 2014 and with the regulatory body turning a blind eye to the illegalities. What a shame, again I repeat, only a JPC can uncover the extent of damage. Also the exposure of banks, LIC, EPFO in the group. Public loss for private gain, at whose behest?
The Congress on February 9 in the fifteenth edition of its continuing series of inquiries on the whole matter, posed the question how Adani Enterprises could be included in the "National Stock Exchange (NSE) Nifty 50 index" of September 2022 in spite of having suspicious fundamentals, a high price-to-earnings ratio, and a small free float.
Jairam Ramesh, the director of communications for the Congress, stated in a statement that the NSE has not declared its intention to review Adani Enterprises' standing regardless of the company's stock price's sharp decline and widespread worries about the true free float in light of accusations regarding money laundering and round-tripping. He remarked that shouldn't SEBI at the very least make sure that questionable firms' positions in significant indices are examined in an effort to safeguard regular investors?
Let us talk about the major problem at hand as we observe how SEBI and the government ministry of finance manage to get themselves out of this humiliating predicament.
Why does SEBI believe that being "accused" of conducting its duty to look into Adani equities is a "baseless allegation"? When it was the spectacular rise in the price of Adani shares that provided an avenue for the international company Hindenburg Research to probe into Adani group. 
In recent years, SEBI has boasted publicly about the use of technology for market monitoring in its annual reports, including:
With the deployment of superior technology and data analytics, it stated in FY21–22 that "deeply integrated technology" in its surveillance activities enabled it uncover complicated modus operandi.

In 2020–21, it was stated, SEBI processes daily trading communications totalling more than 550 crores using a variety of cutting-edge methods, including pattern recognition as well as data analytics.

Although it may be somewhat of an overstatement, it may not be completely incorrect to assert that there are not many issues which technology is unable to resolve, according to a box titled "Data Detectives" in 2021–2022, machine learning and artificial intelligence are used for "robust, agile and scalable capabilities."

"Data Lake" with features like visualisation, time series and machine learning analytical capabilities, the ability to seek and search both structured and unstructured and semi-structured data, self-service business intelligence capabilities, in memory processing of data, etc. was mentioned in another claim.
Due to all these advancements, SEBI was able to wrap up 82 probes involving price as well as volume manipulation in 2020–2021 and 72 in 2021–2022; nonetheless, no Adani stock made the list.
Further, below mentioned is the price data for four companies under Adani group-
Adani Green rose 5000% in three years going from INR 55 to 3,000 before dropping to around INR 875 now.

Adani Transmission rose 1500% in two years going from INR 250 to 4,000 before dropping to INR 787 now.

Adani Total Gas rose from 3800% in 2.5 years up from INR 100 to 3,900 and is now trading at INR 701.

Adani Enterprises rose 2200% in 2.5 years from INR 175 to 4,000 – it is now trading at around INR 1,893.

Adani Total Gas' peer group, which consisted of Indraprastha Gas, Mahanagar Gas, and Gujarat Gas, conducted trading at multiples of 19.7, 15.9, and 23.3 in January, 2023, while Adani Total Gas had astounding price/earnings multiple of 850. Whilst the peer group is approximately at the same range of 23, 13, and 22, respectively, Adani is still holds the multiple at 141.
Even non-expert readers can decide for themselves if these data need further scrutiny- Hindenburg Research or not!
Another pressing question is, what would have happened if the Hindenburg research was never released? Who is responsible for the loss of money of the investors?
Here it is important to look at the alleged good relationship Adani group holds with PM Modi and the undisputable familial connection between SEBI and Adani Group.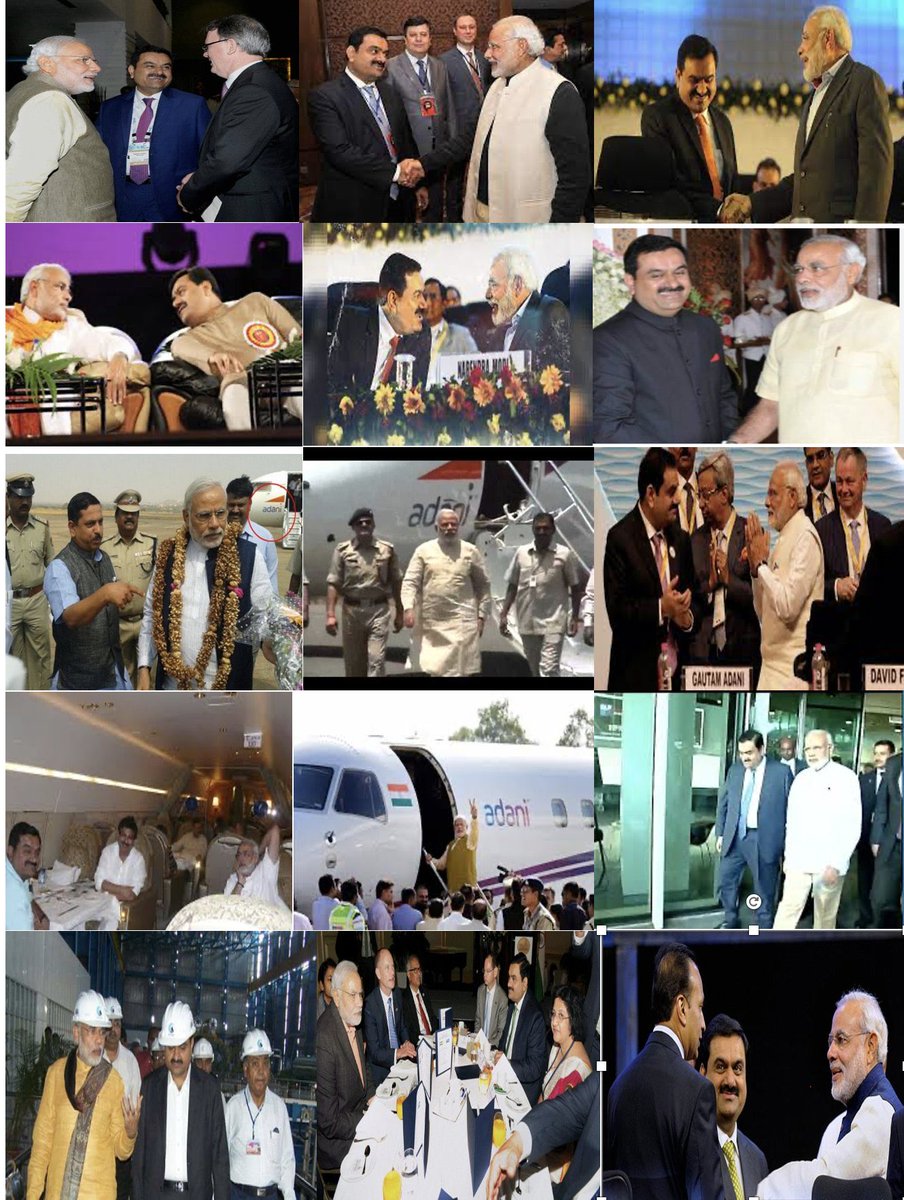 Cyril Shroff's daughter is married to Gautam Adani's son. Cyril Shroff is a member of the committee on Corporate Governance of SEBI. Therefore, there can be two possible explanations of the failure of SEBI to investigate SEBI-
Exception due to family member

Political pressure due to close ties with ruling party

Agreement not to investigate for monetary compensation (bribe)- Either directly by the chairman or by junior employees of the regulatory body
In all these scenarios, the corrupt nature of SEBI and the chairman of SEBI i.e., Madhabi Puri Buch, or her callous attitude towards the actions of her juniors, is obvious. For these reasons, there is a need for the judiciary to probe into the functioning of SEBI as a regulatory body and how it has failed at its job for more than 6 years, recording the reasons for the same. Till the time such investigation is conducted, passport of the chairman should be seized in order to prevent her from escaping the charges by leaving the country.
Corruption has infiltrated the very roots of India and is negatively impacting the administrative, legislative, and executive functioning. The Indian judiciary needs to take stringent steps in order to catch the perpetrators and eradicate the menace of corruption from the country. Punishing Madhabi Puri Buch, will be a step in the right direction!