Let's take a look at the most promising sports apps in India in 2021.
1. Cricbuzz – Live Cricket Scores & News
2. ESPNCricinfo – Live Cricket Scores, News & Videos
3. Premier League – Official App
4. OneFootball – Soccer News, Scores & Stats
5. 365Scores – Live Scores and Sports News
6. LiveScore: LiveSports Scores
7. ESPN
8. Cricket Live Stream, Scores & Predictions: FanCode
9. Sportskeeda: Cricket,IPL, WWE Results, Sports News
1. Cricbuzz – Live Cricket Scores & News
⚡️ Superfast scores and commentary
💬 Highly engaging and entertaining ball-by-ball commentary
🔔 Notifications for live matches and breaking news
📝 Latest cricket news and editorials
📅 Schedules of upcoming matches
🎬 Exclusive video content
📈 Rankings, Stats and Records
🏆 Special content for major tournaments like ICC Cricket World Cup, T20 World Cup, Champions Trophy, IPL etc
🌍 Extensive coverage of all International cricket, IPL, BBL, CPL, Natwest T20 Blast and other major cricket tournaments across the world. Tons of domestic cricket coverage too.
2. ESPNCricinfo – Live Cricket Scores, News & Videos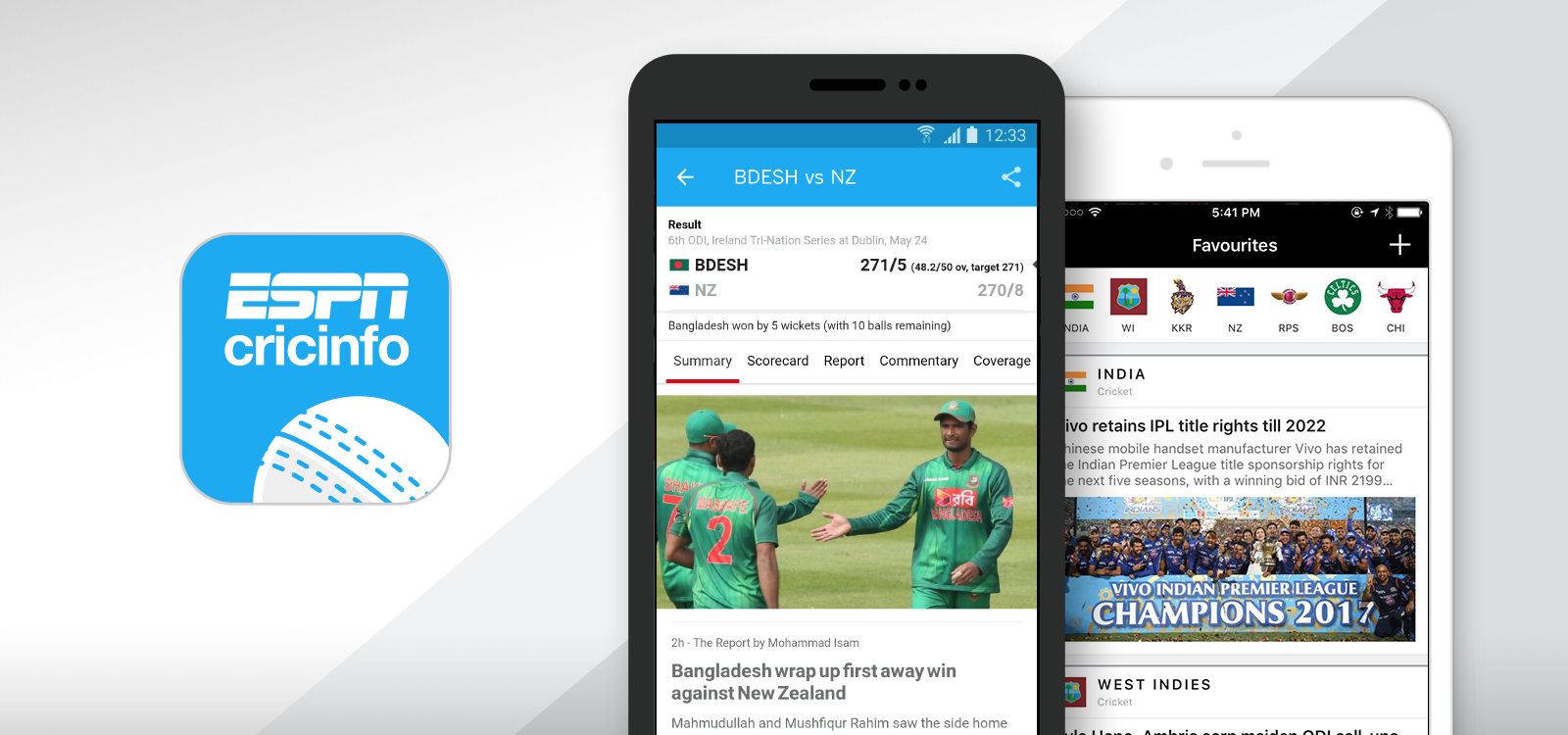 Following cricket on the brand new ESPNcricinfo app is going to be easy & will provide a seamless experience through Web and App. Widest cricket coverage across the world. Discover most of ESPNcricinfo's content in the app. Widest cricket coverage across the world including IPL, PSL, BPL, BBL, CPL, ICC Cricket World Cup, County Championship, Ranji Trophy, Sheffield shield.
Get:
– Fast live scores and ball by ball commentary
– Notification updates for live cricket matches
– Easy to read latest cricket news
– Cricket videos including Highlights, Analysis, Interviews, Press conferences
– Get expert opinions of Gautam Gambhir, Tom Moody, Sanjay Manjrekar, Ajit Agarkar, Aakash Chopra, Deep Dasgupta & more.
3. Premier League – Official App
Official and free to download, the Premier League's app (PL) is the definitive companion to the world's most watched league. Manage your Fantasy Premier League team, research 27 years' of statistics and watch some of the greatest moments in the League's history. This is Premier League.
– Full management of your Fantasy Premier League team
– Matchday Live for live blogging and updates on every Premier League fixture
– Fixtures, Results & Tables for competitions including PL2, U18 and Champions League
– Video highlights of some of the world's best players in action
– Premier League news and features from your favourite Club
– Detailed statistics providing insight on key performers in each position
– In-depth profiles on all players to have played for a Premier League Club
– Profiles on every Club in the Premier League's 27-year history
4. OneFootball – Soccer News, Scores & Stats
OneFootball is the only soccer app you need to follow all news, videos, fixtures, scores, stats and calendars of the MLS and stay up-to-date with the europe's transfer news, rumours and confirmations
✔SOCCER SCORES, NEWS, STATS, FIXTURES
Keep up-to-date with all news, scores, fixtures, stats, line-ups and goals
✔TRANSFER MARKET NEWS & RUMOURS
Follow all transfer market updates, news, rumours or confirmations including value and negotiation results
✔SOCCER NEWS, LIVE FOOTBALL SCORES, HIGHLIGHTS, STATS AND VIDEOS
All you need to know about your favourite football and soccer teams: fixtures, insider news, transfer news and rumours, player profiles and video channels are always on hand in the team section.
✔PERSONALISED CONTENT
Whether you're mad for Mo Salah or Messi, crazy about Chelsea or Spurs, select your favourite football or soccer players, clubs, national teams and leagues under the Following tab, to get up-to-the-minute football news articles and scores that matter to you and your team. Get the latest football news and scores daily, written by our newsroom of football journalists from across globe.
Follow competitions from the Premier League, FA Cup, ELF Championship, Champions League and more. Follow football players and get the latest news on CR7, Neymar and Mbappé. Get team soccer news notifications and live match updates for Arsenal, Man City, Liverpool and more Premier League teams in the only football app you need for a completely personalised in-app experience.
✔TV GUIDE
You can now find out where to watch selected soccer matches from a number of top leagues and competitions. Simply go to the match overview page to find out where the game will be shown in your location.
5. 365Scores – Live Scores and Sports News
Live the Game with 365Scores – The complete sports experience! Follow the best of sports including major soccer competitions: UEFA Champions League, English Premier League, Spanish LaLiga; as well as the NBA, NFL, NHL, Wimbledon and MORE!
Join over 50 million die-hard sports fans who enjoy Live Scores, News Updates, In-Depth Stats, Upcoming Schedule and League Standings.
FOLLOW YOUR TEAM
No matter who's your team, 365Scores brings you EVERYTHING that you need:
Live Scores, Sports News, Roster Updates, Signings and Trades, Real-Time Stats, In-Match Commentary, Upcoming Schedule, League Standings, and Social Buzz Feed.
OWN YOUR SCOREBOARD
Choose the teams and leagues you want to follow or pick games instantly!
DON'T MISS A THING
Warning! The live game notifications may be faster than your game stream!
Experience their Live Game Tracker, the best way to feel the game when you can't watch it!
WORLDWIDE SPORTS CALENDAR
Check the ALL SCORES tab, the most updated multi-sport calendar that you can find.
365Scores delivers full coverage of 10 sports: Soccer, Basketball, Football, Ice Hockey, Tennis, Baseball, Cricket, Handball, Rugby and Volleyball – with more than 2,000 competitions, including: UEFA Champions League, English Premier League, Spanish LaLiga, German Bundesliga, Italian Serie A, NBA, NFL, NHL, MLB, Wimbledon, IPL and much more!
6. LiveScore: LiveSports Scores
LiveScore keeps you up-to-date with the latest scores and live sports action. From IPL cricket scores, fixtures and pitch analysis to football goals and tennis results, LiveScore has everything you need, for every sports fan.
– LIVE NOTIFICATIONS
Get fast updates and keep track of all the live action. For cricket this includes the result of the toss, team announcements, the score at the end of each over and at the fall of each wicket. Choose which updates you want to receive in your notification settings. If football's your sport, you can get notified on scores, goals and red cards for multiple matches at the same time.
– DETAILED CRICKET SCORECARDS
View every player's performance in detailed scorecards, including batting stats (boundaries and strike rate) and detailed bowling figures. That's for all top competitions including the IPL.
– CRICKET MATCH SUMMARY
Stay up to date on the IPL and other cricket competitions with live match updates in the summary section. You can also catch up on earlier action as full match text commentary, over-by-over and wicket details are all there.
– FAVOURITE COMPETITIONS
Search hundreds of competitions and leagues across the biggest sports. Quickly get to the cricket scores and details of matches you care about by tapping the star to favourite. This includes the IPL, International Test, ODI and T20 Series, Caribbean Premier League and more.
For football, LiveScore includes all the major cups and leagues with full match details on the MLS, Premier League, LaLiga and Serie A.
– BREAKING NEWS
Read sports news for major sports & leagues, including the IPL, cricket Test Series and Caribbean Premier League. Turn on notifications to find out first.
– FIXTURES AND RESULTS CALENDAR
Find out what IPL cricket matches are coming up or view past results with the LiveScore calendar feature.
– WATCH SECTION
For football fans, watch exclusive LiveScore featured analysis from our very own football experts. The team will be covering everything from post-match reviews, transfer news and what they're excited about in the upcoming fixtures. Plus with their exclusive LiveScore 360° replays, you can watch LaLiga Goals of the Week from every angle.
– LIVESCORE FOOTBALL BALL TRACKER
Check the pitch view to follow the ball, scores and action.
– FOOTBALL MATCH STATISTICS
Check club form and the results of previous match meetings in the head-to-head section. Plus, possession, shots and fouls stats at the match end.
– FOOTBALL LEAGUE TABLES
See champions made and teams relegated as the league table updates in real time, including for MLS and Premier League.
– WORLDWIDE SCORES AND SPORT
Follow your favourite tennis players at ATP & WTA events and each of the Slams. Check all the tournament's results and view upcoming matches, then follow live commentary and point-by-point details in the biggest tennis matches on the ATP or WTA World Tours.
7. ESPN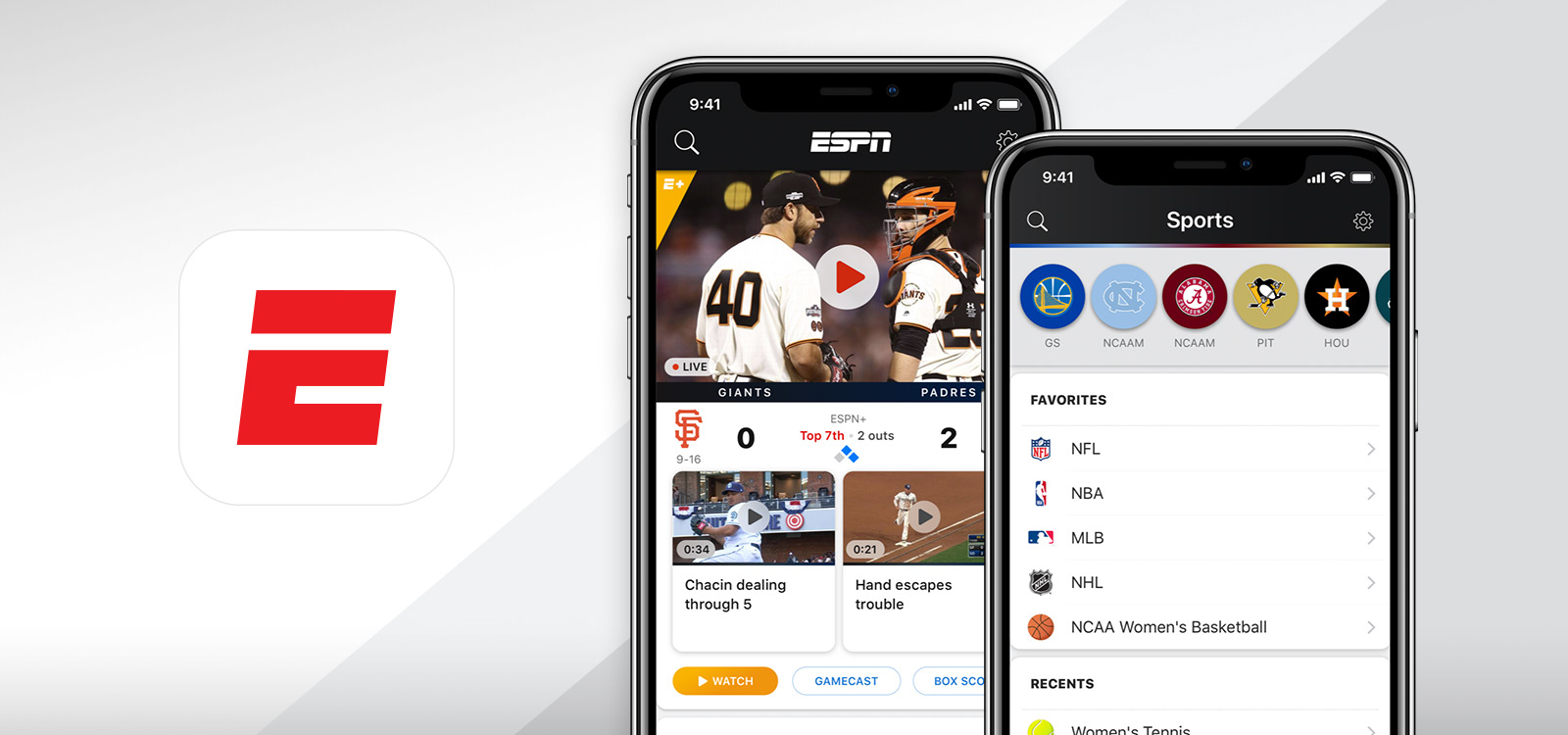 Watch thousands of live events and shows from the ESPN networks plus get scores, on-demand news, highlights, and expert analysis. Subscribe to the ESPN+ streaming service for live sports, exclusive originals, premium articles, fantasy tools, and more.
– Watch on ESPN:
• NFL (Monday Night Football) • NBA • MLB • College Sports (football, basketball, baseball, softball, and more) • Golf (The Masters) • Soccer (UEFA Euro and MLS) • Tennis (Wimbledon, US Open, Australian Open) • eSports • ESPN Shows (SportsCenter, PTI, First Take, Sportsnation, NBA: The Jump, and more) •
ESPN+ Subscribers:
Stream exclusive live sports and ESPN+ Originals without cable–all in HD.
– Sign up for ESPN+ and get access to the streaming service that delivers live sports from the best leagues in the world plus premium articles and fantasy tools. Get live events from the UFC, MLS, NHL, international soccer, college sports, and more. Enjoy the complete 30 for 30 library and exclusive ESPN+ Original shows from the biggest names in sports including Peyton Manning, Dana White, Kevin Durant, Alex Morgan, and more all inside the ESPN app.
– Highlights and scores from what you care about. From news about your favorite sports or team playing right now, the home tab has you covered. Fast access to scores for your favorite teams and leagues and the top games of the day in the scores tab. Also, subscribe to your favorite ESPN Podcasts or listen live to ESPN Radio.
– ESPN, ESPN2, ESPN3, ESPNU, SECN, and more are all available to stream live in the ESPN App. Access to live video is determined by your TV provider and package and, in some instances, your Internet service provider.
8. Cricket Live Stream, Scores & Predictions: FanCode
Download FanCode today – India's Premium Ad- Free Sports & Merchandise shopping app downloaded by 1 Crore+ users. Get the fastest LIVE scores for Sri Lanka vs India, ECS, Euro Cup, Ireland vs Netherlands, West Indies vs Pakistan, England vs India, Germany Women vs France Women, Bangladesh vs Australia, The Hundred, Malta vs Belgium, MLB, NBA & more!
Key Features:
📍 Fastest Live Scores for T20 & T10 Cricket Matches, Football, Basketball, Baseball & other sports
📍 Get ball by ball Cricket match commentary, match previews & video highlights
📍 Personalized notifications for latest sports updates
📍 Get upcoming match fixtures & schedules for all major sports
📍 Live Stream important matches in HD from West Indies, European Cricket & more with 100% Ad Free content
📍 Follow your favourite teams, players & tournaments with exclusive interviews
📍 Shop for match jerseys, masks, t-shirts & other sports accessories
📍 Updates on your favourite teams like Bayern Munich, Borussia Dortmund
📍 Expert opinions from Boria Majumdar, AFP & CricTracker
📍 The Official Guide for expert tips for sports research
9. Sportskeeda: Cricket,IPL, WWE Results, Sports News
Sportskeeda, the best cricket App provides live cricket scores, cricket commentary (ball-by-ball commentary), cricket news, cricket videos, schedules of upcoming cricket matches and much more in English and हिन्दी. The best cricket App allows a user to select and follow top cricket playing nations and their cricketers. Here you can cover all the major and minor cricketing events and tournaments like ICC World CUP, Indian Premier League (IPL), T-20 World Cups, Women's Cricket Leagues, Ranji Trophy, and all the other cricket tournaments from around the globe.
Few of the benefits of SportsKeeda Cricket App:
– Live Cricket Scores and Ball-by-Ball commentary:
Get live cricket scores and ball-by-ball commentary by the experts. This App is the fastest when it comes to delivering live cricket scores. When there are multiple cricket matches, the user can see all the matches in the form of cricket cards.
Users can share these scores with their friends.
– Cricket Score Notifications:
Users can very easily switch On-Off notifications for a match. This helps users to get notifications only for select matches. '
– Latest Cricket News and Updates:
Get all the latest cricket news and updates in this best cricket news app. Get news and updates related to cricket match fixtures, teams, series previews, match videos, etc. Users will also get snippets of press conferences, team predictions, match conditions, and all the relevant cricket news.
– Cricket Videos, GIFs, and Images
Get local, international video clips of matches from around the world. Be the first to see images of your favourite cricketers while they travel and play.
– Follow Favourite Cricketers
You can follow cricketers Virat Kohli, Rohit Sharma, MS Dhoni, Rishabh Pant, Shikhar Dhawan, Ajinkya Rahane, Steve Smith, Rabada, Warner etc.
– Coverage of all International T20s, ODIs, Tests, Tours, Leagues including:
Along with this if you are someone who follows other sports like Football, Kabbadi, WWE, Tennis, Golf etc. Then you will be amazed to know that you can follow all of your favorite sports in this App. Sportskeeda is an all-sports app, with multinational audience and writers. Users engage on the website, read, write and post comments while interacting with like-minded fans from all over the globe.