Trends
Explained: How Sri Lanka slid into a financial trap and defaulted on international payments
Explained: How Sri Lanka slid into a financial trap and defaulted on international payments
Sri Lanka, facing its most significant economic crisis since its independence in 1948, announced a $51 billion foreign debt default on Tuesday.
"We have lost the ability to repay international debt," Nandalal Weerasinghe, governor of Sri Lanka's Central Bank, told reporters in Colombo.
Suspension of foreign debt payments is the country's final choice as it strives to save money for emergency supplies like gasoline, food, gas, medication, and other necessities for its people.
Sri Lanka has around $4 billion in foreign debt payments due this year, including a $1 billion international sovereign loan in July.
Payments on nearly $7 billion in debt to bondholders, organizations, and nations that have given the government money have been halted by the finance ministry.
The government has been struggling to repay foreign loans for a long time. Market borrowings through international sovereign bonds account for little under half of Sri Lanka's debt, including a $1 billion bond that was due to mature on July 25.
The problem was exacerbated by the Covid-19 outbreak, which hampered the country's ability to generate actual cash from tourists and remittances.
According to estimates, Sri Lanka would require $7 billion to service its debt this year while having only $1.9 billion in reserves at the end of March.
Getting stuck in a strategic debt trap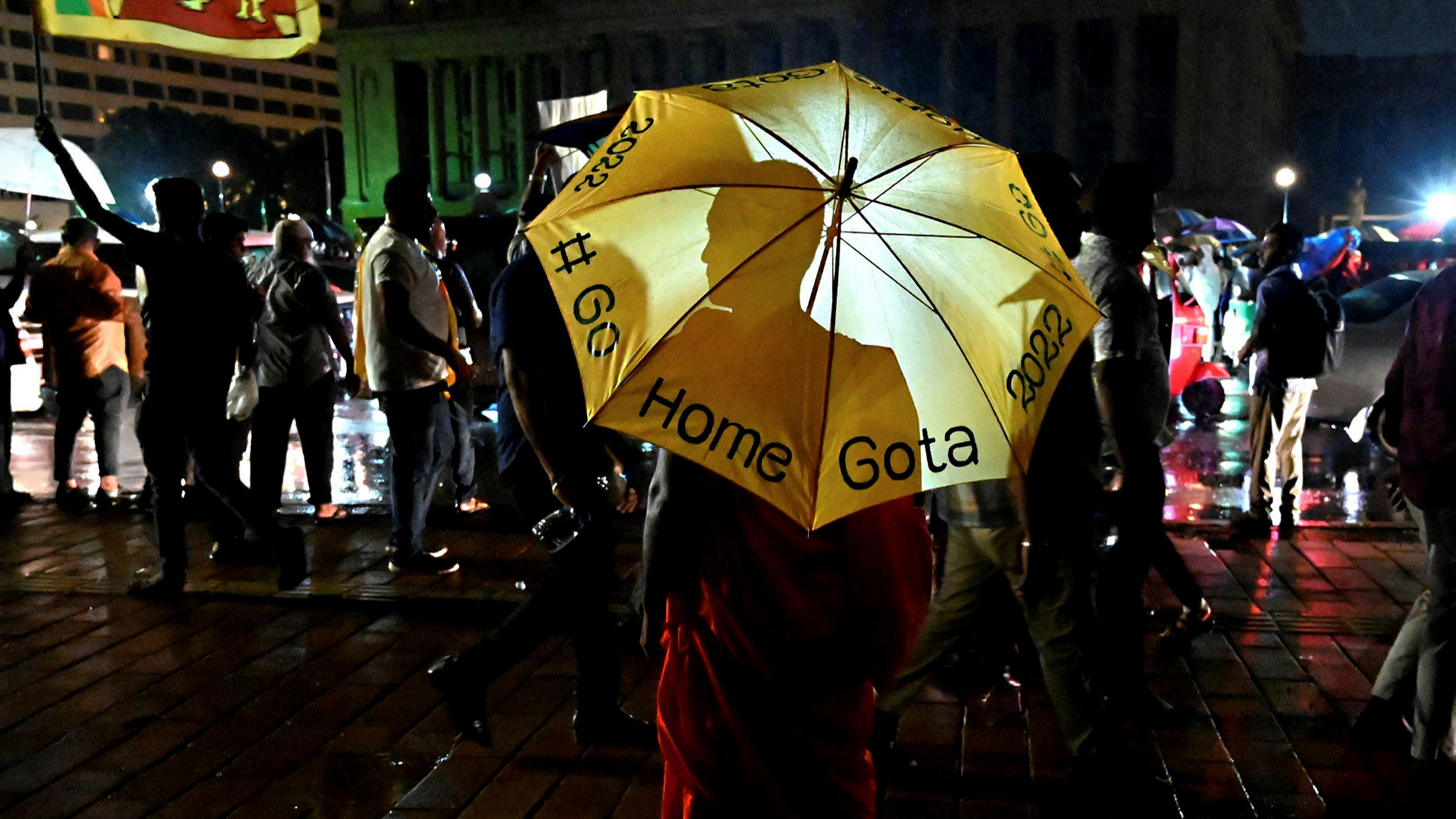 China is Sri Lanka's largest bilateral lender, owning over 10% of the island's foreign debt, and Japan and India are the following two largest bilateral lenders.
The country's balance of payment (BOP) issue has been widespread, forcing the government to seek foreign assistance to address its problems. As a result, the country's reliance on China, which was critical to its growth, grew.
Since 2005, the government has taken out large loans from Beijing for infrastructure projects, many of which have turned into white elephants.
In 2017, Sri Lanka leased its vital Hambantota port to a Chinese corporation because it could not fulfil a $1.4 billion debt owed to Beijing for its construction.
Western nations and India were concerned that the strategically positioned South Asian country was sliding into a debt trap.
Sri Lanka's entire debt to China is $8 billion, or about a sixth of the country's $45 billion in external debt. It owes China between $1.5 billion and $2 billion this year.
To begin with, according to a recent analysis in the Hong Kong Post, imprudent borrowing from China for unproductive infrastructure projects is to blame for a big part of the country's current predicament.
China, according to sources, had failed to reply to Sri Lanka's request to restructure its massive loans or give repayment terms.
On Tuesday, however, Chinese foreign ministry spokesperson Zhao Lijian indicated that a default would not prevent Beijing from giving help to Sri Lanka's troubled economy.
"China has always aided Sri Lanka's economic and social development to the best of its ability. We will do so in the future, as well "he stated
However, it has maintained a consistent stance on Sri Lanka's request for debt restructuring and the offer of $2.5 billion in aid.
India provides a helping hand
Ahead of the Sinhala and Tamil New Year, India shipped 11,000 MT of rice to help the people of Sri Lanka celebrate one of their biggest festivals.
India had recently announced a $1 billion line of credit to Sri Lanka as part of its financial assistance to deal with the economic crisis following a previous $500 billion line of credit in February to help it purchase petroleum products.
Indian credit lines to boost reserves and importation of essentials have provided a temporary lifeline to the Sri Lankan economy.
In addition to this, India has already supplied over 270,000 MT of fuel to Sri Lanka.
In November 2021, India gave 100 tonnes of nano nitrogen liquid fertilizers to Sri Lanka as their government stopped the import of chemical fertilizers.
Besides, the Reserve Bank of India (RBI) has extended a currency swap of $400 million and deferred payments owed by the Central Bank of Sri Lanka under the Asian Clearance Union worth several hundred million dollars.
According to an ANI report, India recently pledged to donate medicines to Peradeniya Hospital, which was running low on supplies due to the US dollar crisis, and purchasing medicines became impossible.
There are still severe shortages
People in the country struggle for necessities since the situation is so dire. Various critical items, including medications, are in low supply. Furthermore, life has been disturbed by daily power outages lasting several hours.
The rising cost of living has made it even more difficult for people to get necessities.
Doctors issued a warning two days ago that they were running out of life-saving drugs. The island nation's economic turmoil threatened to kill more people than the coronavirus outbreak.
According to the Sri Lanka Medical Association (SLMA), all hospitals in the nation now lack access to imported medical equipment and essential pharmaceuticals. Several hospitals have halted regular surgeries due to dangerously low anaesthetic levels, but the SLMA has said that even emergency treatments may not be viable very soon.
The country's capacity to pay for gasoline imports has been hampered by the currency shortage, which has harmed people's livelihoods. People must line for hours to acquire even cooking oil. According to reports, over eight individuals have died while waiting in lines since March 20.
Protests continue
People around the country have been demonstrating nonstop for the past three days, demanding Rajapaksa go.
Thousands of protesters braved the rain for a second day to protest outside the leader's beachside office in Colombo's capital.
On Saturday, business leaders joined demands for the president to resign, claiming that the island's persistent fuel shortages had caused their enterprises to lose money.
Rajapaksa's administration is seeking an IMF bailout to assist the country escape the crisis, which has seen food prices spike and the local currency lose a third of its value in the last month. Officials from the Finance Ministry have stated that, while Colombo is a developing country that works to restructure its debt, sovereign bondholders and other creditors may have to hit.
On Friday, Ali Sabry, the island's new finance minister, told parliament that the IMF would provide $3 billion in support for the island's balance of payments over the next three years.
The government will apply for a bailout from the International Monetary Fund (IMF).
Rajapaksa's administration was chastised by several commentators for its choice in 2019 to implement substantial tax cuts and postpone discussions with the International Monetary Fund (IMF).
The Sri Lankan government has approached the IMF for a debt restructuring scheme to deal with the country's most significant economic crisis in decades.
"Sri Lanka has maintained a spotless record of external debt servicing since independence in 1948," according to a statement from the finance ministry. "Recent developments, however, such as the impacts of the Covid-19 epidemic and the aftermath from Ukraine's wars, have deteriorated Sri Lanka's fiscal situation to the point where ongoing regular service of foreign public debt obligations has become untenable," it said.
ACCORDING TO THE MINISTRY, the IMF has rated Sri Lanka's foreign debt as unsustainable, and maintaining the current debt service is no longer a viable policy.
However, unless a deal with the IMF is reached, the nation may have difficulty borrowing more money.