Trends
The Indian government offered to help solve the global food crisis. Here's why it backed off
The Indian government offered to help solve the global food crisis. Here's why it backed off
India's Prime Minister Narendra Modi volunteered to assist countries experiencing food shortages a month ago, as Russia's assault in Ukraine brought the globe to the verge of a food crisis.
"We have enough food for our people," Modi stated in April, "but our farmers appear to have made provisions to feed the globe." "We are prepared to deploy aid as early as tomorrow."
After China, the world's second-largest wheat producer was already practising what it preached. India profited from rising worldwide prices by exporting a record 7 million metric tons of rice in the year to March. Volumes were up more than 250 per cent from the prior year. It also established ambitious export goals for the following year.
Those grandiose ambitions have already been abandoned, and wheat exports have been outlawed, as life-threatening heat spells in South Asia reduce output and drive local prices to record highs.
The move stunned foreign markets on Monday, especially as it came just days after India told the globe that the historic heatwave would not affect its export ambitions. Global wheat prices increased by 6%, with futures trading in Chicago reaching $12.4 a bushel, the highest price in two months. Wheat futures fell somewhat on Tuesday, but they are still up over 50% since the battle began.
While India is a large wheat producer — it is forecast to produce more than 100 million metric tons this year — the majority of the grain is needed to feed the country's 1.3 billion people. According to the administration, the country is "not among the top ten wheat exporters."
However, the uproar sparked by its export prohibition highlights the vulnerability of the world food supply.
How did we end up here?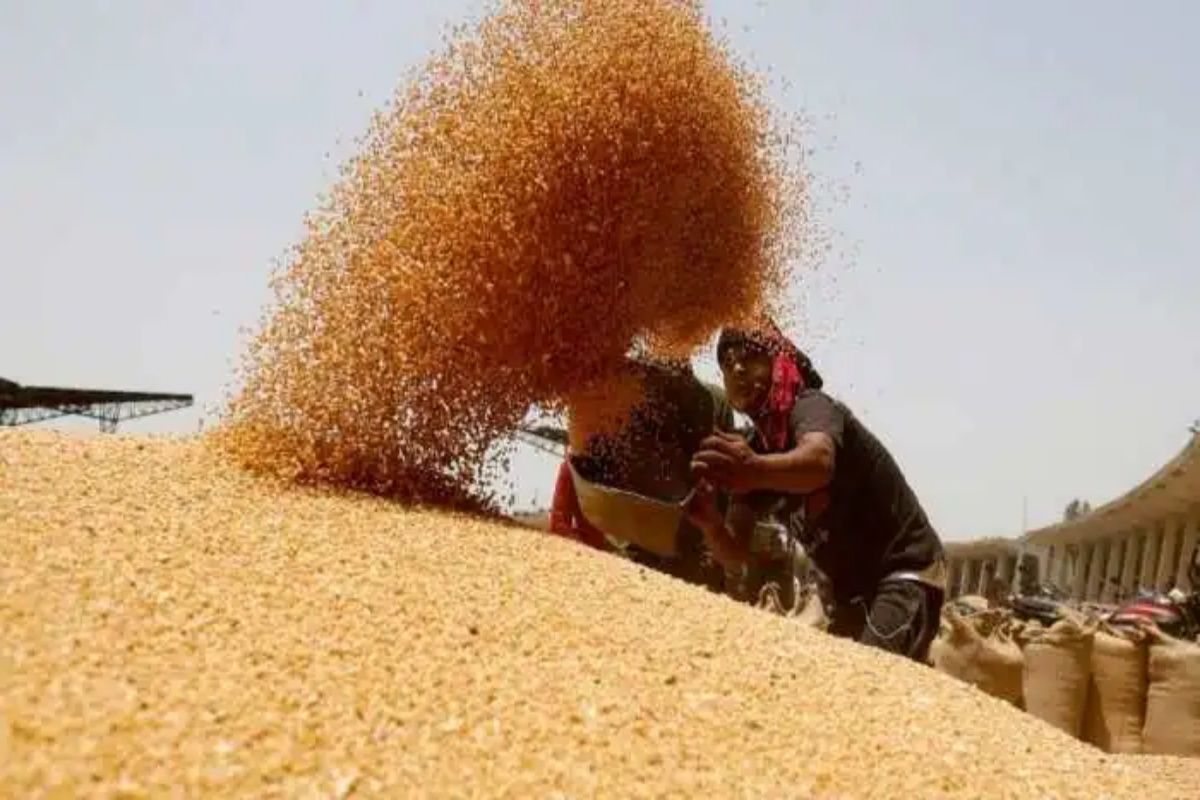 According to the World Bank, Russia's invasion of Ukraine has led to a historic shock to commodities markets, which will keep world prices high until the end of 2024. Food costs are predicted to grow by 22.9 per cent this year, owing to a 40 per cent increase in wheat prices, according to the report.
The reason for this is that Ukraine and Russia produce and export approximately 14% of global wheat production. Because Russian soldiers have blockaded Odesa and Ukraine's other Black Sea ports, vital agricultural export supplies, including an estimated 20 million tons of grain, are stalled in the country.
According to the US Department of Agriculture, Ukraine is one of the top five global exporters of several important agricultural goods such as corn, wheat, and barley. It also exports the most sunflower oil and meal.
However, the food situation was already precarious before the conflict in Europe began. Food prices have already reached their highest level in roughly a decade due to clogged supply systems and unpredictable weather patterns, which are typically the effect of climate change. After the epidemic wiped off millions of jobs, affordability became an issue.
According to the UN's World Food Programme, the number of people on the verge of starvation has increased to 44 million from 27 million in 2019.
Following Modi's pledge, several needy countries looked to India for supplies.
"Based on the Russia-Ukraine situation, Indian wheat exports are extremely crucial this year," Oscar Tjakra, senior grains and oilseeds analyst at Rabobank.
The "restriction would limit global wheat export availability in 2022 and give support to global wheat prices," he noted.
Members of the G7, an association of the world's top economies, have previously criticized New Delhi's policy reversal on wheat.
The US Representative to the United Nations, Ambassador Linda Thomas-Greenfield, said on Monday that she hoped Indian authorities "will reconsider that attitude."
"We're pushing nations not to impose export restrictions because we believe that doing so will worsen food shortages," she said during a news conference in New York.
Rising food protectionism
India has replied by claiming that the restrictions are necessary for its food security as well as price stability. In April, annual inflation in Asia's third-largest economy reached its highest level in nearly eight years, prompting the export restriction, according to several dealers.
The government also stated that limitations do not apply "in circumstances where private merchants have made previous agreements," as well as to nations that seek shipments "to satisfy their food security needs."
These exclusions, according to Tjakra, are "welcome news," but they make determining the impact of the embargo on global commerce more difficult.
He noted that the "severity of impact" of the embargo "would still rely on volumes of India wheat exports that are still authorized at the government level, as well as volumes of wheat output from other global wheat producers."
Allowing unfettered exports, according to some Indian analysts, was a lousy idea, to begin with.
Devinder Sharma, an India-based agriculture policy specialist, says, "We don't know what will happen to the climate in India."
According to the UN's climate change authority, the Intergovernmental Panel on Climate Change, India is among the countries that would be most hit by the crisis's consequences (IPCC).
India might run out of food if crops are devastated by unexpected weather, leaving it "standing with a begging bowl," Sharma warned.
India isn't the only country that is turning home and limiting agricultural exports.
Indonesia began banning palm oil exports in April, a popular component in many foods, cosmetics, and household products throughout the world. It is the world's leading manufacturer of the product.
Egypt had just a month ago banned the export of key staples such as wheat, flour, lentils, and beans, citing growing concerns about the country's food reserves.
"With Asian inflation already on the increase, risks are skewed toward further food protectionism," Nomura analyst Sonal Varma said in a note on Saturday. "However, these actions might wind up worsening food price pressures internationally."
The impact of India's wheat export prohibition, she continued, will "be felt disproportionately by low-income developing nations."
According to Nomura, Bangladesh is India's top wheat export destination, followed by Sri Lanka, the UAE, Indonesia, Yemen, the Philippines, and Nepal.