Trends
Top 10 Most Promising and Scalable Startups in Bangalore 2022
Top 10 Most Promising and Scalable Startups in Bangalore 2022
According to the Economic Survey 2022, India is still the third-largest startup ecosystem in the world, after the United States and China. The total number of recognised startups in the country has now topped 61,000.
This suggests the emergence of a resilient culture in the aftermath of the pandemic, as well as the start of meaningful innovation. Many of the early-stage startups featured in the article are relying on artificial intelligence and machine learning to automate answers to every problem, from determining where to invest to finding the finest possible employee for a company.
Bangalore is dubbed India's "Silicon Valley" for good reason. Bangalore has a large number of innovative startups, which is rising by the day. Bangalore has spawned a slew of large startups throughout the years. Flipkart, Meesho, Swiggy and BYJU'S are just a few of the big names in today's corporate world that have their roots in Bangalore.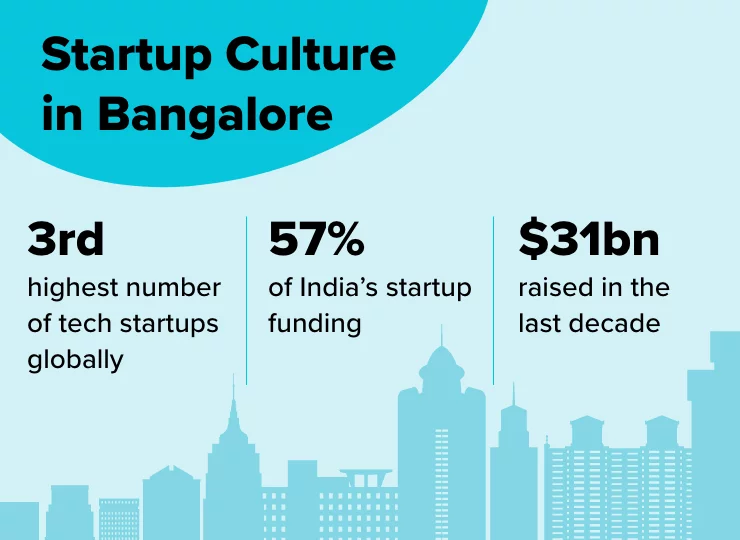 Bangalore is home to several unique businesses that have garnered millions of dollars in venture capital funding from some of the world's most prestigious investors. Many of these achievements have grown into unicorns or private enterprises with a market capitalization of over $1 billion.
This list identifies some innovative business models and startups based in Bangalore with their roots in diverse sectors. In today's time, there are a good number of brands with an emphasis on entrepreneurs automating processes for consumers and businesses. These startups are altering the traditional tech industry, from promoting e-commerce to developing healthy lifestyles and automating finances to hiring processes.
This is a list of the Top 10 Most Promising and Scalable Startups in Bangalore.


1. ESports XO
Legal Name- Techno XO Pvt. Ltd.
Sector- Esports/ Gaming
Products & Services- Mobile and PC Games/ Tournaments
Founders- Rohit Raj, Vikas Goel and Utsav Umang
Date Of Starting- 2020
Geographical Range- India
Number of Investors- 9
Key Investors- SucSeed Ventures, The Gaming Lounge, Mumbai Angels and Vami Capital
Funding Rounds- 2
Total Funding Amount- $ 1.1 Million
Valuation- $ 3.59 Million
When India went into its first pandemic-induced lockdown in March-August 2020, people flocked to internet gaming in large numbers, looking for real-money games. The Indian startup ecosystem has taken notice of this new entertainment trend. As a result, EsportsXO, based in Bangalore, developed a tournament discovery platform as well as administration solutions for tournament organisers and esports like PUBG Mobile (which was banned by the government in September 2020 but is now back), Call of Duty, Clash Royale, and others.
BattleXO, the startup's SaaS platform launched in 2020, which designs, launches, and manages online gaming competitions, bringing together a global community of mobile, console, and PC gamers under one roof. The USP of the product is found in specific usage scenarios. On the esports platform, for example, users will find a panel of experienced gamers and game creators, as well as new games. 
The streaming platform includes production tools to assist marketers in developing advertising and promotional content. EsportsXO also presents marketing solutions focused on timings, creatives, and analytics for clients hoping to advertise through gamers-turned-influencers. EsportsXO derives money from platform fees, production, marketing, and tournament management, with more than six IPs, 75+ producers, and 20 million+ users.
It claims to have monthly billings of $1.15 million and plans to expand its production house to handle large tournaments for both domestic and foreign markets. It also formed TeamXO in 2021, a group of internet gamers that will be paid and coached to compete in esports contests. The startup is actively developing microservices for the gaming metaverse, which it plans to release by FY25.


2. AssureShift
Legal Name- AssureShift
Founders- Debendra Prasad and Juby John
Date Of Starting- 2016
Geographical Range- 25+ cities in India

AssureShift is an online platform where you can find reliable packers and movers. With AssureShift, you can find the right relocation company to assist you with your home, office, commercial, and industrial relocation needs. One of the fastest-growing local and national reference portals, it has been designed for optimal user experience on every digital platform.

Founded in August 2016 with operations in Bangalore, it has grown into a mammoth to include 1000+ expert packers and movers across the country. In Bangalore alone, they served over 25000 clients and received over 20000 good evaluations, with a satisfaction rate of around 99.5 per cent.

It is an online reference portal that lists verified relocation services that are reliable and professional. Their service connects individuals with trustworthy companies that provide packing, moving, logistics, and storage at fair rates near their location. They have verified and listed all relocation companies to make it easier for you to choose the best and cheapest service providers from over 25 cities.

What are the benefits of choosing AssureShift?

AssureShift makes sure you get the best relocation experience at low costs, no matter what your requirement is. Their services have helped many of the best relocation companies in India locate people like you. These companies provide quality services with standard packing materials, logistics, and professionals. Another problem is finding customer feedback, ratings, and an overview of all companies in one location, negating most of the problems that people face when looking for a reliable moving company.

AssureShift has addressed these issues to make sure you get a trustworthy and suitable service provider, all from the comfort of your couch. You have relocation firms from all around India's main cities and these professional moving firms offer practically every relocation service imaginable, whether it is local, domestic or even international.

Future Prospects

Moving Forward, the company has a massive expansion plan in the works. It aims to be an end-to-end home solutions provider for every basic homecare need. The initial plan involves the launch of Interior Design services whether it is a corporate space or your personal home. This is slated to launch later this year. AssureShift plans to go beyond this and provide various homecare services like plumbing, carpentry, pest control and electrical works among others.
3. Stack Finance
Legal Name- Invacia Labs Pvt. Ltd.
Sector- Financial Technology
Products & Services- Personal Finance and Financial Services
Founders- Tushar Vyas, Yashwardhan Pauranik, Vidit Varshney and Smriti Tomar
Date Of Starting- 2021
Geographical Range- India
Number of Investors- 22
Key Investors- Harvard Management, YCombinator and Goodwater Capital
Funding Rounds- 5
Total Funding Amount- $ 5.8 Million
Valuation- $ 2.06 Million
The Bangalore-based startup seeks to enhance Indians' involvement in equities markets by leveraging smart automation to make investing simple for everyone. India falls behind most countries in terms of financial literacy since there are few well-structured and easy-to-understand instructional programmes available. The internet isn't short on useful information or venues, but the information glut can be overwhelming for first-time investors. This startup can be useful in this situation. 
The Bangalore-based fintech startup, which launched in 2021, wants to simplify the investment process by providing a customised plan that takes into account each user's risk appetite and financial goals. The startup provides a globally diversified portfolio that is automatically rebalanced and changed to meet the needs of the investor over time. It customises the user's portfolio from a varied collection of asset classes such as debt, equities, US stocks, gold, and crypto while including risk-adjusted returns, whether it's an emergency fund, a retirement fund, or a tax-planning fund.
An investor begins by answering a few questions that aid in the evaluation of the profile. The startup's proprietary technology Smart Stack Approach then suggests a few low-risk, high-profit funds based on the profile. Users can withdraw their funds at any moment, regardless of the fund's timeframe, but this does not apply to tax-saving funds with a three-year lock-in period.
Stack's services are free, but the startup is working on monetizing its premium features. Within two months of its start, the company claims to have gained over 35K members and generated over 100K objectives with an AUM (assets under management) of INR 100 Cr+. It is currently attempting to gain 1 million or more members to work on Rules, a sub-platform that will assist users in investing consistently and regularly, such as investing a set amount on payday or depositing funds to construct a modest contingency fund.


4. Rapido
Legal Name- Roppen Transportation Services Pvt. Ltd.
Sector- Transportation
Products & Services- Bike-taxi, Auto-rickshaw and Third Party Logistics
Founders- SR Rishikesh, Aravind Sanka and Pawan Guntupalli
Date Of Starting- 2015
Geographical Range- India
Number of Investors- 34
Key Investors- Nexus Venture Partners, Smile Group and West Bridge
Funding Rounds- 10
Total Funding Amount- $ 178 Million
Valuation- $ 224 Million
Two IIT alumni, Pavan Guntupalli, Aravind Sanka, and a PESU alumni SR Rishikesh launched the Karrier in 2015 which later came to be known as Rapido. Rapido is a two-wheeler ride-hailing service that uses an app-based platform. Users can schedule a ride by either entering location information or allowing the mobile app's GPS to automatically determine their location. While booking a ride, users can get an estimate of the fee. It has features like real-time tracking, insured rides, several payment choices, and door-to-door service. 
Users can book a ride using the Rapido app, and a rider (dubbed "Captain") will arrive at their specified location. Both Android and iOS devices can use the mobile app. The ticket includes a basic fare of $15 as well as a charge of $3 per kilometre travelled. To be validated, the "Captains" must register using the Rapido-Captain app. Bikes, motorbikes, and scooters are permitted, as long as they are newer than 2010. It also provides corporate clients with delivery services. 
The Rapido app has over 15,000 registered users, and an average ride of 30,000 times per day, according to September 2018 reports. Aravind Sanka, a co-founder of Rapido, stated in 2019 that the startup has produced more than 500,000 employment in India. In November 2019, Rapido claimed to have 1 crore registered users.
As a result of the COVID-19 pandemic outbreak, Rapido extended its logistical operations, providing hyperlocal delivery to local businesses and e-commerce corporations. Rapido introduced on-demand auto-rickshaw hailing services in 14 cities in October 2020. Former Google India executive Rajan Anandan and Hero MotoCorp chairman Pawan Munjal are among those who have invested in Rapido.


5. ShopX
Legal Name- 10i Commerce Services Pvt. Ltd.
Sector- E-commerce
Products & Services- ShopX App and Platform services
Founders- Amit Sharma and Apoorva Jois
Date Of Starting- 2015
Geographical Range- India
Number of Investors- 5
Key Investors- NB Ventures, Fung Group and Nandan Nilekani
Funding Rounds- 9
Total Funding Amount- $ 66.7 Million
Valuation- $ 175 Million
ShopX is a Bangalore-based B2B e-commerce network and retail operating system provider that connects brands, retailers, and customers as well as connects small Indian shops with suppliers and customers. Apoorva Jois and Amit Sharma created ShopX in 2015. Kirana and retail establishments in Tier 2 and 3 towns can order products directly from brands through ShopX's logistics, thanks to a digitally controlled retail platform. The startup's network includes over 150,000 stores and is currently active in 440 towns and cities across India.
It's a platform that offers retailers a variety of services. It creates mobile and web applications that enable offline merchants to go online, as well as for consumers to access these retailers' products and services. The startup has an app that allows retailers to give their customers a variety of items, services, and content. The company gathers retailer demand and helps them to sell things without having to keep actual stock on hand. Users can explore and purchase products and services from the listed retailers using the app.
The startup was founded to organise commerce through technology to make it more accessible and valuable to everyone. ShopX places high importance on the long-term economic and social impact it can make in emerging markets like India. In January 2018, ShopX purchased PriceMap, an offline discovery platform, to leverage its technology-led expertise to improve the discoverability of offline stores and level the playing field between online and offline businesses. Over 100 consumer brands have partnered with ShopX, including Reckitt Benckiser, Karbonn, Micromax, and Vivo. Hong Kong-based Fung Holdings and Infosys co-founder Nandan Nilekani are among the investors who have contributed over $50 million to ShopX.
When ShopX's patented technology is combined with a retailer's business, the retailer becomes a technology-enabled platform that allows him to provide more engaging service to his many consumers. Through the ShopX app, the store has access to new items, services, and platform services. ShopX has enabled over 1.7 million retail partners in 440 cities across 24 states, serving over 8 million customers. The organisation is assisting in greatly increasing the size of the overall addressable digital commerce market.


6. ClearTax
Legal Name- Defmacro Software Pvt. Ltd.
Sector- Financial Technology
Products & Services- Financial Services and Mobile Application
Founders- Ankit Solanki, Srivatsan Chari, Archit Gupta 
Date Of Starting- 2011
Geographical Range- India
Number of Investors- 21
Key Investors- Sequoia Capital, Y Combinator, Founders Fund and Elevation
Funding Rounds- 9
Total Funding Amount- $ 140 Million
Valuation- $ 800 Million
ClearTax is a Fintech startup established in Bangalore that provides financial services and Software as a Service (SaaS) in India, with a particular focus on taxation SaaS. ClearTax offers a wide range of services for individuals and corporations, including tax preparation, e-filing, accounting, and investment planning.  For enterprises, MSMEs, tax specialists, and tax-payers, it offers cloud-based products for GST, e-Invoicing, e-Waybill, income tax, investments, and tax deductions. ClearTax is based on India's huge digitization of tax processes, which the country is undergoing. 
Providing solutions for income tax filing, GST, and mutual fund investments, it is a Financial Technology platform. With its tax and investing platform, ClearTax seeks to make Indians' financial lives easier. Customers may simply discover the services they desire through a simple login and a flawless operation thanks to the Clear interface. ClearTax began by assisting individuals, CPAs, and corporations in preparing and filing their tax returns simply and efficiently. The ClearTax method is straightforward for individual users. 
Users simply need to upload the Form 16 pdf to begin filing taxes. This programme reads it all and uses an automatic method to fill up the tax returns. As a result, ClearTax eliminates any human intervention in the computation and filing of tax returns. In a couple of seconds, the customer receives fully prepared tax returns. The portal can also assist users in more complex situations, such as job transitions.
Users receive several form 16s in such circumstances so that the Clear programme can assist them to accommodate the changes as well. Customers can seek tax refunds and compute capital gain/loss if they have sold stocks or mutual funds on the same grounds. Cleartax services assist clients in carrying losses forward to several years and completing service tax registrations quickly and conveniently.
In 2016, the startup released an Android app to make the e-filing of tax returns easier. ClearTax was the first India-focused startup to receive funding from Y-Combinator, a US-based global accelerator and afterwards featured in their top startup list of 2019 that have emerged as industry leaders. On June 28, 2021, ClearTax was renamed Clear. The name 'Clear' was chosen to signify the entire range of services that the company provides, which has now expanded to include invoices, wealth management, and credit.


7. Belong
Legal Name- Belong Technologies India Pvt.
Sector- Human Resource and Recruiting, HR Technology
Products & Services- Recruitment services
Founders- Rishabh Kaul, Vijay Sharma, Sudheendra Chilappagari and Saiteja Veera
Date Of Starting- 2014
Geographical Range- India
Number of Investors- 12
Key Investors- Sequoia Capital, Blume Ventures and Matrix Partners India
Funding Rounds- 2
Total Funding Amount- $ 15 Million
Valuation- $ 30 Million
Belong (previously DataEmo) is a candidate sourcing platform that uses data science to help companies find, engage, and hire top talent. Its machine learning-based data-driven search and recommendation system analyses millions of profiles from social, internet, and public sources to assist employers to find candidates that best meet their culture and skills requirements and are most likely to relocate.
Companies can also use the service to jumpstart applicant engagement with personalised interactions based on social data. The startup also established BelongExperts, its online recruiting marketplace. The three-year-old recruitment agency is one of the new generations of startups that are embracing technology to streamline the hiring process, from resumé sorting to interview scheduling.
It combs the internet for publicly available information on all potential candidates, including checking their Twitter accounts, Facebook pages, LinkedIn profiles, and other social media accounts. The programme evaluates potential candidates based on their appropriateness for a post at a certain organisation after gathering a large quantity of data, similar to how Google tailors search results for each user's query.
In addition, Belong stands out since it has mastered the trick of selling to a prestigious clientele. Amazon and Flipkart, Snapdeal, Practo, and Zivame as well as telecom company Airtel, ride-hailing services Ola and Uber, and online grocer BigBasket, are among the companies on this list. Matrix Partners, Blume Ventures, and angel investors, including Snapdeal founders Kunal Bahl and Rohit Bansal, Phanindra Sama, co-founder of redBus, and Raju Reddy, founder of Sierra Atlantic, are its investors. In February 2017, the startup raised $10 million in a fundraising round headed by Sequoia Capital India with support from Matrix Partners.


8. DailyRounds
Legal Name- Dailyrounds Inc.
Sector- Health, Wellness and Fitness/ Healthcare
Products & Services- Mobile Application and Medical Academic Journal
Founders- Priyank Choubey, Deepu Sebin, Nimmi Cherian
Date Of Starting- 2014
Geographical Range- India
Number of Investors- 9
Key Investors- Accel, Microsoft Accelerator, Kae Capital and TA Ventures
Funding Rounds- 5
Total Funding Amount- $ 1.7 Million
Valuation- $ 5.8 Million
DailyRounds (formerly known as MedEngage) is a smartphone application that acts as a digital journal for physicians and individuals, showing diverse clinical cases and other latest updates in the healthcare business. It is the world's largest academic network of physicians. DailyRounds, which was founded by a group of doctors and coders, has over 300,000 doctors currently. Every day, 400 new doctors join the platform. It is creating a free academic network for doctors with a clinical case focus.
The software curates clinical cases and highlights those that are relevant to a doctor's practice. All of the updates have been carefully selected and peer-reviewed. Clinical cases are updated from UNT Health Science Center, Peninsula Medical School, AIIMS Delhi, Duke Graduate Medical School, WikiDoc (Beth Israel Harvard), and other top medical schools across the world. Doctors can also submit clinical cases for publication. 
Doctors can access free clinical cases, quizzes, news, and other medical content using the mobile app. Doctors receive a daily feed of clinical situations that they can share with their peers. Every day, 350+ new doctors sign up for the Daily Rounds platform. Daily Rounds, an alumnus of GSF India's global accelerator programme, achieved tremendous traction and product innovation as a result of the GSF accelerator programme. 
The majority of the startup's users are from India, and its content is geared toward primary care physicians, endocrine specialists, and anesthesiologists. Daily Rounds surpassed 3000+ five star reviews in the play store recently, with over 46000 Android app downloads in less than nine months since its launch. Building on this momentum, the funds will be utilised for product development to improve the technology and data repository, which will help the Bangalore-based startup grow its user base. User-generated content and gamification will be included in the latest version of the app.


9. Yulu
Legal Name- Yulu Bikes Pvt. Ltd.
Sector- Transportation, Ride-sharing
Products & Services- Electric Vehicles, Yulu App
Founders- Amit Gupta, Hemant Gupta, RK Misra and Naveen Dachuri
Date Of Starting- 2017
Geographical Range- India
Number of Investors- 8
Key Investors- Blume Ventures, Angel List and Wavemaker Partners
Funding Rounds- 5
Total Funding Amount- $ 26.9 Million
Valuation- $ 83.6 Million
Yulu is a technology-driven platform for urban mobility that seamlessly integrates public and private transportation methods. It was established in 2017 and is based in Bangalore, India. Yulu is an app-based startup that allows users to rent bicycles and e-bikes on demand in select Indian cities. Yulu has 18,000 single-seater vehicles and 2.5 million consumers across Bangalore, Delhi, Mumbai, Gurugram, Pune, and Bhubaneswar.
The startup rents out GPS-enabled and Bluetooth-enabled bicycles and e-bikes via a smartphone app. The user can use the app to find nearby available bicycles, scan the QR code on the bike to unlock it, and ride. To finish the rental period, users must park the vehicle in specified 'yulu zones.' It has a mobile app for both iOS and Android smartphones. Yulu's electric bike and network of EV charging and battery switching stations provide last-mile connection.
With the introduction of Yulu's Miracle fleet of 2,000 electric vehicles in January 2019, the startup also launched its Internet of Things (IoT) charging box, which allows for a cost-effective battery-swapping network. Yulu updated the Miracle in November 2019 by adding a bag holder, shock absorbers, and a more comfortable footrest. Yulu released 8,000 more Miracle e-vehicles with new features in April 2020. A 'Last-sanitized' timestamp was added to Yulu's app to ensure maximum safety following the Coronavirus outbreak in April 2020.
Bangalore-based Yulu has yet to raise a significant equity round in FY22, however, it has recently raised $7 million in a financing deal. According to regulatory filings with RoC, Yulu has passed a special resolution to borrow the aforementioned sum from Magna International INC via non-convertible notes. According to a report, the startup is working on the Yulu Max Network, which will allow customers to swap out their batteries. By July, it hopes to have 500 maximum stations in the Bangalore, Mumbai, and Delhi NCR areas. 


10. BharatX
Legal Name- BharatX Inc.
Sector- Financial Technology
Products & Services- Credit and Financial Services
Founders- Eeshan Sharma, Siddharth Venu, Shyam Murugan and Mehul Nath Jindal
Date Of Starting- 2020
Geographical Range- India
Number of Investors- 5
Key Investors- Anupam Mittal, Java Capital and Faiz Mayalakkara
Funding Rounds- 1
Total Funding Amount-  $ 0.25 Million
Valuation- $ 1.55 Million

Even though banks and NBFCs offer unsecured loans, most borrowers seeking modest loans are turned down owing to a lack of proper documentation. A consumer's cash flow, on the other hand, maybe easily observed by monitoring their communication (SMS, mail and the like). As a result, proper technological intervention, rather than the existing reliance on documentation alone, should make it easier to raise small loans. When Bangalore-based BharatX released their white-label, embedded credit product in 2020, it was developed around this concept, allowing any consumer internet company to become a credit/loan provider with just 30 lines of code. 
Simply defined, the startup enables consumer internet companies to provide credit to their users, whether through UPI credit, instalment payments, a pay later option, or a completely customised product. Khata, for example, allows customers to buy groceries and other daily necessities on credit, try-on fashion on loan, pay later for meal delivery and payment applications, and use postpaid ride-hailing capabilities. 
Furthermore, retail companies do not have to be concerned about credit risk, money, or operations. They are paid in full upfront, and BharatX functions as an intermediary credit provider and risk-taker, charging consumers a value-based interest rate and embedding firms a processing fee. The startup has a 45 per cent approval rate for personal loans, compared to the industry average of 30 per cent. It aims to reach 100,000 subscribers by 2022 and a $10 billion loan book by 2025.
Conclusion
Technology entrepreneurship and the ecosystem for technology-based startups have recently piqued the interest of policymakers and empirical researchers worldwide. Bangalore has been gaining an international reputation as a tech startup centre in India. It is now home to the country's biggest number of tech startups and the world's third-largest. The establishment of a unique entrepreneurial ecosystem, which supports and promotes digital startups, is one major aspect that led to Bangalore's "status and renown."
edited and proofread by nikita sharma