Trends
Top 10 Best Emergency Medicine Hospitals in Bangalore
Top 10 Best Emergency Medicine Hospitals in Bangalore
A hospital is a type of healthcare facility that offers patients professional nursing and medical services as well as therapeutic supplies. The most well-known type of hospital is a general hospital, which typically has an emergency room to deal with both medical emergencies and urgent health issues like victims of fires and accidents.
Other examples of specialist hospitals and illness categories are trauma centres, children's hospitals, rehabilitation hospitals, hospitals, and seniors' (geriatric) hospitals for dealing with specific medical issues like mental treatment. Specialized hospitals, as opposed to general hospitals, can assist in reducing the cost of medical care.
A hospital has a variety of departments (like surgery and urgent care) and speciality units (like cardiology). Some hospitals have chronic care facilities and outpatient departments. Examples of typical support units include radiology, pharmacy, and pathology.
Hospitals are institutions with basic healthcare services and medicine and surgery departments. Basic medical treatment, training, and research for major medical school centres, along with services produced by a network of industry-owned institutions like health maintenance organisations, are all included in hospital services.
These are the best Emergency Medicine Hospitals in Bangalore.
1. Sakra World Hospital
Location- Bangalore, India
Established in 2014
Total Beds- 350
Number of Doctors- 41
Multi-Specialty
The first multinational corporation (MNC) hospital in India, Sakra World Hospital (a unit of Takshasila Hospitals, Operating Private Limited), is dedicated to providing cutting-edge healthcare that raises the worth of human life. The first medical facility to combine the greatest Japanese and Indian medical technology is Sakra World Hospital. Bangalore's Sakra hospital in Marathahalli opened its doors in February 2014 and has NABH accreditation. A multispecialty hospital with 350 beds and cutting-edge equipment, it offers a variety of medical services. 
This hospital is a hub of expertise for studying the heart, the nervous system, the kidney, and women's and children's health. All of the medical divisions of this facility have highly qualified and experienced specialists, together with nursing staff with Japanese training. To provide the best medical care possible, they receive ongoing training in the newest medical excellence techniques.
The Sakra World Hospital is dedicated to providing advanced healthcare through innovative and effective services, fostering a culture of constant quality improvement and the knowledge of the best medical professionals. It uses cutting-edge clinical techniques, advanced medical technology, and developed protocols to improve the results and ensure the community's health. Sakra brings together these powerful synergies to deliver cutting-edge medical technologies and signal a revolution in the way that healthcare is now provided and done. 
Sakra is committed to promoting the community's health. Effective systems, a methodical, process-driven approach, cutting-edge technology, modern rehabilitative therapies, and after-care are all examples of the hospital's support services. Its infrastructure is built following JCI and NABH standards. Patient security and infection control are upheld by a team of Japanese and Indian specialists.
Patient participation, care coordination, and patient safety are all part of Sakra's commitment to quality. Standardized protocols and practices have been established to control infection, provide emergency services, and provide critical care. These procedures and care routes aid a patient's quicker recovery and shorter hospital stay. In collaboration with the Japanese nursing staff, special practical-oriented training modules are created. The most crucial aspects of nursing care are patient safety, medication management, and infection control.
2. Vasavi Hospital
Location- Kumaraswamy Layout, Bangalore, India
Total Beds- 153
Number of Doctors- 26
Multi-Specialty
The Sree Vasavi Trust subsidiary, Vasavi Hospital was established with the noble goal of delivering top-notch healthcare to the entire neighbourhood. Since its founding in 1951, the Sree Vasavi Trust has taken part in several charitable endeavours. Trust's mission is to help society in the social, educational, and medical areas without regard to caste or religion. The Trust aims to support and provide high-quality education, and financial support for students, and assist the most underprivileged groups of the population with access to inexpensive foreign healthcare.
Vasavi Hospital is a multispecialty facility with 153 beds and cutting-edge facilities. The hospital is set up and staffed to offer all specialities of high-quality, reasonably priced healthcare under one roof. All significant multispecialty services, including critical care and diagnostics, are provided by Vasavi Hospital. Along with a comprehensive accident and emergency centre, the critical care services offer medical, surgical, and neonatal intensive care units. A thorough laboratory, ultrasound, mammography, and CT scan are among the diagnostic services available.
Sree Vasavi Trust was founded in 1951 and has subsequently engaged in several humanitarian endeavours. The trust's mission is to provide social, educational, and medical services to the community without regard to caste, creed, or other factors. The charity helps the less fortunate members of society get top-notch healthcare at reasonable prices while also supporting and providing quality education and hostel housing for students from disadvantaged backgrounds.
In the event of an emergency, Vasavi hospitals offer specialised accident and emergency care to save lives as soon as possible. The hospital is outfitted with life-saving technology that communicates patient data around the clock. Vasavi Hospital's emergency room is staffed 24*7by interdisciplinary physicians, nurses, and skilled experts. Modern diagnostic tools allow doctors to be aware of any inside injuries that may have occurred. Everything from heart attacks to strokes and from car accidents to fractures is treated in the emergency department. In case of an emergency, the 24-hour emergency care units assist in treating newborns, adolescents, children, and adults.
3. Apollo Hospital
Location- Seshadripuram, Bangalore, India
Established in – 2015
Total Beds- 200
Multi-Specialty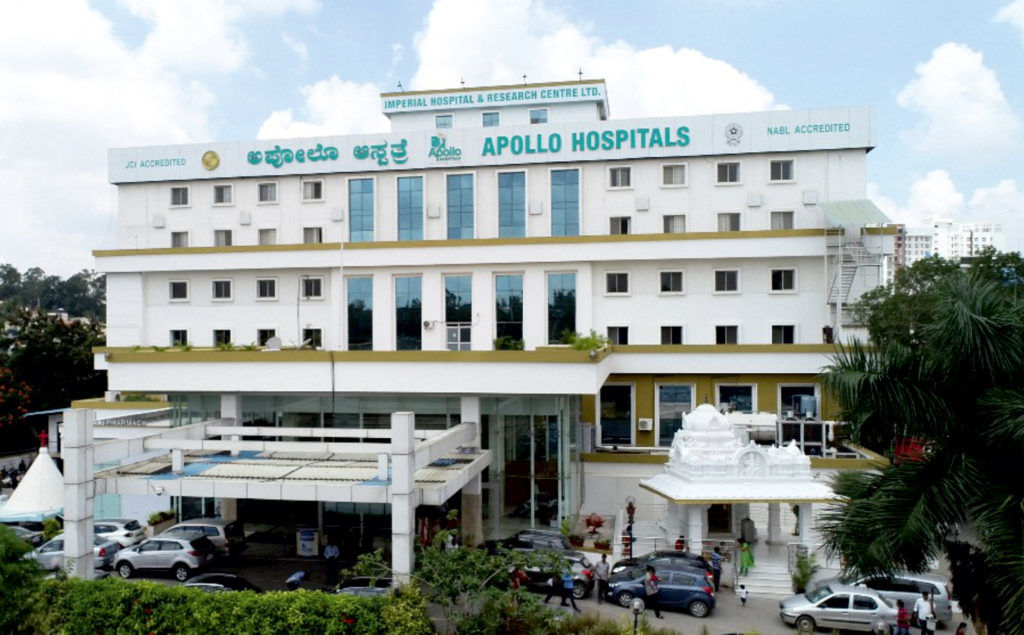 One of the best multispeciality hospitals in the Seshadripuram area, Apollo Hospital started as a specialised Intensive Care Unit [ICU]. Apollo's primary mission statement is "Saving & Enriching Lives," and to do this, every member of the staff and every physician provides the best patient care possible using cutting-edge medical technology and compassionate care from the doctors.
Seshadripuram Apollo Hospital distinguished itself from many other multispecialty hospitals in assuring the safety and care of the patients by serving as a centre for several uncommon surgeries that are extremely complex. By giving patients the chance to choose individualised treatment alternatives, Apollo Hospitals has become known as the most reliable hospital in and around Bangalore. A whole variety of healthcare services are offered under one roof at Apollo Hospitals Bangalore, a super speciality hospital of international renown and JCI accreditation. 
In 2015, the public was introduced to the multi-speciality Apollo Hospital, Sheshadripuram. This was the third hospital to open in Bangalore and the fourth in Karnataka. Throughout its history, the hospital has provided high-quality care following the group's ideology. The multi-story building, which is used as a Covid centre, can be expanded as needed to accommodate more isolation wards. The main areas of focus at Apollo Hospital, Sheshadripuram are emergency and trauma care, cardiology, minimal access cardiology, paediatric cardiology, neurosciences, gastro sciences, nephrology & renal transplants, and urology.
The hospital also has two centres for treating movement disorders, epilepsy, and surgery, along with two for treating heart failure. There are 200 beds in the hospital, including a 40-bed intensive care unit and a 10-bed state-of-the-art emergency department. There is also a pharmacy and a cafeteria among the other amenities. Quality healthcare is provided by highly qualified and experienced medical staff at the hospital. There is also a very competitive supporting crew.
4. Bangalore Baptist Hospital
Location- Hebbal, Bangalore, India
Established in – 1973
Total Beds- 80
Number of Doctors- 16
Multi-Specialty
Bangalore Baptist Hospital (BBH) has been associated with compassionate, all-encompassing care for more than 41 years. It is committed to providing high-quality healthcare at an accessible price, whether directly or through strategic alliances with the government and other organisations, to all segments of society, especially those who are the most marginalised.
Christian Medical College (CMC), Vellore oversees BBH, a 340-bed multispecialty hospital that epitomises quality with compassion. BBH is the only missionary hospital in the nation to have achieved the NABH and NABL national quality standards for superior healthcare. The Southern Baptist Convention began BBH as an outpatient clinic in the middle of the 1960s. It later developed into an 80-bed general hospital that was formally inaugurated on January 15, 1973.
BBH is dedicated to offering high-quality care using the most recent technology and medical advancements. With a team of 320 experienced, well-qualified doctors (full-time, visiting, and PGs) and a passionate workforce of more than 1,200 staff members, BBH is well equipped to do so. Only walk-in appointments are accepted at this facility. The required appointment must be made one day in advance, while walk-ins are also welcome.
The Bangalore Baptist Hospital Society is in charge of running the Bangalore Baptist Hospital (BBHS). The Council of the Christian Medical College Vellore Association, Vellore, Tamil Nadu, and a delegate of the Southern Baptist Convention, Richmond, Virginia, United States of America, nominate the members of the Society. To preserve Bangalore Baptist Hospital's viability and help the hospital move toward independence while preserving its identity and autonomy, the Southern Baptist Convention, Christian Medical College of Vellore, and BBH entered into the Tripartite Agreement.
India's Bangalore Baptist Hospital is a private medical facility. It was established in 1973 for rural Bangalore under the direction of Dr Jasper McPhail, it is now a multi-speciality hospital. It offers numerous undergraduate and graduate degrees in nursing, medicine, and allied health professions.
5. Altius Hospital
Location- Rajajinagar, Bangalore, India
Established in – 2004
Total Beds- 25
Number of Doctors- 11
Multi-Specialty
With a proud history spanning more than 16 years, Altius Hospitals is one of the most esteemed and well-known names in the medical sector. It is a multi-speciality, cutting-edge hospital network with three locations in Bangalore. It is led by Mr Pramod S.V., Chairman & CEO of East Point Group of Institutions, a visionary man with a vision to create an ecosystem of world-class healthcare driven by care, kindness, and service to mankind as the core motive. Dr B. Ramesh, Founder of Altius Hospitals, is considered India's most Renowned Lapro-Surgeon with over 1,00,000+ successful surgeries and countless accolades to his name.
Altius Hospital is one of India's top facilities for infertility, urogynecology, and gynecologic laparoscopic surgery. The hospital has 25 beds and a speciality centre. The hospital is recognised for having the third-best operating room in the nation as well as the first Laparoscopic Surgeries system in Karnataka. A speciality division of Altius Hospital dedicated to women's and children's health is called Lil Feet, which pioneers numerous surgical procedures such as gynec-laparoscopy, in vitro fertilisation, childbirth, etc., Lil Feet Hospital has become a preferred facility for women and children in Karnataka.
In South India, it is the first facility to set up a 3D laparoscopic camera system. The facility uses a 3D laparoscopy technology from Karl Storz in Germany (The first one in India). Facilities for simultaneous audio-video conferencing and telemedicine with the patient's family and the referring physician are also available here. Using the aid of OR1, the complete control of medical devices, lighting, rooms, cameras, and teleconferencing may be monitored continuously and smoothly from a central station inside or outside with the sterile area communication BUS system (SCB) functionalities.
It is also a referral facility for difficult laparoscopic and hysteroscopic surgeries. At Altius Hospital, Dr B. Ramesh serves as director and chief endoscopic surgeon. He is one of India's top gynaecological and laparoscopic surgeons, well-known in both clinical and academic circles, and frequently invited to serve as chairperson, speaker, and professor at important conferences on gynaecological laparoscopy and infertility.
6. Aster CMI hospital
Location- Hebbal, Bangalore, India
Established in – 2014
Total Beds- 500
Number of Doctors- 87
Multi-Specialty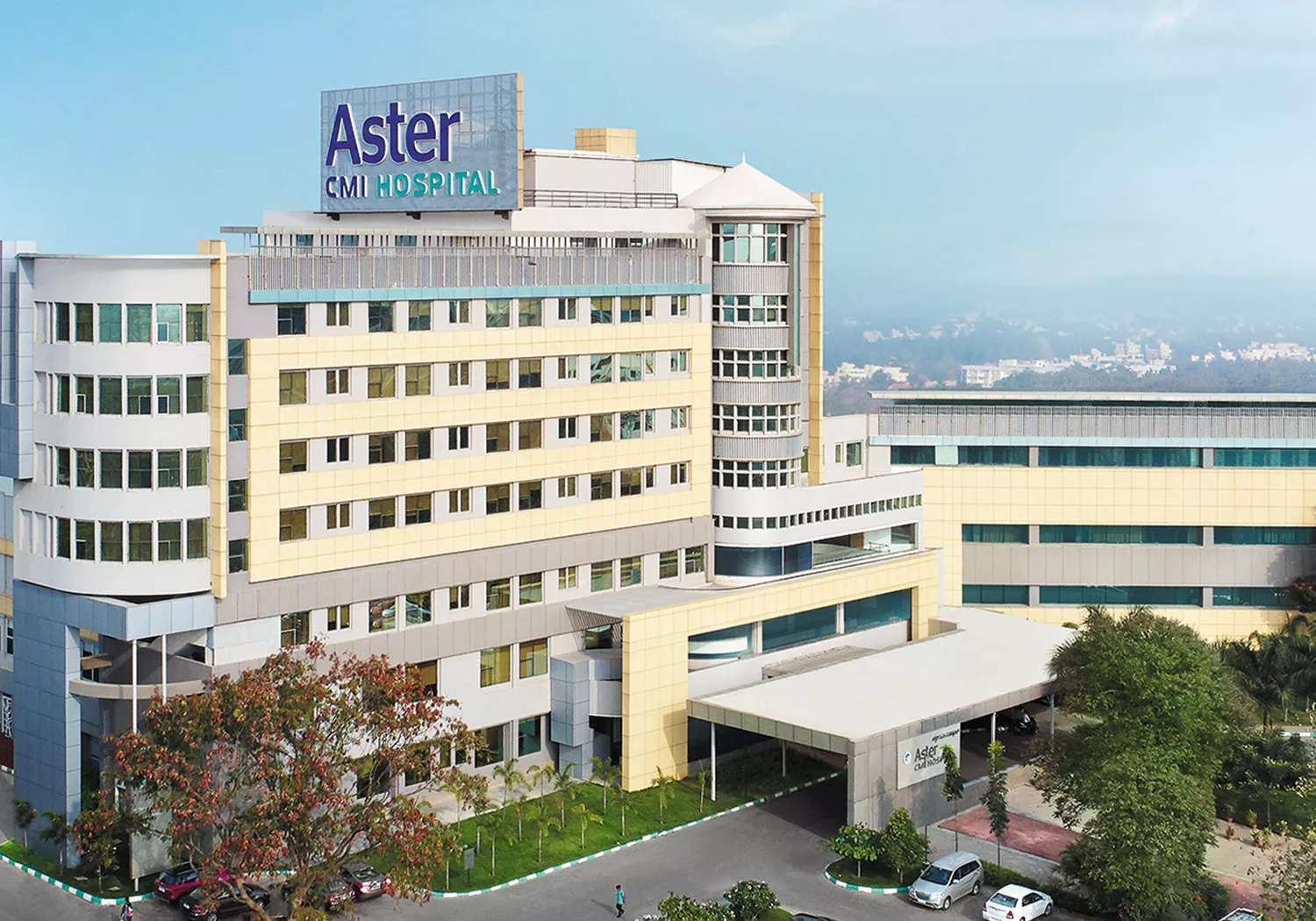 One of India's prominent healthcare providers is Aster Hospitals. The hospital is known for its medical infrastructure and expertise because it employs some of the best physicians in the nation and offers research-based care in a cosy and friendly setting. To deliver the best treatment possible, its dependable doctors collaborate closely with a group of specialists.
The hospital is recognised as a leader in the healthcare sector and has received accreditation from the National Accreditation Board for Hospitals & Healthcare (NABH) and NABL endorsement for its cutting-edge laboratory services. The Joint Commission International (JCI), which is regarded as the gold standard in international health care, has recognised two of its hospitals, Aster Medcity in Cochin and Aster Ramesh in Guntur.
Aster CMI is the successor of Aster DM Healthcare, which was established in 1987 and whose founder and chairman is Dr Azad Moopen. Aster CMI Hospital in Bangalore aims to make people happier and healthier versions of themselves. It is one of Southern India's top multispecialty hospitals, according to the ratings. It offers a first-rate infrastructure, exceptional clinical care, and a group of multispecialty experts all under one roof.
The hospital has advanced technology to treat or diagnose complicated cases. According to the Times of India's Critical Care Hospital, Aster CMI Hospital is the top hospital for neurology in Bangalore and among the best in all of Southern India. The hospital has close to 500 beds and provides comprehensive primary care as well as quaternary care services through modern, cutting-edge facilities. Every patient receives holistic care at this hospital.
As one of the most reputable multispecialty hospitals in Bangalore, it strives to maintain high standards of clinical excellence. It offers comprehensive knowledge in the range of medical and surgical interventions through its 38+ specialities. Its areas of expertise are combined to offer a smooth service. Because of its continuous efforts to establish a top-tier patient-centric hospital, it has firmly established itself as one of the top multispecialty hospitals in Bangalore, according to the Times of India (TOI) All India Multispecialty Ranking Survey.
Patients can receive top-notch care and treatment at any of the 14 branches of this hospital located in the states of Karnataka, Kerala, Maharashtra, Telangana, and Andhra Pradesh.
The team works hard to transform Aster into a top-tier, patient-focused facility where it offers its patients the highest calibre of care and treatment while achieving the finest clinical outcomes. One of the best hospitals in Bangalore, Aster CMI Hospital, has always strived for clinical excellence. 
7. UVIN Care Hospital
Location- Bangalore, India
Established in – 2017
Total Beds- 50
Multi-Specialty
UVIN Care Hospital provides all-encompassing healthcare services under one roof. It is the newest and most advanced tertiary care centre in North Bangalore. Through the use of state-of-the-art care facilities, cutting-edge diagnostics and equipment, and tried-and-true processes, UVIN Care Hospital staff members are working to provide a platform for transparent patient-centric care. The goal of UVIN Care Hospitals is to establish itself as one of Bangalore's most reputable healthcare facilities, offering the best medical care while adhering to high moral standards and a caring, compassionate atmosphere.
At Uvin Care Hospitals, the cleanliness of the entire facility has a direct impact on aesthetics. A multi-speciality hospital needs to be sterile around the clock, and UVIN Care hospitals' housekeeping crew puts in endless effort to keep the facility tidy and clean. To develop and maintain an efficient and environmentally friendly environment, UVIN Care Hospitals are careful to enforce strict General and Bio-Medical Waste Rules. High-end equipment, OTs, and labs all require unique upkeep procedures and sterilising measures, which the Uvin Care Hospital staff constantly adheres to guarantee that there are no secondary infections throughout patient hospitalisation.
Dr Prasad and Dr Nalini are the founders of UVIN Care Hospital. Seven OPD consultation rooms and a separate waiting area are included in the 50-bed UVIN Care Hospital. There are roomy General, semi-private, Private, and Deluxe suite wards at the hospital. Modern modular OTs, ICU, NICU, and Dialysis areas may be found at its flagship multi-speciality hospital, which was inaugurated in January 2021.
Its goal is to improve the way healthcare is provided in the areas it serves and provide patients at UVIN Care Hospitals the freedom to make educated decisions about their care. Its unit, which is part of a multi-speciality hospital, is set up to offer services in the fields of general medicine, emergency medicine, critical care, obstetrics & gynaecology, paediatrics, neonatology, orthopaedics, general surgery, gastroenterology, urology, and nephrology.
The hospital has a pharmacy, diagnostic lab, radiology, and ambulance services around-the-clock. The staff works hard to keep an establishment that does everything it can to reduce patients' anxieties. The hospital has been designed so that patients' family members and friends can relax and refresh themselves in comfort with the availability of media equipment and facilities for their entertainment and professional work.
8. Vydehi Institute of Medical Sciences and Research Center
Location- Bangalore, India
Established in – 2000
Total Beds- 1600
Super-Specialty
One of Bangalore's top hospitals and top medical schools is the Vydehi Institute of Medical Sciences and Research Center. Concerning healthcare and medical education, VIMS has established a reputation that is on par with international norms. With a wide spectrum of medical treatments, including complementary therapies like Vydehi Ayurveda's authentic Ayurvedic experience, VIMS provides high-quality healthcare.
In the year 2000, the Vydehi Institute of Medical Sciences and Research Center was founded. The institute has evolved over the years into a distinctive setting with a solid infrastructure capable of providing medical education and healthcare services of international standards. The 1600-bed multi-speciality hospital Vydehi is available to you round-the-clock with emergency, critical care, blood bank, lab, and ambulance services. The remarkable, well-trained, and highly qualified medical staff at VIMS upholds its aim of delivering top-notch, cutting-edge healthcare services through its infrastructure.
Its main goal is to improve everyone's lives through encouraging health in underprivileged rural and urban populations. To provide the finest healthcare possible to the community, Vydehi aims to go beyond therapeutic care and places a strong emphasis on preventive care. Its goal is to establish and deliver medical and educational service standards of incomparable excellence. 
In terms of the worldwide institutions offering their programme, Vydehi has already created a name for itself in the areas of global healthcare education and service. The institute is enthusiastically looking toward the future as it ventures into new, cutting-edge therapeutic and research endeavours. The institute is aggressively establishing super specialities in cardiology, cardiothoracic surgery, oncology, nephrology as well as other community outreach activities. The Institute has the most up-to-date infrastructure and equipment built, thanks to technical knowledge obtained from highly qualified and committed personnel.
Vydehi offers expert treatment in a secure, hygienic, welcoming, and comfortable setting as a centre of excellence. World-class research is conducted and swiftly translated into new and improved patient therapies. Its steadfast commitment to "quality" is evident in its cutting-edge infrastructure and the superiority of distinguished consultants in all institute departments, all at a reasonable price. Its committed healthcare professionals offer excellent, individualised treatment.
The hospital brings together a passionate and committed group of physicians, surgeons, nurses, and other healthcare experts to offer the residents of Bangalore and the areas adjacent the best possible medical care. This enormous healthcare facility, which spans a 65-acre complex, can accommodate hundreds of inpatients and outpatients who need to be relieved each day. The hospital, with its distinctive charitable philosophy, reserves 30% of the beds across all departments for the underprivileged sections of society.
 9. Venlakh Hospital
Location- Chamrajpet, Bangalore, India
Total Beds- 50
Multi-Specialty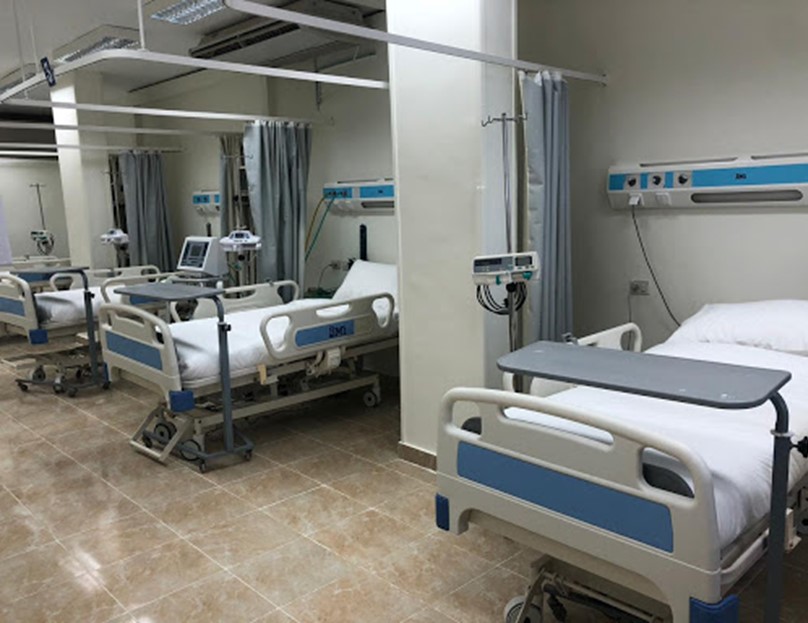 The Venlakh Hospital provides services in all specialities and super specialities, including dialysis with an effective faculty of highly skilled and experienced specialists, an ICU with the most up-to-date monitors and ventilators, and fully renovated operating rooms. The Venlakh Hospital has a strong infrastructure, paramedical staff with experience in providing top-notch healthcare, and a dedicated nursing staff.
This is a reputable multi-speciality hospital in Bengaluru's Chamrajpet neighbourhood. It is an example of high-quality, reasonably priced healthcare. The hospital claims to have been gifted with an unheard-of expansion in medical knowledge and expertise in diagnosis, treatment, and rehabilitation over the previous 20 years.
The hospital has advanced as a standard for high-quality, inexpensive healthcare that is freely accessible to everyone. It has developed an integrated health care system that is accessible to all social classes and uses the best clinical techniques to safeguard and restore health. It has a medical staff which is highly educated and trained.
The hospital aims to set an example for others and display to the world the best clinical practice in medical knowledge, surgery, and academics. Its primary objective is to make sure that everyone has access to and can afford high-quality healthcare provided by caring medical experts.
As part of its silver jubilee celebration, the hospital has unveiled a new healthcare initiative. Swaastha- a targeted preventive approach is a coordinated series of the hospital- and patient-level interventions meant to lessen, eliminate, or completely erase the effects of hypertension, diabetes, cardiovascular disease, and the comorbidities that go along with them. These issues most typically arise when several risk variables that affect prognosis interact. Realizing the importance of risk factor mitigation in the context of preventive strategy is crucial for achieving good health and happiness.
10. Cloudnine Hospital
Location- Whitefield, Bangalore, India
Established in 2007
Total Beds- 13
Number of Doctors- 20
Multi-Specialty
A group of maternity, paediatric, and fertility facilities, the Cloudnine Group of Hospitals is based in Bengaluru, India. Dr R. Kishore Kumar, a neonatologist, and his group of three co-founders established it in 2007. The Kids Clinic India Private Limited, founded by Dr R. The Kishore Kumar, and Scrips N Scrolls India, a business involved in real estate development and investments, have joined forces to form the Cloudnine Group of Hospitals. There are 19 hospitals and clinics operated by Cloudnine in Chandigarh, Bengaluru, Chennai, Gurugram, Pune, and Mumbai. Gynaecology, paediatrics, intensive care, fertility, and neonatal care are additional services offered by Cloudnine in addition to maternal care.
The opening of Cloudnine Hospital signalled the start of a new era for all maternity and child care requirements. The CEO and Senior Neonatologist Dr R. Kishore Kumar's aim to close the growing gap between Indian and worldwide standards of care for mothers and newborns served as the foundation for the organisation. The hospital has realised its vision and is now a reality thanks to a group of talented personnel that is diverse, well-trained, and driven. That equals a 0% maternal death rate and a 99.83% infant survival rate. 
According to Cloudnine, having a kid is the greatest gift in life, and being pregnant is one of the most enchanting experiences that nature has to offer. Not just after birth, but for the whole course of your pregnancy, this gift deserves to be cherished and looked after. This is why Cloudnine offers you top-notch medical knowledge, cutting-edge facilities, a space filled with love and laughter, and professionals committed to the overall well-being of you and your unborn child to promote successful and happy pregnancy.
With a team of more than 2000 people and over 36,000 births celebrated across regions, Cloudnine has increased its presence in numerous facilities across India while continuing to uphold and surpass international standards of care. The group is still going strong and has plans to reach every woman and child. With full antenatal and postnatal care, preferred or medically necessary delivery options, gynaecological services for women of all ages, paediatric care, critical care management, minimally invasive surgeries, fertility services, and stem cell banking, Cloudnine Hospitals are experts in providing comprehensive maternity services.
Nutritionists, Lamaze therapists, and lactation counsellors are available in institutions that also provide 4D scans and analyses of the foetus' anomalies for expectant mothers. Foetal medicine units at Cloudnine Hospitals are trained to monitor high-risk pregnancies by concentrating on the baby's unique needs and carrying out interventions, if necessary, while the baby is still in the womb. A team of specialists from dermatology, neurology, cardiology and developmental paediatrics provide paediatric care at Cloudnine Hospitals.
Conclusion
Since ancient times, health care has been a fundamental human necessity. While hospitals still provide overnight care for patients who are too ill to stay at home, improvements in science, technology, and training have transformed hospitals into centres for both treatment and cure.
edited and proofread by nikita sharma