Trends
Within the next decade, Indian oil aims to meet 10% of its green hydrogen requirements
Within the next decade, Indian oil aims to meet 10% of its green hydrogen requirements
According to IOC's most recent annual report, the nation's largest oil company will begin installing green hydrogen reactors at its Panipat and Mathura refineries.
As part of a decarbonization effort, the Indian Oil Corporation (IOC) aims to switch at least a tenth of the refineries' present hydrogen produced from fossil fuels to carbon-free green hydrogen.
In its most recent annual report, IOC stated that the country's largest oil company is first constructing green hydrogen reactors at its Panipat and Mathura refineries.
According to the corporation, it plans to manufacture green hydrogen, to produce 10% of its hydrogen by 2029–30 and 5% by 2027–28. Despite being the purest energy source currently known, pure hydrogen is seldom ever found on Earth. It forms hydrocarbons like fossil fuels when bonded with carbon or oxygen in the water.
Hydrogen is more valuable once it has been separated from other elements because it can be used in fuel cells to generate electricity, burned in a combustion process to generate heat or power without producing carbon dioxide, used as a chemical feedstock, or used as a reducing agent to turn the ore into pure iron for the production of steel.
Most of the hydrogen created at this time is grey and comes from fossil fuels and carbon emissions.
Utilizing electrolysis, which is driven by renewable energy, to divide water molecules into oxygen and hydrogen yields green hydrogen, an emissions-free fuel. IOC wants to switch to green hydrogen from fossil fuels to further its decarbonization efforts.
Nearly 42% of the entire worldwide demand for hydrogen is met by petroleum refining.
"At the moment, the refineries are the primary locations where hydrogen is consumed for desulfurization. Since it is built on the Steam Methane Reforming process, the leading method for producing hydrogen today uses a lot of carbon.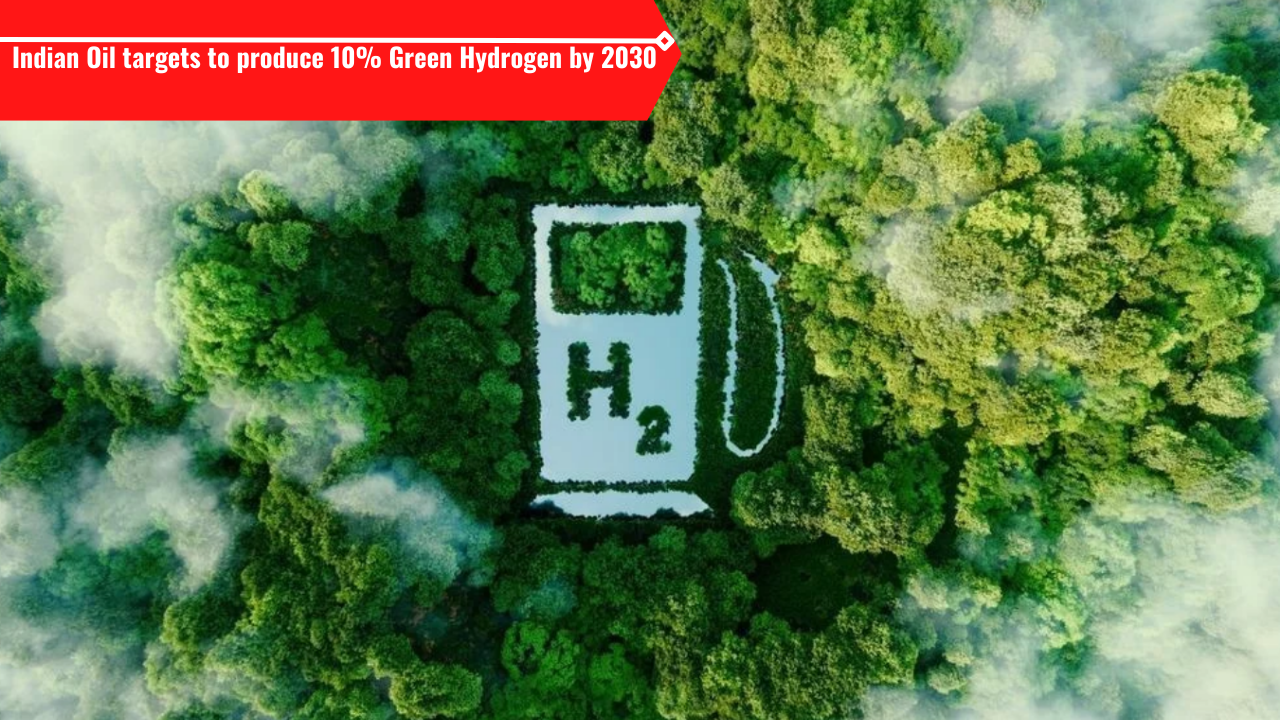 In contrast, "green hydrogen," or hydrogen created by electrolyzing water with renewable energy, has a zero-carbon profile and is thus the preferable type of hydrogen in the context of a carbon neutral future. In the annual report, IOC Chairman Shrikant Madhav Vaidya said the government had announced a policy to boost the production of green hydrogen and ammonia to 5 million tonnes by 2030 and make India a hub for exports of these clean fuels. This policy is intended to help India meet its net-zero commitment.
"The Mathura and Panipat refineries of Indian oil will gradually produce green hydrogen following the national priority. A 5 KTA (40 MW) green hydrogen plant and a 2 KTA (16 MW) plant would be built at the Mathura Refinery as a first stage, "he stated
The company has developed essential partnerships to create green hydrogen production and related renewable assets and manufacture electrolyzers to sync with the full hydrogen value chain.
As electrolyzers account for around 30% of the cost of green hydrogen, he predicted that this would shift the game. He said that IOC is looking into several other methods for producing hydrogens, such as solar electrolysis, biomass gasification, and bio-methanation.
"To determine the effectiveness, efficiency, and sustainability of the fuel cell technology and hydrogen production processes, the hydrogen produced will be utilized to fuel 15 fuel cell buses. Additionally, to expand the availability of hydrogen-based mobility, we will commission a hydrogen dispensing station at the Gujarat Refinery, "added he. IOC stated that it wants to increase its current capacity of roughly 240 MW in the area of renewable energy.
IOC targets almost 5 GW of renewable power generating capacity at its oil refineries by 2025, even though renewable energy plants now produce electricity comparable to 5% of its electricity use.
With 3% of the world's carbon emissions coming from refineries, this industry has high emissions.
India's Green Hydrogen Policy: To meet 2030 goals, unprecedented development is required
In addition to legislative and financial assistance from the government, achieving the 2030 objectives would need a rise in technology deployment that is 20 times greater than the capacity that is now announced.
India committed to achieving net-zero emissions at the Conference of Parties (COP26) in November 2021. A five-point "Glasgow Breakthroughs" agreement was signed by India, 32 other zero-emission nations, and the EU. The agreement's fourth goal is to make renewable, reasonably priced, low-carbon hydrogen widely available by 2030. The Ministry of Power announced the first phase of the green hydrogen/green ammonia strategy on February 17, reinforcing India's desire to become a hub for the production and export of green hydrogen as envisioned under the National Hydrogen Mission.
The policy aims to facilitate the production of green hydrogen in India by streamlining the procedure through time-bound single-window clearances, allowing power banking of excess unutilized renewable energy for 30 days, granting access to power markets and interstate grids and long-term (25 years) interstate power transmission charge waivers, and simplifying port storage setups for hydrogen or ammonia export and use by the shipping industry. The primary objectives of the first phase of the hydrogen strategy are hydrogen generation, storage, and distribution using renewable energy sources. The goal of the strategy is to produce 5 million tonnes of green hydrogen annually by 2030 and increase related renewable capacity.
India's hydrogen consumption is anticipated to reach 8.5 million tonnes in 2021; this figure is then projected to rise to 9.1 million tonnes in 2022 and 11 million tonnes in 2030. Ammonia manufacturing for fertilizer and gasoline desulfurization in refineries are two of the biggest consumption centres. Currently, these two businesses produce most of the hydrogen used, mostly utilizing natural gas to perform steam methane reforming. Direct reduction of iron (DRI), which occurs during the manufacturing of steel, is India's other main source of hydrogen consumption.
According to data from the Ministry of Steel, almost 35% of all the steel produced in India is manufactured using DRI. There are over 300 DRI plants, and around 85% use syngas from coal gasification to manufacture steel. Due to Indian coal's higher availability and lower cost as compared to natural gas, there is a high dependency on coal. According to projections from Commodity Insights, India will import over 85% of its oil and 56% of its gas in 2021.
India can meet its rising energy demands, improve energy security, and meet its long-term decarbonization goals by domestically producing clean hydrogen with the aid of supportive policies. According to Commodity Insights' Hydrogen Production Assets database, there are 26 projects with a total announced capacity of 255,000 mt/year. The ambitious goal of 5 million tonnes per year by 2030 is well below what is anticipated, necessitating an increase in electrolyzer capacity of 26 to 36 GW, depending on the technology type and capacity factors.
In addition to exceptional expansion (20 times the already declared capacity) in technology deployment from both public and commercial entities, meeting the 2030 objectives will also need strong legislative and financial assistance from the government.
Most of the hydrogen used in India is now produced using fossil fuels with significant emission levels (approximately 20 kg C02/kg H2 for coal gasification and around 11 kg CO2/kg H2 for SMR). A 5 million mt/year usage of green hydrogen might eliminate 34 million or 11 million mt/year of natural gas or 25 million mt/year of coal.
Given coal's higher emission intensities, the use of renewable hydrogen in the steel sector would have the greatest impact. Even though India has far lower renewable power rates than the rest of the world, the cost of the electrolyzers makes it uneconomical to create green hydrogen on a big scale. The Indian government has made an effort to lower production costs by offering simple clearances and fee waivers; however, additional incentives from state-level governments will also be important.
Although the initial hydrogen policy is a welcome move in the right direction, greater clarification on the intended end use is needed to stimulate demand for clean hydrogen. Details on hydrogen use are anticipated to be included in the policy's second phase, which is now under study. It might include rules or requirements for the use of clean hydrogen in the steel, ammonia, and refining industries (5 per cent -10 per cent of clean hydrogen use of total hydrogen consumption).
Edited by Prakriti Arora