Stories
"Joe Biden has had the most disastrous first month of any President in modern history, says Donald Trump; even as he cheekily hints at "beat them for the third time."
They say you can take the man out of politics, but you can't take politics out of a man! And with that, Donald Trump is at it again; what am I talking about? Well, about his comeback, of course, for that is precisely what Donald Trump, America's previous President has hinted at.
In one of his first public addresses since leaving office, he made an appearance at the CPAC ( the Conservative Political Action Conference), which is the largest and the most prominent gatherings of conservatives and happens in Orlando, Florida.
The conference is touted as a peek into the direction that the republican party is set to chart for itself, and Donald Trump's speech marks his return to the grand political stage; it also signaled the dominance he continues to maintain in his party still.
Trumps received an enthusiastic reception, and he, in his typical style, had his finger pointed at the crowd, even as the hall thundered with people's claps, had the lopsided smile, and nodded to the masses.
It was almost as if the gathering waited breathlessly for Trump to make his speech, and his every statement was met with thundering applause.
He teased the crowd with one statement in particular when he confessed "another run for the White House."
As Trump entered the stage, with the crowd cheering, he waited a while for the crowd to settle even as he gestured and smiled at the gathering.
Trump asked the crowd (like a leader), "Do you miss me yet?" and as the audience clapped, he went on to say, "a lot of things are going on."
It was evident that while he talking and making his speech that he was still angry, "in one short month, we have gone from America first to America last." Perhaps this is his way of conveying to fellow Americans that they lost a leader who always put America first.
It is evident that Trump had neatly and articulately packed his speech with some hard-hitting statements. His disclosure as he was teasing the crowd, "who knows, I may even decide to beat them for the third time, okay!".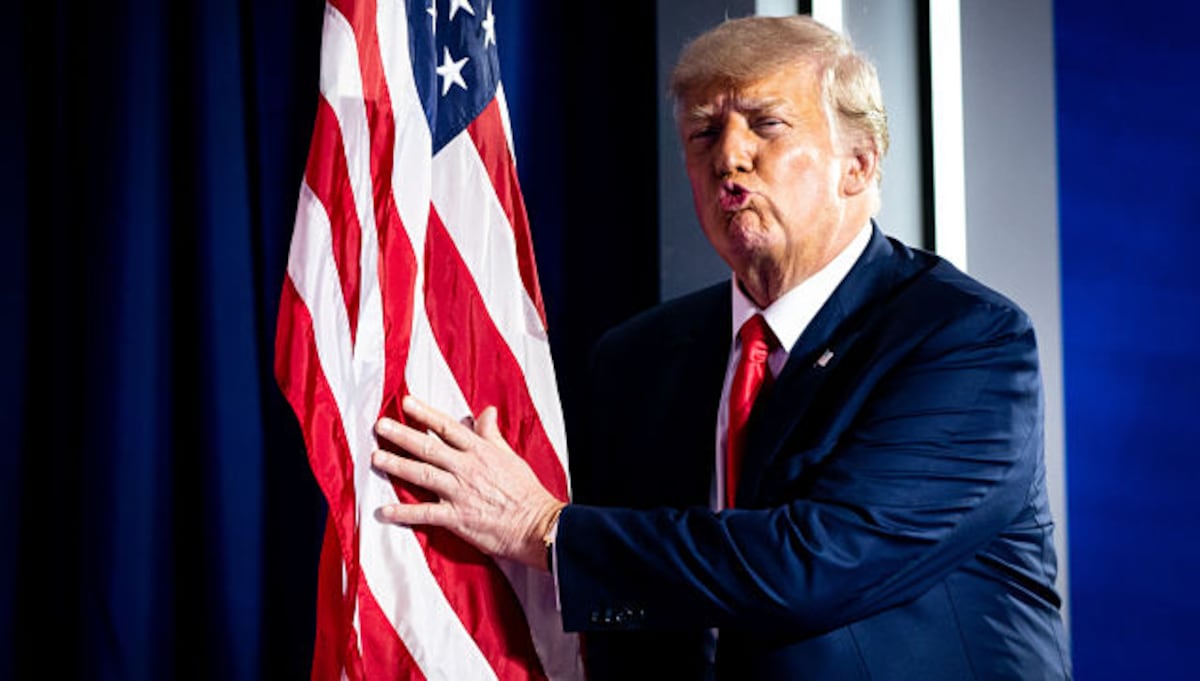 As cheeky as he was, he repeated once again – "beat them for the third time" with this, the crowd went wild cheering for him to continue speaking.
His first appearance after leaving office, the twice impeached former President used the grand stage to launch into previous grievances and reminded the people that he and the party had won the election twice.
He noted that the task for "our movement and for our party is to stand up to this destructive agenda with confidence and with resolve," this was followed by some fierce attacks on President Joe Biden.
Trump claimed that Biden was anti-jobs and family, anti – borders, anti-energy, anti-women and anti-science; he further in support to his claims, went on to say that "Joe Biden has had the most disastrous first month of any President in modern history, and that is true" (the audience at this point went ballistic)
He went on to add that, according to him already, the Biden administration had proven they are anti-America's growth and putting America first.
He went on one step further and also took aim at fellow Republicans to fail to support him and outrightly criticized him. Trust Donald trump to never shy away from mincing words and taking potshots at all those who he thinks did wrong by him.
He missed no names and pulled no punches – the democrats don't have grand standards like, and he went on to take a string of words (surely knocking them out, even as the crowd booed at each of the names).
While he left no stone unturned to punch the fellow republicans, he also promised to unite the party and said that those who were whispering that he might start his own party – are spreading fake news, especially since he is not interested in dividing the votes.
Trump's address went on for nineteen minutes (even as the audience applauded this whole time), and besides name-calling, it also featured aliens, dead people, and even a surprising definition of "Trumpism."
What am I referring to read on "where illegal aliens and dead people are voting, and many other horrible things are happening, two voluminous events are happening, and people know about it."
Defeated in November, impeached twice, and even blocked by tech giants, the last few months have certainly not been good for Donald Trump. And his main agenda at appearing in CPAC was to denounce claims that he was becoming irrelevant.
While his speech may have done well to settle these doubts but his troubles are far from over.
Trump's tax returns, something he tried to keep hush for years, are now in the hands of prosecutors in New York.
The investigators are busy digging into his financial reports and determining whether Trump engaged in tax fraud. If indeed found guilty, the outcome would have a direct impact on his political aspirations.
But for now, with his appearance and his speech, he has clearly portrayed that he may be down but not out just yet.