Stories
Modi's Top Friends – Trump and Netanyahu, All Accused and Tried In Their Own Countries
Flashback to a few months ago in February, when the Covid-19 pandemic seemed like an impossible reality. As Modi announced to the delight of his American counterpart, more than 110,000 people applauded Trump from the stands of the Sardar Patel Stadium (also known as the Motera Stadium) that hosted President Trump and his family along with Indian Prime Minister Narendra Modi at the world's largest cricket stadium, still under construction but decked out for the event, on a day marred by protests in the capital of New Delhi, where security forces colluding with the mob and the miscreants from Bhartiya Janta Party, charged protesters protesting the Citizenship Amendment Act (CAA).
Not so long ago, Israeli Prime Minister Benjamin Netanyahu thanked Modi for supplying Israel with a five-tonne shipload of medicines, including anti-malarial drug hydroxychloroquine, deemed a potential treatment for Covid-19, when India is struggling horribly with the effects of pandemic exacerbated by government miscalculations and incapability at every step.
One of the most prominent developments in world politics in recent years has been the rise to power of authoritarian leaders all around the world. The election of Donald Trump as President of the United States, the consolidation of anti-democratic governments in Hungary and Poland, from Turkey to the Philippines and of course, India, show that populism is here to stay and has become a global phenomenon. As dictators take over executive and legislative powers, the consequences of their rise are becoming even more relevant to international politics.
Netanyahu himself is a hedonistic, corrupt cynic facing an ongoing investigation into his alleged acceptance of generous illegal gifts from a Hollywood billionaire. He poses as a "secular" but he loves to play the "Jewish card" for his own benefit. He presides on the regime that orchestrated one the most brutal occupation of Palestine. Israeli plans of annexation of West Bank, settlements, violence, bombing, turmoil hits the news every day.
"In 1996 his promise to be "good for the Jews" brought him to power. Last year, his warning that Jews must run to vote for him or his fate would be left in the hands of "herds" of Arabs (read Muslims) allegedly herded to polling stations. In many ways, Netanyahu's political profile and actions matches that of the toughest American Republicans and the current Modi government.  He probably would have preferred that life, especially for the sheer power it would give him. It would also have allowed him to avoid eight frustrating years of personal pique with President Barack Obama", as Shlomo Ben-Ami, a prominent Israeli politician and diplomat opined in an article.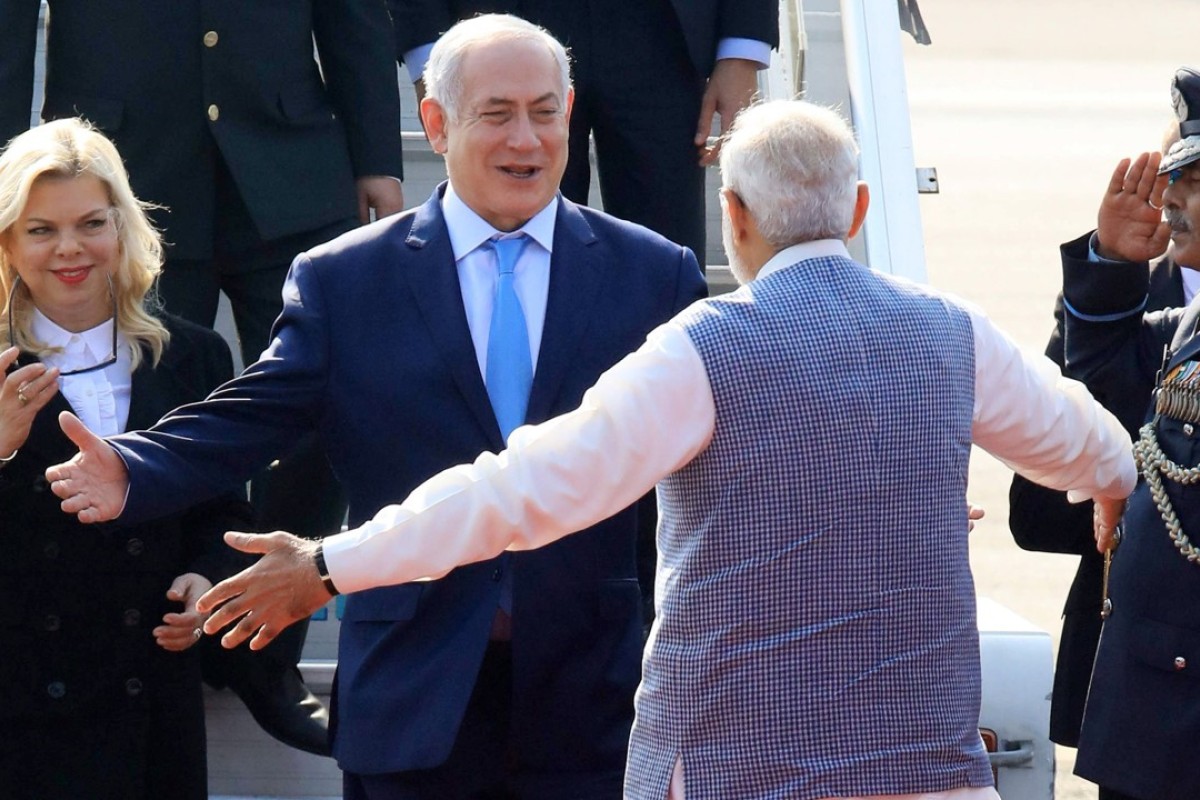 Another "closest-friend" of Modi, Donald Trump, shares the love for repressing and distorting the facts and truth. This tendency has allowed both the Trump and the Modi government to fool and brainwash common people with their ideological tactics. For example, Donald Trump praised "religious freedom" in India at the same time that the most serious clashes between Hindus and Muslims took place in the last 30 years. There are many affinities between Trump and Narendra Modi. Some belong to the spirit of the time, and that is why they share them with political leaders as distant and different as Benjamin Netanyahu, Jair Bolsonaro and Vladimir Putin, Boris Johnson, Marine Le Pen, and Recep Tayyip Erdogan.
They all are nationalists and populists, propelled by the politics of divide and rule, creating fear in the minds of the nation, through the alleged call for the "defence of the community" which is already considered the majority in their respective countries, against other different communities, by religion, language, ethnic origin, or against immigrants and foreigners. The game remains similar, and so are people's sufferings.
There are other affinities inscribed in the interests of each country, and even in the geopolitics of an international order in transformation. India, the US, and Israel are the three most prominent democracies on the planet. They also are suffering from the ills that afflict all democracies, of which Modi, Trump and Netanyahu are both effect and cause.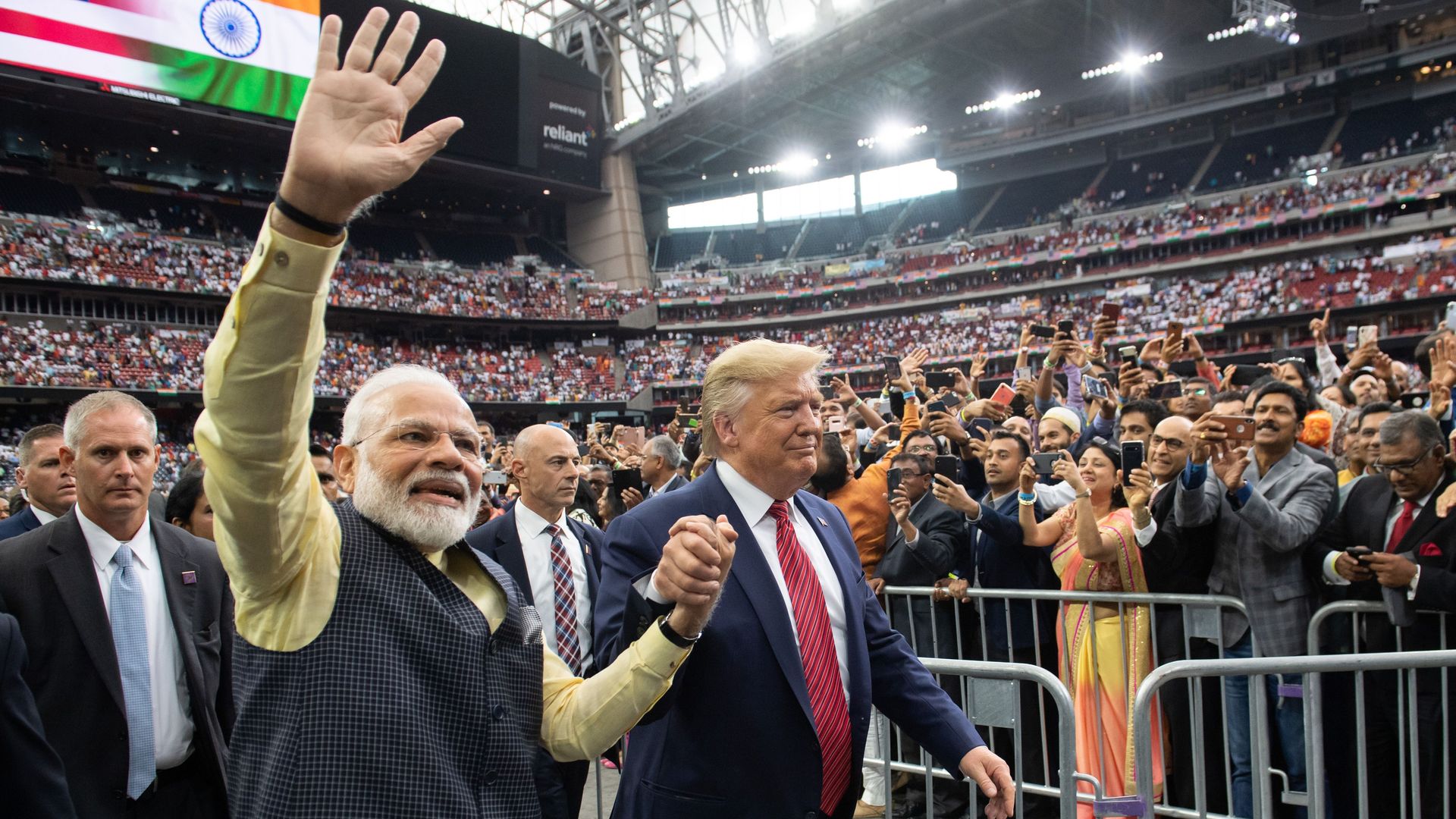 All three of them disrespects the constitutional foundations of their respective countries on sensitive points such as pluralism and religious tolerance or the concentration of powers. Legislation harshly criticised by their respective oppositions, common citizens, civil society and by the national and international institutions are owed to them. In the United States, the victims are Hispanic immigrants and African Americans, in India are the Muslims and other marginalised communities, the violence on Palestinians by the Israel state, all of them have become foreigners or second-class citizens. To bring these three countries of such dimensions closer together, the chauvinist and the authoritarian moods that resemble them, are just the tip of the iceberg.
Netanyahu far prefers Trump's rude babbler to professional liberalism. Indeed, Modi, Trump and Netanyahu have many things in common, both with each other and with other illiberal leaders such as Turkish President Recep Tayyip Erdogan. All of them see open hostility to the media and freedom of expression, as a means of securing and consolidating power. Trump has launched a "war on the media."
For his part, Modi has repressed freedom of the press and criticism, putting activists, intellectuals, journalists in prisons, censorship, or slapping draconian laws every single day. It is not difficult to follow that of course media is not the only sphere where Modi government is doing all the dirty work, pushing India towards illiberalism. It should be noted that censorship and harassment are not reserved exclusively for the media, but can be seen in every public sphere in India.
Netanyahu is an eroded leader. So is Trump. After 13 cumulative years in power, Netanyahu's dream of reaching the historic stature of David Ben Gurion, the founder of the State of Israel, seems increasingly distant. Corruption scandals haunt Netanyahu and Impeachment charges worry Trump.
Trump and Modi's practice diplomacy of flattery for populist leaderships. Trump received his Indian colleague in a Houston stadium before 50,000 people last September with the Howdy Modi greeting, and he had returned the compliment at another stadium, in Ahmedabad, his electoral stronghold, with another greeting, Namaste Trump. But behind the folklore and adulation are the tectonic movements of geopolitics, bringing Washington closer to New Delhi and away from Islamabad.
There are objective ties beyond Trump and Modi. They have already narrowed with George W. Bush and Obama and will continue to narrow without Trump and without Modi. The most important is the one that claims to stop or at least counterbalance China, the superpower that aspires to turn its territorial centrality in Asia into absolute hegemony throughout the maritime and even oceanic environment of the Pacific.
There are striking coincidences between Trump, Netanyahu and Modi. They can be for friendship, interests or both, but the result is obvious. At his worst, Netanyahu has run to visit the president of the United States or the Prime Minister of India to receive the treatment of the statesman that he so desires and that he is denied in Israel. In return, Netanyahu is willing to multiply his support for the Republicans and BJP and show it publicly to his influential community. Pure symbiosis.
Our country is shaken by violence on Muslims, marginalised communities like Dalits and Adivasis, the poor, the working class, the Covid-19 pandemic, erosion of democratic values, split by a crisis of institutional legitimacy and polarised around the very essence of the country and who should be part of it. India's relations with the US and Israel have remained fairly constant across these authoritarian governments. This is due to Modi government's Hindu nationalism affinity with the US and Israel.