Stories
Sri Lanka economic crisis 2022, How did Sri Lanka get to this economic abyss?
The Sri Lankan economy has been in trouble for some time, and the situation has gotten worse in recent days. On April 1, Sri Lankan President Gotabaya Rajapaksa announced a state of emergency to quell large protests and prevent the condition from worsening.
How did Sri Lanka come to this economic abyss?
From 1983 to 2009, Sri Lanka was engulfed in civil war, with the economy scarcely advancing. Agriculture's share of GDP decreased from 28 per cent to 7.7% between 1970 and 2020, while industry's share stayed stable at 17-19 per cent, and services' share increased from 54 per cent to 73 per cent. Services, trade, hotels, and transportation have accounted for about 30-35 per cent of total revenue.
For critical products such as food and oil, the economy heavily relies on imports. Agricultural exports (tea, rubber, and coconut), industrial products (textiles), and remittances from abroad are the primary funding sources for these imports. Export and remittance receipts have never been enough to offset the cost of imports, and Sri Lanka has always had a current account deficit (CAD). In 2010-19, the average CAD was roughly 1.2 per cent of GDP.
The government has primarily met the CAD by borrowing from abroad. The balance has been tied to the foreign exchange reserves since the government's borrowing from overseas has been more significant than the CAD. What is one to make of an economy whose FX reserves are primarily made up of foreign borrowings?
The government has enormous fiscal deficits in addition to a large CAD. In 2011-20, the average budget deficit was 6.2 per cent of GDP. Both domestic and foreign sources were used to fund the government's fiscal shortfalls. As external sources dried up, it turned to domestic borrowing, issuing bonds and receiving advances from Sri Lanka's Central Bank. To combat massive tax evasion, the government also reduced tax rates.
The two-headed deficit The Sri Lankan economy was under tremendous strain from 2010 to 2019, but it managed to stay afloat. The conditions were ideal for an economic conflagration, and all it took was a spark.
COVID-19 was more than a spark in 2020, sucking all the breath out of the Sri Lankan economy. The pandemic triggered a global recession, which reduced global demand. Sri Lanka's exports fell while imports rose (primarily for survival), and the country's tourism industry came to a standstill. The economy shrank by 3.5 per cent, the CAD increased to 7.9% of GDP, and the fiscal deficit increased to 11.1 per cent.
Before the economy could stabilise, the government decided in April 2021 to stop using chemical fertilisers and switch to 100% organic farming. While the intentions are unquestionable, the timing is crucial. Fertilisers are a small part of the import bill, accounting for only 2% of the total.
Because of this transition in a crucial industry like agriculture, inflation increased from 5.7 per cent in July 2021 to 15% in February 2022.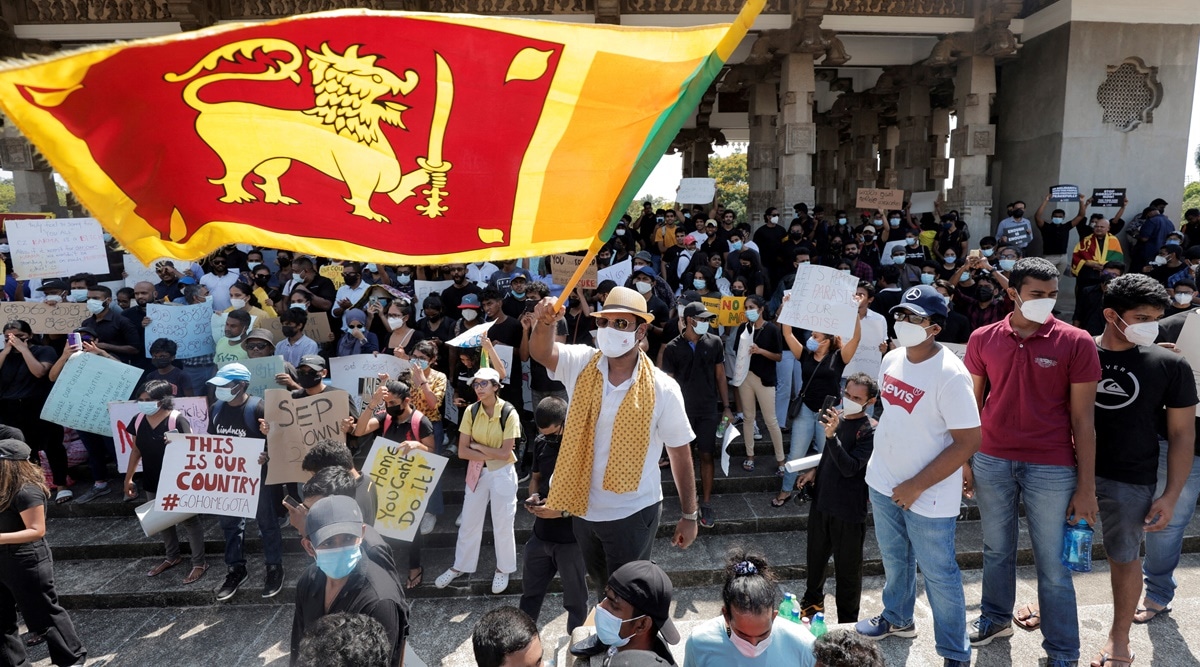 Sri Lanka's government reserves were anticipated to be $2.4 billion at the end of January 2022, equivalent to 1.3 months' worth of imports. The country cannot import oil and is experiencing daily power outages of more than 10 hours. The central bank is combating the crisis by raising policy rates, and it has also requested that the government take steps to strengthen its finances. Tourists from Russia and Europe could not visit Sri Lanka due to the Russia-Ukraine conflict.
The economic crisis in Sri Lanka is reminiscent of India in 1991. The seeds of India's 1991 financial crisis were planted in the 1980s when fiscal, and current account deficits increased. Unlike Sri Lanka now, India had a highly restricted trade policy, with limited foreign exchange reserves due to policy design. On the eve of the crisis in 1989-90, India's FX reserves had plummeted to just 1.9 months' worth of imports. The economy was vulnerable, and the West Asian oil crisis came as a shock.
Sri Lanka is in a similar economic scenario thirty-one years later. However, there is one significant difference: whereas New Delhi had leaders like (late) PV Narasimha Rao and Manmohan Singh to rely on, Colombo has none. The Rajapaksas focus on public outrage (rightly so, because seven family members are part of the government, including the President, Prime Minister and Finance Minister). In this way, Sri Lanka's economic crisis resembles the Arab Spring of the early 2000s, when people demonstrated against governments against a global economic downturn.
Sri Lanka's economic crisis has again drawn attention to South Asian politics. There are concerns about Sri Lanka's heavy reliance on China and Beijing's 'debt trap' policies (the effects of which are now also being discussed in many African countries). Pakistan, another of India's neighbours and China's "all-weather buddy," is amidst the political and economic upheaval.
In the midst of it all, India shines out as a shining example of economic stability in the face of hardship.
Embassies in Oslo, Baghdad, and the Sydney Consulate have closed.
From April 30, the Ministry of Foreign Affairs has taken steps to temporarily close the Sri Lankan embassies in Oslo, Norway, Baghdad, Iraq, and Sydney, Australia.
The decision follows a recent Cabinet of Minister's decision. According to a statement made by the Ministry of Foreign Affairs, the Government of Sri Lanka decided to close the two Missions and Posts after due assessment temporarily.
"It is part of a broader restructuring of Sri Lanka's diplomatic presence abroad, which the Foreign Ministry is undertaking in light of the country's current economic condition and foreign currency limits."
The Ambassador of Sri Lanka in Stockholm, Sweden, will be concurrently accredited to Norway following the closing of the two permanent Missions. Meanwhile, the Sri Lankan Ambassador to the United Arab Emirates, Abu Dhabi, will also be accredited to Iraq.
As a result, the Consulate General in Sydney's consular jurisdiction will revert to the Sri Lankan High Commission in Canberra, Australia.
Through the new accreditation/arrangement as detailed above, as well as the respective Honorary Consulates of Sri Lanka located in Norway, Oslo, and Australia, the Foreign Ministry assured that it would take appropriate measures to address all consular-related matters of Sri Lankan citizens residing in Norway, Iraq, and within the consular jurisdiction of Sydney. The Foreign Ministry stated that it would keep a close eye on the changeover.
"The decision to close the resident missions in Norway and Iraq, which is being taken as a temporary measure in the current context, will have no impact on Sri Lanka's bilateral relations with the two countries, which are maintained at an optimal level of friendship and cordiality," the Foreign Ministry stated.
Ex-Sri Lankan official says he has accepted the offer to be the central bank's new governor.
On Monday, P. Nandalal Weerasinghe, a former Central Bank of Sri Lanka (CBSL) official, announced that he had accepted an invitation from the country's President to become the bank's next governor, despite the country's worsening economic crisis and turmoil.
Weerasinghe told Reuters, "The president contacted me and presented the opportunity, and I accepted." Weerasinghe, who left CBSL as senior deputy governor in September, said he would return to Sri Lanka this week to assume the role formally. A request for comment from the CBSL was not immediately returned.
President Gotabaya Rajapaksa said earlier on Monday that CBSL Governor Ajith Nivard Cabraal had tendered his resignation as he sought to build a unity government and find a way out of Sri Lanka's worst economic crisis in decades.
Nandalal Weerasinghe, a former Sri Lankan official, says he has accepted the invitation to be the new Central Bank Governor. "The president contacted me and offered the offer, and I have accepted," he said.
Rajapaksa also removed his brother, Basil Rajapaksa, from his position as finance minister and replaced him with Ali Sabry, the country's justice minister.
The debt-ridden island nation of 22 million people cannot pay for imports due to a lack of foreign currency, resulting in hours-long power outages and a shortage of essentials. Later this month, Sri Lanka is expected to begin talks with the International Monetary Fund on a bailout proposal.
The opposition in Sri Lanka has rejected the President's offer of a unity government.
The opposition in Sri Lanka has rejected President Gotabaya Rajapaksa's invitation to form a unity government and urged his resignation over the country's mounting food, fuel, and medicine shortages.
The opposition's demand came as anti-government rallies raged across the country in response to the country's most significant economic crisis in decades and growing scepticism of the President's leadership.
The President's office said earlier yesterday that he welcomes all political parties represented in parliament to come together and accept ministerial positions to find answers to the country's crisis. The idea was rejected by the most potent opposition political grouping, the United People's Power or Samagi Jana Balawegaya (SJB).
The left-wing People's Liberation Front (JVP) reacted by calling on Rajapaksa and his once-powerful family to resign immediately.
After thousands of people violated a statewide state of emergency and curfew to join public protests to criticise the government, all 26 Cabinet ministers submitted their resignations on Sunday. Finance Minister Basil Rajapaksa and Irrigation Minister Chamal Rajapaksa, and the prime Minister's son, Sports Minister Namal Rajapaksa, were among those who resigned.
Police in Sri Lanka uses tear gas and water cannons to disperse protesters in front of Prime Minister Mahinda Rajapaksa's home.
On Monday, Sri Lankan police shot tear gas and water cannons at 2,000 enraged demonstrators who violated curfew orders and attempted to attack Prime Minister Mahinda Rajapaksa's home in Tangalle, demanding his resignation amid the country's worst economic crisis. Around 2,000 protesters arrived in Tangalle, 200 kilometres south of Colombo, near the Prime Minister's mansion, Carlton House, and tore down barricades while screaming anti-Rajapaksa slogans.
Tangalle, which has a Sinhalese majority, is thought to be the stronghold of the Rajapaksa clan. According to eyewitness testimonies, angry protesters reportedly eluded the police and were spotted running towards Rajapaksa's gates, chanting for his resignation.
The government's inadequate management of the economic crisis, which has left inhabitants without power for lengthy periods and essentials in short supply, has enraged the population, resulting in planned and continuous nationwide protests since Sunday. The administration has declared an emergency and imposed a 36-hour curfew and a social media ban in response to the protests.
Anti-government protests were held here in Independence Square on Sunday in response to President Gotabaya Rajapaksa's decision to declare an emergency and impose a slew of additional restrictions. On Sunday evening, university students held protests in the country's Central Province.
As a result of the island nation's current economic instability and unrest, all 26 Cabinet Ministers have submitted their resignations.
On Monday, Sri Lankan President Ranil Wickremesinghe sacked his brother, Finance Minister Basil, and urged opposition parties to join a unity cabinet to address public outrage over the country's worst economic crisis.
Basil, by the way, was the one who arranged the Indian economic aid package to help Sri Lanka deal with its current currency issue. Ali Sabry, the Minister of justice, has taken his place until Sunday night. Basil was set to fly to the United States to meet with the International Monetary Fund about a possible rescue package to help the country recover from the unprecedented economic catastrophe.
He was the target of resentment inside Sri Lanka's ruling Podujana Peramuna alliance. At least two ministers were fired from the Cabinet last month after publicly criticising Basil. Following the Cabinet Ministers' resignations, at least three new ministers were sworn in. Foreign Minister G L Peiris has been sworn in, while Education Minister Dinesh Gunawardena has been appointed.
The new Minister of Highways, Johnston Fernando, has been appointed. Ajith Nivard Cabraal, The Governor of the Central Bank, also announced his resignation on Monday. In a tweet, he wrote, "In the context of all Cabinet members quitting, I have today submitted my resignation as Governor."
Cabraal, 67, was chastised for his adamant opposition to Sri Lanka's request for a financial rescue through the IMF's structural adjustment fund.
On Monday, the main opposition party, Samagi Jana Balavegaya, called the recent wave of resignations a "sham" and rebuffed the President's request to form an interim government.
As Sri Lanka's economic situation deepened, Ali Sabry resigned from the Cabinet for the second time in three days.
As the government grapples with a mounting economic crisis, Sri Lankan politician Ali Sabry tendered his second resignation in (almost) as many days, this time as Finance Minister. Sabry, the Justice Minister in the Gotabaya Rajapaksa-led administration until two days ago, resigned with his Cabinet colleagues on March 3 before being re-appointed the next day.
"After considerable thought and deliberation, and in light of the current situation, I believe it is appropriate for your Excellency to create appropriate temporary arrangements to navigate this unprecedented crisis," read an excerpt from the politician's letter.
Sabry had been nominated as the President's younger brother Basil Rajapaksa's replacement as Finance Minister. The latter was supposed to travel to the United States this month to discuss a loan deal with the International Monetary Fund (IMF). Following the mass resignation, four new ministers were chosen "to ensure that parliament and other responsibilities may be carried out lawfully until a complete Cabinet can be sworn in."
The debt-ridden government, governed by Rajapaksa and members of his family since 2019, has been unable to pay for gasoline and other imports due to a lack of foreign funding, resulting in hours-long power outages and a shortage of basics.
As the situation worsens, widespread protests have been many calling for the President and his family to depose ultimately.
On Monday night, police arrested numerous demonstrators and stated that they would use scientific and video evidence to apprehend violators in the coming days. Officials also cautioned agitators not to take the law into their own hands, warning that those who engage in violence during the protests will face severe consequences.
As the situation worsens, widespread protests have been many calling for the President and his family to depose ultimately.
On Monday night, police arrested numerous demonstrators and stated that they would use scientific and video evidence to apprehend violators in the coming days. Officials also cautioned agitators not to take the law into their own hands, warning that those who engage in violence during the protests will face severe consequences.
After Russia, Sri Lankan stocks have dropped about 33%, making them the world's worst losers.
Sri Lanka's stock market has gone from boom to collapse, with a 33 per cent drop making it the world's worst performance this year, trailing only Russian equities.
As widespread protests against skyrocketing inflation and power outages grow, the Sri Lanka Colombo Stock Exchange All Share Index is plummeting. With the central bank chief's departure on Monday compounding the scenario, a market that surged 80% in 2021 — the most satisfactory performance in the world after Mongolia — has been undermined by a rising political crisis.
After rallying in 2021, Sri Lankan stocks are leading the reversal in a more significant indicator of Asia's frontier-market equities. As accelerating price pressures and political turbulence weigh on attitudes toward these relatively illiquid economies, especially Pakistan, the MSCI Frontier Asia Index has just completed its worst quarter in two years.
Sri Lankan equities have been struck particularly hard, with recent trading disruptions precipitated by losses.
"Investors have taken a risk-off approach to investments amidst heightened uncertainty, where capital preservation has become a priority," said Naveed Majeed, senior vice president of research at Asia Securities Pvt. As inflation rises, "investors have taken a risk-off approach to investments amidst heightened uncertainty, where capital preservation has become a priority," said Naveed Majeed, senior vice president of research at Asia Securities Pvt. "From March onwards, we expect corporate earnings to moderate."
Even as the government seeks a bailout from the International Monetary Fund to deal with rising living costs and a foreign-exchange problem, sentiment has deteriorated. According to Bloomberg data, the rupee has been the world's worst-performing currency this year, with foreign money pulling $11 million from local markets.
Some investors believe the government is taking steps to halt the decline.
"I wouldn't be surprised if the Central Bank of Sri Lanka hikes interest rates by more than 100 basis points" at its next meeting, said Ruchir Desai, fund manager at Asia Frontier Capital Ltd.
Meanwhile, political unrest in Pakistan is putting downward pressure on the KSE-100 Index, with Prime Minister Imran Khan calling for a fresh election on Sunday after one of his party partners abruptly cancelled a no-confidence vote. On Monday, the equities index fell to its lowest level.
edited and proofread by nikita sharma