Trends
In History, Sri Lanka Worst Economic Crisis: Is Sri Lanka Heading Towards Bankruptcy in 2022?
In History, Sri Lanka's Worst Economic Crisis: Is Sri Lanka Heading Towards Bankruptcy in 2022?
Economics has always played a crucial role in the development of a country. Even though you might not like the subject at school, it is genuine. Allocating resources is all about getting the most out of them. When the number of people in a country increases, so does the duty and burden to be more unbiased and active in every area of resource allocation. The problem is that resources are finite and must be effectively allocated.
No matter how big or small the economy is, it can just crash if it's not managed correctly. There is a reminder of this every once in a while. An unexpected year brought news of economic instability in a country. Sri Lanka is an economically distressing country, and its economy is experiencing extreme hardships. The article addresses this issue directly.
The article tells you about Sri Lanka's situation and the global response to it, how the country plans to move forward and more. Let's get started.
A Brief Overview of the Sri Lankan Economic Crisis
Several days ago, we learned about the financial crisis facing Sri Lanka, located south of India. Sri Lanka is facing extreme economic conditions due to its tight financial position. According to the news, these conditions are likely to worsen.
As reported by Deccan Herald, Sri Lankan foreign reserves have hit a record low, preventing commercial banks from financing imports of food, fuel, and medicines with dollar reserves. All of these factors were caused by the outbreak of COVID-19, which devastated Sri Lanka's tourism industry, a crucial source of foreign earnings, and reduced foreign workers' remittances.
In March 2020, the Sri Lankan government declared a comprehensive import embargo to preserve the country. However, this backfired in the shape of a 25% increase in food costs, according to February 2022 reports, contributing to an overall inflation rate of 17.5 per cent. Furthermore, the country is experiencing daily 5-hour power outages due to thermal generators running out of fuel. According to estimates, the country's $51 billion national debt is still a problem.
The Sri Lankan government has received a $1.2 billion economic rescue package from India in exchange for a cure.
Sri Lanka's Current Situation 
Sri Lanka's external reserves were drastically depleted due to the crisis in November 2021. The external resources dropped to $1.6 billion due to the drop. This drop sparked panic in most of the country's domains and quarters. Concerned members of the government issued a warning. Economists and think tanks have warned that the current drop in foreign reserves will lead to a future sovereign default.
Following the events in Sri Lanka, the American credit rating agency 'Fitch' reduced the country's rating to CC. A CC rating is the lowest possible rating before the defaulter tag is applied. It should be highlighted that Sri Lanka has been accumulating fictitious debt in recent years.
This downward trend in 2020 is being hailed as a new low for Sri Lanka. The present crisis is referred to as a "mega meltdown," as it has affected the whole island. Living prices are steadily growing, food shortages are expected to worsen this year, and projections suggest that Sri Lanka may undoubtedly default on its debt.
Sri Lanka is now facing several economic crisis challenges and dwindling foreign reserves. Inflation is at an all-time high in the country, fundamental living conditions are becoming more costly, food expenses are rising, and finances are drying out.
The country's current economic disaster is severe, and the hole is too deep to get out of. The administration appears to be dealing with a human tragedy that will impact its post-pandemic growth rate and its core sustainability index.
According to the organisation, according to World Bank estimates, 5 lakh people in Sri Lanka have slipped into poverty since the epidemic struck, a "major setback comparable to five years' worth of development," according to the organisation.
According to the World Bank, around 5 lakh individuals have slipped into poverty, a trend that began during the Covid 19 outbreak. This setback was so severe that it wiped out Sri Lanka's five years of progress. This is a significant setback for Sri Lanka's economy and the people that make up the economy.
According to other sources, the country's GDP declined by 1.5 per cent by the end of the third quarter of 2021. It will be difficult for Sri Lanka to survive in 2022 since there are serious fears about the government falling bankrupt.
On the other hand, the administration issued a USD 1.2 billion economic assistance package on Tuesday, stating that the country will not default on its foreign debt.
According to a PTI report, Finance Minister Basil Rajapaksa stated that Sri Lanka would pay the USD 500 million foreign sovereign bonds due in a week.
Sri Lanka, an island off the coast of India, is a popular tourist destination. Tourism earnings account for around 10% of the island's GDP (Gross domestic product). In the island nation, this was the standard rate.
With the outbreak of the Covid19 pandemic, this rate plummeted, and the tourism industry ground to a standstill. This has a significant impact on the country's revenue. Every other prominent tourist location, on the other hand, had this problem, and the effect was genuine.
Sri Lanka is highlighted since tourism accounts for a significant portion of the country's GDP.
While the tourist ban was a fantastic way to hit the economy, other factors were at play. Heavy Expenditures are among the different factors that have been identified as contributing to the decline. During the year, Sri Lankan President, Gotabaya Rajapaksa, spent a lot of money.
His government attempted to reduce taxes on individuals, which hurt government income. More and more spending resulted in dwindling foreign reserves, which eventually reached rock bottom. According to the Guardian, the government is heavily reliant on loans and grants, with China serving as a critical debtor, and Sri Lanka has significant debt repayments to China alone.
The Sri Lankan rupee (the island's currency) has also plummeted. Inflation is the phrase used to describe this phenomenon. Inflation in Sri Lanka has hit new highs and continues to rise, resulting in a jump in food costs that have caused concern among the country's inhabitants.
In August 2021, President Rajapaksa declared an economic emergency in response to rising inflation several months before the country's foreign reserves collapsed. This emergency was advised to keep the situation under control and contained. People's hoarding of things in their houses was reduced, perhaps leading to more severe shortages.
After four months, essential products were expensive for the general people as inflation continued to rise. It has been observed that even the well-off or socially wealthy are having difficulty meeting fundamental requirements and desires. The residents of Sri Lanka have been struggling to make ends meet for some months.
According to the Guardian report, the government appointed a former army general as commissioner of essential services, giving him the power to seize food stocks hoarded by traders and retailers and ensure important items were sold at government-set prices. Still, little was done on the ground to alleviate people's misery.
What Sri Lanka is going through at the moment, is inhumane and horrifying. There have been many challenging economic periods in the country, but this one is the worst. Furthermore, this is when the entire planet faces a worldwide epidemic that might devastate everything. Sri Lanka's chances of going bankrupt have increased due to this. The government of Sri Lanka and the people of the island country are facing a currency devaluation due to a 70% decline in foreign exchange reserves over the last two years, and they are searching for support from international lenders.
Is Sri Lanka on the Verge of Bankruptcy?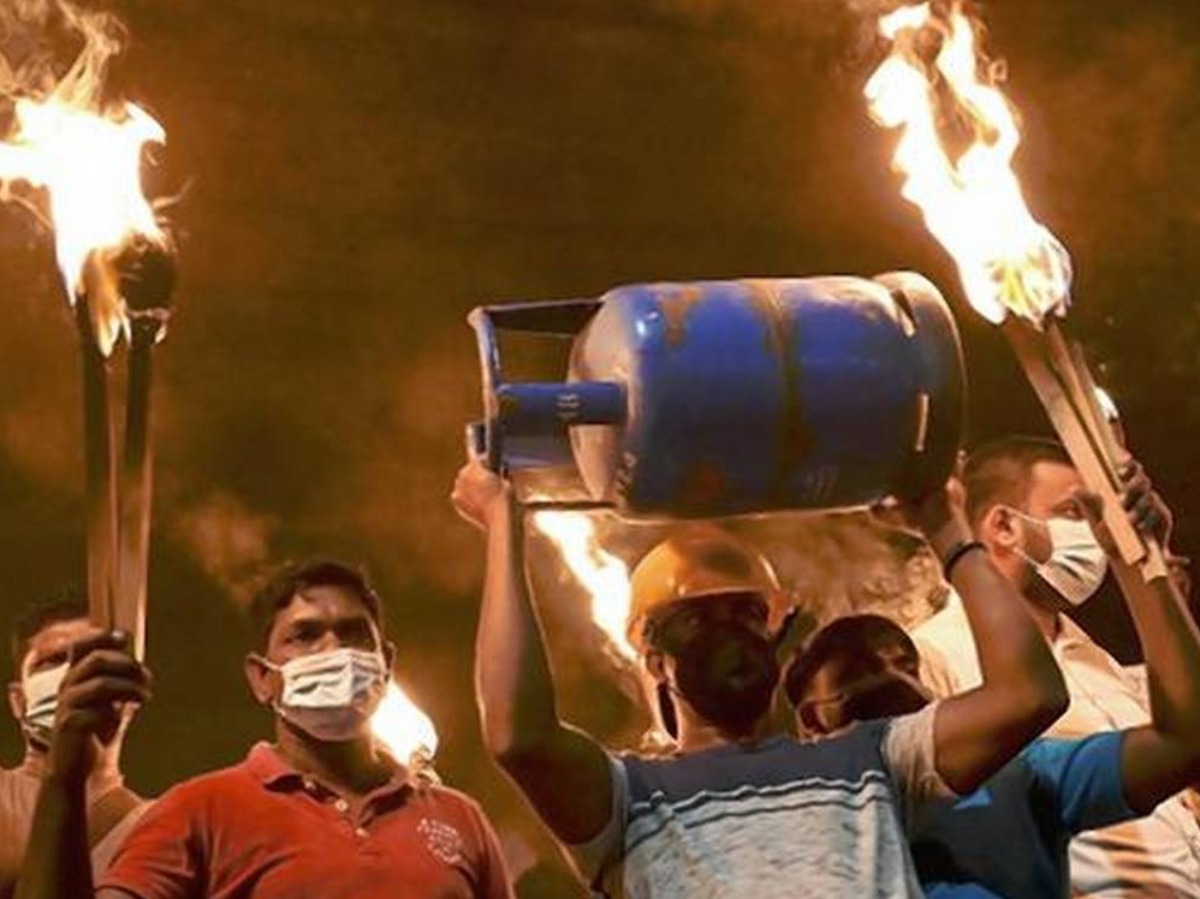 This is not a foregone conclusion, but the chances of this country going bankrupt have never been higher. According to reports, the government is deeply in debt and owes enormous sums to foreign countries. Here are some statistics that demonstrate Sri Lanka's hardship.
Sri Lanka has a debt to China of more than $5 billion, which is most likely the most significant debt the government has ever incurred. The obligation to China is being paid in instalments.

Not only that, but Sri Lanka owes Beijing $1 billion in debt, which is used to get out of a previous crisis. Along with the leading nations and regions to whom Sri Lanka owes money, it is stated that the country owes money to several corporate and government enterprises. This 'Checkmate' dilemma of massive debts and falling foreign reserves might spell doom for the nation's republic.
"Three countries owe us a lot of money: China, Japan, and India. This year's total outstanding will be USD 6.9 billion "According to the PTI report, FM Rajapaksa, President Rajapaksa's younger brother and Prime Minister Mahinda Rajapaksa, said.
Sri Lanka's finance minister said explicitly how much money the country owes to other countries. According to him, Sri Lanka owes a total of $7 billion to nations such as China, Japan, and even its neighbour, India.
One of the critical causes of Sri Lanka's economic problems is the country's massive foreign debt burden. According to the study, the country's foreign currency reserves were only $1.58 billion in November, down from $7.5 billion when Rajapaksa took office in 2019.
Amid the deteriorating situation, Sri Lanka's opposition party retaliated. Harsha de Silva, an opposition member of parliament who is also an economist, informed parliament that foreign reserves would be harmful if the current pace of fall continues. Furthermore, according to the Sri Lankan daily 'Daily Mirror,' "the nation would fall completely bankrupt."
In December, Opposition MP and economist Harsha de Silva informed parliament that the country's foreign currency reserves would be negative $437 million by January. That total foreign debt servicing would be $4.8 billion between February and October 2022. "The country would be bankrupt," he said.
De Silva stated that he was not trying to scare anyone but that "all imports will come to a halt, the entire IT system will be shut down, including the Google map because we will not be able to pay for it," and that "all imports will come to a halt, the entire IT system will be shut down, including the Google map because we will not be able to pay for it."
On the other hand, the administration has always taken a positive stance, insisting that it would be able to satisfy its promises.
Minister Ramesh Pathirana has stated that they will attempt to repay previous oil debts with Iran by paying with tea. According to The Guardian, Sri Lanka wants to transfer $5 million worth of tea to Iran every month to conserve "critical money."
Ministers are concerned about the future, and all they want to do is minimise the harm.
Sri Lanka would be able to pay off its debts "seamlessly," according to Central Bank Governor Ajith Nivard Cabraal.
Former central bank deputy governor W.A. Wijewardena, on the other hand, warned The Guardian that the government was quite likely to default on its debt obligations, which would have disastrous economic effects.
"When the economic crisis becomes unrecoverable, the country will inevitably experience a financial catastrophe." Due to foreign exchange shortages, both will weaken food security by cutting output and failing to import. It would be a humanitarian disaster at that moment," he said.
Sri Lanka's prospects of defaulting on loans and obligations have never been good. However, when we looked into the government's financial department and what the finance minister had to say about it, we discovered that they had a plan.
The idea is a new, robust assistance package to redress the economic imbalance. The debt can be considered a secondary goal, but for the time being, they'd want to concentrate on the economy's basis. Employees, retirees, and differently-abled warriors will be the first to benefit from the perks.
Meanwhile, the finance minister stated on Tuesday that they have a strategy. From January 2022, he added, a unique monthly stipend of Rs 5,000 would be paid to 1.5 million government employees, pensioners, and differently-abled troops as part of the new $1.2 billion (229 billion Sri Lankan rupees) economic assistance plan.
This is by far the Sri Lankan government's answer to the country's current predicament. Let's look at some of the primary reasons why and how Sri Lanka's economy has gone so low. The first is the tourist setback.
The Causes of Sri Lanka's Economic Crisis
Sri Lankan tourism and political unrest
The epidemic had a significant impact on Sri Lanka. For a long time, Covid 19 has prohibited all travel and tourism in the country. According to data from the World Travel and Tourism Council, since the epidemic began and spread globally, approximately 2 lakh individuals have lost their employment in the travel sector.
The loss of foreign earnings is also significant. According to a study published by the Hindu last year, foreign reserves have decreased from $7.5 billion to $2.8 billion, a considerable dip that is unhealthy. The sector has suffered a significant loss of foreign revenue. In addition to the deficits listed above, the Sri Lankan currency is weakening. Inflation is the term for this, and it is now quite high in Sri Lanka. Prices of necessities such as food have risen dramatically, and individuals struggle to make ends meet. For the time being, the country must rely mainly on imports.
In Sri Lanka, there is a food shortage
Photos of people standing in lines and lineups can be found all over the news from Sri Lanka. These are the queues of individuals waiting to buy household supplies such as food. The cost of such essential things has skyrocketed, making them out of reach for many people. Bread, rice, wheat, sugar, and other staple foods have seen significant price increases. 
Purchasing products like this has never been difficult for the poor and middle classes, and the daily wage earners are the ones that suffer the most.
According to an article in The Guardian, a guy who works as a driver in Colombo has taken on a second job, and his family now eats two meals each day rather than three. He claims that his local grocer now divides a 1kg milk powder package into ten 100g packets since no one can afford to buy the entire packet.
The epidemic has further worsened the situation for individuals in the country. The government's attempt to make Sri Lanka "100% organic" has failed. The Hindu stated last year that the nation intends to reduce the usage of chemical fertilisers to practically nothing. Farmers objected, claiming that this would impact food output, and the pandemic exacerbated Sri Lanka's food crisis.
"The government is unable to provide fertiliser subsidies due to a lack of funds. According to a farmer's statement, many farmers are hesitant to commit money because they are unsure if they will earn a profit," says one farmer.
The Government of Sri Lanka's Reaction to the Crisis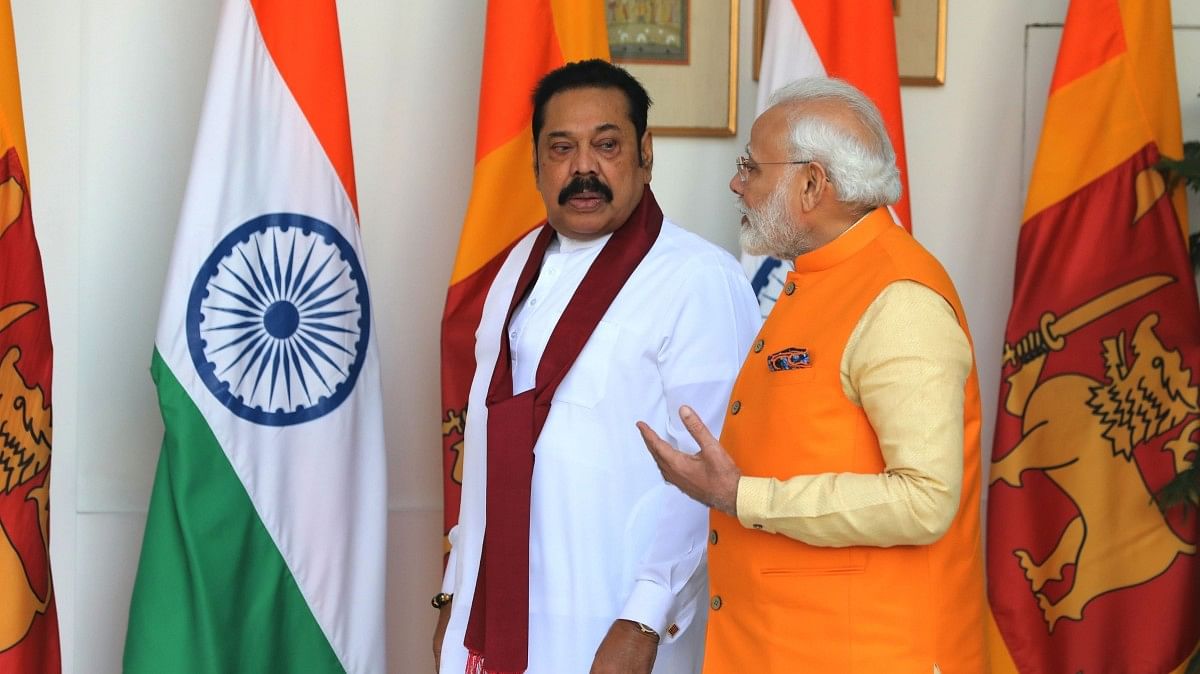 Everyone expects a lot from the government during a crisis, and the people of Sri Lanka expect the same from their administration. Harsha de Silva, a member of parliament, stated in December 2020 that the only way to solve the situation is to seek IMF help (International Monetary Fund). He said that domestic measures would be ineffective and that only the IMF could assist the country's economy in recovery.
The President's office issued no official notification or announcement to the public, and the central bank is requesting foreign cash. Sri Lanka's administration is working hard to improve people's lives, but it is too difficult. They are attempting to stabilise the situation by assisting the poor and sick first, understanding that others will have to make some sacrifices.
The central bank banned dealers from exchanging more than 200 Sri Lankan rupees for a single US dollar and from entering currency contracts forwards. Since then, the administration has taken temporary measures to alleviate the situation.
Basil Rajapaksa, Sri Lanka's Finance Minister, visited India in early December and began discussions with Nirmala Sitharaman, India's External Affairs Minister, and S Jaishankar, India's External Affairs Minister.
The discussions included $1.9 billion in aid for the country, a $500 million credit line for petroleum, and a $400 million exchange. China and Bangladesh also had similar discussions.
Among the several reliefs and awards, Rajapaksa (the President) stated that the alleviation package would not contribute to additional inflation and that no new taxes would be imposed.
Relations between India and Sri Lanka, as well as India's assistance
India has always been a friendly and helpful neighbour to its neighbours. Sri Lanka is one of the Indian subcontinent's neighbours. The news is saturated with kind gestures from the Indian government for the Sri Lankan administration regarding relief and assistance. Take a look at this:
India promised Sri Lanka of its service during these "tough times," while praising the Trincomalee tank farms project, which would improve bilateral energy security.
When questioned about the potential of India extending the loan line to help Sri Lanka overcome its economic crisis during a media conference, External Affairs Ministry Spokesperson Arindam Bagchi said the nation has always stood by its people.
It gives me tremendous hope to see how countries aid one another in such difficult times. India has agreed to expand Sri Lanka's credit line and payback timeframe. These kinds of decisions will assist in the development of positive relations with neighbouring countries.
External Affairs Minister S Jaishankar said India would help Sri Lanka in "these tough times" after a telephonic talk with his Sri Lankan counterpart.
FM G.L. Peiris of Sri Lanka was greeted in the New Year. India, a dependable ally, will stand with Sri Lanka in these trying times. "We agreed to keep in touch," Jaishankar wrote on Twitter.
"We've heard that the Sri Lankan Cabinet has approved the construction of tank farms in Trincomalee. "Energy security is a key area of our bilateral cooperation with Sri Lanka," he added, praising the country's relations.
After reviewing the three existing agreements with the Indian government regarding the strategic Trincomalee oil tank complex, also known as the Trinco oil tank farm, the Sri Lankan government responded that the two countries have agreed to implement a joint development project to make the Trinco oil tank farm more efficient.
Bagchi mentioned Sri Lankan Finance Minister Basil Rajapaksa's visit to New Delhi last month in response to the question about India extending the credit line time.
"He informed the Indian side on Sri Lanka's economic position and his government's strategy for dealing with these issues. India has always supported the people of Sri Lanka, and the country is an integral element of our strategy of putting our neighbours first "Bagchi stated that the island relies on support.
The preceding discussions and exchanges demonstrated India's willingness to assist Sri Lanka. As a result, India gave a $1 billion relief fund to the current Sri Lankan government following mutual agreements and negotiations that were advantageous to both nations. This was, without a doubt, a wise choice.
This was a wise decision that aided Lanka in its hour of need. However, following India's March relief, Sri Lanka is demanding an extra $1.5 billion credit line on top of the previous disbursements. According to Reuters, this credit line would also be matched by India, which Sri Lanka will utilise to import vital supplies such as rice, wheat, sugar, pulses, pharmaceuticals, and other items.
The assistance provided by India would surely benefit the economically devastated Lanka and help improve relations between the two nations. India has consistently demonstrated its willingness to assist anyone in need and lead by example in moral responsibilities.
Conclusion
The fact that Sri Lanka has been dealing with this problem for some time is more concerning than it occurred suddenly. Although the epidemic has been globalised for two years, Sri Lanka's foreign reserves have been depleted for a long time, and the country is only showing minimal leniency. The Sri Lankan government's tolerance might be cited as a factor in the current problem.
India has always been there for other countries in need as a supportive country. It intends to do so again this year, even as the pandemic's shadows loom overhead and India requires assistance.
It is time for all countries to adhere to the same set of standards and principles for the globe to be a happier place to live. The epidemic has dramatically increased global empathy, and whatever the future holds, we may feel a feeling of unity.
FAQs
What is the cause of Sri Lanka's economic crisis?
The present economic crisis in Sri Lanka indicates a significant depreciation of the country's foreign exchange reserves. The problem began in 2019 when the country's entire output fell by half. Then came the Covid19 epidemic, which made a recovery extremely difficult for the country, followed by an import embargo in March 2020.
What does Sri Lanka owe the rest of the world?
Sri Lanka's national debt is estimated to be approximately $51 billion as of March 2022.
Is Sri Lanka experiencing a financial crisis?
Yes, Sri Lanka is amidst its worst economic and financial crisis, which began in 2019 and is still ongoing!