Stories
What is Agnipath scheme and what changes is it bringing?
The Agnipath initiative, which was unveiled on June 14th, allows for the recruitment of young people for the positions of agniveer in the Indian Army, Indian Navy, and Indian Air Force. The Agnipath programme allows applicants between the ages of 17.5 and 21 to enlist in the military. According to this plan, each year roughly 46000 individuals will be hired for administrator positions. By accessing the official websites of the Indian Army, Indian Navy, and Indian Air Force, qualified applicants can submit an application for the agnipath recruiting.
The 3 different chiefs formally confirmed all the information pertaining to the Agniveer recruitment programme under the Agnipath Yojana at the various defence departments, including the Indian Army, Indian Air Force, and Indian Navy, at a press conference.
Nearly 46,000 candidates will be chosen from this recruiting, and the process will be made available to 5,000 more people annually.
●       Male and female applicants between the ages of 17.5 and 21 will be enlisted under this programme.
●       All three services will have unified online enrollment, and accredited technical colleges will host targeted rallies and campus interviews.
●       Agniveers must adhere to the medical standards for enlisting in the Defense services as they pertain to their specific categories or crafts.
●       The educational requirements for agniveers will be the same for enrollment in various categories, such as: Class 10 is the minimum level of education needed to join the General Duty (GD) military.
Agnipath Defence Policy Reform
A new defence recruitment strategy would let young people who are "patriotic and driven" join the military for four years.

In 90 days, the hiring process will start.

A biannual exercise with a six-month break is intended to recruit approximately 45,000–50,000 men below officer rank each year for the three services.

According to the Agnipath programme, 46,000 young men and women are expected to enroll this year.

Soldiers hired under the Agnipath programme will be referred to as "Agniveers."

From this point forward, the Armed Forces, Indian Navy, and Air Forces will all enroll soldiers under this programme.

A centralised online method will be used to recruit Agniveers in all three services, along with campus interviews and special rallies at accredited technical institutions like the Industrial Training Institutes and the National Skills Qualifications Framework. The Model is based on a merit-based hiring method used throughout India.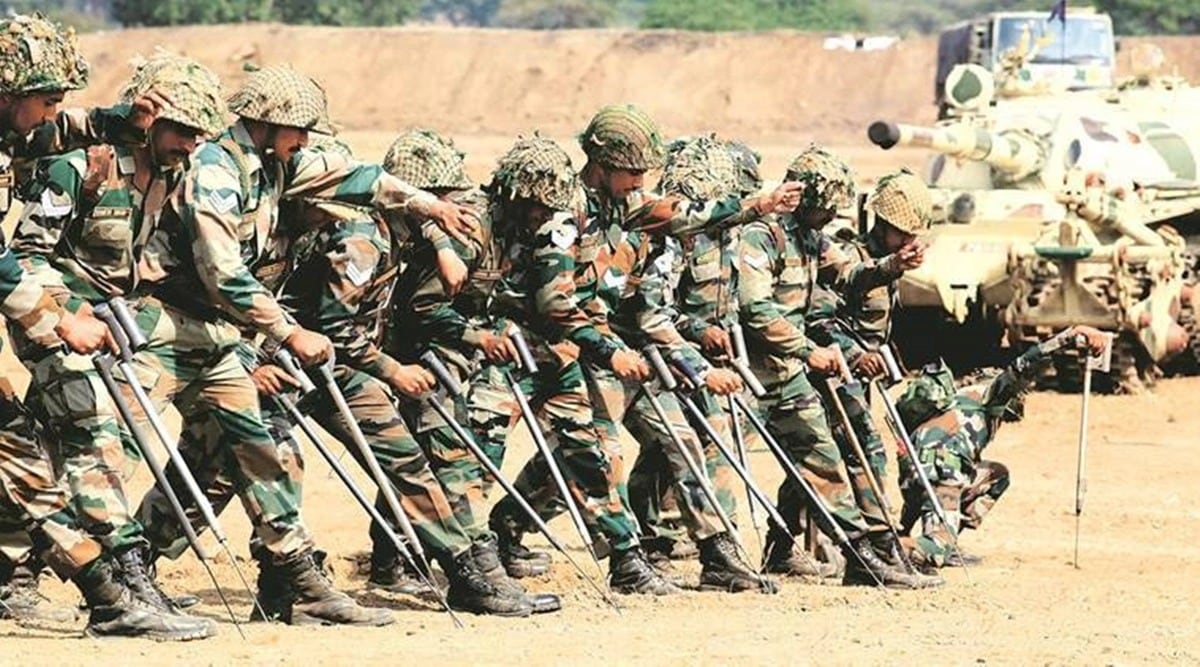 Significance of Agneepath Scheme for Agniveers
A four-year recruitment process will be used to find Agnipath soldiers or Agniveers.

The new recruits will go through six months of training before beginning their service. At the moment, a soldier serves for over 17 to 20 years.

Initial remuneration will be Rs 30,000, increasing to Rs 40,000 by the end of the fourth year.

They will receive between 11 and 12 lakh rupees, including contribution and interest, upon completion of service under the "Seva Nidhi" package (which is free from Income Tax)

With a matching contribution from the government, the recruits will be required to donate 30% of their monthly salaries to Seva Nidhi.

25% of these candidates will be re-enlisted and serve for a complete 15 years in non-officer ranks after being discharged.

Under this system, there will be no gratuities or retirement benefits. Nevertheless, they will receive non-contributory life insurance coverage of 48 lakh while they are in service.

For loss of life or incapacity resulting from a work-related injury, provisions have been created. It proceeds as follows. In the event of a death occurring while performing duty, full pay for the time not performed will be granted in addition to over Rs. 1 crore, which will include the "Seva Nidhi" package. Similarly, in the event of a disability related to service, 44 lakh based on the percentage of disability, in addition to full pay for the unserved period, shall be granted. This includes "Seva Nidhi" and relevant interests.

They are eligible to apply for regular employment in the armed forces after four years. They might be granted preference over other candidates for a variety of positions in different government agencies.
Aim of Agnipath Scheme
●       The main objective of the plan is to transform the Army into a combat force that is prepared for the future and is able to handle a variety of difficulties across the complete spectrum of conflict.
●       The initiative is intended at boosting national security and also for providing an opportunity to the youth to participate in the armed forces.
●       In order to reduce the soaring salary and pension costs.
●       To modernize, young-looking, tech-savvy, and utilize the talents of youth to create soldiers who are prepared for the future.
●       Will aid in the rehabilitation of soldiers who depart from the military after four years. They will receive skill certificates and bridge courses, and there will be a "whole of government" approach.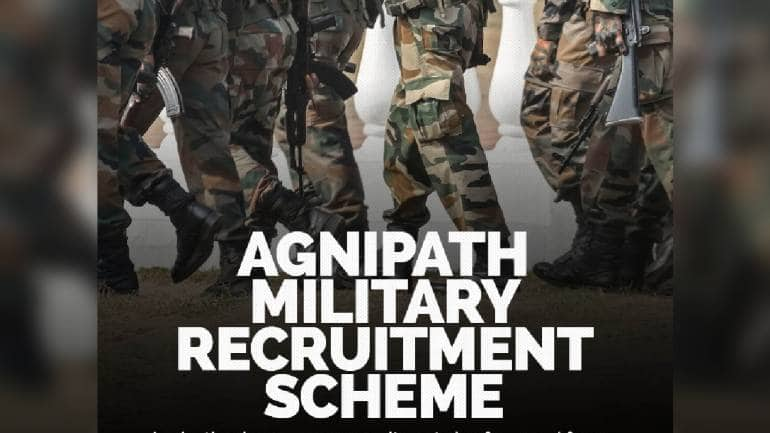 Salary under Agnipath Scheme
Agniveers will receive a monthly package that has been specially designed for them, as well as Risk & Hardship allowances for each of the three services. Upon the conclusion of the four-year engagement term, Agniveers will receive a one-time "SevaNidhi" package that includes their contribution plus accrued interest as well as a matching contribution from the government equal to the total amount of their contribution plus interest, as shown below:
Year

Salary

 (Monthly)

In- Hand Salary (70%)

Contribution towards Agniveers Corpus Funds (30%)

Contribution towards the corpus fund by the Government of India

 

All figures in INR (monthly contribution)

1st

30000

21000

9000

9000

2nd

33000

23100

9900

9900

3rd

36500

25580

10950

10950

4th

40000

28000

12000

12000

Total contribution in 4 years towards the Agniveer Corpus Fund.

 

 

5.02 Lakhs

5.02 Lakhs
Eligibility Criteria for Agniveers under Agnipath Yojana
In the following table we are sharing eligibility criteria for candidates under Agnipath scheme
| | |
| --- | --- |
| Criteria for Agnipath Yojana | Details |
| Age (in years) | 17.5 – 21 |
| Education Qualification | Class 10th/ 12th Pass from a recognized Board |
The government has now extended the upper age limit to 23 years for recruitment as a Agniveer in 2022.
Criticism of Agnipath Scheme
Because they are aware that their call to duty will only last a short while, soldiers in the Agnipath scheme may be reluctant to take chances. They might not like taking chances or risking being hurt while performing their job.

The "All India All Class" intake system and the four-year short-term contractual recruitment are causing retired Army officers to raise their reservations. They believe that because this new action would reduce their intake, it would not be beneficial for relations between Nepal and India.

"Too much emphasis on providing skills to youth in the forthcoming armed forces. Real skills would be acquired by those who go on to don the uniform a little longer". The service period of new recruits is 4 years which is way too less and then those who are keen to serve the nation longer should be retained.

The annual intake into the Army is approximately 50,000 soldiers per year, give or take 10 percent. It will increase to 1-1.5 lakhs per year as per this model. This will result in a skewed intake and recruitment model.
Way Forward with Agnipath Defence Policy Reforms
The change is anticipated to gradually lower the average age profile of military members from its current 32 years to 24-26 years.

The plan will lower the revenue and pension costs, which together make up half of the annual defence budget of 5.2 lakh crore.

It would be a fantastic advantage for the country to reintegrate disciplined, driven, and skilled "Agniveers" into society after serving in the military because it would be a win-win situation.

The programme will enhance work prospects in several areas for people with new skills.

Youth who opt to serve the country will have better opportunities thanks to the programme.

The administration of the armed forces' human resources will benefit from it.