Trends
Covid cases: Why govt said next 40 days are crucial for India?
Why did the government say that India's next 40 days are critical? At the beginning of the following week, passengers arriving from China, Japan, South Korea, Hong Kong, Thailand, and Singapore may be required to fill out "air suvidha" forms and submit results from 72-hour-old RT-PCR tests.
The coronavirus variant B.F7 is causing a sharp increase in the number of Covid cases in China, and the Union Health Ministry declared on Wednesday that India's next 40 days would be critical because infections could spike in January.
According to government sources, even if a Covid wave occurs, hospitalisation and death rates are likely to be low because the majority of Indians are immunised and naturally immune due to previous coronavirus infections.
The 40-day figure was calculated after examining previous trends, according to the Press Trust of India (PTI).
"Historically, a new COVID-19 wave arrives in India 30-35 days after it arrives in East Asia. This has been a pattern, according to a PTI official.
Beginning the following week, passengers arriving from China, Japan, South Korea, Hong Kong, Thailand, and Singapore may be required to fill out "air suvidha" forms and submit results from 72-hour-old RT-PCR tests. The recommendations come after 6,000 people were randomly tested for COVID-19 between December 24 and December 26, with at least 39 arriving from abroad and testing positive.
Earlier on Tuesday, hospitals across India held mock drills to assess the operational readiness of Covid-dedicated facilities, with a focus on equipment, procedure, and manpower. The drills were held in response to a federal government advisory a day earlier urging states to step up their Covid-related efforts.
Following China's Covid outbreak, which may have infected as many as 248 million people in the first 20 days of December, or nearly 18% of the country's population, precautionary measures are being implemented, Bloomberg reported on December 24.
Following the rapid removal of Covid Zero restrictions throughout China, the infectious omicron variants quickly spread among people with low levels of natural immunity, according to the health organisation. The infection has affected more than half of the population in Beijing and the southwest Chinese province of Sichuan, according to the agency.
On December 23, the Union Health Ministry reported that Covid positivity in India was declining week by week. The ministry claimed in a statement that the average daily case count was 2,408 (1.05%) between October 7 and 13, dropping to 153 (0.14%) between December 16 and 22.
Serum Institute donates 2 crore Covishield doses to the Center.
According to a PTI report on Wednesday, the Serum Institute of India (SII) has offered the Center two crore free doses of the Covishield vaccine as Covid cases increase in some countries.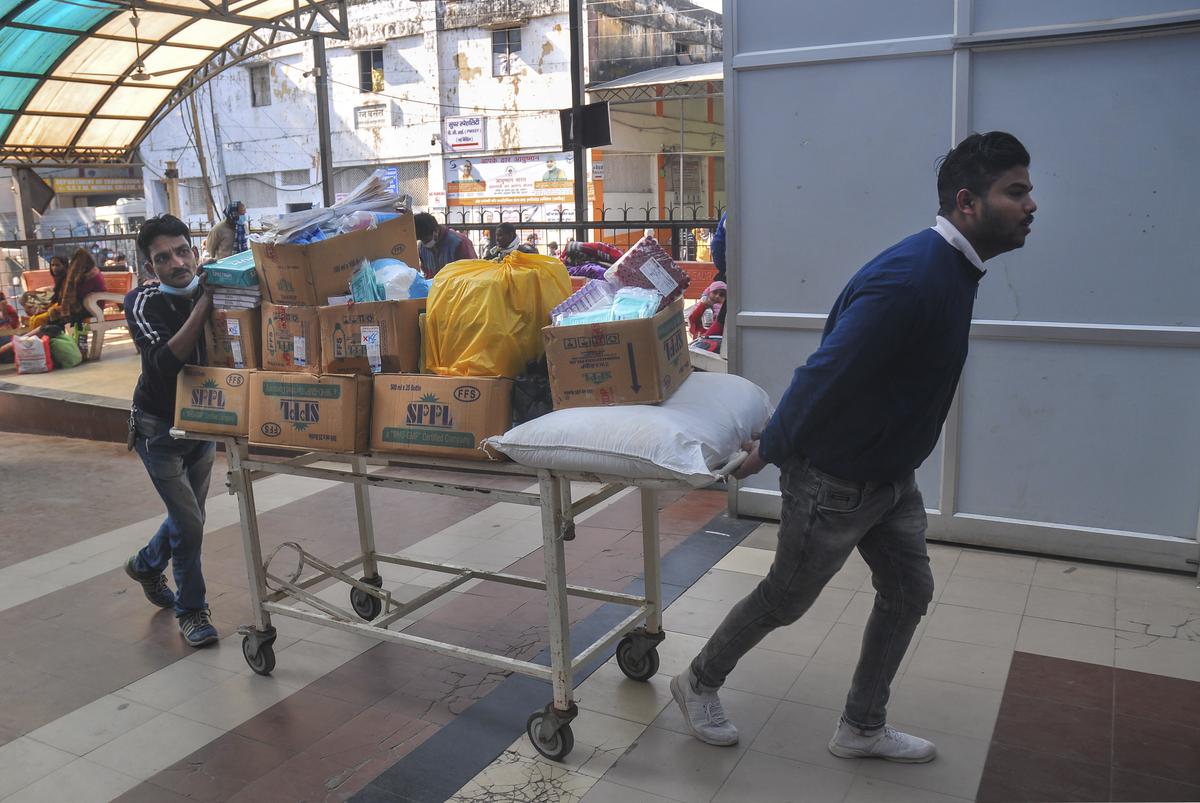 The current surge in Covid-19 infections in China is thought to be caused by the BF.7 sub-variant of Omicron. This isn't the first time BF.7 has made headlines; in October, it began to displace the dominant variants in the United States and several other European countries.
What are our current perceptions of BF.7?
Viruses, like the main trunk of the SARS-CoV-2 tree, sprout branches and sub-branches when they mutate, creating lineages and sub-lineages. The BA.5 and BF.7 Omicron sub-lineages are identical. BA.5.2.1.7 is another name for the latter.
According to a study published earlier this month in the journal "Cell Host and Microbe," the BF.7 sub-variant has 4.4-fold higher neutralisation resistance than the original D614G variant. This means that antibodies from vaccinated or infected individuals were less likely to destroy BF.7 in a lab setting than the original Wuhan virus, which spread throughout the world in 2020.
The study did discover, however, that another Omicron sub-variant known as BQ.1 had a more than 10-fold higher neutralisation resistance than BF.7, which is not the most resilient sub-variant.
If a variant has a higher neutralisation resistance, it is more likely to spread in a population and supplant other variants. In October, BF.7 was responsible for more than 5% of cases in the United States and 7.26% of cases in the United Kingdom. Scientists in the West were closely monitoring the variant, but there was no discernible increase in cases or hospitalisations.
Is the Covid-19 BF.7 variant still in service in India?
The January 2022 wave in India was caused by the Omicron subvariants BA.1 and BA.2. Because the subsequent sub-variants BA.4 and BA.5 were never as common in India as they were in European countries, there were very few cases of BF.7 (which is an offshoot of BA.5).
According to data from India's national SARS-CoV-2 genome sequencing network, BA.5 lineages were responsible for only 2.5% of cases in November. The most common variant in India is recombinant variant XBB, which accounted for 65.6% of all cases in November.
What made China different, according to Covid surge?
According to experts, the higher transmissibility or immune evasiveness of the BF is not the cause.
The rise in cases in China was caused by the 7 variant rather than an immune-naive population.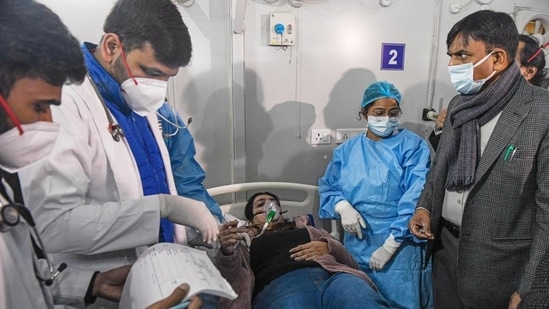 According to Dr. Anurag Agarwal, the former leader of India's Covid-19 genome sequencing consortium INSACOG, China is currently experiencing the typical Omicron surge that other countries have already experienced, similar to the one Hong Kong experienced when it relaxed its restrictions.
"Because the population had already been infected and immunised, the Omicron wave appeared to be milder. Furthermore, we "paid the price" during the Delta wave (of April-May 2021). People died, but the survivors had better immune systems. Aside from that, according to Dr. Agarwal, Omicron has primarily killed elderly people, despite the fact that India has a younger population.
Even highly transmissible variants haven't resulted in a flood of cases because most people recover after a bout of fever, coughing, and sore throat.
According to Dr. Agarwal, the only countries that did not pay a significant portion of this "price" were Australia, New Zealand, and Singapore, which remained completely closed until they could immunise their entire population before reopening.
The author continued, "The increase in infections is generally not accompanied by an increase in the number of severe cases that require hospitalisation or result in deaths," so case numbers are no longer that significant.
"We have seen an increase in cases in many countries on occasion as Omicron continues to mutate to avoid immune pressures."
But isn't a large proportion of China's population immunised?
China has a high vaccination rate of 235.5 doses per 100 people, according to the WHO dashboard. However, China was one of the first countries in the world to develop and distribute vaccines to its citizens, and those vaccines were designed to protect against the original coronavirus variant.
The virus has undergone numerous mutations since the beginning of 2020, and the Omicron variants are known to subvert the immune response induced by the majority of currently available vaccines.
(In fact, the Omicron wave infected a significant number of people who had received two vaccinations in India.) Many companies have developed bivalent vaccines in order to provide better protection.
"Vaccines could prevent the infection from spreading all the way to Omicron. According to Dr. Agarwal, the vaccines do not prevent transmission after Omicron, but they do prevent deaths. Furthermore, mRNA vaccines, such as those developed by Pfizer and Moderna, have been shown to be more effective than "dead virus" vaccines, such as those used in China." It is debatable whether some vaccines are superior to others. Furthermore, according to Dr. Agarwal, Hong Kong provides unequivocal proof that recipients of the mRNA vaccines fared better than recipients of the killed virus vaccine.
Is there a chance that the pandemic will reoccur in a bad wave around the world?
Although it cannot be completely ruled out, Dr. Ekta Gupta, professor of virology at the Institute of Liver and Biliary Sciences, which is affiliated with INSACOG, believes that a new variant will not emerge as a result of China's high transmission.
"The rate of spike protein mutation has slowed; there hasn't been a significant change in over a year. This explains why, instead of new variants, only sub-lineages have appeared. The distance between the spike protein and Delta, or even Delta and Omicron, was much greater in the original D614G variant than what we are now seeing, according to the researcher. Dr. Gupta, on the other hand, advised against abandoning all safety precautions." SARS-CoV-2 is now and will continue to be present in humans. The number of Covid-19 cases may rise during the winter when all respiratory infections tend to rise.
Edited by Prakriti Arora