Trends
India is on its way to becoming a global manufacturing hub 
India is on its way to becoming a global manufacturing hub 
China surpassed the United States in 2007 to become the country with the largest manufacturing sector worldwide. However, China's ascent to the position of the largest factory in the world didn't start until the 1980s. In 1991, China opened up its financial system.
As more foreign nations seek to benefit from China's low labour costs and large population, China has an advantage. Only in 1991 did India begin to liberalize its financial system. China has advanced manufacturing and technical capabilities by this time. To support the manufacturing industry, they upgraded their infrastructure.
The demand for the internet and its components has increased tremendously as the world becomes more technological. Many competing nations have traditionally aimed to create a centre for the global industry. India is one of those nations that stands out and has the potential to become the world's centre of manufacturing. The largest economy in South Asia is vying with the most forward-thinking nations to become a hub for global manufacturing. But is India likely to be successful in doing so? 
In 2010 India exported goods worth about 375 billion dollars to about 546 billion dollars in 2019. In 2018 it came close to 240K. But interestingly, in April 2011, the growth was at a very slow pace. In terms of production value, 34% of it is smartphones, followed by consumer Electronics at 19%. 
The growth of manufacturing was not drastic as the government hoped. So India's government was looking for reforms to make India globally competitive. In 2020 the pandemic came and disrupted the global supply chain.
Along with the US-China trade boom, many companies started to shift their manufacturing units outside China. During that time, India and China had a violent clash at the Indochina border. This brought about China's sentiments from Indians, and the government wanted India to be self-reliant. This can be understood through the Product Linked Incentive (PLI)
To promote the manufacturing sector, the Indian government has launched four schemes. 
Production Linked Incentive Scheme (PLI) for large-scale electronics manufacturing.

Production Linked Incentive Scheme (PLI) for IT Hardware

Scheme for producing manufacturing of companies and semiconductors (SPECS)

Electronics Manufacturing Cluster Scheme (EMC 2.0)
Product Linked Incentive (PLI) aims to give incentives of 4-6 percent on sales from products manufactured in India. For instance, the incentive for In electrons system is up to INR 40,000 crore. In metal, the incentive is up to INR 6,322 crore, and for telecom, up to INR 12,195 crore. Apart from inviting foreign companies to set up units in India, the scheme also aims to boost local company manufacturing to set up or expand existing manufacturing units. 
This has encouraged companies like Apple, Samsung, and other companies to set up manufacturing units in India. All these companies get approval for setting up manufacturing units, and it is estimated that in the next five years, their companies will produce Smartphones worth Rs 10.5 lakh crore.
Looking at the success, the government has expanded the Product Linked Incentive (PLI) into 12 sectors, including auto components, automobiles, chemicals, electronics systems, food processing, medical devices, metals and mining, pharmaceutical, renewable energy, telecom, textiles and apparel, and white goods. 
The space for Indian manufacturing is seeing growth. This is especially true in the semiconductor industry, where the supply chain disruption has enabled the country to become a global manufacturing powerhouse. This comes as a report published in 2021 showed that India has emerged as second in the most attractive manufacturing destinations around the world, surpassing the United States and only behind China. 
Among the top 5 prestigious and the biggest real-estate company "Cushman and Wakefield" has released a global index named "Global Manufacturing Index," in which it is mentioned that India ranked second on that global Index.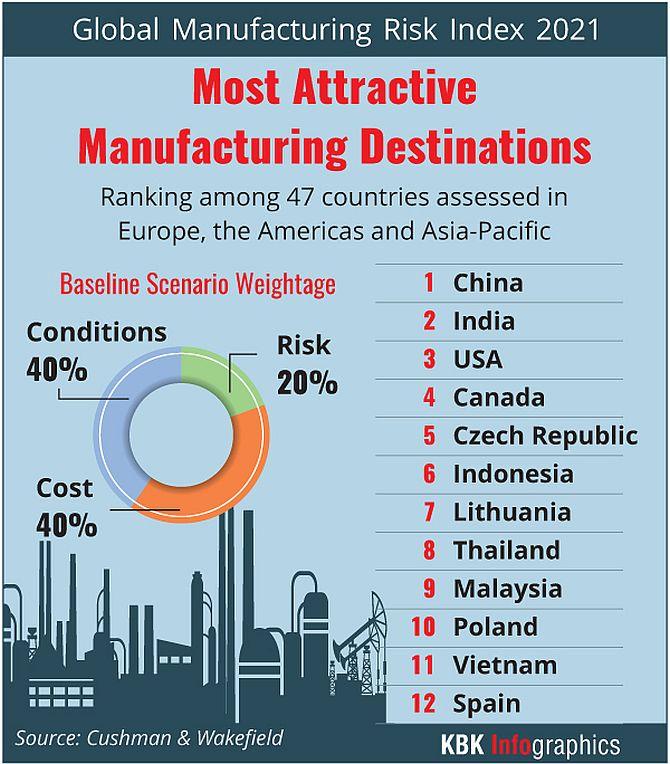 The country's shift from an agricultural economy to a service-oriented economy has resulted in this yearly growth in its manufacturing sector which in the end made it a spectacular industry that contributes massive amounts to the economy. The country's cementing industry alone has become one of the fastest-growing in the world. 
Edited by Prakriti Arora