Trends
India's engineering export to China down by 40% in the last 5 months: the India-China supply chain getting affected by the increasing covid cases.
India's engineering export to China down by 40% in the last 5 months: the India-China supply chain getting affected by the increasing covid cases.
Due to the rising Covid infections in China and other countries, Indian exporters are keeping their fingers crossed because this can further sabotage supply chains and harm consumer demand since exports of engineering items have already decreased.
Engineering exports, which make up about one-fourth of India's overall merchandise exports, decreased for the fifth month in November, falling 0.30% year over year to $8.07 billion. Engineering exports to China fell 40%, from $439.63 million in November 2021 to $263.62 million. After increasing by 14% year over year to $1.47 billion, the US continued to be India's top importer of engineering goods.
In a year when relations between the two countries reached a new low owing to the military stalemate in Eastern Ladakh, bilateral trade between the two countries last year reached a record high of over USD 125 billion, surpassing the USD 100 billion threshold.
Last year, China's exports to India increased by 46.2% to USD 97.52 billion, whilst India's exports to China increased by 34.2% to USD 28.14 billion.
But after the Covid break in China, it's getting difficult for both the country to keep the export-import relation in the same way. India's Engineering Export Promotion Council (EEPC) ascribed this decline in shipments to the Covid boom in China and the moderated demand around the world, especially from Europe.
Global demand has again shown a decreasing trend and symptoms of distress in the current fiscal, following the record post-Covid rebound in the last fiscal year. The European region's continued weak demand is caused by high energy costs and a decline in manufacturing work. This was mostly brought on by the conflict between Ukraine and Russia that began in February.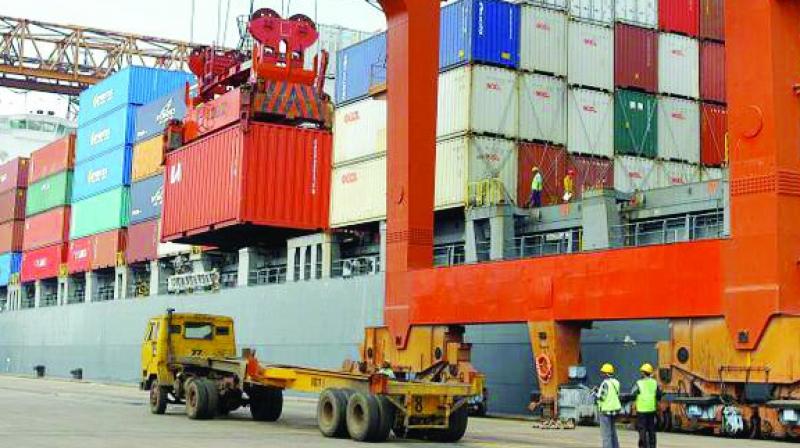 According to EEPC India, there is a rising concern for exporters that the US Central Bank's monetary tightening policies may have an adverse effect on interest-sensitive expenditure not just in the US but also Internationally.
From April through November 2022–2023, total engineering exports decreased by 1.8% yearly, reaching US$ 70.72 billion, according to EEPC India Chairman Arun Kumar Garodia, Since the record post-Covid recovery last fiscal, global demand has again displayed a decreasing trend, and symptoms of concern.
Garodia added that China, one of India's main Trading Partners, is still struggling with an increase in Covid cases and a real estate crisis that is worsening and causing poor demand.
The negative trend in exports to China continued in November of this year when they fell 40% to US$ 263.62 million from US$ 439.63 million in November 2021. From April through November 2022–23, engineering exports to China decreased cumulatively by 58.2%, to US$ 1.74 billion, from US$ 4.18 billion in the corresponding period of the last year.
With US $1.47 billion and an increase of 14% year over year, the United States of America continued to be the leading market for Indian engineering products in November 2022.
In November 2022, out of the 25 major countries where India's engineering exports go, 15 saw positive growth, while the other 10 saw a fall year over year. Nearly 75% of all engineering exports from India are sent to these 25 countries.
Compared to the same month last fiscal year, exports increased positively year over year in 23 out of 34 engineering panels' analyses of the data.
In all, from April to November 2022–23 compared to the same period in the last fiscal, 22 of 34 engineering panels showed a positive increase. Iron & steel, non-ferrous, bicycle parts, ships & boats, and project items all experienced notable declines.
However, the recent removal of the export duty on a few steel products will probably lead to a return of iron and steel exports in the months to come. A downturn in Economic Activity in several of India's key export destinations, including China and the EU, was another factor that had an impact on the growth of engineering exports from India.
Engineering exports reached 55.68% of the US$ 127 billion goal set by the government for the entire fiscal year in the first seven months of 2022-23.
China is an important supplier of raw materials, parts, and even finished goods like laptops and IT systems to Indian manufacturers.
Amid persistent worries that authorities will continue to impose sudden lockdowns, Indian businessmen have started importing goods from China weeks in advance.
Indian traders are still concerned about production disruptions in China despite Beijing's recent relaxation of coronavirus rules and the remote likelihood that the world's second-largest economy will soon recover.
Due to ongoing worries that authorities will continue to impose sudden lockdowns to limit outbreaks, which could affect the manufacturing of essential inputs, Indian traders have started importing goods from China weeks in advance.
China's imports and exports unexpectedly fell, the first time they did so at the same time since May 2020, and new COVID-19 domestic production and consumption restrictions disrupted output and demand, and soaring inflation and increasing interest rates battered global demand.
Given that exports had been one of the few areas of promise for the faltering economy, the Dismal October trade numbers illustrate the difficulty facing Chinese policymakers.
It puts strain on the country's manufacturing industry and imperils any economic recovery in the face of enduring COVID-19 restrictions, chronic property weakness, and threats of a recession around the world.
The fact that Chinese exporters were unable to benefit from a further decline in the value of the yuan and the crucial holiday shopping period highlights the growing pressures on consumers and businesses around the world.
Among the top imports from China were electronic goods, organic and inorganic chemicals, pharmaceutical and medical supplies, fertilizers, and raw materials for manufacturing and dyeing, tanning, and coloring.
Subhash Chander Ralhan, president of the Hand Tools Association, concurred that if the number of Covid cases kept increasing, the local sector would face challenges.
In response to an increase in Covid cases in different regions of the world, Prime Minister Narendra Modi on Thursday warned against complacency and gave officials instructions to tighten the current surveillance measures, notably at international airports.
The Omicron subvariant BF.7 strain appears to be the root of the present rise in Covid cases in China.
Lockdowns, mass testing, and border restrictions have all been part of China's attempt to keep consumers at home and disrupt supply chains, while worries about a recession in the United States and Europe have slowed demand for Chinese goods abroad.
Sharad Kumar Saraf, a prominent exporter from Mumbai and the founding chairman of Technocraft Industries India, expressed similar sentiments when he remarked that the growing diseases in China are worrying the exporting community.
Concerningly, the number of cases is increasing. Our pharmaceutical sector is reliant on China. There, in my factory, 40% of the employees are absent, Saraf stated.