Trends
Bomb Cyclone Engulfs United States; Power Outage and Frost Bite Wallops 1.5 mn People; Winter Has Come & Climate Change Is Real!
The United States has been hit by a severe arctic storm bringing the country to a standstill and causing chaos to holiday travel as hundreds are affected. Howling winds, heavy snow, and temperatures fell to the point that even boiling water turned into ice in a matter of seconds.
In what can be called a nightmare, more than a million United States citizens are experiencing the most severe winter cyclone that has engulfed most of the United States, including southern states that are typically temperate. 
The Arctic storm is of such a magnitude that besides howling winds and heavy snow, almost a million US citizens are being forced to battle it out with a power blackout when the temperatures have hit as low as -48 degrees Celsius. 
The 'bomb cyclone has resulted in closing highways, has grounded air traffic and has caught Christmas travellers stranded in the biting cold. 
The winter storm is so severe, with air so frigid that even boiling water instantly turns into ice. 
The storm had attained the status of "bomb cyclone" by Friday afternoon after air pressure plunged precipitously over 24 hours.
Bomb cyclones produce heavy rain or snow. They can also cause flooding at coasts and generate hurricane-force wind.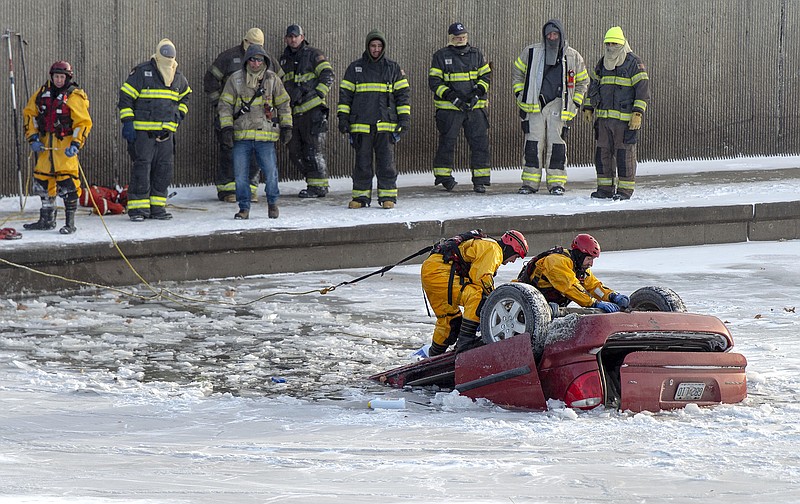 A fatal Warning Issued!
Citizens in the US and Canada have been issued a warning by experts that the freezing temperatures can lead to frostbite on bare skin in only five to 10 minutes. 
As the country reels with the powerful arctic winter storm, alerts have been sounded from coast to coast, reaching as far as south as the US – Mexico border and Florida, where the temperatures are more temperate.
Caught Out In The Cold
Imagine you are travelling to meet friends and family for Christmas and instead being caught off guard and underprepared for what can be called the most severe arctic storm. 
Such that more than 135 million people are under weekend weather alerts ahead of the busiest travel days of the year.
Real Life Stories
From New York comes the story of Jennifer Orlando, who, along with her husband, had to make the most of it when a vehicle slid into a power line on the highway, leaving them without power in this brutal cold for 4-5 hours. 
What is concerning is that hundreds of thousands are without electricity, so much so that heartbreaking stories from desperate migrants who had crossed from Mexico in El Paso were reported to have been found in churches, schools, and civic centres huddled together for warmth.
Of these, many were so adamant about crossing over to the United States that despite the biting cold, they chose to stay outside in -15 Fahrenheit temperatures because they feared lookout from immigration authorities.
Homeless are frozen to the bone. 
The worst caught are the homeless, who have literally frozen to death, and many volunteers are handing out cold weather clothes, like coats, gloves, thermal underwear, blankets and sleeping bags, hand and foot warmers and hats. 
Salvation Army had its centres open for people to shelter from the fierce weather, with many realising that had it not been for these centres, they would have nowhere to go!
Canadians are tougher.
While the US citizens are hunkering down, the Canadians meanwhile have conceded that they are more used to the biting cold than ordinary people since every couple of years, they have to bear big storms hence more capable of taking the biting cold in their stride.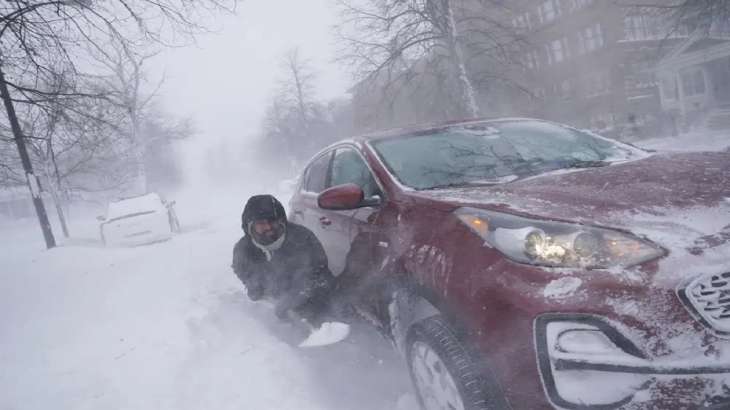 Chaos engulfs Air Travel. 
Meanwhile, a travel advisory has been issued due to near-zero visibility whiteouts, blizzard conditions and ice-covered roads, strongly urging residents to stay home. 
Traffic fatalities were reported, with a 50- vehicle pileup and another incident of nine tractor-trailers snarling traffic, leaving one person dead.
On Friday, around 5,000 US flights were cancelled and another 7,600 delayed, according to flight tracking website FlightAware, many at international hubs in New York, Seattle and Chicago's O'Hare.
Drivers were being warned not to take to the roads — as roads were reported to have transformed into ice skating rinks, making it difficult for vehicular tyres to skid, even as the nation reached what is usually its busiest time of year for travel.
Toronto saw Lake Erie with waves as high as up to 26 feet, with winds at 74 miles per hour. 
Rapid frostbite 
The warning issued stated that the weather was hazardous and that those who were not adequately covered could get frostbite in less than five minutes, so much so that to test the severity of the cold weather, several people carried out the "boiling water challenge", where boiling water is thrown into the air to freeze instantly. 
Experts have warned that freezing temperatures across the US and Canada can lead to frostbite on bare skin in only five to 10 minutes. 
Warnings for frostbites have been sounded even in major metro areas.
How are Frostbites caused?
Frostbite is caused when blood flow is lowered, often to extremities like the nose and cheeks or fingers and toes. The lack of warm blood can result in tissue freezing, rupturing, and, in some cases, amputation.
The meteorologists have warned winter storm could become a "bomb cyclone" by Friday. Bomb cyclone is a term given to an explosive storm that intensifies rapidly, with its central air pressure dropping by at least 24 millibars in 24 hours.
"This is not like a snow day when you were a kid; this is serious stuff," President Joe Biden said in a White House briefing on Thursday.
Emergency declared in New York.
The governor of New York declared a state of emergency in expectation of the storm. The danger of flooding and ice jams are "going to wreak a lot of havoc in our community", she said. 
Ice jams happen when large pieces of ice block the flow of a river and can cause flooding.
Kentucky, North Carolina, West Virginia, Georgia, and Oklahoma governors have also declared states of emergency, while Wisconsin declared an "energy emergency".
Ohio governor, Mike DeWine, called the weather a "unique and dangerous situation", as it occurred when people usually travel to meet their family.
Florida is projected to see its coldest Christmas in 30 years.
 The NWS has described it as a "once-in-a-generation" winter weather event, saying on Thursday that "life-threatening wind chills" will strike the east coast on Friday. Snow and powerful winds are expected to cause damage and power outages in the Midwest and Canada.
Conclusion: In the last couple of years, weather-related catastrophes are indeed increasing in number, and their frequency has also risen, leaving hundreds of thousands affected all over the globe.
Climate change is not something to anticipate in the future but something that we are already in the midst of.