Trends
Online Education And E-Learning Trending In 2020 Coronavirus Crisis
There is a complete lockdown across the country due to the Coronavirus. Children are unable to go to school. But at this difficult time, online education is increasing remarkably. Digital classes are running for young children from schools and colleges and universities. Students are being benefited greatly from this. 
Let us tell you how online education is growing rapidly in this era of coronavirus crisis and lockdown, what are its advantages and challenges?
online education is Great for developing self-care within children:
Education expert and director of the Alcon Group of Schools, Ashok Pandey, said that parents should connect children with online education so that they can come out of the negative atmosphere of Coronavirus. Also, this is a good time to develop self-care within children. This is an opportunity for children to develop such qualities as self-confidence, physical fitness, and courage. Ashok Pandey himself has been conducting many webinars to make children aware of coronavirus and is giving fitness lessons.
This is how the online class is going for school children:
Vinod Khare, a computer teacher at St. Thomas School in Kanpur, said, "We have just implemented Google classroom to teach our students." First, we create a class in it and pass its code to the corresponding children of that class. The lecture is given in the digital class. Then the assignments are given according to the same lecture. Zoom cloud meeting is also being used.
However, it is facing problems like internet speed and network. According to Vinod Khare, school education has suddenly gone online due to the corona lockdown, which is causing problems for many teachers. The teacher is using one to one and a half GB of data to make a 10-minute video and there is a problem of sound in their video. But after the lockdown, if the teacher is given little training in digital education, then teaching online will become easier for the school teacher.
Which topic is easy to teach and which is difficult in online teaching?
Vinod Khare explains that it is easy to teach theory-based subjects in digital education, such as English, Hindi, History, Geography, Economics. But the subject which has more to explain, there is a problem with it, like maths, science. In such subjects which are more practical-based, it is easier to write on the blackboard.
Online education is better for which standard?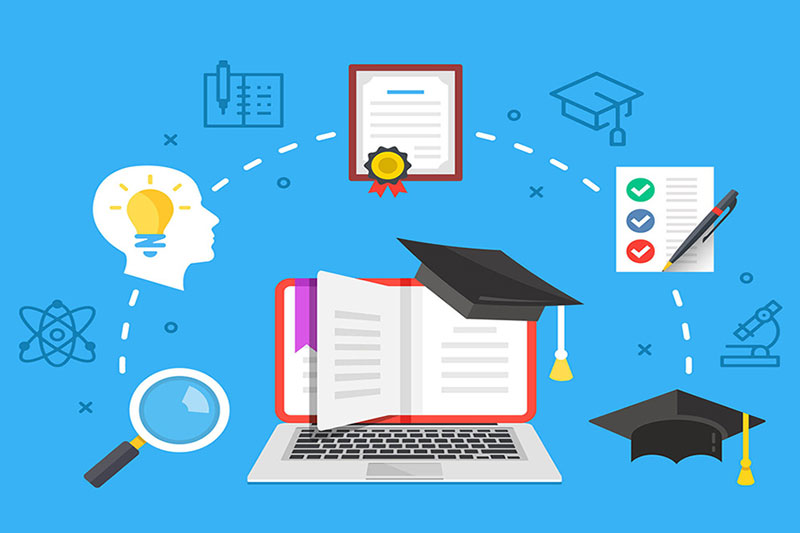 According to Vinod Khare, digital education is good for pre-primary students, but it is necessary to have an interaction between students and teachers in a class above this. At the same time, digital education is very good for those preparing for graduation and the competition, because these students understand their subject well.
Is online education an inspiration taken from Greece?
According to Yashasvi Kumar, CEO of the current affair app KNAPPILY, in Greece at this time of lockdown, teaching materials are being made available on phones and national television. From this, we can also learn how education can be reached to every child in the country and to the children of the village through a digital platform. For this, educational content on TV and radio should be provided as much as possible. Content from IGNOU and UGC should be promoted. They have excellent digital education content.
Online-digital education will also have to reach the village:
– Yashaswi Kumar suggests that government teachers should also get motivated for online education.
– Government teachers should also be trained in digital education.
-3 hours of training is enough for the teachers.
-This should be for the teachers from the university level to the school level. Children should also get training in digital education.
– We should prepare in such a way that the children of the village can reach education online or through TV.
Due to Corona, the government should also experiment in lockdown on how free education content can be reached to the villages.
– If three hours of content will be provided to the children, lockdown can become very beneficial for the children.
One should Pay attention when choosing an online course:
-The syllabus should be taken care of whether it is being completed or not.
– The course should be chosen according to topics.
– After searching properly, a course should be selected.
School students have to pay attention to these things:
1. Security crisis – Security is always a threat in online work because many online hackers know that students and teachers are online at this time of Corona. This danger is more on school children. The level of online security is not strong in most websites of schools.
2. Privacy – Online education makes a lot of data of students being uploaded online, eg, name, email, grade and test score. In such a situation privacy should be taken care of.
3. Isolation – Online education is fine in this difficult time, but it also carries the risk of isolation.
4. Do not know about the courses – people have less understanding about online courses and education. In such a situation, the identification of good courses and bad courses is less.
5. Children at risk of physical discomfort- Children have less habit of reading from the laptop or tab. Therefore, they may also have problems like back pain. According to research by Princeton University, digital education without a regular computer setup also puts children at risk of multiple injuries.
Also, it is very important to do sports activities, exercise, and a nutritious diet. Children are currently studying online, so their physical activity has reduced, so give them full opportunity to play indoors. Their diet should also be very nutritious.