Trends
What is T-Hub and how it has helped Telangana's startups grow
What is T-Hub and how it has helped Telangana's startups grow
T-Hub is a Hyderabad-based startup ecosystem that facilitates collaboration between startups, venture capital firms, corporations, governments, and academics. T-Hub enables and strengthens an innovation-hungry ecosystem.
Headquartered in Hyderabad, India, the company leads India's pioneering innovation ecosystem, driving next-generation products and new business models. It uses the Triple Helix innovation model, based on interaction and collaboration between industry, academia, and government. Founded in 2015, the company has provided more than 1,100 national and international startups with access to the best technologies, talents, mentors, customers, companies, investors, and government agencies.
T-Hub also provides thought leadership to Telangana and other state and central government organisations in building innovation ecosystems. He has driven innovation for leading national and global companies and transformed corporate business models for the better.
Sponsored by the Telangana government, Phase 1 of T-Hub became operational in 2015 at the International Institute of Information Technology (IIIT-H) temporary location in Gachibowli. The IIIT-H, Indian Business School, and NALSAR University of Law also joined the Telangana government in the construction of T-Hub.
Although sponsored by the Telangana state government, day-to-day operations are entirely in the hands of a professional team that reports to an ecosystem-born board of directors.
The fundamental goal of T-Hub is to encourage young entrepreneurs to start and expand their activities. They can come to T-Hub with a business idea and we will help them turn it into a product or service.
In six years, T-Hub has helped nearly 2,000 startups build teams and helped them with products and finding markets. T-Hub soon captured the imagination of young entrepreneurs not only from Hyderabad but from all over India. As the development progressed, T-Hub began to focus on deep technology areas such as blockchain, AI, big data, ML, IoT, and mobility and brought in various industry partners to offer accelerators. The Telangana government saw good traction for the idea and opted for a much larger campus to provide space for all actors in the ecosystem.
T-Hub, with its team of more than 50 professionals from diverse backgrounds, has enabled the innovation journey for entrepreneurs, business leaders/CIOs, and investors worldwide. T-Hub has supported more than 1,800 startups and more than 600 companies, like Facebook, Boeing, Otis, Uber, and others. It has enabled startups to continue raising funds from various programs, for a total of more than $1.19 billion during these challenging times.
T-Hub 2.0
The pandemic has delayed the T-Hub 2.0 project. Launched with an investment of around £700m, T-Hub 2.0 seeks to continue the legacy of Phase 1. T-Hub 2 is located in Raidurg.0 has a neighbourhood that boasts major global and national IT and semiconductor companies.
With a total built-up area of ​​5.82 square feet, T-Hub 2.0 is touted as the world's largest innovation campus, surpassing Paris's Station F. "This will be a microcosm of the innovation ecosystem, bringing together more than 2,000 national and international startups, corporations, investors, academia, and… ecosystem enablers," said M Srinivas Rao, CEO of T-Hub.
T-Hub regularly conducts cohorts in separate streams and calls. Hosted in both on-premises and hybrid modes, these cohorts help startups by exposing them to the local investor community. In addition, it helps Indian startups to find markets in countries like the USA and helps foreign startups to gain access to Indian markets. T-Hub also organises cohorts in partnerships with companies.
CHALLENGES
While not official yet, T-Hub 2.0 will cost $10,000 per seat for startup enthusiasts. This is more than the 7,000-7,000 per seat that T-Hub used to charge. How will startups react at a time when working from home is still the talk of the town?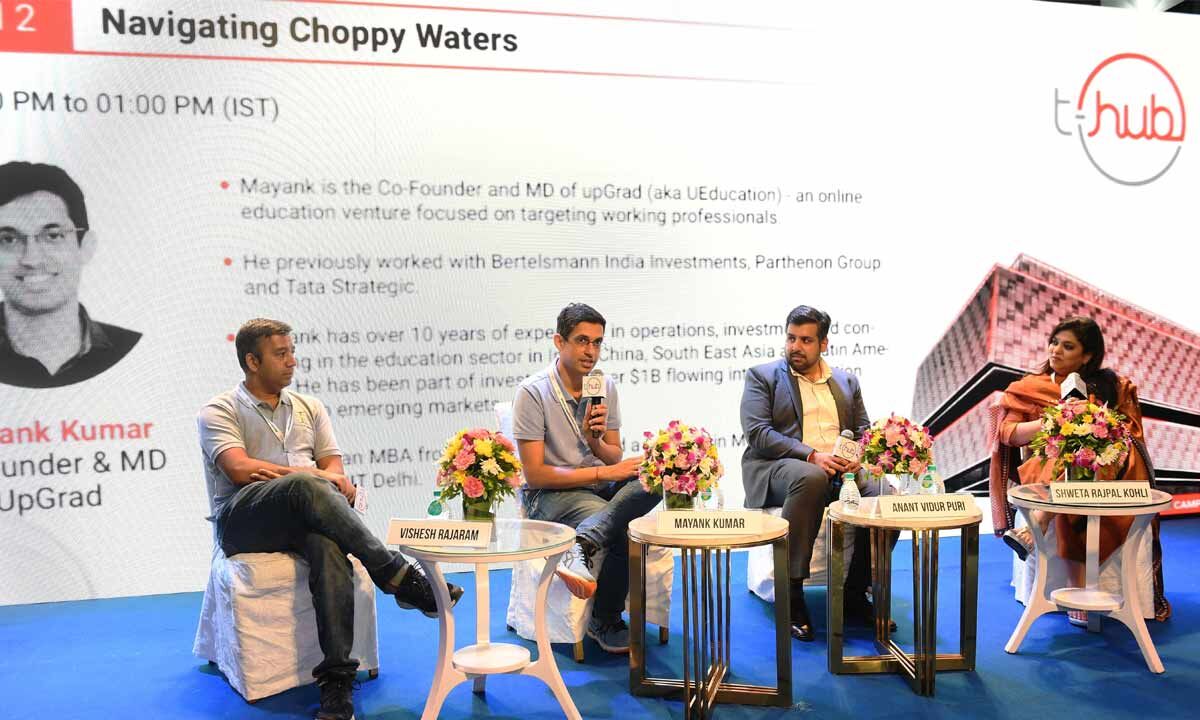 Many medium-and large-sized businesses in the surrounding area still allow 60 to 70% of their employees to work from home. This applies to several startups that have cleared office space and given all employees the opportunity to work remotely.
edited and proofread by nikita sharma