Trends
The Pacific Islands – The Center Of Great Power Competiton Between China And The US, China Is Doing Everything It Can To Outdo Its Rivals
The Pacific Island Countries have become a key area of great power competition between China and the US. They have emerged as a critical geopolitical region that both the US and China have been trying to woo for some time now. However, China has taken it to another level as per the disclosure made by the outgoing President of Micronesia, who has accused China of political warfare, threats, bribery, and also unleashing its military spies.
Pacific Islands, in the past few decades, have emerged as the key region for China, and China has remained steadfast in expanding its diplomatic, trade, and aid activities in the Pacific Islands. 
Just how focused China is on this region can be gauged by the disclosure made by the outgoing president of Micronesia, a bunch of 600 odd islands that have become strategically important that it has resulted in a tug of war where China is resorting to any and all means to gain and maintain its upper hand in the region.
David Panuelo, who has two months left before his term as the President of Micronesia expires, has, in an all-out letter, accused China of bribing elected officials in the country and even resorting to giving direct threats against his safety.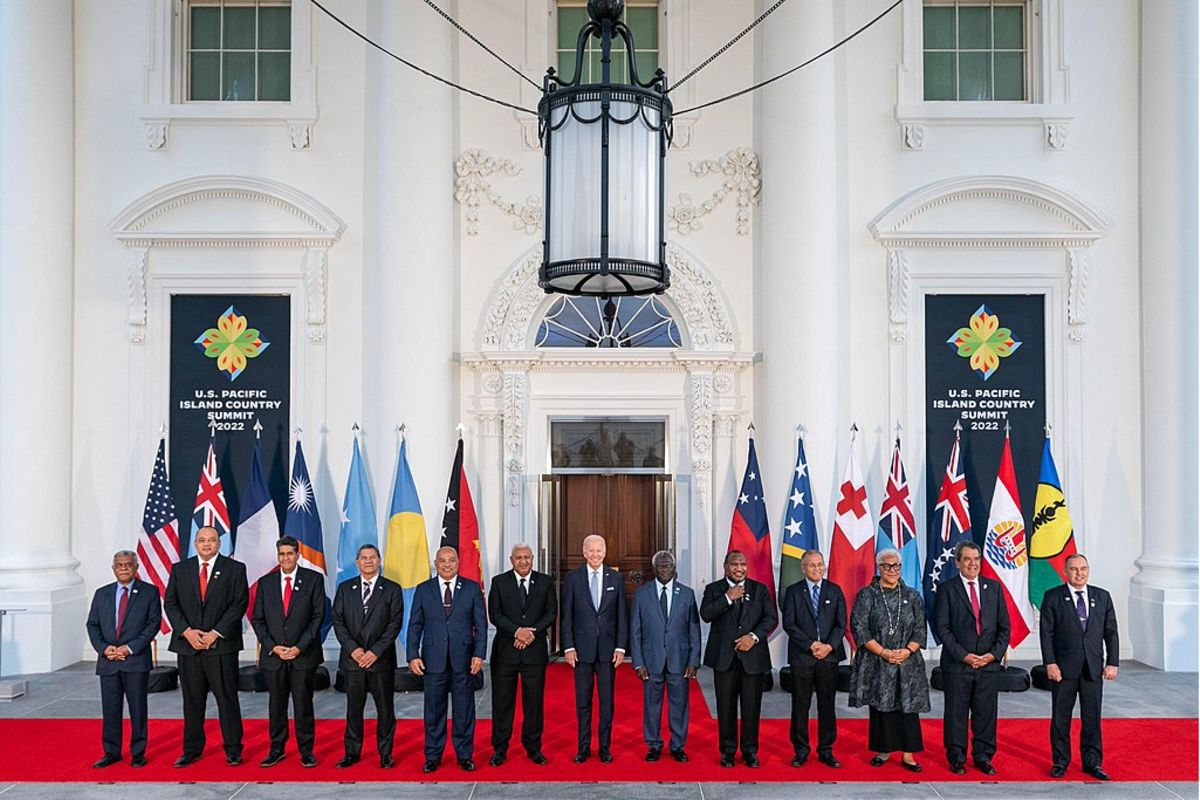 The Strategic Importance Of The Pacific Islands
The simple approach that Beijing has undertaken is to deepen its comprehensive strategic partnership with the Pacific Island Countries through mutually beneficial cooperation in various fields.
According to China, in doing so, it is giving particular emphasis on promoting regional peace and security. However, in reality, in doing so, there are concerns that China may seek to enforce non-transparent agreements with Pacific island nations, which could be detrimental to their interest in the long term.
Each Pacific state has a vote at international forums such as the United Nations. Therefore, China desires their support on issues such as Hong Kong, the South and East China Seas, Taiwan, Tibet, Xinjiang and human rights. 
Pacific Island Nations are so important for China, typically made up of hundreds of tiny islands barely inhabited, and the Pacific provides strategically based locations between China and Western powers. In a war with the West, China can militarize these islands, which can be used as ambush points to delay any armed response from the US or Australia. 
That's why they're necessary from the geostrategic point of view, and that is why China wants access slash control of these nations.
Taiwan – The Burning Issue For China
During Wang Yi's visit in 2022, many Pacific leaders vowed to stick to the 'One China policy'.
Kiribati switched its allegiance to China in 2019. A year later, China became one of the only four countries to open an embassy in Kiribati, alongside Australia, New Zealand and Cuba. China also successfully gained diplomatic recognition from the Solomon Islands, one of Taiwan's closest allies, in 2019. 
However, the diplomatic conflict between Taiwan and China is still ongoing. Palau, the Marshall Islands, Tuvalu, and Nauru in the Pacific still recognize Taiwan. In March 2022, these four countries reaffirmed diplomatic relations with Taipei.
Just how important this region is for China can be understood from David Panuelo's letter alleging that China was preparing for conflict over the island of Taiwan and its purpose in interfering in the Federated States of Micronesia (FSM) was to render the country neutral in any potential Pacific war.
He alleges that China is seeking to ensure that, in the event of a war, the islands are aligned with China instead of the United States, and, at worst, the islands choose to 'abstain' altogether.
According to the outgoing President, China is preparing for war over Taiwan and wants specific islands on its side to achieve that. 
Beijing wants to lay the groundwork for an invasion. And to that end, it wants the Federated States of Micronesia to side with China and rebuff the US.
To achieve its objective, China is using both bribery and threats and trying to compromise the sovereignty of countries like Micronesia to protect itself. 
Pacific countries, including Micronesia, have historically depended on the US for security, and Panuelo believes Micronesia should align with Taiwan and cut ties with China.
China's Strategies To Woo Pacific Islands 
1)Trade
During 1992–2021, China's total trade volume with the Pacific Island Countries having diplomatic relations with it recorded an average annual increase of 13 per cent and volume expanded by over 30 times.
China is the largest trading partner of Pacific Island Forum countries (excluding Australia and New Zealand). 
In 2017, China's goods trade with these countries reached US$ 8.2 billion, surpassing Australia's US$ 5 billion and the United States US$1.6 billion. 
China is also the top trading partner of the Solomon Islands. Since President Xi's 2014 visit to the region, China has increased its cumulative foreign direct investment in Pacific Island countries by 173 per cent, amounting to US$ 2.8 billion in 2016. 
While Beijing's FDI has surpassed US FDI of US$ 2.4 billion, it is still far behind Australia's FDI in Pacific Island countries, which stood at US$ 12.7 billion in 2016.
2) Aid
China has also dramatically scaled up its aid efforts between 2006 and 2017; China provided approximately US$ 1.5 billion in aid to the Pacific Islands region through grants and loans.
During 2011–17, China contributed 8 per cent of the total foreign aid, making it the third-largest donor in the region, after Australia (45 per cent) and New Zealand 9 (per cent). 
By increasing its diplomatic and economic profile in the South Pacific, analysts note that China is exercising 'soft balancing' behaviour against established regional powers rather than engaging in 'hard' or military competition.
3)Belt And Road Cooperation MoUs
China has signed Belt and Road Cooperation MoUs with 10 PICs—Cook Islands, Fiji, Kiribati, Federated States of Micronesia, Niue, Papua New Guinea, Samoa, Solomon Islands, Tonga and Vanuatu. 
Chinese businesses have undertaken projects worth over US$ 20 billion. China has provided technical assistance, and concessional loan projects, for building critical infrastructure like roads, bridges, wharfs, hospitals, schools and stadiums.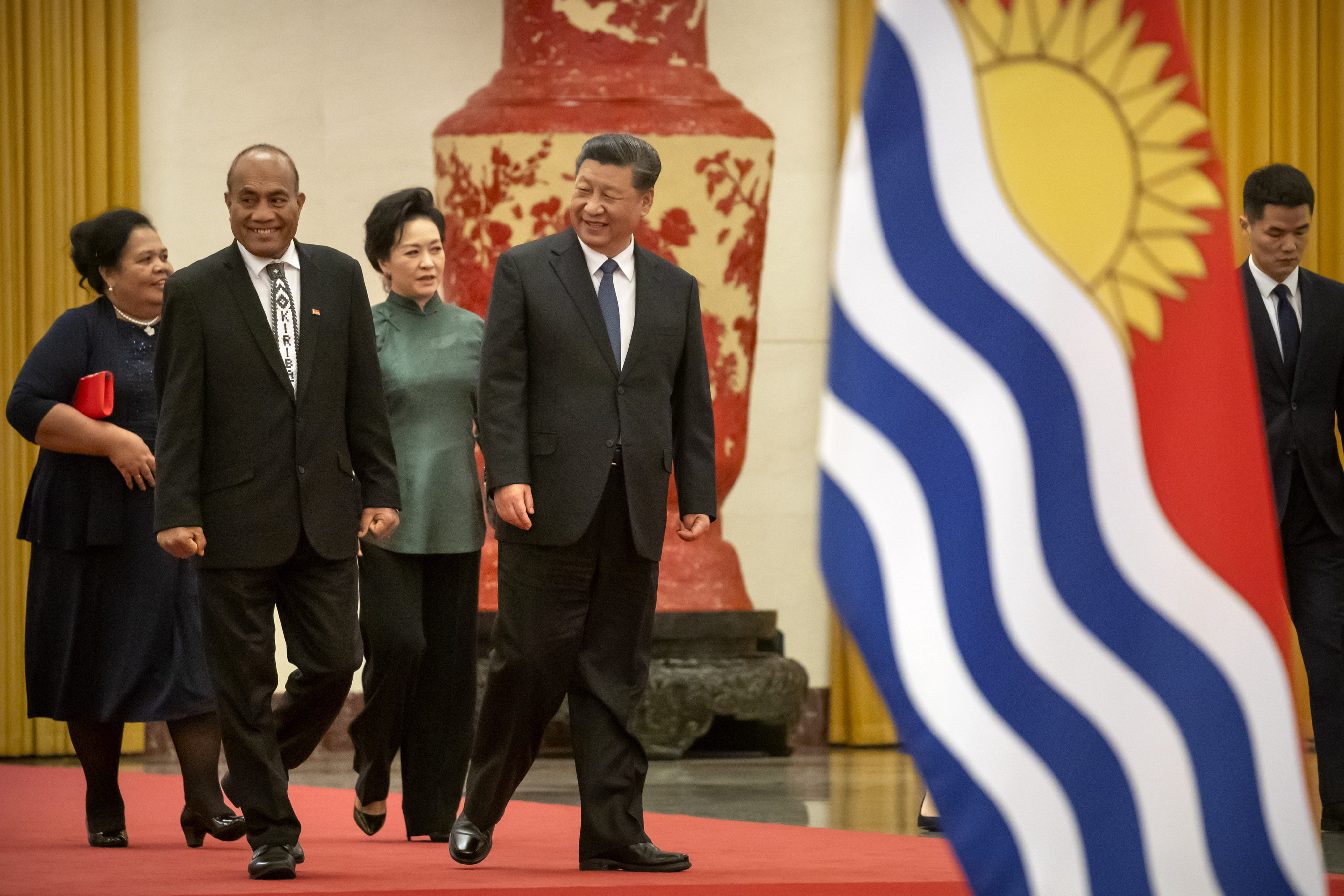 4)Funding, Bribes And Threats
China has been pumping funds into these islands to sway them and, in many cases, also bribing officials; hence China is not only bribing these countries to be complicit but also to remain silent.
Chinese ambassadors routinely give lavish gifts to politicians. China pays them for development projects that the government has no record of. 
If all fails, China has also resorted to threats as per the President of Micronesia, who in his letter claims that he's received direct threats regarding his safety from Chinese officials. 
Micronesia Needs To Turn Away From China
David Penuelo believes that his country needs to reject China and embrace Taiwan, and he says he even spoke to Taiwan's foreign minister regarding this.
He said Micronesia requires at least $50 million to wean away from Chinese investment and influence, and Taiwan has reportedly assured him of support. 
China's Response
As predictable, China absolutely does not accept them. The Chinese spokesperson emphasized that China has always treated all countries, big or small, as equal. 
China has always respected the Micronesian side, choosing its own development path following its national notions. 
The spokesperson reiterated that China supports Micronesia in safeguarding its independence and promoting development; however, the spokesperson went on to say that Taiwan is an inseparable part of China.