Trends
Top 10 Best Law Firms in India 2023.
A law firm is a collaboration of attorneys who have teamed up to provide their expertise to clients under one name. These partners hire other attorneys to work with them as associates and split the firm's revenues, risks, and responsibilities. These associates can work for the company for a while and, if they demonstrate their competence at work, may even become partners and participate in the firm's management and earnings.
Legal firms serve the interests of both businesses and private clients, while most of the larger firms work with corporate houses or businesses. Dealing with a variety of issues that may or may not be limited to a specific area of law is part of the work of law firms (depending on the specialization and culture of the firm).
Litigation and corporate sections are separate in large law firms. The department of litigation handles conflicts involving clients of the firm. Working in a law firm's litigation department or a firm specializing in litigation requires interaction with top attorneys and exposure to the courtroom. The corporate divisions of law firms provide advice to businesses on the corporate transactions in which they are involved, like company acquisitions, significant intercompany agreements, international clients' investments in India, client financing of sizable projects, etc.
The best Indian law schools are recruited by major law firms all around the world. Top law firms like Shardul Amarchand Mangaldas & Co., Cyril Amarchand Mangaldas, AZB Partners, J.Sagar & Associates, and Luthra & Luthra Law Offices are one of the top employers of graduates from domestic legal schools. Among the foreign firms that hire from Indian law schools are Linklaters LLP in the UK and Khattar & Wong in Singapore. Recruits start as junior associates and progress through the ranks based on their output.
Pros and cons of law firms
Salaries at the largest law firms in India can approach six lakhs per year (with the occasional offer reaching as much as 10 lakhs). Salaries at global legal companies (with international postings) can reach 16 lakhs. These figures include certain bonuses, which are very lucrative.
If you're wondering why the salaries are less than what corporations are paying, keep in mind that most law firms keep their new hires on a "retainer," which enables more flexible tax planning. In addition, salaries in law firms rise more quickly than those in businesses. It is associated with two to three years of experience and is to surpass his classmate.
The corporate environment, with its jet-setting lifestyle, has its draw. Since many fight for a small number of partner seats, there is stress at these firms because of the intense competition. The competition will be more difficult, the bigger the legal practice.
What activities does a law firm do?
A commercial entity that practices law is a law firm. They give a variety of services, with legal advice and aid coming in first. A legal firm may represent a variety of clients, including small businesses, banks, and people. In this process of consultation and help, the customers know about their rights, obligations, violations, legal remedies, and the position of the law. A firm's setup and size can change.
The following are the tasks that a law firm performs:
They assist the client in comprehending the relevant Legal Framework, Rights, and Obligations.

They represent clients in court cases.

Additionally, they assist the client in resolving disputes through alternative dispute resolution methods.

They assist with commercial transactions by handling all legal compliances.

Additionally, they prepare contracts, leasing agreements, deeds, wills, vesting documents, and other legal documents.

They assist with Innovation Protection through the use of intellectual property rights.

They support a variety of business transactions, including mergers, acquisitions, demergers, amalgamations, etc.

Importance of law firms in India
Law firms are involved in giving a variety of services. People have preferences, and it has been found time and time again that law firms are given precedence over practicing attorneys. The explanations are given below:
Offers legal services: As a law practice, they give services in many areas of the law and are experts in many of them. One law firm can provide all different kinds of services, including consultation, litigation, corporate sector, etc. However, while dealing with a single attorney, they will only be knowledgeable about one area, making it difficult to complete tasks. Therefore, law firms come to the rescue, as they can handle practically any subject.
The level of the work: Because a team of experts is working, the customers are given a diversity of proposals, unique perspectives, and some incredibly good drafting. Legal professionals are expected to operate more professionally and create higher-quality work because they are paid more in Law Firms. You may be confident that everything will go according to plan if you choose a reputed law firm for yourself.
Easily reachable: Through Judicial Precedent and online legal marketing, every law firm has developed a unique brand. Knowing more about the market's rivals is now possible. They've developed bots that can answer certain common internet queries.
Customer satisfaction: Given that a law firm is both a legal and business entity. Customer satisfaction comes out as being the most crucial element. Law companies put in endless hours to make sure that deadlines are met, that they close transactions for their clients, that they prevail in court, and that the fees they ask are justified. Since there is an opportunity that a client will be Well Represented, client happiness is given a lot of weight. A different attorney can be asked to handle it if the client is dissatisfied with the first one from the firm.
Hierarchy: They have a hierarchy of employees and a system in place because there isn't only a single person working there. They oversee both work division and company discipline. So, one works on what they are most capable of. The person working as a fresher will only get to handle things in a way where he learns more and is not so accountable because there are seniors to show them because a legal firm has departments for every aspect.
Scrutinization: The job that is delivered to the client is a collaborative effort. Even lawyers can have divergent views and strategies for handling a Case. Therefore, all of these questions are answered internally first, and then the chances of client involvement and input take precedence. So, your matter is being handled by a large legal team.
Top 10 Best Law Firms in India 2023.
1. Shardul Amarchand Mangaldas & Co.
Founded in a century of legal accomplishments, Shardul Amarchand Mangaldas & Co. is one of India's top full-service law companies. The company aims to support the business by being a Trusted Advisor and delivering solutions through quality, and cooperation.
Shardul Amarchand Mangaldas & Co. is one of India's largest and most well-known legal companies, with over 660 attorneys, 118 Partners, and Offices in seven different Indian cities. The firm's attorneys develop individualized and comprehensive solutions for customers from multiple jurisdictions.
The firm is in charge of notable headline transactions across all business and industry sectors. The firm advises major multinational corporations on their entry into India and overall business strategy. It is well-known internationally for being an expert in capital markets, mergers & acquisitions, tax, competition, and regulatory litigation.
Main Practice Areas:
General Corporate

Mergers & Acquisitions

Banking & Finance

Competition Law

Insolvency & Bankruptcy

Dispute Resolution

Projects & Project Finance

Capital Markets

Tax

Intellectual Property

2. Singhania & Partners LLP
The firm has specialized teams for corporate, litigation, and IPR concerns and engages in a variety of practice areas. The firm's guiding principle is to put its customers' commercial interests first while resolving disputes and concluding agreements. They favor using alternative conflict resolution methods that need the least amount of court involvement and only use litigation when necessary. In M&A transactions, they work to meet the goals of the client and to make sure that the opposite party is treated fairly.
Reputable legal directories like Chambers and Partners, Legal500, Indian Business Law Journal, Benchmark Litigation, and Asialaw Profiles all give the firm their highest recommendations in a variety of practice areas like arbitration-litigation, corporate-M&A, banking & finance, projects and energy, intellectual property, and employment practice.
Several Fortune 500 companies and important Indian businesses and multinational corporations are customers of Singhania & Partners. In addition, the business represents a large number of private customers for wills, estates, investments in start-ups, and tech initiatives. Numerous government agencies, public sector companies, and ministries receive advice from the firm.
3. Khaitan & Co.
Khaitan & Company was established in 1911. Mumbai, India is the home office of the law firm Khaitan & Co. The practice areas of the company cover banking and finance, capital markets, corporate and commercial, estate planning, trusts, and private clients, labor and employment, capital markets, funds, real estate, and construction, white-collar crime, competition or antitrust, intellectual property, and direct and indirect tax. Energy, financial services, information technology, healthcare, cleantech, infrastructure, business products & services, consumer products & services, fin-tech, and ad-tech are just a few of the industries that Khaitan & Company serves.
An executive committee made up of 97 people oversees the company. The company's head office is in Delhi, but it maintains offices in Mumbai and Kolkata.
Exceptional customer service and knowledgeable Legal Counsel are provided by a team of highly attorneys, and experts in a variety of fields and businesses. The firm has made an effort to go above and beyond. We take pleasure in our methodical approach to work, which centers on comprehending customers' businesses, foreseeing their future legal needs, and giving practical and profitable solutions.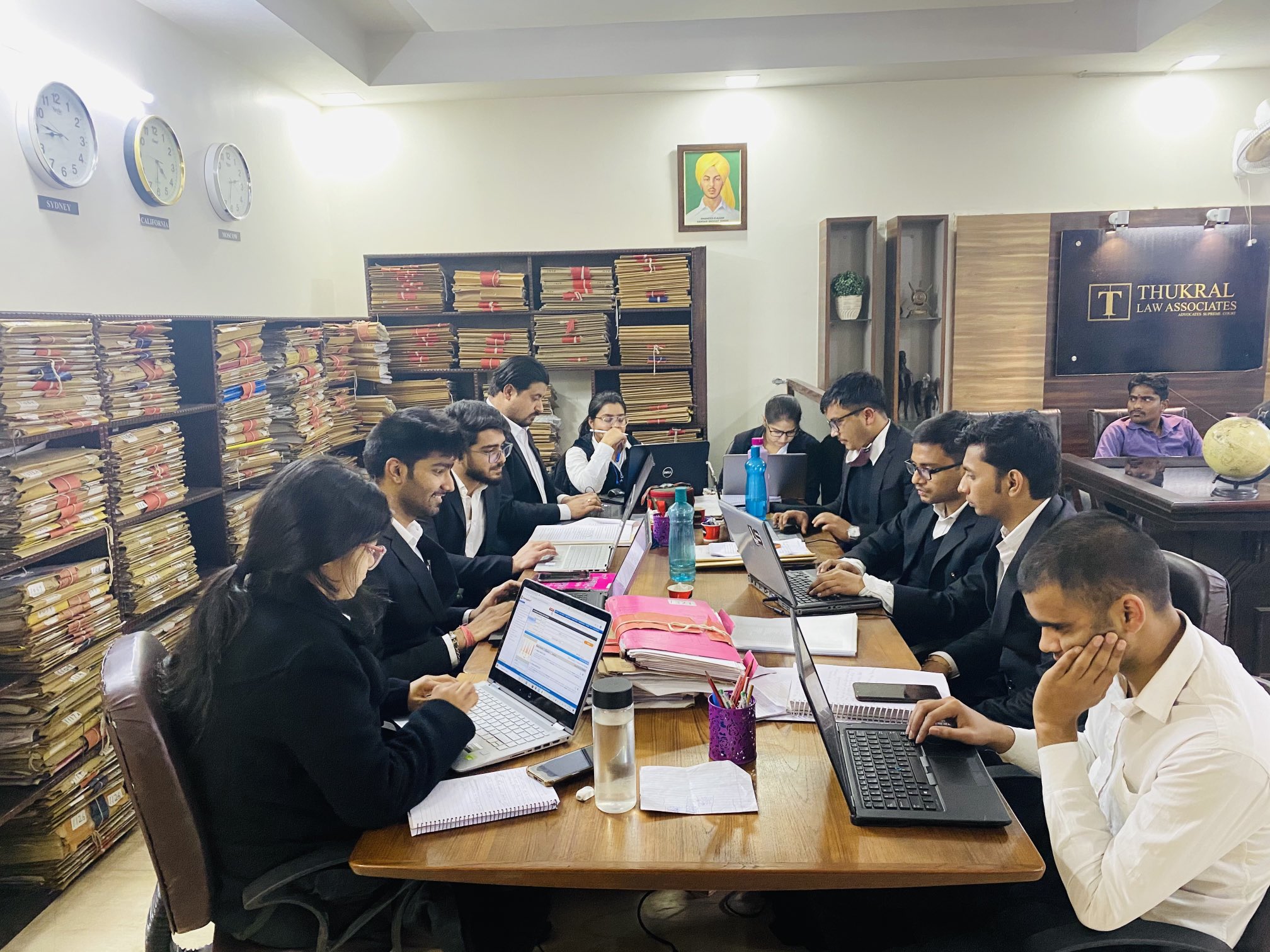 4. Thukral Law Associates
A full-service law firm, THUKRAL LAW ASSOCIATES gives a variety of legal services, particularly to NRIs on many legal matters. It gives the greatest and most knowledgeable legal services to domestic and Foreign Clients from more than 30 different countries. Two main offices, one in Punjab and the other in New Delhi, are where the firm provides a full spectrum of legal services.
One can get comprehensive legal aid from TLA in both civil and criminal cases. One of the top law companies in Delhi due to the breadth of legal services. It is now counted as the symbol of Openness and Trust.
In addition to giving Extensive Legal services and advice directly to Foreign Customers from more than 22 countries, Thukral Law Associates collaborates with more than 140 firms around the world. Through its affiliate offices, which are located in New Delhi, Gurgaon, Punjab, Mumbai, Chandigarh, Jammu, Allahabad, Nainital, Bangalore, and Pune, Thukral Law Associates is one of those businesses with a comprehensive legal service presence in all major Indian cities.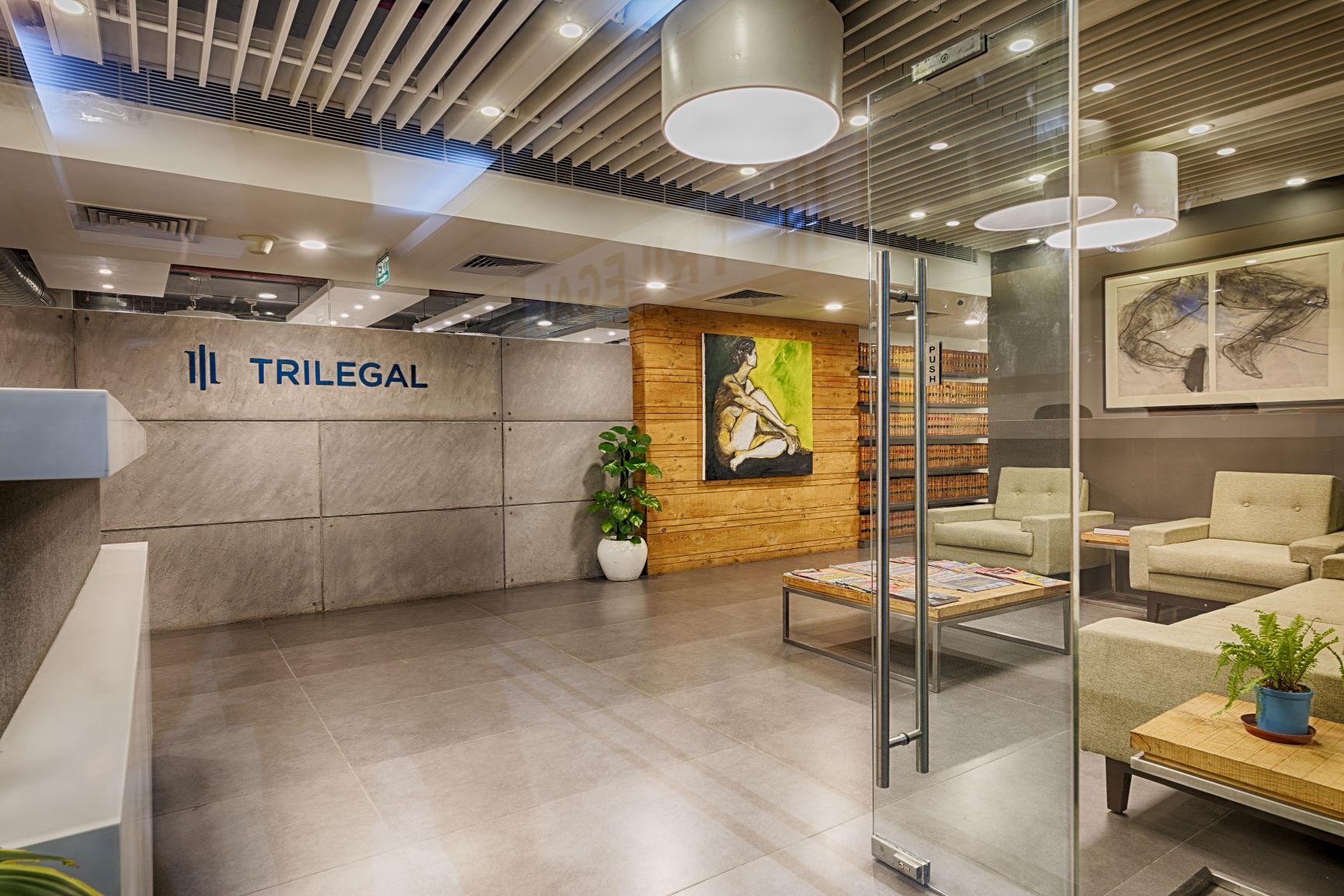 5. Trilegal India
Trilegal was established in 2000 and has risen quickly to become one of India's top law companies. With more than 500 Attorneys and 71 Partners at the helm, Trilegal is a premier full-service law practice. The Partners and Attorneys of the firm ensure that the firm provides cost-effective, transaction-oriented, and high-quality legal advice by combining the appropriate local knowledge and skills.
With the best facilities and pay available to them, it has a sizable number of lawyers working with them. There are 150 attorneys, which is a pretty notable number. Trilegal is the only term that springs to mind if you want anything effective for a while.
Their lawyers work in many industries, including real estate, banking, finance, capital markets, funds, commercial disputes, and corporate ones. One of the largest M&A deals took place in 2007, and Linklaters and the Trilegal business worked together to make it happen.
6. AZB & Partners
Combining Ajay Bahl & Co. in Delhi and CZB & Partners in Mumbai, AZB & Partners was founded in 2004. AZB& Partners has branches in Delhi, Mumbai, Bangalore, Pune, and Gurgaon, with its New Delhi and Mumbai headquarters.
This top law firm, which has 400 attorneys overall and 87 Partners, focuses on banking and finance, projects and infrastructure, energy, M&A, competition/antitrust, tax, financial regulation, arbitration, litigation, projects and infrastructure, funds practice, real estate, micro-finance, derivatives, intellectual property, regulatory practice & securities laws, employment, insurance, media, and entertainment, IT, business process outsourcing, and pharmaceuticals.
Zia Mody created it in 2004 and it has more than 90 Partners. Its work has won praise from all over the world, and in 2017, it was named first among Indian law firms.
Both domestic and foreign clients are taken care of by the business.
7. Kochhar & Co.
Kochhar & Co. is one of the top corporations' law firms in India.
The firm Kochhar & Co. is known for its cutting-edge legal knowledge, straight counsel that is motivated by business considerations, and an unshakable dedication to meeting the needs of our customers through the provision of individualized, long-lasting legal solutions. In addition to three Foreign Offices in Dubai, Singapore, and Chicago, the company has a full-service presence in six illustrious cities, including New Delhi, Mumbai, Bangalore, Chennai, Gurgaon, and Hyderabad.
The company's unique practice, which has been around for almost three decades, began in the pivotal years that followed India's Ground-breaking Economic liberalization in 1991. It covers a broad number of clients across practice areas, industries, and sectors thanks to its more than 200 lawyers.
Some of the biggest multinational and blue-chip companies from North America, Europe, and Asia, including 65 of the Fortune Global 500 companies, choose Kochhar & Co. as their go-to law firm.
8. S&R Associates
S&R Associates, Inc. offers a broad range of project management services by the procedures and practices described in the Project Management Body of Knowledge (PMBOK), according to the company's official website. Scope management, time management, cost management, financial management, procurement management, risk management, project management integration, communications management, and information systems are one of the topics covered.
9. Anand & Anand
Leading full-service intellectual property law company Anand and Anand give comprehensive legal solutions for all parts of intellectual property and related fields. The company is expertly managed by 31 Partners, who are assisted by a management group that includes the CFO and the CIO. The firm employs over 400 employees, including over 100 Skilled Attorneys and engineers, and has offices in New Delhi, Noida, Mumbai, and Chennai.
They often handle disputes involving the protection of intellectual property (IP) before a variety of forums, including courts at all levels, Patent, Trademark, Copyright, and Design Offices and the World Intellectual Property Organization (WIPO), and the National Internet Exchange of India.

10. Luthra & Luthra Law Offices
Rajiv K. Luthra, the company's founder, started this legal business in 1991 to set a good example for what a law firm should be. It has been providing the greatest guidance in many different industries and places, and it has 52 different types of members who work for the company. It is backed by 247 lawyers who are claimed to be the best in their respective disciplines. The brand specializes in several areas that are highly valued.
The company has multiple branches in cities including Hyderabad, Mumbai, and Delhi. It has 52 members, and 247 lawyers are working with them to assist and coordinate their efforts.
Private Equity, the corporate sector, banking, and finance are the areas of expertise for the brand. They have developed strong relationships with some of the prominent figures in the sector. Their expertise in conflict and settlement has received a positive response from the public. They attempt to give their attorneys a competitive base income and an annual bonus that is based on each attorney's skill set.
edited and proofread by nikita sharma