Trends
US Senate passes a landmark gun violence bill. House passage is next.
In response to the recent spate of horrific mass shootings, the US Senate on Thursday passed a bipartisan bill on gun violence. The legislation would impose stricter background checks on the smallest gun purchasers and prohibit more domestic abusers from possessing firearms.
On Thursday, the Senate easily passed a bipartisan gun violence bill that had appeared inconceivable a month earlier, paving the way for final approval of what will be Congress' most comprehensive reaction to the country's recent string of horrific mass shootings in decades.
Following the shooting rampages in New York and Texas last month, Democrats and 15 Republicans concluded that legislative inactivity was intolerable after years of GOP procedural delays thwarted Democratic efforts to restrict access to firearms.
After weeks of negotiations behind closed doors, negotiators from both sides came up with a deal representing a small but significant step toward reducing the violence that has become so frequent that it no longer surprises the country.
The $13 billion packages would toughen background checks for children purchasing firearms, prevent more domestic violence offenders from possessing firearms, and assist states in enacting red-flag legislation that makes it simpler for law enforcement to seize weapons from dangerous individuals. Additionally, local initiatives for violence prevention, mental health, and school safety would be funded.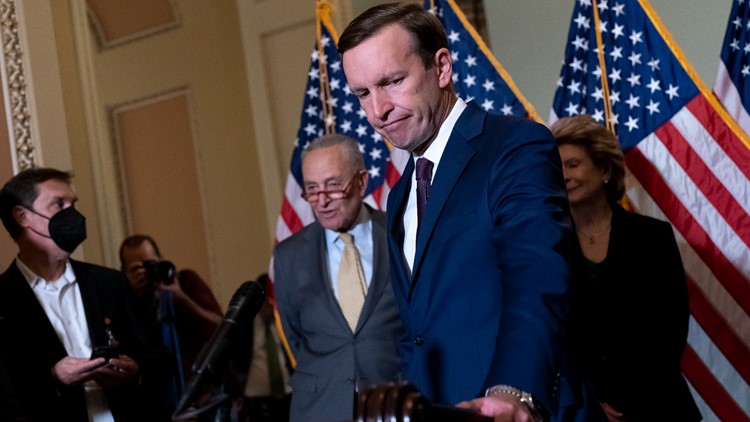 The election-year package fell far short of the more stringent gun control measures Democrats have long sought, and Republicans have consistently blocked.
These measures include outright bans on the assault-style rifles and large-capacity ammunition magazines used in the killings in Buffalo, New York, and Uvalde, Texas. However, the agreement allowed party leaders to declare victory and demonstrate to voters that they could compromise and run a successful government while also allowing each side to win over their core supporters.
Senate Majority Leader Chuck Schumer, D-N.Y., whose party has made gun restrictions a priority for decades, said: "This is not a cure-all for all the ways gun violence affects our nation." But it is finally moving in the correct direction, which is welcome.
In a nod to the Second Amendment right to bear arms, which motivates many conservative voters, Senate Minority Leader Mitch McConnell of Kentucky remarked, "The American people want their constitutional rights maintained and their kids to be safe in school." They want both of those things at once, he claimed, and that is exactly what the Senate's current measure will have accomplished.
For those who want to reduce gun violence, the day was bittersweet. The right-wing Supreme Court upheld a New York statute requiring people to show a reason for carrying a handgun before obtaining a license to do so, expanding American freedom to do so and demonstrating the long-lasting power of conservative activism.
According to McConnell, the Supreme Court's ruling and the Senate's approval of the gun legislation are "complementary achievements that will make our society freer and safer at the same time."
The final Senate vote was passed 65–33. Rep. Lucy McBath, D-Ga., was among a group of House Democrats who gathered in the back of the chamber to witness the vote. Her 17-year-old son was fatally shot in 2012 by a guy who claimed his music was too loud.
In a crucial roll call vote hours earlier, senators voted 65–34 to overcome a GOP conservative filibuster. That was five more than the required 60 votes. The legislation was scheduled for a House vote on Friday, and passage appeared assured.
On both occasions, 15 Senate Republicans voted in favor of the bill, together with all 50 Democrats and their two allying independents.
The votes, though, made clear the dangers Republicans run by disobeying their own party's gun owners and pro-gun organizations like the National Rifle Association. Only two of the 15 senators were up for reelection this fall: Todd Young of Indiana and Lisa Murkowski of Alaska. The remaining eight are up for election in 2026, and four are retiring.
It is significant that several GOP senators who might run for president in 2024, including Tim Scott of South Carolina, Josh Hawley of Missouri, and Ted Cruz of Texas, cast "no" votes. Sens. Rand Paul of Kentucky and Mike Lee of Utah, two of the party's most conservative members, both voted "no."
While the Senate's proposal was undoubtedly a step forward, there is little hope for further congressional action on gun control.
Republican opposition to the bill is almost assured in the House, where less than one-third of the 50 GOP senators in the Senate support it. Rep. Steve Scalise of Louisiana, the second-ranking Republican in the House, recommended a "no" vote and described the bill as "an effort to steadily chip away at law-abiding Americans' 2nd Amendment rights."
After the midterm elections in November, the GOP may very well take both houses, which the Democrats currently narrowly control.
President Joe Biden stated in a statement that the Uvalde people informed him during a visit that Washington needed to take action. "This measure will make our children's schools and neighbourhoods safer." I urge Congress to complete its work so that I can receive this bill, "Biden stated.
One month after a shooter in Uvalde killed 19 kids and two instructors, the Senate took action. Only a few days earlier, ten black grocery customers in Buffalo were killed by a white guy who was allegedly motivated by bigotry.
The proximity of the two massacres and the victims, many of whom could be identified, sparked a demand for action by voters, MPs of both parties said. Both shooters were 18 years old, a young profile shared by many mass shooters.
Sens. Chris Murphy (D-Conn.), Kyrsten Sinema (D-Ariz.), John Cornyn (R-Texas) and Thom Tillis (R-N.C.) were in charge of the negotiations. While Cornyn has already participated in gun conversations after mass shootings in his state and is close to McConnell, Murphy represented Newtown, Connecticut, when a shooter killed 20 students and six staff members at Sandy Hook Elementary School in 2012.
Murphy said the bill would save thousands of lives and provide an opportunity to "show a weary American public that democracy is not so broken that it is incapable of rising to the occasion."
Cornyn stated, "I don't believe in doing nothing in the face of what we saw in Uvalde and elsewhere."
The bill would make local juvenile records available to people aged 18 to 20 during required federal background checks when they try to buy guns. These examinations, which are currently limited to three days, would be extended to a maximum of ten days to allow federal and local officials to search records.
Domestic abusers who are current or former romantic partners of the victim would be barred from obtaining firearms, effectively closing the so-called "boyfriend loophole."
That prohibition currently only applies to people who are married to, live with, or have children with the victim. The compromise bill would extend this to those who have "a continuing serious relationship."
There would be funds to assist states in enforcing red flag laws, as well as funds for violence prevention programs in states that do not have them. Such legislation exists in nineteen states and the District of Columbia.
The bill broadens the use of background checks by redefining the federally licensed gun dealers who must conduct them. Penalties for gun trafficking have been strengthened, billions of dollars have been allocated for behavioural health clinics and school mental health programmers, and money has been allocated for school safety initiatives, but not for personnel to use a "dangerous weapon."
Edited by Prakriti Arora