Business
Can Tata 1mg, PharmEasy, and MediBuddy carve out a more significant piece of the digital health pie?
Can Tata 1mg, PharmEasy, and MediBuddy carve out a more significant piece of the digital health pie?
Synopsis
Prashant Tandon, CEO of Tata 1mg, Vishal Bali, president of Asia Healthcare Holdings, and Satish Kannan, CEO of MediBuddy, were on hand for a PrimeTalk on March 10 to discuss the emergence of digital healthcare platforms in India, changing business models, and the future of the industry. That discussion is summarised in this story.
When your doorbell rings, you're more likely to see someone outside with a package of goods that you bought online from Amazon, Bigbasket, Nykaa, or PharmEasy. It shows how people's buying habits have changed a lot.
Healthcare has been behind other industries when it comes to using technology. There has been a pandemic that has changed everything, though. Digital health is a big deal in India, and many people are interested in it.
It is getting more people to use it, earning more money, and getting a push from the government. A lot of money has been invested in the health-tech industry, and the pandemic has had a significant impact on how quickly digital technology is used in healthcare. Online-healthcare platforms are now at the top.
There have been a lot of new health-tech businesses, and the ones that already exist are getting bigger and better at their jobs. Most of the organizations in this area are trying to develop a business model that can be used for everything from delivering medicines and wellness products to diagnostic tests, teleconsultations with doctors, health insurance, and home healthcare.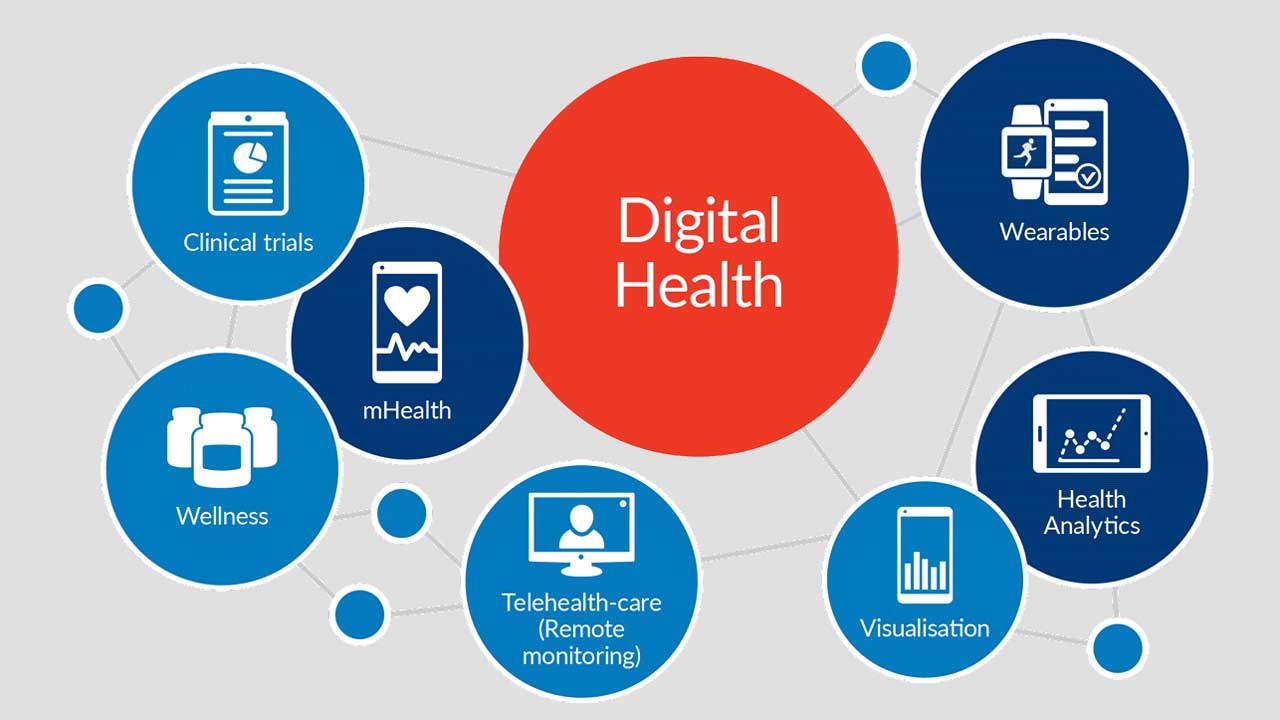 Private-equity money is chasing digital-health businesses, and even big companies like Tata and Reliance have been getting into this field in the last few years. Amazon and Flipkart, two big companies that sell things online, are also getting into digital health. PharmEasy, a well-known company in this field, will start selling shares to the public soon.
All this euphoria is making me wonder: What's going on here? Last week, PrimeTalk with three industry experts gave us some new information about this field.
Because of the pandemic, there has been a lot of growth in digital health.
Horizontal expansions are taking place, with more businesses offering more services.
A lot of companies are trying to have an omnichannel presence.
Several industrial decisions are made based on information from customers.
Many investors are interested in the integrated play and a lot of data, which is causing prices to go up.
There could be 10 percent more people in the addressable healthcare market online in the next five years than there are now, up from about 2 percent or 3 percent now.
Discounts and the costs of getting new customers are very high now, but they should level off over time.
The pandemic is a big push
There was an outbreak of Covid-19, which made everyone in the health care system work together and use digital tools in a big way. It looks like this change will last for a long time, too.
"I've been in the healthcare industry for 30 years, and I know that it takes almost a decade for any change to happen in the industry." Vishal Bali, the executive chairman of Asia Healthcare Holdings and a senior advisor at TPG Growth, said that because changes in clinical behavior take a long time to happen. That's not true, though. The way Indian healthcare has changed during the pandemic shows that it's on a vast change course.
Bali said it would be easier for people to get and afford health care in the next few years. This will also bring Cost-savings in.
The total cost of healthcare in India is about $145 billion, including outpatient and inpatient care. Outpatient services are suitable for tech-based businesses because they're easy to use.
Outpatient doctor consultations (USD20 billion), pharmacy and medicines (USD25 billion), and diagnostics (USD10 billion) are the three biggest target markets for health-tech businesses (USD15 billion). According to a brokerage firm Sanford C. Bernstein report, the total market for consumer health-tech plays is $70 billion.
The report also said that there isn't a lot of use of health technology in these areas right now, and only about 2% of these groups use it. Online healthcare is worth about $1.9 billion, and E-pharmacies make up most of the market. Online health care isn't as big as some other types of consumer goods.
Prashant Tandon, the co-founder and CEO of Tata 1mg says that the pandemic led to a radical undermining of digital's value proposition in health care. The regulator, doctors, patients, hospitals, pharma companies, and diagnostic companies were all on board for more people to use digital tools.
Tandon used the Telemedicine Society in India as an example. It was formed in 2000-01. For 20 years, the first draught guidelines for telemedicine were still in progress.
But three days into the pandemic, the regulator told the guidelines were ready for public use. Until recently, few businesses in India helped their customers on their health journey. Now, corporate wellness and health and wellness are among the fastest-growing parts of the health ecosystem, Tandon said.
People in India are getting more and more health care through online platforms, and Tandon thinks this is a big thing.
This is what Satish Kannan, the co-founder, and CEO of MediBuddy, said about the pandemic: It was a "demonetization moment" for the health care industry. Covid-19 led to a digital transformation in healthcare in the same way that demonetization led to a digital transformation in the finance industry.
A few years ago, he said, online health consultations with doctors were new, and even doctors were skeptical. The doctors were hard to get on our DocsApp platform, and I would meet them and try to get them to join us. Doctors were very busy taking care of patients in outpatient clinics (OPD) (outpatient department).
During off-hours, like in the afternoon, we would go to them and talk to them about how they could get patients who live far away by going online. Kannan said this. When we started DocsApp in 2015, there were about 40 doctors on it.
Today, we have close to 90,000 doctors in a wide range of fields, which is a lot. During the pandemic, they found that online consultations work well and can help them reach more patients.
But will the growth of online platforms stop when things start to get back to normal?
Kannan said that there was a massive shift from offline to online when the lockdown was put in place. As restrictions were eased, more people were doing things offline, and fewer were doing them online. But the baseline for online has changed, and it is still 30 percent to 40 percent higher than before Covid-19. Online shopping is becoming more popular with people because it is so easy. So, online channels will still play a significant role in how healthcare is delivered.
Online and offline things coming together
Companies are starting to see how important it is to have a solid online presence in healthcare. Online companies like Tata 1mg, PharmEasy, Netmeds, and MediBuddy are trying to build physical infrastructure, like pharmacies and diagnostic labs, so that people can buy things online. On the other hand, companies like Apollo Hospitals, Max Healthcare, Fortis Healthcare, and MedPlus are making more of an effort to be found online.
There has been a lot of consolidation and integration in how healthcare is delivered, which is likely to keep going. Digital has a big part to play in building relationships with customers and ensuring that those relationships last for a long time. Health care companies are spending a lot of money on digital marketing now.
Many people still want the first consultation to be in person and the follow-ups to be done online, even though the Covid-19 situation is getting better. This is true for Bali's hospital chain, Motherhood, for mothers and babies. "That's a big change, and I think the consumer has probably changed for good."
He says it's not like one channel is better than the other. "Consumers today live in a truly omnichannel world, and we know that, and we also know that." We know that there is a lot of value in physical touchpoints, especially in health care. The doctor says that Brick-and-mortar still plays an essential role in getting acute and symptomatic care.
In addition, not all people are going the digital route. There will be more physical networks in some areas of Tata 1mg. This gives the company more options for customers to choose from. As long as it's online, it can still meet about 80 percent to 85 percent of the needs. Tandon said that having an actual location makes a lot of the connection that some people want for certain things even better.
"Healthcare is almost like a never-ending field for investing in, and the whole health-tech revolution is just a new chance."
Vishal Bali is the CEO of Asia Healthcare Holdings
The healthcare industry needs to have a lot of trusts, and the fastest way to get it is by meeting people in person. If you need help, MediBuddy has about 300 clinics in the real world. Each of these clinics has a doctor, a paramedic, and an ambulance. In the future, different formats will change, but having an omnichannel presence is essential for being customer-focused.
There is a lot of people who use digital health.
Bali said there are about 4,800 health-tech start-ups in India and a lot of money is going into this field. This will help the businesses grow.
Traditional physical businesses are also expanding into the online healthcare market. Thus, there is likely to be a lot of competition, making it hard to get hired.
Getting the customer's attention is an essential thing to fight for. In the long run, Tandon hopes that the discounts and acquisition costs will stay at a reasonable level, but right now, they're pretty high, he says.
He thinks that the ecosystem is set up so that the phase of substantial capital flows, expansions, and market-building activity soon comes to an end. Our progress is still not there, but there are signs. How much it costs to get money or how easy it is to earn money is changing. I think the public markets show that there is a tightening going on. If I were to make a bet, I think we'll see a lot of tightening in the next three to six months.
However, most of these companies will see strong growth on a lower base as they take over the Indian healthcare market from unorganized players.
Currently, online health care is only used by about 2% to 3% of the country's available market. Tandon says he thinks it will go up to 10% during the next five years. This is a significant change, and it will make the companies that are in the fight very big.
It's going to get more complicated when it comes to insurance, healthcare financing, diagnostics, and diagnostics. "The pharmacy business might get more consolidated." All the different parts of the ecosystem have their unique dynamics. A lot more people will be able to pay for their health care with money from their employers. To me, these are a lot of things I'm interested in.
According to Bali, the value of digital health businesses has gone up by about $5 billion in the last few years. They'll have a lot of information in the next few years. So, the more you play on one platform, the more chances you can use different services on it. "That's why you see so many people interested in health tech,"
Bali said that a few big deals around the world last year caused the prices of things to go up. But healthcare is almost like a never-ending field for investing in, and the whole health-tech revolution is just a new chance.
They are spending money on things like expanding and getting new customers, but Kannan says these businesses will be making money for them in the next few years. The companies that deliver health care can make money, and the online health platforms have business strategies that can last for a long time.
A company that can get a more significant share of a patient's life cycle and overall healthcare costs will be better able to make money because acquisition costs are a big part of the economics. Many good things can happen in healthcare, and it will be interesting to see how these online platforms use them.
edited and proofread by nikita sharma