Trends
The monkeypox outbreak will put India's health emergency readiness to the test. What approach will India take?
The monkeypox outbreak will put India's health emergency readiness to the test. What approach will India take?
Even though the world is worried about the changing forms of the coronavirus, a new threat monkeypox has come up, making the world even less sure of what to do. On July 23, after many talks and delays, the World Health Organization (WHO) said that monkeypox was an international public health emergency.
Simply put, this raises the level of alert for the outbreak to its highest level and tells countries to develop a coordinated response. Some steps could be close monitoring at airports and other points of entry, surveillance, and other efforts to keep an emergency from spreading. The WHO's declaration also aims to emphasize more extensive healthcare interventions, such as working together on funding and research resources for making vaccines and treatments.
Before we talk more about what's been happening lately, let's look at the virus that causes this disease. Even though the virus is called "monkeypox," research shows that it may not be accurate to say that it only affects monkeys. The virus was first discovered in monkeys in 1958, and they got sick from Singapore to a research center in Denmark WHO says that squirrels, Gambian pouched rats, dormice, primates, and non-human primates are the natural hosts of the virus. The virus is in the family of orthodox, and WHO was said to have talked about giving it a new name last month.
With the Covid-19 pandemic still fresh in people's minds, the world wants to ensure that another virus doesn't go on a rampage. In the last three months, signs have made people worry and reminded them of the first days of the coronavirus outbreak. One of the leading daily news warned as early as January 2020 that the respiratory virus could cause significant health problems if control measures weren't implemented quickly.
This time, what do doctors think about how to treat this virus and make vaccines for it? Does it need a shot? How likely is it that it will grow into a big problem, and how ready is India to handle it if it does?
There are more infections, but there's no reason to worry.
The current outbreak is thought to have started in the UK in early May, when a traveler from Nigeria was found to have rashes and fever. Since then, the number of infections has grown. Up until July 23, there were more than 2,200 cases of monkeypox in the UK. There have been more than 16,000 cases in 75 countries, and five people have died in Africa.
Even though this is a small number compared to the number of people who got Covid-19, it is still pretty high when you consider that the disease has primarily stayed in the west and central African countries for decades, where it is thought to have become endemic. In the endemic stage, a virus is expected in the local population, but it doesn't make people sick or kill many people.
India has reported four cases so far. Three of them happened in Kerala, and one occurred in Delhi. On July 14, the first case was reported, then on July 18, July 22, and July 24, there were three more. But medical experts say the spread over a week is nothing to worry about.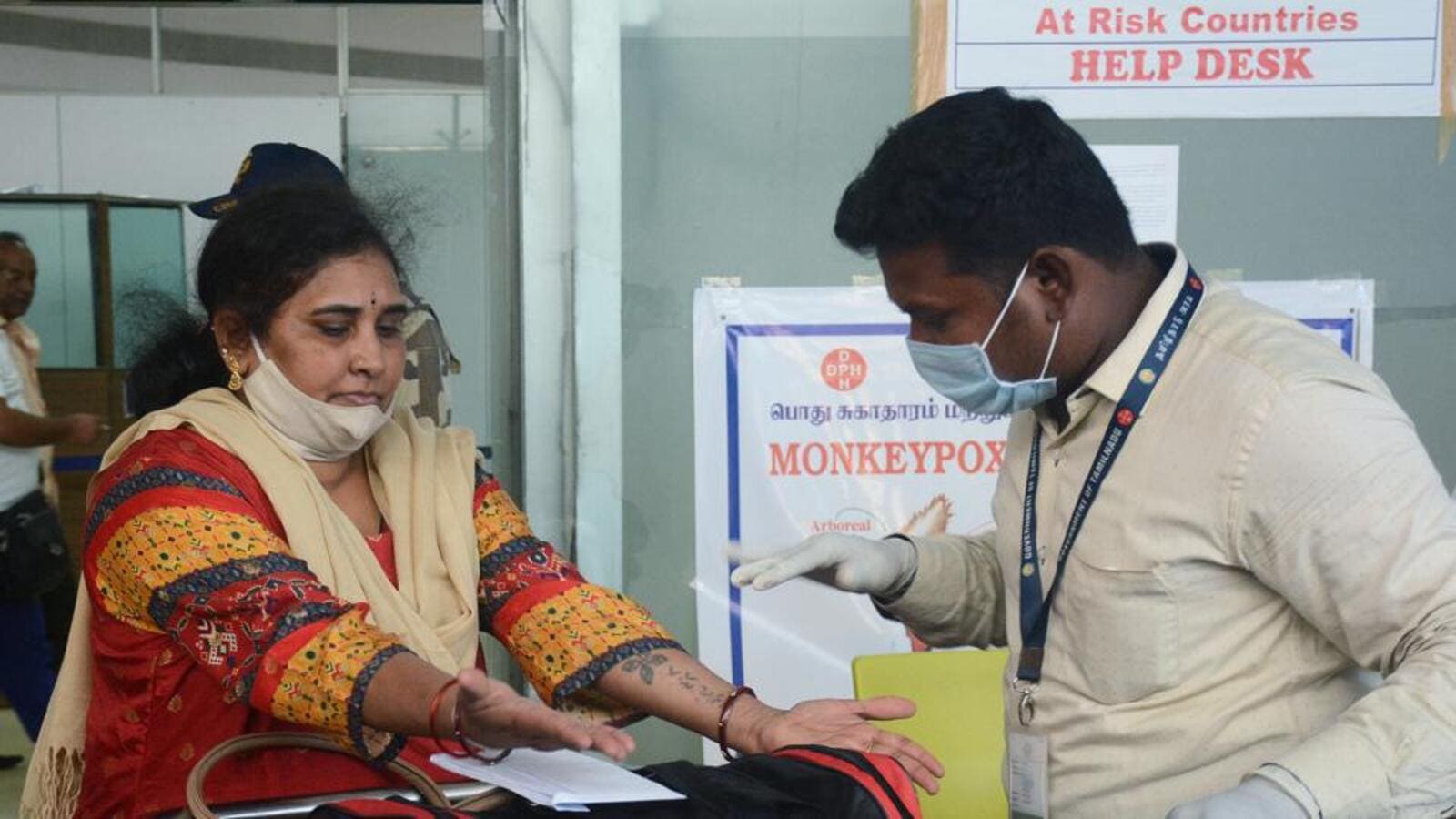 Regarding health care, Kerala is the best state in India and has a long history of responding quickly to outbreaks. Patients have been put in isolation and are being treated in government hospitals. Close friends and family have been found and are being watched. That will also give other states time to improve their control systems since it looks like the virus will spread beyond Kerala and Delhi.
The vaccine question

After the Covid-19 pandemic, the word "virus" became scary, and vaccines are seen as the only way to save people from getting sick. But is there a shot that can protect against monkeypox? Virologists and other experts on vaccines who talked to one of the leading daily news had one clear point: So far, monkeypox is a disease that goes away on its own after two to four weeks. It looks like smallpox, a fever that India got rid of in 1979 and the rest of the world got rid of in 1980.
Experts say that 80% and 85% of the people who have had the smallpox vaccine will have a strong and long-lasting immune response (or antibodies) against monkeypox. Even though that reduces the risks for that group, what could people who aren't vaccinated do to stay safe?
Since making smallpox vaccines stopped a long time ago, there has been a lot of debate about how the virus will affect people who haven't been vaccinated. At this point, scientific tests show that the monkeypox virus is neither very contagious nor has a high death rate like the Delta variant of the coronavirus, say, experts. People think that men who have sex with other men are more likely to get monkeypox because they spend more time together and are more likely to pass it on.
An expert who works for a top Indian vaccine maker says, "That means the need for a vaccine might not be a health emergency."
The European Commission isn't taking it easy, though. It is said to have ordered 110,00 and 54,000 doses of a smallpox vaccine made by Bavarian Nordic, a biotechnology company based in Denmark. The European Medicines Agency said on July 22 that the Imvanex vaccine could be used to treat monkeypox. In 2013, the European body approved the smallpox vaccine, ensuring it works.
Moderna, based in the US and one of the first companies to sell vaccines against Covid-19, said it is beginning the first steps toward making vaccines for monkeypox.
A researcher from an Indian vaccine company told one of the leading daily news that the vaccine could be made quickly if needed, even though no work is being done to learn more about this virus.
He says the vaccine could be used sparingly on lab workers and researchers who work closely with weakened versions of the virus that are kept in very safe containers.
"It is possible to make the vaccines in a wide range of ways, and the virus is known to be stable. Getting a vaccine is easy because it is primarily a horizontal technology that can be shared with other producers without too many technical problems.
But the researcher said that working on a monkeypox vaccine at this point might be a stretch of the imagination. He thinks that the people who make vaccines are probably just waiting to see what the medical and regulatory agencies of the government do. "Yes, it's possible in theory. But in real life, do we need it yet? "That's something we have to get," he says.
Others think that if there is a drive to get people vaccinated, doctors, nurses, and other health care workers should be the first ones to get vaccinated. Since the virus is most common among gay people, they should be the first to get vaccinated as part of a "ring vaccination" drive. The problem may remain because many people in this group may be afraid to say who they are.
Another virus expert says that monkeypox is very similar to smallpox and that the latest outbreak needs to be studied more scientifically, depending on how it spreads. "The monkeypox virus is not a virus that spreads through the air like SARS-CoV-2; instead, it spreads through very close contact, such as through clothes or body fluids. The virus is more common among gay people because they touch each other in ways that most people don't. He says that people with low immunity and people who work in healthcare or are in close contact with patients may be more likely to get sick.
There are also questions about how much the monkeypox virus can spread through the air and if everyone should have to wear masks. The health ministry's guidelines for treating monkeypox make it clear that patients should wear masks with three layers and be kept in a separate room with their airflow. It also says that skin sores should be covered as much as possible to avoid contact with other people. The rules state that people who handle or collect samples must wear coveralls, N95 masks, face shields, and two pairs of gloves.
WHO says that the European Medicines Agency has approved an antiviral drug for smallpox called tecovirimat, sold under the brand name Tpoxx and made by Siga Technologies. However, the drug is not yet widely available.
WHO focuses on relieving symptoms and dealing with problems like bacterial infections regarding clinical care. A doctor says that if the rashes caused by monkeypox get worse, they may be hard for many people to deal with and need to be treated with non-steroidal anti-inflammatory drugs.
Already, experts around the world sound the alarm. Scott Gottlieb, a former USFDA commissioner and frequent commentator on trends in virus research, says that if the monkeypox virus spreads all over the US, it will be the worst public health failure in recent memory.
The bottom line is that the government will be better able to handle a significant outbreak if it starts making emergency plans immediately. There is no reason to forget what we learned from the coronavirus pandemic this time.
edited and proofread by nikita sharma