Stories
Hijab Row: Why Double Standards? Rules Should Be Same For All.
Hijab ban In organizations
On Tuesday, the Karnataka High Court dismissed multiple petitions challenging a hijab ban at educational institutions.
According to the high court, the headscarf is not an essential religious practice in Islam. Furthermore, the high court has ruled that educational institutions have the authority to prescribe uniforms, and as a result, all writ petitions have been rejected.
The high court also ruled that the February 5 Karnataka government decree is not unconstitutional.
"There is no reason to overturn the Government Order of February 5. We are astounded by how the problem of hijab is suddenly produced and blown out of proportion by the powers that be, especially in the middle of the academic year. The way the hijab fiasco transpired lends credence to the theory that "unseen hands" are at work to sow societal discontent and discord ", The Karnataka High Court stated.
For the sake of the student community, Chief Minister Basavaraj Bommai hailed the decision and urged all groups to embrace and respect it. He also cautioned anyone who took the law into their own hands would be dealt with harshly by the police.
The legal challenge to the government notification was dismissed by a three-member panel composed of chief justice Ritu Raj Awasthi, justice Krishna S Dixit, and justice Khazi Jaibunnisa Mohiuddin.
The court found that wearing the hijab as a scarf is not an essential religious practice in the Islamic religion protected by Article 25 of the Constitution.
The court also stated that the government's uniform school requirement does not violate the fundamental rights given by Article 19 (1) of the Constitution, nor does it infringe the right to privacy guaranteed by Article 21.
According to the court, the petitioners have not established a case to invalidate the contested government announcement of February 5, 2022. According to the court, the need for uniform is only a reasonable restriction on fundamental rights that is constitutionally permitted.
The court said no to whether the government had the authority to issue the February 5, 2022 notification requiring students to wear the mandated uniform and whether they did it arbitrarily and without regard for the Constitution's Articles 14 and 15.
The Supreme Court handed down its decision on Tuesday in the case involving the Karnataka government's notification effectively prohibiting religious apparel, including the hijab, from being worn in classrooms.
In an order dated February 11, the court barred pupils from wearing religious garb to class until they had resolved the writ petitions.
For years, the hijab, a traditional headscarf worn across the head and shoulders, has sparked debate across Europe, highlighting deep divisions over Muslim integration.
Both Muslim women – a special-needs care at a charitable organization's childcare center in Hamburg and a cashier at the Mueller pharmacy chain – did not wear headscarves when they started their careers but opted to do so after returning from parental leave years later.
"An employer's requirement to portray a neutral image toward consumers or to avert social disagreements may justify a prohibition on wearing any visible form of expression of political, philosophical, or religious ideas in the workplace," the court said.
See also, Various Point of Views on the Hijab Row Verdict
'Why single out the hijab when turbans and bangles are permitted?'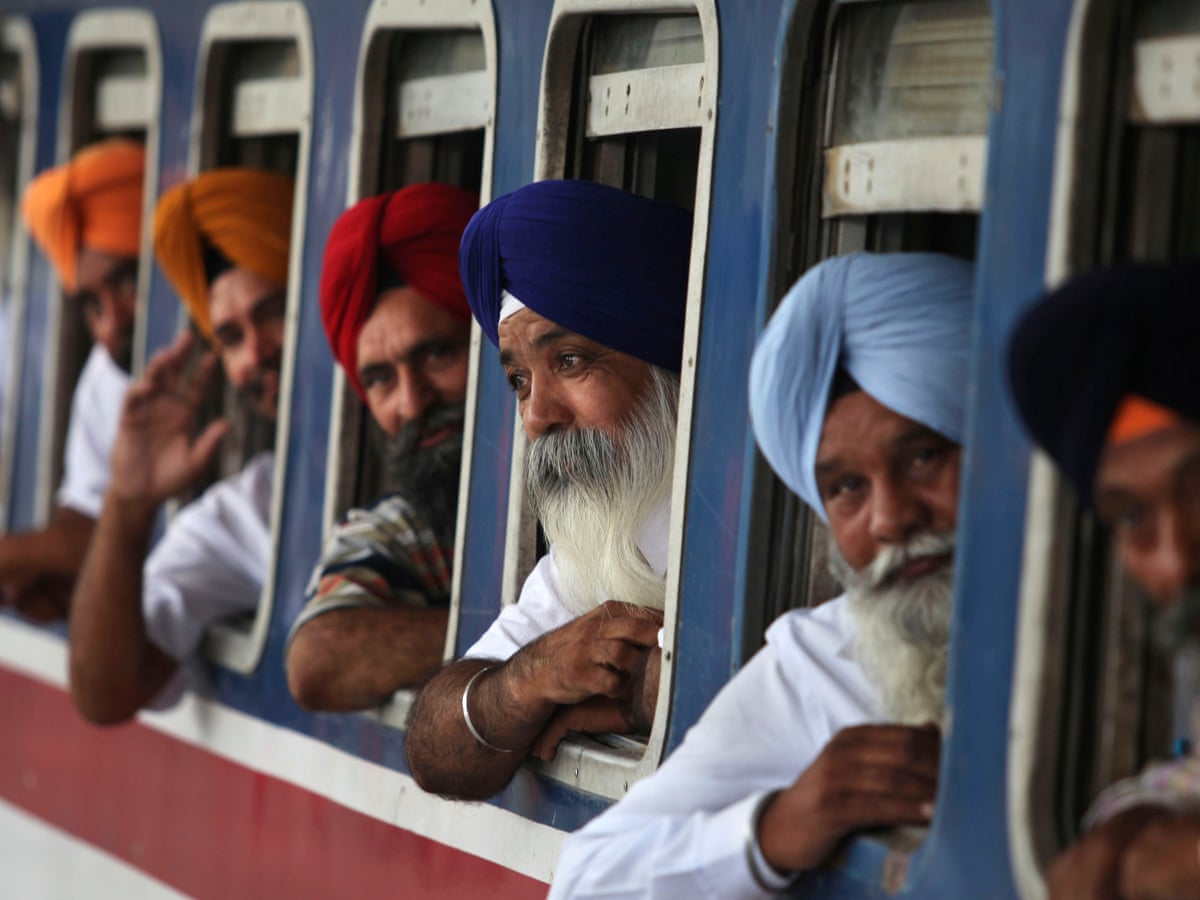 The hijab prohibition in educational institutions was challenged in the Karnataka High Court by petitioners who claimed that the hijab was being singled out and that Muslim students were forced to choose between faith and education.
According to senior advocate Ravi Varma Kumar, who represents the petitioners, "Many Indians express their faith through their clothing. I'm just illustrating the wide range of religious symbols found in all walks of life. Why is the hijab being singled out by the government for this unfavorable treatment?"
"Because of her religion, the petitioner is being escorted out of the classroom. A bindi-wearing girl will not be dispatched. A girl who wears bangles is not. It is forbidden to touch a Christian who is wearing a cross. Why are these girls the only ones? This violates the Constitution's Article 15, "Kumar, the lawyer, stated.
Ghoongats and bangles are both acceptable. Why is it simply the hijab that is worn? Why not a Sikh's turban and a Christian's cross? He added.
Meanwhile, Senior Advocate Yusuf Muchhala, representing the petitioner, claims that Muslim pupils are being forced to make a "Hobsons' choice." They are given the option of choosing between faith and education. He claims that this is a violation of fundamental rights. A concern circulating in our minds is why, if all religions have symbols, are headscarves the only ones being attacked. "Only Muslims wear the hijab," remarked Senior Advocate Ravivarma Kumar. "The ghoonghat [veil] is permissible, as are bangles. Why not outlaw Christian crucifixion? Why not a Sikh turban?"
That is a good question; However, the answer is no; headscarves and Muslim women are not the only ones who are being targeted right now.
In the latest debate over a religious symbol in India's educational institutions, a Sikh student in Karnataka has been forced to remove her turban.
At the pre-university Mount Carmel College in Bengaluru, Amiteshwar Kaur, 17, was asked to remove her religious headgear.
See also, Students in Karnataka stand firm on Hijab
Amid India's ongoing hijab dispute, the incident caused outrage and anger online.
The headpiece, known as a dastaar, is one of the five sacred symbols worn by all baptized Sikhs. Being asked to remove it is considered a disrespect to the Sikh religion.
Gurcharan Singh, Ms Kaur's father, claimed the institution sent him an email last week demanding that his daughter stop wearing the turban, citing the Karnataka High Court's interim decision prohibiting the wearing of religious symbols in classrooms.
After Ms Kaur persisted in wearing the turban, Mr Singh said the college reiterated its demand on Wednesday. He then mobilized the community against the college's decision.
The high court gave The temporary order in early February after numerous Muslim female students challenged school and college policies prohibiting wearing the hijab, a traditional Muslim headscarf, in the classroom.
The court also prohibited students from wearing other religious symbols, such as saffron scarves, commonly worn by followers of Hindu right-wing organizations.
Because the court decision does not include "Sikh turbans," Mr Singh, an IT specialist, advised the school officials that his daughter would not remove her turban in the classroom.
Sikhs, a religious minority, are allowed to wear turbans and even carry tiny daggers known as kirpans under India's secular Constitution, which allows all communities to follow their customs.
"Hindus, Sikhs, and Christians use religious symbols. I want to draw attention to our society's diversity and multiplicity. Why was the hijab chosen solely for hostile discrimination? "Isn't it because of religion?" you might wonder. Ravi Varma Kumar, the former Karnataka advocate general, informed the court.
He further stated that students in PU institutions are not required to wear a uniform and that there is no rule in the Karnataka Education Act of 1983 prohibiting the wearing of the hijab. "What I'd like to know is how and under what rule I'm being kept out of class. He asked, "Who has allowed such an act?"
Any suggestion of a uniform for students is illegal, according to a prospectus for state-run pre-university colleges. "It is a truth that there is no consistent requirement. The government decree also acknowledges that no uniform is required by law," Kumar explained.
Senior counsel Yusuf Muchhala, who argued on behalf of the Udupi college students, stated that any government order preventing girls wearing the hijab from attending courses amounts to "manifest arbitrariness," as defined by the courts. It also goes against the law's "doctrine of proportionality," he noted.
Rules on Politicians and ministers wearing religious clothes?
While the Hijab Row prohibits the wearing of religious clothing in schools, offices, and other institutions, the question remains why political officials and pastors are still permitted to do so. Shouldn't there be any restrictions on their attire as well? Yogi Adityanath, the Chief Minister of Uttar Pradesh, is the most prominent example.
In November of last year, Rajat Sharma had asked Yogi Ji, "The world believes this is such a wonder, it is such a sample," in an interview. He wears saffron robes and is a sanyasi, but he sits on the throne. 'That's exactly; this has been India's true tradition,' he responded. Someone who does not understand India can ask such a question, but only the Yogi of this country has become the Raj Yogi of this country. Modi Ji is handling India's responsibilities in Delhi, and I'm holding it in Uttar Pradesh. 'What's the big deal about that?'
Yogi Adityanath, an Indian Hindu monk and politician who has been the current Chief Minister of Uttar Pradesh, and Priyanka Gandhi Vadra, an Indian politician and the general secretary of the All India Congress Committee, have been in a Twitter feud.
A case from 2011, when Yogi lashes out at Priyanka, claiming that he dressed in saffron for 'Public Service.'
After Congress national secretary Priyanka Gandhi Vadra remarked on Yogi Adityanath's saffron robe, the Uttar Pradesh chief minister retaliated, saying he donned it for "public duty after sacrificing everything."
"Chief Minister Yogi Adityanath has worn saffron for public service (Mukhyamantri Shri @myogiadityanath jee ne bhagwaa lok seva ke liye dhaaran kiyaa hai) after sacrificing all else," the Chief Minister's Office stated in a Hindi tweet, hours after Priyanka Gandhi's statement.
"He not only wears but also represents saffron. Yogiji is a traveller (pathik) on that path, dressed in saffron for public welfare and country building, "According to the tweet.
"Whoever hinders the continuous yagya' of the'sanyasi' (seer) for public service and public welfare will be punished (Sanyasi ki lok seva aur jan kalyan ke nirantar jaari yagya mein jo bhi baadhaa utpann karega, usse dandit hona hi padhega),"
"How would those who have inherited politics and engage in appeasement politics by ignoring the country grasp the essence of public service (virasat mein raajneeti paane waale aur desh ko bhulaa kar tushtikaran ki raajneeti karne waale Lok Seva ka kya arth samajhenge)?" the tweet questioned. The Congress general secretary had earlier in the day attacked Uttar Pradesh Chief Minister Yogi Adityanath, saying, "He's dressed in yogi garb (vastra). He dresses in saffron. This bhagwa (saffron) is not yours; it is part of Hindustan's 'dhaarmik' (religious) and 'aadhyaatmik' (spiritual) tradition."
"The Hindu religion uses it as a symbol. Us dharma ko dhaaran kariye (adopt that religion). In that religion. Anger, violence, or retribution have no place in that religion. That's all I've got to say about it, "she said.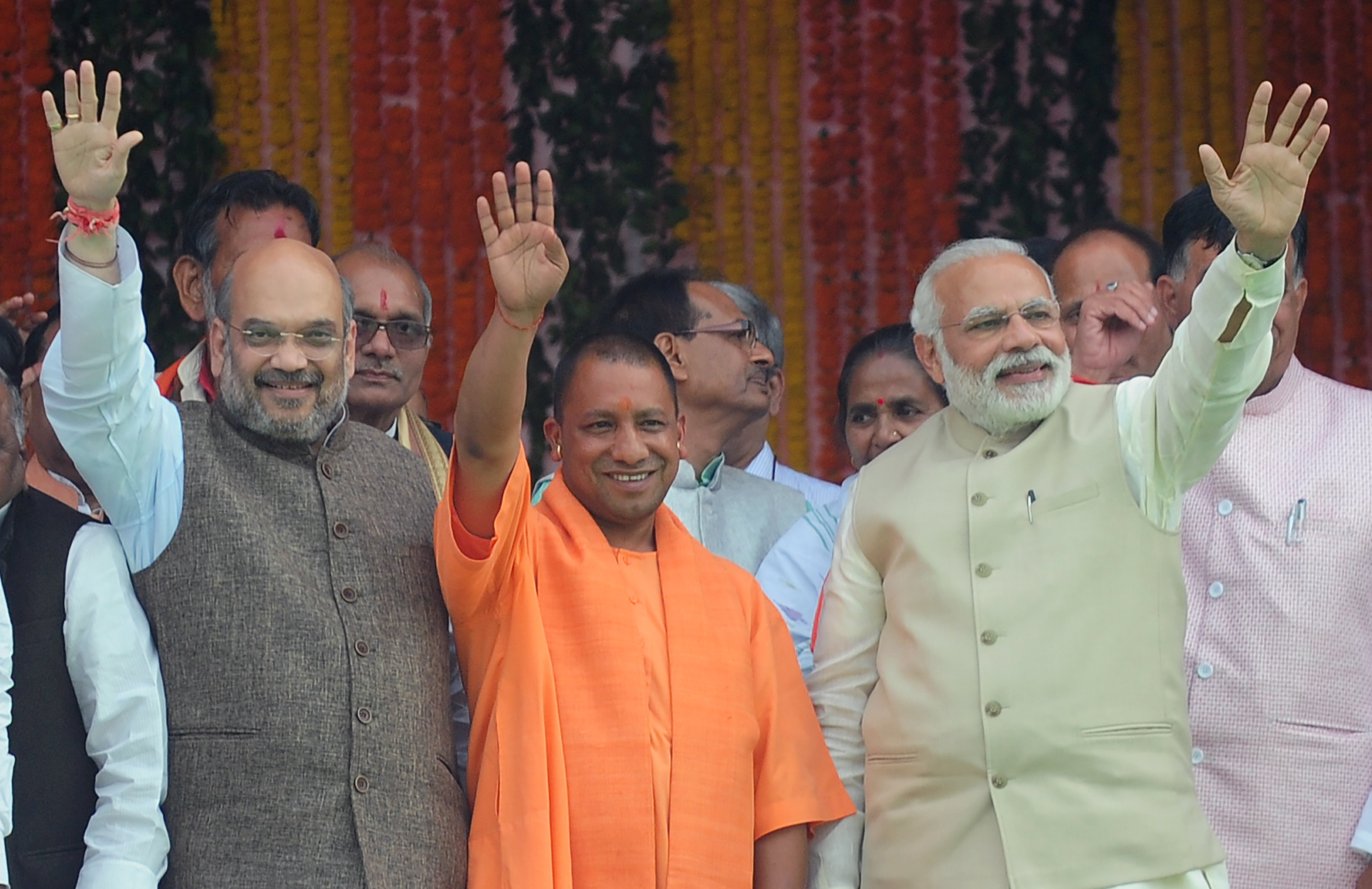 It is not a crime, but it is certainly not something that a secular nation or state leader should do.
Due to extensive advertising since 1993, saffron has been inextricably linked to Hinduism. When the leader of a secular country wears ochre and saffron, it sends a negative message to the minority, and India is a secular country regardless of what you say.
Yogi Adityanath, the Uttar Pradesh chief minister, commented on the Karnataka hijab dispute, saying, "Everyone has the right to wear whatever they wish. However, this liberty is restricted to public spaces, markets, and private residences. My officials are not required to follow a dress code."
"Every organization, however, must adhere to the same set of rules. If a police officer declares that he belongs to a specific faith and dresses accordingly, the organization will be thrown into disarray."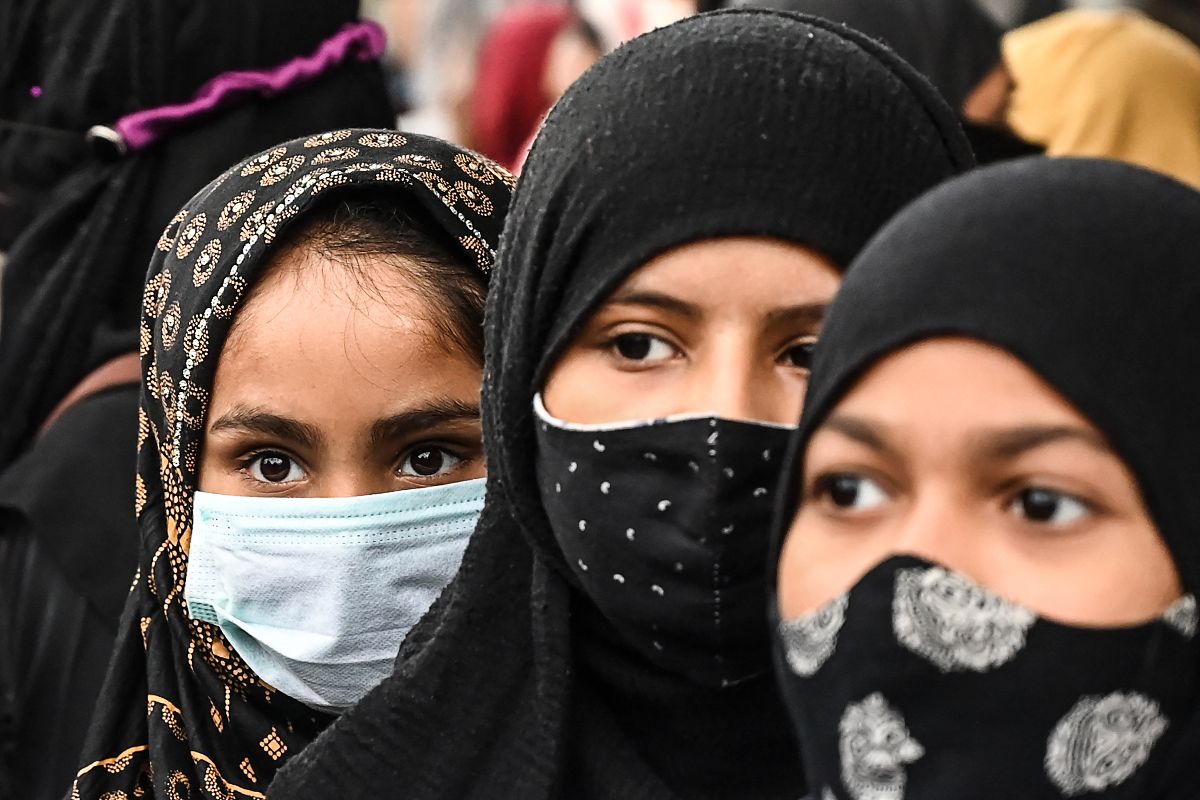 See also, Yogi Adityanath believes that the 5 Years BJP's rule in Uttar Pradesh will be remembered for Suraksha and Sushasan.
Conclusion
The purpose of education is to develop diversity, not uniformity. The Supreme Court recognizes that the classroom should reflect the nation's diversity. The motto of education is to maintain heterogeneity and unity in the diversity and plurality of society. The Right to Education Act's constitutionality has been called into question.
What prevents these girls from wearing hijab from attending lessons if those wearing turbans can join the army? Why aren't students wearing dupattas, bangles, bindis, and crucifixes under their necks and as pendants sent out of class? This case falls under Article 15, which prohibits discrimination based on religion.