Stories
Various Point of Views on the Hijab Row Verdict
The hijab debate began on January 1 of this year and has continued since then.
The hijab debate in Karnataka has been raging for more than a month, with Muslim and Hindu students staging rallies and counter-demonstrations. Currently, the Karnataka High Court is hearing petitions in this case.; however, for the time being, students are required to wear uniforms and refrain from wearing Hijab, saffron scarves, or any other piece of cloth until the matter is addressed. As the judiciary refuses to bend the knee to Sharia, liberals and Islamists become enraged.
A disagreement over school uniforms arose in the Indian state of Karnataka at the start of January 2022, when some Muslim students of a junior college who wished to wear Hijab to lessons were denied admittance because it was a breach of the college's uniform code. The issue expanded to other schools and universities across the state weeks after, with Hindu students organizing counter-protests by wearing saffron scarves. On February 5, the Karnataka government issued an order, declaring that if policies exist, you must wear uniforms; it is compulsory and that no exceptions can be made for wearing the Hijab. Several educational institutions have refused to admit Muslim girls wearing the Hijab, citing this mandate.
Petitioners filed petitions at the Karnataka High Court on the aggrieved students. Due to protests and concerns about wearing the Hijab, the government shuttered high schools and universities for three days on February 8. February 10, an Interim ruling was announced, prohibiting all students from wearing religious clothing. When schools reopened on February 14, the provisional judgment of the high court was implemented in all Karnataka schools and colleges, with students and staff being required to remove hijabs and burkas outside the school gates. Hearings from petitioners, the state, and colleges ended on February 25, after a total of around 23 hours spread over 11 days, and the High court reserved the judgement.
The Karnataka High Court upheld the hijab prohibitions on March 15, 2022, finding it is not an essential religious practice.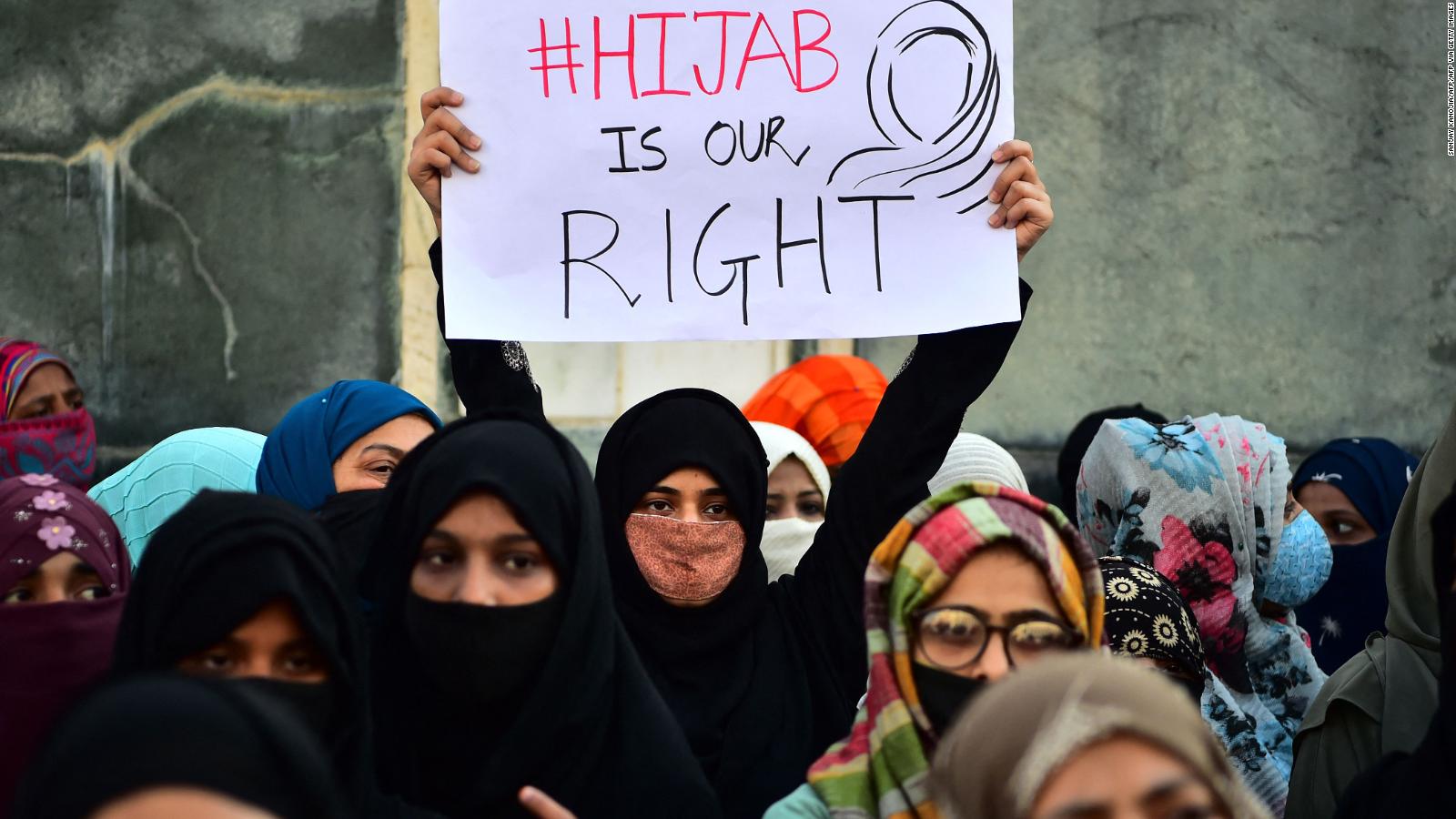 Violence regarding Hijab Row
Several incidents of violence have occurred in tandem with the protests. These were allegedly the outcome of the victims' social media posts against the Hijab's use at colleges. A mob approached Dilip, a shopkeeper in Davanagere, and dragged him out of his shop, where he was attacked and stabbed. An enraged crowd of over 300 masked persons wielding dangerous weapons attacked a guy named Naveen and his mother, Sarojamma, in the village of Nallur. According to the victims ' families, both were said to be the result of posting an anti-hijab status on Whatsapp.
A Bajrang Dal member who participated in anti-hijab protests by Hindu students was killed in the Shivamogga district on February 21. The incident may have occurred as a result of his earlier involvement in at least five assault and attempted murder cases with religious undertones, according to the police. The investigation is still ongoing. According to the Home Minister, no link between the protests and the murder has yet been established.
A Facebook group called 'Mangalore Muslims' issued a fatwa against him earlier in 2015. When his funeral procession approached Siddaiah Road, stones were thrown at it, injuring three individuals. A photojournalist, two spectators, and a police officer were among those hurt. More than 20 automobiles were damaged after some were set on fire. In retaliation, the crowd set fire to vehicles tyres and stoned several Muslim-owned businesses and homes. Local journalists stated that the mob assaulted them and smashed their cameras. Three of the five people suspected of participating in the murder have been captured.
One of the petitioners in the Karnataka High Court, Hazra Shifa, claimed that her brother Saif was beaten up by a gang of drunk individuals who objected to their father's support for the Hijab on a local television channel. She claimed the attackers were "Sangh Parivar goons" in a social media post.
Where it all started
When numerous Muslim students at a college in Udupi, Karnataka, were warned that wearing a headscarf to class was against the institution's dress code, CDC president and BJP MLA Ragupathi Bhat allegedly told them they should go somewhere else.
"They will be awarded a Transfer Certificate and will be able to attend any college that will accept them. Our policy, on the other hand, is unmistakable. In the classroom, no hijabs are permitted "According to the MLA.
During the high court hearings, the function of MLAs in CDCs was a topic of contention, with petitioners questioning the MLAs' administrative role. The Karnataka government established an expert group to resolve the matter on January 26.
What exactly is the problem?
The hijab controversy erupted on January 1 at Government PU College in Udupi, when six female students claimed they were not permitted to enter courses while wearing Hijab. The students convened a press conference, claiming they had sought permission but that college officials would not allow them to enter the classroom with their faces hidden.
They began protesting against college officials, which quickly escalated into a statewide problem. Similar protests have been reported in other Karnataka towns. 
The saffron scarves-related protests and counter-demonstrations have since extended to other states.
Several protests surfaced, showing students from the two communities yelling at each other. A video from a college in Mandya shows a Muslim girl standing her ground as a slew of saffron-scarfed boys heckled her and chanted "Jai Shri Ram" slogans. "Allah hu Akbar!" she yelled back at them.
The decision of the Karnataka High Court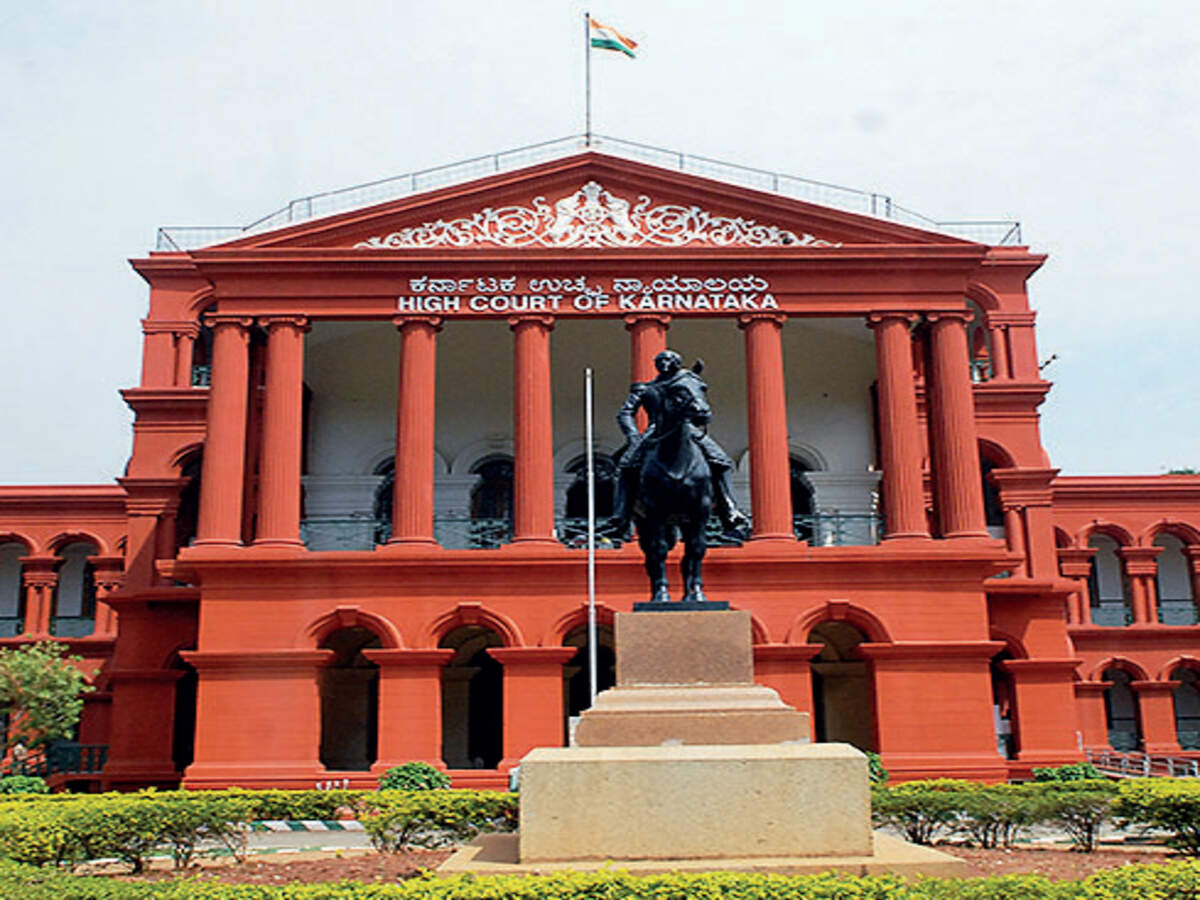 Karnataka High Court
After months of turmoil, the Karnataka High Court upheld the ban on Muslim females wearing a hijab with their uniform in schools and colleges on Tuesday, March 15.
The court dismissed writ petitions submitted by Muslim female students seeking permission to wear Hijab in colleges, stating that Hijab is not an Essential Religious Practice and that there is no compelling cause to overturn the government decree prohibiting it.
The Karnataka High Court temporarily outlawed religious garb. Today, the Karnataka High Court ruled that wearing the headscarf in class is not an essential religious practice, dealing a significant setback to students who had challenged the prohibition. The restriction has been challenged in court by five petitions.
The state government had banned big gatherings for a week in Bengaluru ahead of the ruling "to ensure public peace and order." From March 15 to 19, Mangalore, too, prohibited mass gatherings. Udupi's schools and colleges are closed today.
Last month, the Karnataka High Court temporarily outlawed religious clothing, including the hijab and saffron scarves, when the matter erupted into protests and a brawl between different student groups.
Public gatherings are prohibited in Bengaluru.
In light of the controversial Hijab row case ruling, the Karnataka government has banned all public meetings in Bengaluru from March 15 to March 21, according to Kamal Pant, Commissioner of Police, Bengaluru. On Tuesday, the Karnataka High Court will issue its decision on the ongoing Hijab controversy (March 15).
"From March 15 to March 21, all sorts of gatherings, agitations, protests, or celebrations in public areas are outlawed in Bengaluru," said Kamal Pant, Bengaluru's Commissioner of Police.
See also, Students in Karnataka stand firm on Hijab
Point of view on the verdict.
Basavaraj Bommai
Basavaraj Bommai, the Chief Minister of Karnataka, stated that everyone should respect the High Court's decision in the Hijab case and work with the state administration to execute it. He urged students to focus on their studies by accepting the court's decision while also calling for maintaining peace and order in society. "I have just now got to know through the media about the High Court's order regarding the case related to uniforms (in classrooms). The court has upheld the uniform and has said that Hijab is not an essential religious practice," according to Bommai. He told reporters here that this was an issue of students' futures and education and that nothing is essential than education.
"Wearing Hijab is an essential practice in Islam. Karnataka HC's verdict on Hijab is a bad judgement. We'll challenge the judgement before the Supreme Court. We hope that justice will prevail in the Supreme Court," said senior advocate AM Dhar, one of the petitioners in the Hijab Row case.
"We are dismayed as to how all of a sudden that too in the middle of the academic term the issue of hijab is generated and blown out of proportion by the powers that be," the HC noted in its order. "The way, hijab imbroglio unfolded gives scope for the argument that some 'unseen hands' are at work to engineer social unrest and disharmony," it stated.
"I'm relieved that the government's position has been confirmed by the Karnataka High Court." After the verdict, Karnataka Education Minister BC Nagesh said, "I request that the girls who went to court follow the judgement; education is more important than anything else."
What is the position of the opposition and incumbent ministers?
Following the hijab controversy, the Karnataka government has instructed educational institutions to adhere to existing uniform-related norms until the High Court issues a ruling next week.
At a meeting with Chief Minister Basavaraj Bommai, they discussed the government's position, Primary and Secondary Education Minister BC Nagesh, and key government officials. Meanwhile, Congressman Siddaramaiah backed Muslim girls' right to wear the Hijab to school and slammed the BJP government. BS Nagesh, the state's education minister, told reporters that drafted guidelines in 2013 and 2018 based on the Karnataka Education Act, which gives educational institutions and their SDMCs (School Development and Monitoring Committees) the authority to prescribe uniforms to their students.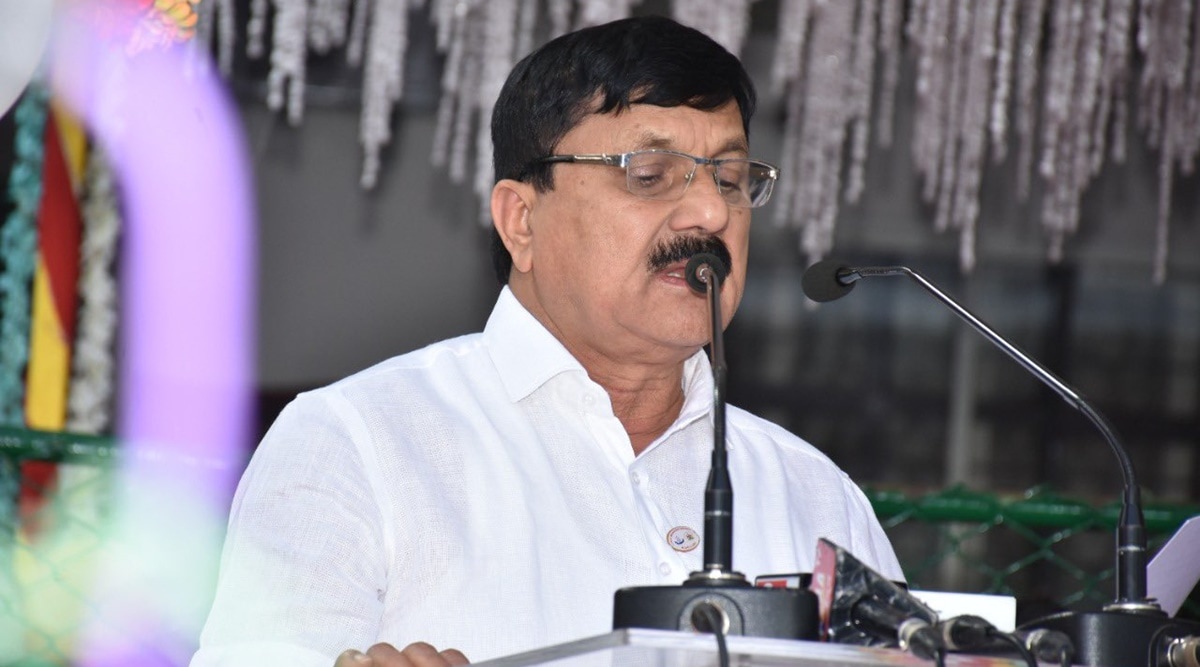 Araga Jnanendra
Araga Jnanendra, the Karnataka Home Minister, stated that students should follow school uniforms. He also noted that it aids the children in forgetting their differences and uniting as Indians.
Meanwhile, Rahul Gandhi of the Congress tweeted, "By letting students' Hijab come in the way of their education, we are robbing the future of the daughters of India. Ma Saraswati gives knowledge to all. She doesn't differentiate."
Shashi Tharoor, a Congress MP, has been accused of politicising the hijab debate, and Congress leaders have stated that there is no law in India prohibiting religious wear. "…there is no rule banning religious forms of attire such as a Sikh turban, a crucifix around one's neck, or a tilak on one's forehead, which are all prohibited in French government schools but allowed in India's, "In response to Mohandas Pai, former director of Infosys, Tharoor remarked. Pai, the chairman of Manipal University, stated that all schools follow the same code to foster togetherness. People must petition if they want to wear something.
Sunil Kumar Karkala, a Karnataka minister, stated that our government stood with Muslim women by abolishing Triple Talaq. "Everyone who talks about individual liberty also talks about limitations on Muslim women in mosques." Inside a government campus, everyone should follow a uniform structure. That is my sole objective, "Added he.
As the judiciary refuses to bend the knee to Sharia, liberals and Islamists become enraged.
The Karnataka High Court has handed down its decision in the hijab case, declaring that it is not an essential Islamic practice and so cannot be worn in educational institutions that have uniform clothes, of which Hijab is not a component. The verdict has caused a great deal of consternation among left-liberals and Islamists.
Several Muslims and leftists have suffered nervous breakdowns due to the decision and are voicing their displeasure with it on social media channels. Twitter has been a public forum for all the problems. Similarly, many people took it on Twitter, a social media platform, to express their dissatisfaction with the decision, calling it a "fatwa from a secular court" and accusing the court of being "majoritarian" for limiting Hijab in educational institutions. Surprisingly, when arguing in favour of Hijab, the petitioners' lawyers mentioned Sharia (Islamic law) in the secular country's judiciary.
"Karnataka Hijab Ban Stays; Not Essential Religious Practice: Court," ex-Delhi Minority Commission chief Zafarul Islam Khan said on Twitter. The state government had banned huge gatherings in Bengaluru for a week before the decree. In India, it is a sad day for human and religious rights. The voices of Muslim intellectuals must be heard. "An appeal to the Supreme Court is required."
See also, Hijab ban controversy in Karnataka, Government says "Don't wear clothes that disturb law and order"
Students in Udupi are planning to appeal the ruling to the Supreme Court.
Students in Udupi
According to the HC bench, requiring children to wear a school uniform is a fair constraint they cannot complain about. The order will now be challenged in the Supreme Court by students at the disputed Udupi institution.
Anas Tanwir, a Supreme Court lawyer, tweeted that students at Udupi College will petition the Supreme Court shortly after the Karnataka High Court announced on Tuesday that the state government's decree prohibited wearing hijabs in schools and colleges would not be overturned.
The high court found that the "hijab is not an integral aspect of Islam," reinforcing the state government's ban on Muslim girls and women wearing headscarves in educational institutions. "We are of the considered judgement that the wearing of a headscarf by Muslim women does not form part of the core religious practice in the Islamic religion," Karnataka High Court Chief Justice Ritu Raj Awasthi stated as the verdict was readout.
The bench went on to say that requiring children to wear a school uniform is just a reasonable constraint to which they cannot complain. The order will now be challenged in the Supreme Court by students at the disputed Udupi institution.