Stories
Mirzapur Season 2, Spoilers, and Crime Reality Of India
Mirzapur Season 2, Spoilers, and Crime Reality Of India
The most popular web series of Amazon Prime, Mirzapur Season 2, will release on 23 October 2020. The trailer of Mirzapur Season 2 is out and boasts 24 million views in just a week. Mirzapur Season 1 was launched back on 16 November 2018 with an IMDb rating of 8.2. This web series has huge hype not only among youngsters but among everyone. Mirzapur season 1 is not only full of thrills and actions but also guns and gaalis.
The story plot of Mirzapur
Mirzapur has been among the most awaited web series in the country. Mirzapur's story revolves around the illegal business of desi guns, generally known as Katta, under carpets' business. Mirzapur is a place where Akhanand Tripathi, aka Kaleen Bhaiya, is the mafia don who controls the Mirzapur as the proverbial ruler. At the same time, he is training his son Phoolchand Tripathi aka Munna Tripathi, to hand over his power and control of the city.
Moving towards the Tripathi household is Kaleen Bhaiya's young wife (and Munna's stepmother) Beena (Rasika Duggal), and his father, who used a wheelchair, Satyanand Tripathi.
The story starts from the scene where Munna shoots a man at a wedding (something that we believe appears a fair bit); the case comes to Ramakant Pandit (Rajesh Tailang), one of the only righteous lawyers in the Mirzapur.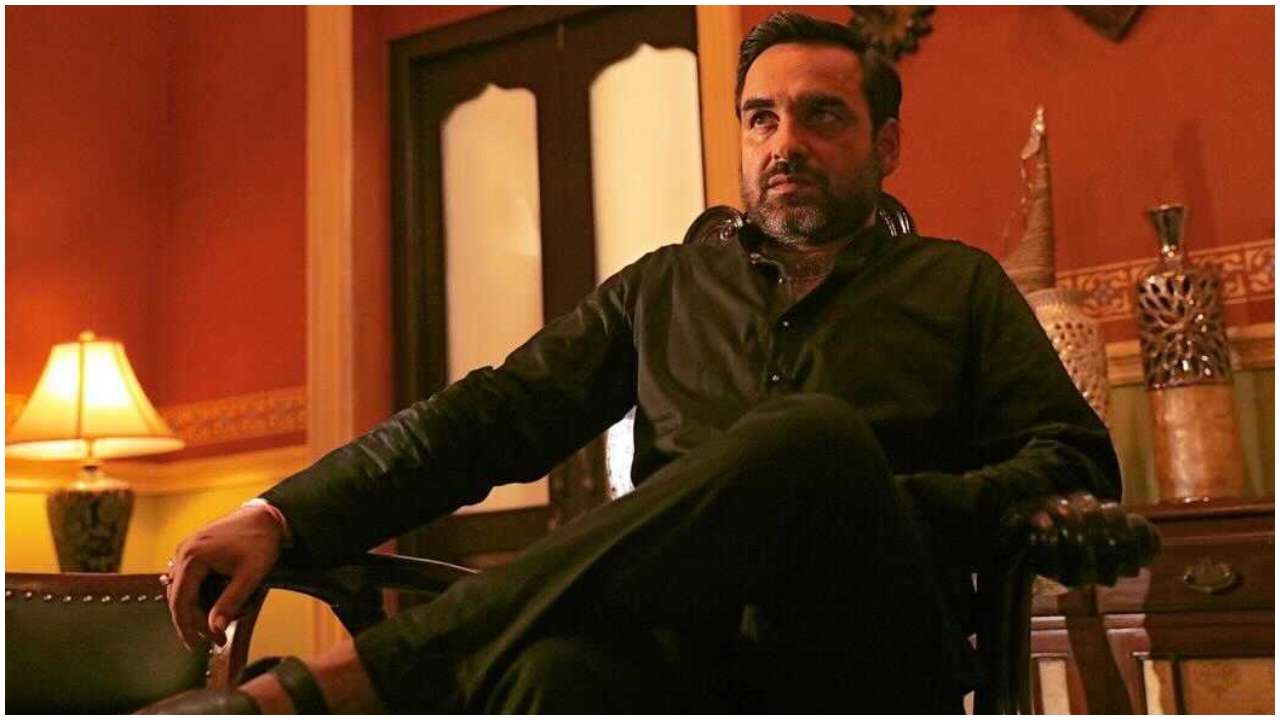 Our heroes are his sons Guddu (Ali Fazal) and Bablu (Vikrant Massey), masterminds, and brawn pair of brothers who fight against Munna and his goons to protect their family. When Kaleen Bhaiya faces the brothers, he notices a fire within them and proposes them a job, preferably, leaving a severely disgruntled Munna. The brothers agreed to work with Kaleen Bhaiya. No one can turn down Kaleen Bhaiya.
To add fuel to the fire, both Guddu and Munna are in love with the same girl, Sweety (Shriya Pilgaonkar). However, Bablu is described to Sweety's more academically willing sister Golu (Shweta Tripathi).
The more power-hungry Guddu, and a more reserved Bablu, immediately climb up the ranks of Kaleen Bhaiya's arms trading empire. As Munna's anger and frustration towards his father increases, he prepares a plan with his best friend known as Compounder (Abhishek Banerjee) to kill Kaleen Bhaiya. The plan goes wrong, and Kaleen Bhaiya catches Compounder. In one of the most heartbreaking scenes of the season, to declare that Compounder was acting alone, Munna is compelled to kill his best friend, who, till his last breath, doesn't give up Munna Bhaiya out of loyalty and affection for his friend.
Even at home, Kaleen Bhaiya strives to store things together. As a result of his incapacity to act sexually, Beena begins having an affair with Raja, who is their house helper. Guddu and Bablu also progressively get more familiar with Sweety and Golu, eventually heading to Guddu and Sweety's engagement and ultimate marriage.
Elsewhere, just before the tense finale, Guddu and Bablu are summoned by Kaleen Bhaiya's biggest mafia opponent Rati Shankar Shukla of Jaunpur, who Guddu kills after he attempts to make the brothers join his side. This provokes Kaleen Bhaiya, who understands his prize steeds have become liberated cannons.
Leading of the explosive season finale, Kaleen Bhaiya eventually unleashes Munna on the brothers, giving his permission to end them. 
The death game at the wedding
Mirzapur's season 1 finale drove things to dark and brutally unforgiving places, declaring it was a series that isn't scared to knock off significant members. 
Kaleen Bhaiya hits back at Inspector Ram Sharan Maurya (Amit Sial), who'd been assigned to clean up Mirzapur, by turning up his whole team of officers in the dead of night and shooting them point-blank. 
The inspector observes in horror and determines his place in the direction of things. 
In the Tripathi family, Satyanand Tripathi, who uses a wheelchair, faces Beena regarding her affair that he's known concerning all along. In the sole, most painful and awkward scene of the series, to punish Beena, Satyanand asks her to murder her lover (their house helper Ram) and then rapes her, claiming that if his son can't impregnate her, he'll move in to ensure the future of their household. 
And ultimately, as India's very own red wedding, while Guddu, Munna, Sweety, and Golu are at a friend's wedding, Munna barges in with his goons and shoots everyone in view. With the brothers disarmed and made to their knees, Munna eventually gets his moment of revenge. Munna first shoots Sweety after being told she's pregnant with Guddu's child and then moves to blow Bablu's head off in front of Guddu. Before he can complete the task and end Guddu and Golu too, armed security storms in, and they manage to survive with Guddu's sister. 
Mirzapur Season 2 Trailer:
 Based on how everything ended and the trailer for season 2, we have some knowledge of where the action is directed. 
As assumed, the new season's focal spot seems to be Guddu's constant hunt for revenge after losing his brother Bablu, wife Sweety, and unborn child. Mirzapur Season 2 will also view the emergence of Golu, who's likewise out for revenge, eventually giving Mirzapur a badass female gangster. 
We all can't wait to discover out how the two went back with revenge. 
There are also two new members in the competition, Sharad, who was included in the finale, who wants to avenge his father Rati Shankar Shukla, and holds his intentions to takeover Mirzapur. 
There's also a new unnamed part performed by Vijay Varma, whose roots and loyalties are as yet unknown. But, as with all forms of Mirzapur, we absolutely can't wait to find out. 
Characters of Mirzapur
Akhandanand Tripathi aka Kaleen Bhaiya: Pankaj Tripathi
Guddu Pandit aka Guddu Bhaiya: Ali Fazal
Phoolchand Tripathi aka Munna Bhaiya: Divyendu Sharma
Bablu Pandit aka Bablu Bhaiya: Vikrant Massey
Beena Tripathi: Rasika Duggal
Gajgamini Gupta aka Golu Gupta: Shweta Tripathi
Sweety Gupta: Shriya Pilgaonkar
Maqbool Khan: Shaji Chaudhary
Compounder: Abhishek Banerjee
Ramakant Pandit: Rajesh Tailang
Episodes and Spoilers
Mirzapur season 1 has 9 episode named as:
Episode 1: Jhandu
(53 minutes)
A shocking incident at a wedding procession ignites a series of events entangling two families' lives in the lawless city of Mirzapur.
Episode 2: Gooda
(45 minutes)
Guddu and Bablu have a life-altering choice to make. Munna gets a lesson in loyalty. A new, diabolical contender for Mirzapur emerges.
Episode 3: Wafadar
(43 minutes)
A generation-old rivalry is rekindled.
Episode 4: Virginity
(43 minutes)
Akhandanand tests the boys' moral fibre, leading them down a path of no return. And Sweety must choose between Munna and Guddu.
Episode 5: Bhaukal
(48 minutes)
Guddu and Bablu hatch an ambitious plan to increase the gun trade, but for this, both the cops and criminals of Mirzapur must cooperate.
Episode 6: Barfi
(47 minutes)
A meeting of the mafia heads of Purvanchal masquerading as a Holi party leads to a fracas' that threatens to transform all equations.
Episode 7: Lions of Mirzapur
(53 minutes)
Guddu and Bablu have come into their own in their private and professional lives as gangsters. But is it time for a rethink?
Episode 8: Tandav
(47 minutes)
Tempers reach a head between Guddu and Bablu while they're in exile. And it's time for the Mr Purvanchal contest.
Episode 9: Yogya
(47 minutes)
Three generations of Tripathi's show the world who they really are.
This season's spoiler is that at the end of the last season, Bablu Pandit and Sweety got killed by Munna Bhaiya at a wedding. However, Golu and Guddu Pandit managed to save themselves. 
Mirzapur Season 2 is going to revolve around revenge.
The crime world! 
Crime rates are not just figures but can be seen as the cover page of the storybook. There is not a single thing that leads to the crime but many things that are counted under crime. There are many new methods of committing a crime. 
These days criminals are using WhatsApp calls so that their call history doesn't get registered.
Now coming on to the real crime approaches shown in this Amazon Prime series Mirzapur! So Kaleen Bhaiya owes the business of guns, opium, and desi Katta.
The gun market of India
We have many illegal businesses, and guns and drugs come under the most prominent illegal business. So Kaleen Bhaiya has been shown supplying and manufacturing guns illegally. He used to supply guns by hiding them in carpets. 
He got many complaints about how the guns (desi Katta) are getting busted in the hands itself. He was unable to know why is this happening and was in a state of confusion. 
He wanted to expand his business of guns, so he hired Guddu and Bablu. They dug deep inside and got to know the flaws and how they can expand the business. 
This series shows how the criminals were receiving free guns from the manufacturer of guns Kaleen Bhaiya. Guddu and Bablu distributed guns to the criminals and asked them to spread crime. We all remember the iconic dialogue of Bablu 'Jab Tak hath me Khoon lgega nahi Gun chalane ka maza pata chalega nahi.'
This is a fact! Have you ever wondered how these criminals got guns? Of course, this is the way how they get guns. The illegal manufacturers supply guns to the history sheeters and criminals. 
Also, these gun manufacturers supply guns that increase and promote terrorism activity in the country. The Naxalites, too, get guns from these suppliers. They might also be working on the same formula or buying them at lower prices as they are illegal.
Apart from this, there is a lot of corruption seen among police officers and ministers. The series clearly shows how the minister acquires money to campaign in elections. Also, the series shows how police officers help these gangsters to run their business smoothly. Everything is bounded by the money game. The moment you lose your pocket, your illegal business will prosper and run smoothly. 
Next is shown how Bablu and Guddu researched the loophole in the manufacturing unit. They made the quality supervisor check the guns in front of them so that they realize the fear of busting guns in hands. The next step the supervisor took was that he denied supplying original and real parts to save himself. The whole world is running behind. Wherever the man gets more paid, he runs there, and the quality supervisor of guns followed the motive in Mirzapur.
The drug rackets and traps
The drug racket is going under the government's nose or either flourishing with the government's blessings. I will leave this question for my readers to answer. So moving on to the illegal drugs chain shown in the Mirzapur has really a true approach.
Drugs have been sold and supplied under many other businesses. We all observed how Guddu and Bablu asked small vendors and grocery shops to sell drugs with the help of transgender. You must not be aware, but there are many agents who supply drugs on demand. We have also get more details about how the racket after the Sushant Singh Rajput murder mystery got twisted with the drugs angle.
Many things were revealed on how the drug chains work on almost every news channel. In fact, now we all know how Bollywood is a part of these drugs racket. Plus, we all have heard about Goa's rave parties; they also have drugs served in them. Many huge parties also serve drugs to the customers who demand.
We all are pretty aware of how criminals use code words. In this series, optimum is called barfi. These codewords are used to make the conversation more private and complicated to understand and track.
The cover-ups of crime
The Mirzapur shows how crimes are covered up. How gangster does murders and doesn't even let it know to others, even police helps them to. Police many times don't even register complaints and FIR of people. 
Also, we all observed how gangsters threaten the lawyers who take cases against them. Remember the scene where Munna Tripathi went to Ramakant Tripathi's house to threaten him and do shut the case so it doesn't get in the court. Later Kaleen Bhaiya threatened the people by using Guddu and Bablu, who wanted to file a court case against Munna.
No doubt gangster do this! They threaten people to get the shit they want! Again police don't register their complaints as they are corrupted and filled their pockets with lots of money to disobeying the rules. Gangsters remove the proves to save themselves. 
The crime world only understands the language of guns and blood!
The crime against women!
Mirzapur shows how women are the targets of crime and harassment.
Munna is seen as how he used to regularly rape his helper and even used to be really abusive with her. Of course, she used to did it for the sake of money, but we should not forget that India has the highest rape count in the world. There are many women who are getting raped and are asked to keep their mouth shut.
Apart what happened with Beena was horrible too. His father in law raped her in the name of punishing her. She was also forced to brutually kill him. In many households, women face assault and harassments from their own relatives. This really happens in India. Also, if a woman is caught with her lover, she is even forced to do things against her will.
Next crime against women comes the kidnapping of Dimpy, who is the sister of Guddu and Bablu. Just to satisfy Munna's male ego, he kidnapped Dimpy forcefully and disrespected her. It is not an imaginary concept; many girls are being kidnapped like this. Many times with no valid reason or rivalry too. Women are always on men target.
Rest comes to Sweety. We all have seen how Munna used to follow her and tease her. In reality, we call these people roadside Romeo. However, Kabir Singh really tried to be cool by using the dialogue Koi roadside Romeo nahi aan main. I am a bloody surgeon! But in reality, it's not at all cool. Girls feel really uncomfortable when anyone does these annoying things.
Every girl doesn't fall for the people like Munna but wants someone to be decent and intellectual, who knows how to respect her and fulfil all her wishes. However, now the government has made strict laws, including eye rapes that are the good measure to save nonsense behavior faced by the women. But still, the government is unable to protect the daughters of the country!
Moral Values that we lack behind and running after western culture!
Mirzapur has shown some moral values apart from gaalis and guns. Yes! There are not more but few! Do we really have time to consult our parents for any problems or to take their help? How many times we really ask for their advice in studies, business, or any other problem? We mostly don't! But Kaleen Bhaiya always discusses his problems, business strategies, household issues with his father, Satyanand Tripathi. Also, Not only this But in the last few episodes, we have seen that how Bablu went to meet his father for his suggestion.
In reality, we have heard many cases of leaving parents to old age homes. In fact, due to the lockdown, kids started interacting well with their parents as they everyone was living busy lives earlier.

Not only the father-son relationship is highlighted but fundamental ethical values too! We all remember how Guddu's father asked him not to enter the house but accepted his wife and give her his blessings. However, Guddu did the marriage very surprisingly without anyone's permission, but the way his family accepted Sweety was acknowledgeable. In reality, the daughter in law generally doesn't get so much of respect and love from her in-laws. They treat her not so respectfully mostly. Also, we all know how they are threatened for a dowry, so the moral ethics shown in the series was outstanding!
Let's all wait for the Mirzapur Season 2! Let's see what all new thrilling things it is going to come up with to entertain us!