Stories
The best cryptocurrency exchange apps in India for online trading in 2022
The best cryptocurrency exchange apps in India for online trading in 2022 
 Cryptocurrency seemed to be on everyone's lips these days. This might be attributed to a huge increase in the price of digital assets, as well as a flood of advertisements featuring your favourite Bollywood celebrity telling you that cryptocurrency is the future. But how do you get started investing in cryptocurrency and turn a profit quickly? The solution is to use cryptocurrency exchanging apps. These programmes are crucial for evaluating the entire bitcoin ecosystem. They allow you to monitor the value of different cryptocurrencies, purchase and sell altcoins, and manage your account. Before we go into the best online cryptocurrency trading apps in India, let's first define cryptocurrency exchange apps (along with their features and fees).
Our online presence had a limit of two decades, and 90% of people just used the internet to read their emails. However, now that we are in the year 2020, the days have passed, and technology has advanced; we have learnt to use online mediums to meet our everyday demands. We should all acknowledge that our online presence has been dramatically accelerated since the introduction of smartphones.
We estimate that 9 out of 10 people have a smartphone in their hands. As a result, corporations need to reach into people's pockets to capture their attention. As a result, the relevance of mobile apps has had a significant impact on organisations, causing a massive change in the online business world and the marketing industry.
As a result of the change, it is increasingly difficult to imagine an online firm without its dedicated business app.
Note: The harsh reality is that numerous online services, such as food delivery, taxi booking, gaming, and so on, have seen a 10X increase in the last five years.
As a crypto greek, we must concentrate on the following:
"Every internet business has a distinct mobile app, so why should cryptocurrency trading be any different?"
Because of this broad understanding and awareness of the importance of bitcoin mobile apps, cryptocurrency exchange businesses are rushing to develop cryptocurrency exchange apps. If you're a bitcoin entrepreneur, you should know what's going on.
To better understand the influence of mobile applications in cryptocurrency trading, we will explore the impact of mobile apps in cryptocurrency trading and will solely draught the business benefits of using mobile apps in cryptocurrency trading in this article.
Cryptocurrency Trading's Consequences
Cryptocurrency trading is a new type of financial instrument that has made several people billionaires in a short period. Because any central authority does not govern virtual currencies, cryptocurrency trading has become extremely popular and has attracted a lot of attention worldwide. Let's look at what has recently come to light to grasp the implications of bitcoin trading better.
The price of bitcoin is becoming increasingly important.

The company began to accept cryptocurrencies as a form of payment.

Governments have been encouraged to decide whether or not to allow crypto trading.

With the help of crowdfunding platforms like Likes ICO, new enterprises have emerged.

Crypto Tokens have evolved into a Token for Decentralized World Ideas.

Many potential investors have been seen in the trading industry.

Blockchain, the master technology that underpins cryptocurrency, has been featured in numerous publications.

Blockchain technology has begun to be adopted by businesses.

Smart Contracts have emerged as a viable option for corporate automation.

Integration of blockchain with other technologies such as IoT, Big Data, and Artificial Intelligence has improved.

Most importantly, the number of Cryptocurrency Exchange Startups has grown with uncontrollable development.
Similarly, we can enumerate "N" types of outcomes that have been attributed to the global growth of bitcoin trading. "Bitcoin – The Icon and Bride of the Cryptocurrency Industry" was the first virtual money to spawn all of this technological advancement.
As a result, cryptocurrency trading has become a critical component of global decentralisation. As new firms, technology, or ideas emerge to underpin cryptocurrency, they will take root and help to stabilise bitcoin trade around the world.
Mobile Apps' Consequences
People find it difficult to break free from their dependence on cell phones, which have become an unavoidable part of modern life.
We spend most of our time on our Smartphones from dawn to nightfall. We switch into any of our mobile application accounts to check our notifications as soon as we get out of bed. Our world has shrunk due to our smartphone usage, which has put everything in our hands.
Take a look at how mobile apps have grown in popularity over time.
Said, mobile applications are a marketing tool that may be a significant source of money for online businesses. Mobile apps have become increasingly important for organisations seeking new clients regularly. Hotel booking, ticket booking, meal booking, and taxi booking apps, for example, are becoming increasingly essential aspects and revenue-generating tools for such organisations. Let me make a list of the advantages of mobile apps.
Businesses are now easily accessible and approachable from anywhere.

Finance and payment smartphone apps have made banking operations more efficient.

Push alerts have given rise to a new marketing and customer engagement type.

The e-commerce industry has grown by a factor of ten.

Deals and communication in the business world have evolved.
What is the purpose of a cryptocurrency exchange app?
For those who are new, cryptocurrency exchange apps allow you to quickly access a variety of cryptocurrencies and trade (buy and sell) them while on the go. You do not need a laptop to mine cryptocurrency. These programmes, on the other hand, make it simple to trade cryptos and gain access to the world of decentralised digital currency networks. Because the process has been streamlined and the mobile app interface is geared for quick learning, anyone can join up. Both the Google Play Store and the Apple App Store include crypto exchange apps for Android and iOS phones.
Let's look at the advantages of developing a crypto trading mobile app.
Traders' Point of View
It allows for instant trade regardless of time, location, or other conditions.

Making crypto trading more convenient and straightforward.

Removes the need to turn on the computer and log in to the website each time you want to trade.
From the Point of View of Business People
Increase the number of people who are interested in crypto trading.

Increase the number of people who use your platform to trade.

Improve your brand's image.
These are the primary motivations for creating and releasing a crypto trading mobile app.
Crypto Trading Mobile Apps' Business Advantages
The most significant advantages of creating a mobile application for your bitcoin exchange are the following.
An increase in the number of users
Without a doubt, the number of mobile users grows inexorably every day. As a result, if you create a mobile application for your crypto exchange, you will be able to attract more mobile users and crypto exchange users.
Now is the time to create your cryptocurrency exchange mobile app and expand your exchange's user base.
The reputation of the Brand
Users will be more trusting of your bitcoin exchange if you design a user-friendly mobile app. As a result, your traders will indirectly market your business.
Overall, your crypto exchange's Brand Reputation will improve due to this.
Creating a mobile app for your cryptocurrency exchange will raise the number of traders, which will boost the amount of trading every second on your platform.
With the introduction of mobile applications, you may boost the liquidity of your crypto trading platform.
The user experience on your mobile app will result in high liquidity, attracting consumers to exchange cryptos and tokens safely.
A high return on investment
Your user base grows when you launch a mobile application for your bitcoin exchange platform, which boosts the number of trades on your platform.
Finally, it all adds to an increase in your crypto exchange platform's overall revenue.
India's best cryptocurrency exchange apps
It's worth mentioning that the legality of cryptocurrencies in India is still under question. In the country, it has yet to be designated as legal tender. Regulators have lately allowed businesses to begin operating, leading in the recent growth of various cryptocurrency exchange apps that allow you to invest in cryptos such as Bitcoin, Ethereum, Dogecoin, and others using your smartphone rather than large, heavy computers like PCs. Here are a few of India's most significant bitcoin exchange apps:
WazirX

Unocoin

CoinDCX

Zebpay

CoinSwitch Kuber

Bitbns

Krypto
WazirX
On the WazirX exchange, you can invest in a wide range of crypto assets using INR, USDT, BTC, and even WRX (the platform's native currency).Additionally, the site sponsors several contests and airdrops, which you can keep track of from the webpage. You can also add your friends and earn money through WazirX referrals on the settings page.
WazirX also offers its token, WRX, which you can buy with INR and then use to invest in a variety of other crypto assets.
Is WazirX a secure platform?
WazirX is secure since it retains nearly all of your funds in cold storage and only a tiny portion in hot wallets. Activate Two-factor authentication and App Passcode in the settings to improve your security. Furthermore, the site sends you updates when your orders are completed successfully.
Finally, WazirX has been acquired by Binance, the world's largest cryptocurrency exchange, giving it an additional degree of security.
Fees for WazirX
Aside from the transaction fee, WazirX charges a 0.2 per cent taker and a maker fee. However, the programme does have a button named 'Pay trade Fee with WRX.' You can pay the transaction cost with WRX and get a 50% reduction on the trading fee if you enable it from the fee setting.
Deposits and withdrawals on WazirX
Because of the high level of uncertainty in the Indian market, the platform constantly experiences deposit troubles and is forced to change its deposit methods. You can deposit INR in your WazirX wallet from September 22nd, 2021, utilising Net banking with a minimum deposit of INR100 and a charge of INR 24. You can also use MobiKwik to make deposits and pay fees through the payment gateway. WazirX P2P can also be used to make free USDT deposits.
You can make a quick withdrawal' for a fee of 10 INR and a transaction maximum of 2 lakhs per transaction. You can also use NEFT for a cost of 5 INR and a transaction limit of 10 lakhs.
2. Unocoin
The Unocoin India app features a simple user experience and supports a variety of crypto assets. In the profile tab of the Unocoin app, there is an auto-sell feature that allows users to plan the selling of an investment. Create an account and then complete your KYC to begin investing through the app.
Is Unocoin a secure cryptocurrency?
Yes, Unocoin is secure to use because it uses two-factor authentication. You can use a digit pin or fingerprint authentication to log into the app. The app logs you out if you input the wrong pin or your fingerprint doesn't match the records.
You can contact the support team via the app's settings, phone, email, or even a chatbot.
Fee for Unocoin
Unocoin imposes a 0.7 per cent buy/sell fee after 60 days of usage. Following that, they charge a 0.5 per cent premium to upgrade you to 'Gold Membership.' There are no maker or taker fees with Unocoin.
Unocoin is a cryptocurrency that may be used to make payments.
When you deposit via NEFT, RTGS, IMPS, or UPI, there are no transaction fees. You can also use a MobiKwik wallet, which has a 2% transaction fee, or debit or credit cards, which have a price.
The minimum deposit is INR 1000, with a full warranty of INR 1,550,000.
3. Bitbns
Bitbns is a cryptocurrency exchange platform based in India to keep things easy, appealing, and secure. Margin trading, pool sales, and crypto drops are available through the app. The programme also has a Fixed Income Plan, which guarantees you a return on your cryptocurrency investments. You may get the platform's hardware wallet from the official website. In addition, the platform will soon begin offering options trading and has already built a testnet for it. The beginning login procedure is equally straightforward.
Is Bitbns a secure platform?
Yes, Bitbns is safe to use, and the majority of your assets are stored in cold storage. The app also has two-factor verification and a Google authenticator for the wallet's protection. You can also purchase the Bitbns wallet to store your funds safely. Furthermore, you can contact Bitbns customer care and submit a ticket if you have any questions about the platform.
Fees for Bitbns
Bitbns has a trading cost of 0.25 per cent, which is one of the highest in the industry. In addition, the company charges a 1.77 per cent fee for Mobikwik deposits. They impose a fee for withdrawals based on the following slab:
Your trading volume determines the trading cost and is subject to change over time.
Bitbns is a payment method that is accepted.
Bitbns allows you to deposit using your MobiKwik wallet. Mobikwik will enable you to pay using your credit card and then use Mobikwik to deliver here. You can also pay through IMPS, NEFT, bank transfer, USDT P2P, UPI, and bank P2P.
4. Colodax
Colodax allows you to start investing immediately after downloading the app. They offer a simple and quick signup process as well as KYC verification.
After you've completed the verification process, you'll be able to deposit INR and begin investing. In India, there are currently no laws governing cryptocurrencies. Colodax, on the other hand, guarantees that its users will always adhere to government requirements as soon as they are made public.
You may buy Bitcoin in India through ColoDax.
Is Colodax a safe drug?
Colodax offers two-factor authentication and email OTP protection to its users. From the options tab, you may also enable an authenticator. You can contact their customer service team by submitting a ticket on their website.
Fees for Colodax
The site does not charge you for deposits; nevertheless, you must pay transaction fees if you deposit using specific ways.
The trading charge at Colodax is calculated based on the amount of money you exchange in 30 days.
The payment method used by Colodax.
You can use any cryptocurrencies accessible on the platform to make a deposit. INR can be deposited by bank transfer, NEFT, IMPS, RTGS, and UPI.
5. CoinDCX
CoinDCX has the most liquidity in India and allows you to trade in over 200 cryptocurrencies. You may finish the signup process in seconds by entering the OTP supplied to your phone and email.
The most adaptable platform is the CoinDCX crypto exchange platform. On the settings menu, they even teach the fundamentals of investing. Additionally, the CoinDCX referral programme allows you to earn passive revenue.
You may buy Bitcoin in India through CoinDCX.
Is CoinDCX a secure platform?
Yes, CoinDCX is safe because the Google authenticator app offers the first degree of protection. They only allow you to use a device for investing after being verified. To confirm, you'll need to create a new withdrawal password. You can also use your fingerprint to unlock the app.
Fees on CoinDCX
CoinDCX charges a 0.1 per cent maker and taker fee. There is no fee for the minimum withdrawal limit of INR 1000. Your trading volume determines the charge for trading Spot and Margin at CoinDCX.
DCXinsta is a CoinDCX payment method that allows you to buy or sell cryptocurrencies in Indian rupees. UPI, NEFT, IMPS, RTGS, and bank transfer are all options for depositing INR.
6. Zebpay
ZebPay India, also known as the "Bitcoin Ki Dukaan," has been offering cryptocurrency investment services since 2015. Sign up with your mobile number and complete their 'quick KYC' to begin crypto trading.
Refer and earn is a ZebPay feature that pays you 50% of the trading fees on new signups through your referrals for a year.
Security
Ninety-eight per cent of your assets are kept in cold storage when you trade with ZebPay. ZebPay uses a technology called Omnitrixx, which uses a multi-chain security method to safeguard all transactions between hot and cold wallets.
The ZebPay app contains a four-digit pin for account security, and you can also access it using your fingerprint.
Fees for ZebPay
A monthly membership fee of 0.0001 BTC is charged by ZebPay. If you are a frequent investor, though, you can avoid paying the membership fee.
The platform charges a 0.15 per cent maker fee and a 0.25 per cent taker fee. If you enter and exit your order on the same day, ZebPay will cut your trading cost to 0.10 per cent.
At ZebPay, all crypto deposits are free. On the other hand, there is an INR 15 deposit fee for UPI and 1.77 per cent for Net Banking. For all fiat withdrawals, there is a fee of INR 10 and a cost of 0.0006 BTC for each BTC withdrawal.
ZebPay offers you a VIP fee tier if you make a trade for more than INR 10 lakhs.
Accepted payment method: ZebPay
IMPS, RTGS, NEFT, UPI, bank transfer, and Net Banking, are all options for depositing INR. A minimum deposit of INR 100 is required via UPI, and INR 1000 is required from any other source.
7. Coin switch Kuber
The CoinSwitch app features a straightforward signup process, and you may create an account simply by entering your phone number. To begin crypto trading, however, you must first complete your KYC.
SEQUOIA, Ribbit Capital, and Paradigm, one of the most well-known cryptocurrency firms, have all backed the app.
You may trade with more than 100 cryptocurrencies at the best rates and with various payment methods here.
Security
The website and app for CoinSwitch don't provide much information on the security it offers. As a result, the security of your asset and personal information is very doubtful.
The app does, however, include a pin code for added security.
Fee for CoinSwitch
During the pre-launch of CoinSwitch Kuber, the firm made an offer to the first 100,000 users. They will not be charged a trading cost for the next 100 days.
Method of payment: CoinSwitch
They accept NEFT, bank transfers, and UPI for cryptocurrency deposits and payments in INR.
Conclusion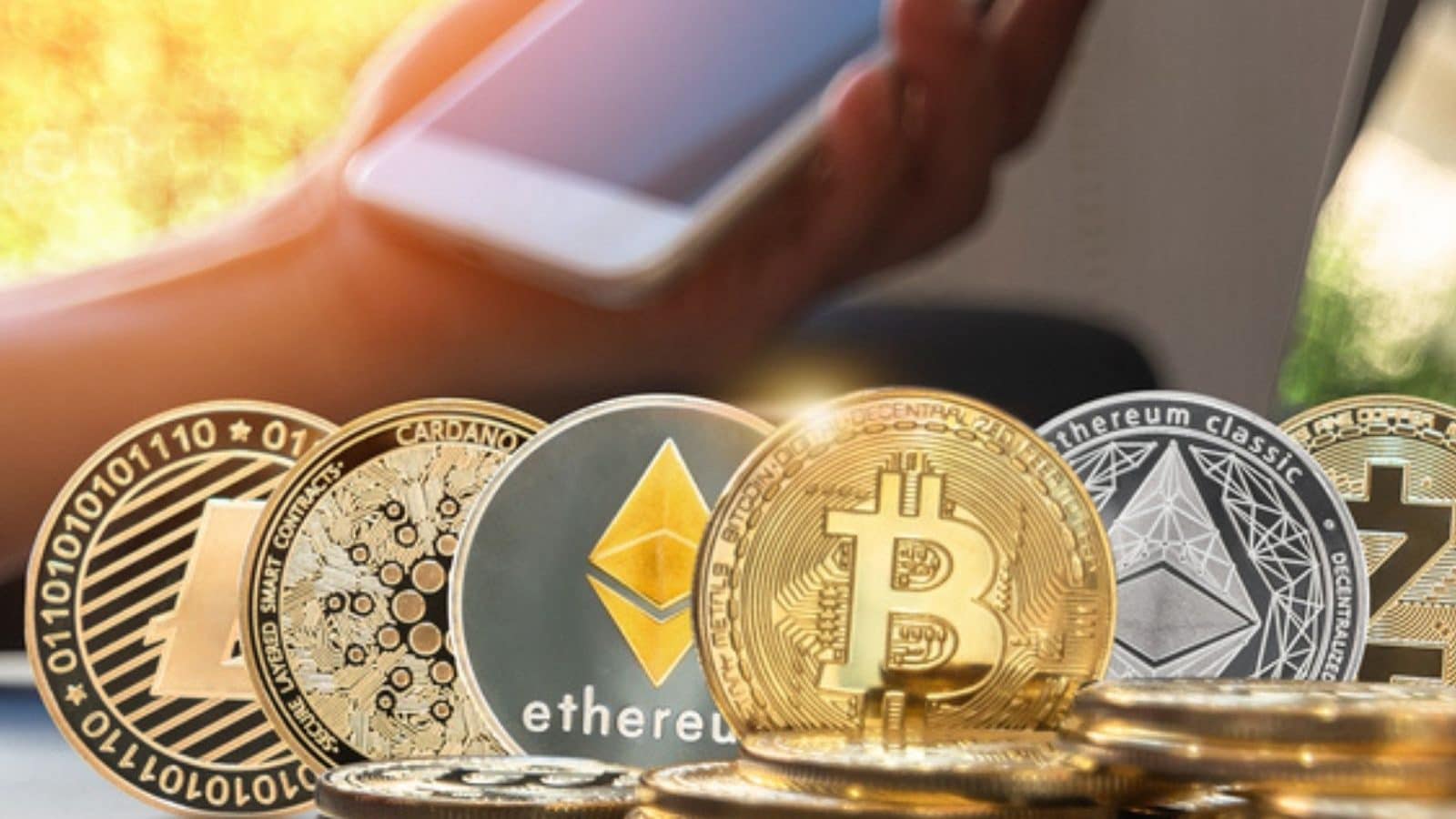 Finally, the app that strikes the right balance between security, fee, and services can be regarded as the best app for investing in cryptocurrency. WazirX and CoinDCX, according to us, have a user-friendly mobile interface and can be used to start crypto trading on the go. ZebPay and Bitbns are two other options.