Trends
BitConnect Founder Indicted in $2.4 Billion Ponzi Scheme Has Disappeared
BitConnect Founder Indicted in $2.4 Billion Ponzi Scheme Has Disappeared
Authorities around the world are still catching up with the fraudsters behind BitConnect, years after they pulled off one of the most famous exit scams in bitcoin history. 'BitConnect' allegedly operated a fraudulent cryptocurrency investment platform where its market capitalization reached $3.4 billion.
In 2016, BitConnect gained a lot of attention on social media thanks to its "Lending Program," which allowed users to lend their Bitcoins in exchange for a BitConnect crypto coin. Using investors' money, the application claimed it would guarantee returns by "trading on the volatility of the cryptocurrency markets."
Under this scheme, Satish Kumbhani and his accomplices promoted BitConnect's ostensibly proprietary technology, dubbed the 'BitConnect Trading Bot' and 'Volatility Software,' as being capable of generating substantial profits and guaranteed returns by trading on the volatility of cryptocurrency exchange markets with investors' money.
However, as charged in the indictment, BitConnect operated as a Ponzi scheme, compensating earlier BitConnect investors with money from later investors, according to a news statement from the Department of Justices Office of Public Affairs in the U.S.
Before its price plummeting as traders lost confidence, Bitconnect Coin was one of the top 20 most successful cryptocurrency tokens in the world. After the ICO, BCC increased from $0.17 to US$463 in December 2017, before falling to US$0.40 on March 11, 2019. As a result, BitConnect released outstanding loans to the Bitconnect Wallet in the form of BCC at US$363.62. However, the internal exchange price and liquidity dropped shortly following that news, resulting in a near-complete loss of value.
Bitconnect was accused of being a Ponzi scheme due to its multilevel marketing strategy and unrealistically large payments. Bitconnect's popularity changed dramatically following the volatility of Bitcoin, to which it was linked. As a result of these circumstances, a legal battle unfolded in the United States to bring BitConnect's founders to justice, with Kumbhani and American citizen Glenn Arcaro at the centre of the battle.
It is noteworthy that the debut of BitConnect coincided with the Indian government's demonetization process, in which the bigger denominations of the country's currency (banknotes of 500 and 1000 Indian Rupees) were demonetized in a bid to combat corruption and illicit money flow.
Satish Kumbhani, along with his associate Divyesh Darji, is accused of defrauding unwary investors in India of $12.6 billion (880 billion Indian Rupees) in the aftermath of demonetization. Surprisingly, few of these defrauded investors have come forward to file a complaint against BitConnect.
What is BitConnect?
Bitconnect, a cryptocurrency investment platform was launched in 2016 to allow users to lend Bitconnect Coin value in exchange for interest payments. The star programme was the so-called loan platform, which allowed users to swap Bitcoin for Bitconnect Coin and lock in the coin's current value for a predetermined amount of time while receiving daily interest. 
A so-called "trading bot" calculated the interest payouts. Trading bots were the most controversial part of Bitconnect.co's system. Users were able to exchange their winnings for Bitcoin due to the liquidity of the BCC cryptocurrency.
BitConnect, was one of the biggest and most popular projects in the mid-2017 initial coin offering (ICO) craze, raising billions of dollars from global investors for a protocol that purportedly paid out 10% in interest earnings via its BCC token to investors, with users who "referred" other investors receiving even more benefits.
Bitconnect (also written BitConnect and styled bitconnect, BCC) was an open-source cryptocurrency linked to the high-yield investment programme bitconnect.co, which was a form of Ponzi scheme. 
The coin's value plunged to below $1 from a prior high of about $500 after the site administrators halted the earning platform on January 16, 2018, and reimbursed the users' BCC investments.
Who is Satish Kumbhani (founder of BitConnect)?
Satish Kumbhani from Gujarat, India is the founder of BitConnect, a fraudulent cryptocurrency investment platform. Kumbhani conceived and developed BitConnect as a blockchain in 2016, with BCC serving as the "native token." 
He created the Lending Program by creating fraudulent accounts on the first three BitConnect websites. Kumbhani sold roughly 5 million BCC of the 28 million BCC coins he produced at the start of the BitConnect Blockchain during an ICO from November 2016 to January 2017.
Kumbhani marketed BitConnect's Lending Program to potential investors as a safe, attractive investment with monthly interest rates of up to 40%. A referral programme with commissions for referrals was also developed to aid in the growth of the Bitconnect system. He also hosted parties in Dubai, Santa Clara, and other cities where high-ranking promoters were recognised in person.
According to the SEC's investigation, of the approximately 325,000 Bitcoin investors who paid BitConnect, Kumbhani only moved around 8% of the Bitcoin to any digital asset trading platform. Kumbhani did not tell investors that they were holding funds in their own hands or moving funds to another account.
A federal grand jury in San Diego indicted Kumbhani on February 25, 2022, for conducting a global Ponzi scheme using BitConnect's Lending Program. Kumbhani was charged with wire fraud, conspiracy to commit wire fraud, and other multiple charges regarding the same.
Fraudulent Operations of BitConnect
BitConnect, according to the indictment, was a Ponzi scheme that paid earlier BitConnect investors with money from later BitConnect investors. Kumbhani and his associates raised $2.4 billion from investors in total.
The indictment also claims that after almost a year of operation, Kumbhani unexpectedly shut down the Lending Program. Kumbhani then directed his network of promoters to deceptively manipulate and pump up BCC's price to give the false impression of actual market demand.
By merging, cycling, and exchanging the cash through BitConnect's cluster of cryptocurrency wallets and several globally based cryptocurrency exchanges, Kumbhani and his co-conspirators were able to disguise the location and ownership of the fraud gains collected from investors.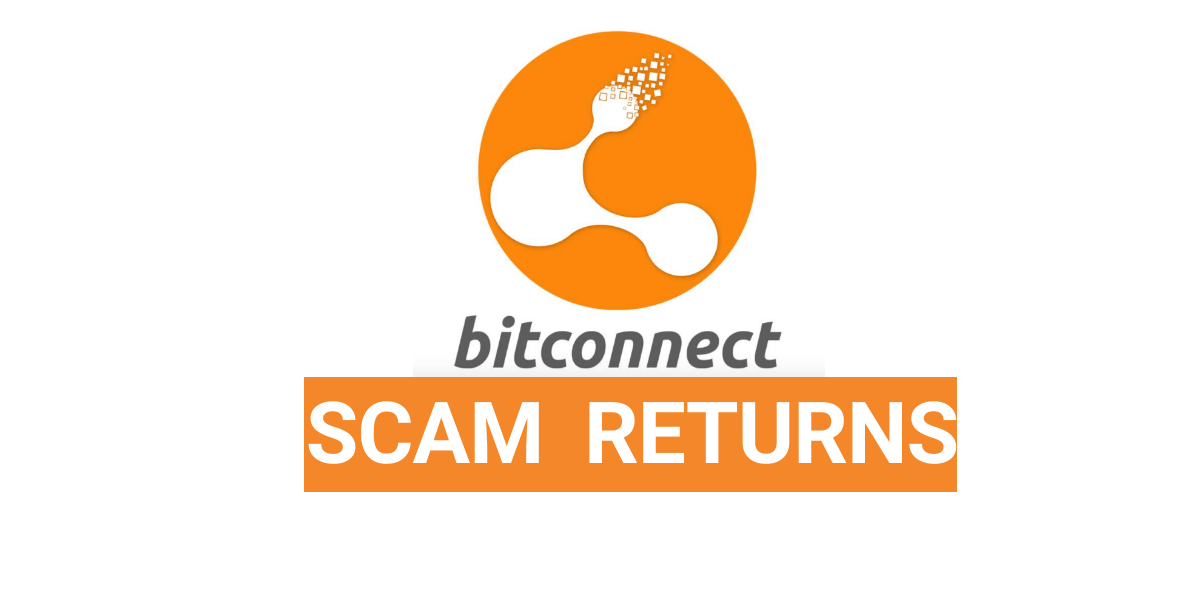 According to the indictment, Kumbhani breached US financial sector standards, including those implemented by the Financial Crimes Enforcement Network (FinCEN), to escape regulatory monitoring and control of BitConnect's bitcoin offering. BitConnect, for example, despite operating a money-transfer business through its digital currency exchange, failed to register with FinCEN as required by the Bank Secrecy Act.
Following the indictment, one of Kumbhani's promoters in South Korea had warned that "some individuals here are talking about suicide" and that "plenty of Korean investors invested everything they have." "We are getting death threats and the coin will be useless!," a marketer in Australia wrote.
Timeline of the Case
The UK authorities issued Bitconnect a notice on November 7, 2017, giving it two months to verify its validity.
The Texas State Securities Board filed a cease and desist order to the company on January 3, 2018, labelling it a Ponzi scheme and noting failures in customer earnings transparency as well as misleading statements. Bitconnect was not registered to sell securities in Texas or North Carolina, according to the Texas State Security Board and the North Carolina Secretary of State Securities Division.
Bitconnect was shut down on January 17, 2018, and BCC prices promptly plummeted by 92 per cent. Bitconnect had confirmed at the time that it will repay its debts. However, the Bitconnect X website remained open and active, having just launched its initial coin offering and allowed users to buy BCCX coins with BCC currencies.
Bitconnect's assets were frozen on January 31, 2018, by a temporary restraining order that was slated to expire on February 13. However, because Bitconnect as a company never existed, it's unknown what assets Bitconnect possesses (or ever had). 
Divyesh Darji, the alleged head of Bitconnect's India region, was detained in Delhi, India, on August 18, 2018.
The US Securities and Exchange Commission sued Kumbhani in September 2021, before the criminal charges were filed, alleging that he illegally obtained more than $2 billion from investors in his bitcoin exchange business. However, because the SEC had no idea where he was, they were unable to serve him with the case.
Glenn Arcaro, BitConnect's main North American promoter, pleaded guilty in September. Arcaro acted as Bitconnect's chief national promoter in the United States from August 2017 to January 2018, as well as Future Money LTD, a company Arcaro founded to entice people to join Bitconnect's loan programme. Prosecutors announced in November that they will sell $57 million in cryptocurrencies confiscated from Arcaro. 
Kumbhani was charged with conducting a Ponzi scheme using BitConnect's Lending Program by a federal grand jury in San Diego on February 25, 2022.
Defaulters Identified in the Case
On August 18, 2018, Divyesh Darji, an alleged India-region, Asia Chief of Bitconnect, was detained in Delhi, India. Darji was on his way from Dubai to Delhi when he was apprehended at the airport by Gujarat Criminal Investigation Department (CID) officers, who were assisted by immigration officials.
Darji's arrest is noteworthy not because of his BitConnect ties, but because of his ties to other suspected bitcoin schemes in India. Darji is suspected of being linked to well-known criminal organisations involved in laundering so-called "Black Money" following the demonetization of the rupee by the Indian government. Darji was arrested and released on bail in 2019 for a similar scam known as Regal Coin.
Glenn Arcaro, BitConnect's main North American promoter, pleaded guilty in September. Prosecutors announced in November that they will sell $57 million in cryptocurrencies confiscated from Arcaro. A judge accepted an amended order earlier this month for the sale.
Satish Kumbhani, the founder of BitConnect, has fled from his native India, according to officials who told a New York judge. Kumbhani was accused in the United States last week of a $2.4 billion Ponzi scheme. Prosecutors claim he founded BitConnect and the BitConnect Coin, a digital coin in 2016.
Charges against Bitconnect's Kumbhani
The US Department of Justice indicted Kumbhani, an Indian citizen, with criminal charges last week. In September 2021, the Securities and Exchange Commission filed a separate lawsuit against Kumbhani, alleging that he fraudulently obtained more than $2 billion for BitConnect.
BitConnect's "loan programme" is built on a proprietary "trading bot" and "volatility software" that trades on global crypto marketplaces, according to Kumbhani. However, prosecutors claim that the loan business was a vast Ponzi scheme that generated $2.4 billion from investors all around the world before closing down in January 2018.
According to the US, BitConnect took funds from new investors to pay off previous investors. Wire fraud, operating unregistered money transmitting business, and three conspiracies: to commit wire fraud, commodity price manipulation, and international money laundering are among the charges Kumbhani faces.
USA v. Kumbhani, 22-cr-00395, U.S. District Court of Southern California, and SEC v. BitConnect, 21-cv-7349, U.S. District Court, Southern District of New York, are the criminal and civil cases respectively, against BitConnect and its founder Satish Kumbhani.
Verdict of SEC (Securities and Exchange Commission of U.S.) on Kumbhani
In a petition in federal court in Manhattan, SEC (Securities and Exchange Commission) attorney Richard Primoff stated that Kumbhani has likely gone from India to an unknown residence in a foreign nation. "The commission has been attempting to find Kumbhani's address since November, consulting with that country's banking regulatory authorities." Kumbhani's current location, however, is unclear." Primoff said the SEC couldn't say when its efforts to identify him would be successful.
Primoff requested an extension until May 30 from U.S. District Judge John Koeltl. The SEC stated that it intends to search for Kumbhani and serve him with the lawsuit if it finds him in the United States. Koeltl granted the SEC's request on Tuesday. He had previously put a hold on the civil matter while the criminal probe was being conducted.
Of course, if Kumbhani enters the United States, he might be detained and sentenced to prison if he is found guilty of the allegations in the indictment filed in San Diego on Friday. According to a Justice Department press statement, if convicted on all counts, he faces a potential total sentence of 70 years in prison.
Kumbhani's accusation demands that $2.4 billion be forfeited as a result of his activities. All court papers must be served on Kumbhani personally because BitConnect is an unincorporated business and not a legal company.
The U.S. Justice Authorities Viewpoint on the Case
"Crime continues to transcend international borders, especially that involving digital currencies," explained Assistant Attorney General Kenneth, a Junior of the Justice Department's Criminal Division. 
The department is dedicated to protecting victims, maintaining market integrity, and increasing its global alliances to hold cryptocurrency fraudsters accountable. The FBI's Cleveland Field Office is committed to bringing fraudsters to justice, said Special Agent in Charge Eric B. Smith of FBI.
According to Ryan L. Korner, Special Agent in Charge of the IRS Criminal Investigations' Los Angeles Field Office, "As cryptocurrency gains popularity and attracts investors from around the world, alleged fraudsters like Kumbhani are involving increasingly complex schemes to defraud investors, often stealing millions of dollars."
According to the authorities from the Justice Department, BitConnect investment victims are invited to identify themselves as potential victims and learn more about their rights as victims, including how to submit a victim impact statement.
Gujarat: A Hotspot for Scams
Following Prime Minister Narendra Modi's announcement of demonetisation in November 2016, the Gujarat Criminal Investigation Department (CID) has uncovered an alleged fraud involving senior politicians in the state, including some from the BJP, to hide black money in cryptocurrencies. Surat, India's diamond capital, was at the centre of the alleged scheme.
Many from Gujarat had invested in the alleged scheme. According to a recent investigation into the scheme, approximately Rs 4,500 crore was transported to Surat in the aftermath of demonetisation in November 2016 for parking in various assets, including cryptocurrency. The scam was discovered when the CID was asked to look into a complaint filed by one of the conspirators, Shailesh Bhatt in the case.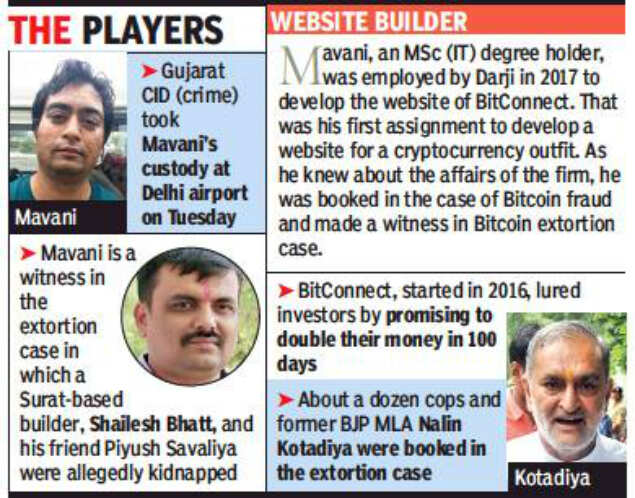 Many of the victims have still to come forward, according to Ashish Bhatia, Director General of the Criminal Investigation Department (CID). There are victims who have expressed a desire to file a complaint but they have not come forward yet. They may be afraid of the Income Tax Department (questioning the source of money). As a result, there is no precise figure Bhatia explained.
At least a few members of Gujarat's legislative assembly (MLA) have been implicated in various scandals, according to Gujarat's investigating authorities. One of the accused MLAs is on the run right now.
With so many stories pouring in at different periods and all pointing to Gujarat, it's not unreasonable to assume that all of this is pointing to a single larger scam in the state rather than many distinct scams.
Conclusion
After years of operating in a legal grey area, U.S. government officials are increasingly cracking down on bitcoin fraud and scams. The Department of Justice established a national cryptocurrency enforcement team last year to handle complicated cryptocurrency cases.
BitConnect is just one of numerous bitcoin frauds that have been busted in recent months by law authorities. With the final cryptocurrency exchange that still trades BitConnect shutting down and authorities cracking down on BitConnect builders, it appears that BitConnect is on its way out.