Trends
Dubai cutting the tax on alcohol and giving free liquor licenses to attract more tourists.
Dubai cutting the tax on alcohol and giving free liquor licenses to attract more tourists.
In Dubai, the required liquor licenses are no longer needed, and the 30% tax on alcohol sales in the sheikhdom has been removed. The announcement puts an end to a dependable money stream for the ruling family, which was reportedly done to increase tourism in the emirate.
Evidently, it was the consequence of an order given by the Al Maktoum family, who control the government. Government authorities failed to acknowledge the verdict right away and did not respond to questions from The Associated Press. But it happens when the sheikhdom's alcohol regulations are relaxed for a while.
As part of its attempts to improve the emirate's value for tourists, Dubai Municipality announced on December 31, 2022, a 12-month suspension of the 30 percent tax on alcohol sales. The tax moratorium is not expected to permit a flat 30 percent discount on the final sale price of beverages in the restaurants and bars of the emirate.
Business, trade, and tourism are focused in Dubai in the United Arab Emirates, a Muslim country that is a important oil exporter and has loosened its limits on alcohol consumption.
Due to the tolerance of the local Muslim population for the city's more liberal way of life, Dubai, the party capital of the Gulf, has for decades been able to draw more visitors and wealthier expatriate workers than its regional rivals.
Tourists frequently bemoan the expensive expense of restaurants with licenses, which mark up the cost of alcohol by four to five times. One business executive stated, "It will be fascinating to watch whether this tax break is fully passed on to the consumer."
Because of the conflict in Ukraine, Dubai has also become a sanctuary for Russian investors. As home values and rents soar, the relaxation of Covid-19 limits in China could open up a brand-new market for buyers of real estate.
With the coronavirus under control and the economy remaining reasonably open, the city has recovered notably from the pandemic.
In Dubai, a popular tourist destination in the United Arab Emirates and the base of the long-haul airline Emirates, alcohol sales have long been used as a key economic indicator. Many pubs in Dubai attracted traveling soccer enthusiasts during the recent World Cup in adjacent Qatar.
According to Dubai's Department of Economy and Tourism, more than 12 million foreign overnight tourists stayed in Dubai in the first eleven months of 2022, more than double the 6.02 Million visitors who came during the same time period in 2021.
Distributors MMI and African and Eastern said that the personal liquor license, which is now free to non-Muslims over 21 and necessary to buy alcohol in Dubai's few legal stores, is now available to all non-Muslims.
Other alcoholic beverages are normally more expensive, and a pint of beer at a pub easily costs more than $10. It wasn't immediately clear whether this would lead to a fall in the price of alcohol in establishments where it is served or if it would only have an effect on customers who buy it from stores.
The bulk of the UAE is far from being a dry country, in contrast to its neighbor Saudi Arabia, because alcohol is supplied in authorized venues like hotels, restaurants, bars, and specified shops. But you can't consume it outside.
When questioned if the decision was final, MMI stayed silent. An MMI advertisement urging customers to shop at its outlets said that you "no longer need to drive out to the other emirates." Long before the imposition of sales taxes, residents of Dubai traveled to Umm al-Quwain and other emirates to purchase alcohol in large quantities.
In response to the rising inflation our business has experienced, Solutions Leisure Group CEO and co-founder Paul Evans summed up the need for more customer awareness by saying that the tax cut enables us to give back to our community, but it's one that will take time to reap the advantages of. Given that this decrease won't automatically reach a 30% reduction, I believe it is crucial that we make sure the market is told about how it operates. Therefore, it is our responsibility as a sector to ensure effective communication.
Venues like Fibber Magee's, whose beverage orders are higher than at other establishments, announced price adjustments. Ross Smith, the owner of the Irish pub, promised to modify the prices "very immediately."
According to Smith, they will undoubtedly pass these savings forward to customers in the spirit of what the government is trying to accomplish. In order to make the F&B industry competitively priced with other top Tourist Destinations, he believes it is crucial that all venues participate in this endeavor to share savings.
Heineken beers at Fibber Magee's will cost AED44 less per pint according to Smith's proposed eight percent price cut.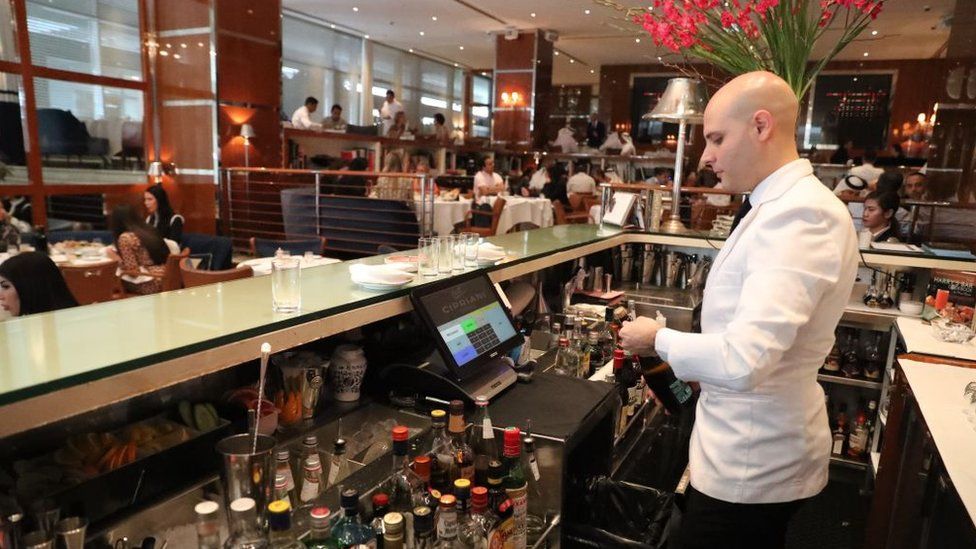 How will this reduction affect the hotels and bars?
In an effort to more swiftly modify prices, the popular hotel Palazzo Versace Dubai plans to balance the existing alcohol supply with new – tax-on-pause – supplies.
Not just being an individual, but our collective attitude was quite positive and welcoming, managing director Monther Darwish said. Numerous foreign tourists have complained to us about how expensive alcohol is in Dubai compared to other countries. This information will undoubtedly aid in bringing in more visitors and lower the cost of their festivities in Dubai.
Most of the Food and Beverage (F&B) industry agrees with hotelier Darwish that businesses rather than consumers will be most affected by the suspension of the Dubai alcohol tax.
Story of local success In three weeks, Café Isan expects a quicker transformation, with prices falling 10% (pending permissions). "This is a win for businesses and our customers," said founder Lisa Knight. Although our customers will gain if we cut costs, we'd like balance and a higher profit margin.
Knight said that she thought the price of alcohol in the city was already quite low. We don't believe this suspension will have a notable impact because alcohol is already inexpensive or even free and considered ladies' night every night these days. Consumers can be found in Dubai where packages and brunch culture are popular.
The industry as a whole is anxious to debunk any rumors that customers will suddenly receive a 30% discount. Even though they won't, the suspension is nevertheless a big advantageous development for F&B operators as they cope with rising prices and new UAE taxes.
The second alcohol retailer, African & Eastern, likewise announced the elimination of the municipality tax and license fees. It is believed that the state or affiliated companies own at least a part of Africa & Eastern.
Dubai is quite liberal in comparison to other countries in the area. Sharjah, an emirate that borders Dubai to the north, along with the neighboring countries of Iran, Kuwait, and Saudi Arabia, outlaws alcohol use.
The capital and oil-rich Abu Dhabi of the United Arab Emirates ended its alcohol license program in September 2020. The revelation also came as the UAE prepared to increase the fines and sanctions it levies when dodging personal income taxes by 9%.
Edited by Prakriti Arora