Trends
Looking at the Peru protests: why do Peruvians want their new President to resign?
Why do Peru-Peruvians want their new President to step down, when we take a look at the protests there? We examine the details and causes of the small South American nation's political unrest.
Early elections are now possible thanks to a televised announcement made earlier today (12 December) by Peruvian President Dina Boluarte (2024 instead of 2026). Two teenagers died on Sunday as a result of widespread demonstrations demanding her resignation and new elections.
Recent years have seen political and economic unrest in Peru. Intense, occasionally violent protests raged across much of the nation during the recent president Pedro Castillo's tenure, who was recently overthrown. Beginning in March 2022, the nation was engulfed in anger over his alleged moral turpitude and the country's economic hardships.
Pedro Castillo: Who is he?
In a small town in rural Peru, 53-year-old Pedro Castillo was born to uneducated farmers. After becoming a teacher, he actively participated in union activism, organising for better pay and working conditions. His socialist roots were evident in his 2021 presidential campaign, which attracted disaffected citizens by promising to boost his nation's economy and lessen its entrenched inequality. "No more poor people in a main rich country," was his catchphrase.
His tenure, however, fell short of expectations and was quickly marred by scandal, in part because of his own shortcomings and in part because of systemic dysfunction that has plagued Peru throughout its modern history.
What led to such significant demonstrations against the recently elected president?
Castillo's rhetoric was impressive, but his managerial abilities weren't as strong. He appointed five different cabinets after assuming power, changing around 80 or so ministers during his brief term. Many of his picks were unpopular and were accused of everything from domestic violence to corruption.
Due to numerous criminal investigations into him for alleged corruption, profiteering, and obstruction of justice, Castillo himself was constantly under pressure. Castillo was losing the support of the general population as a result of more serious socio-economic issues, even though his closest allies insisted that everything was a plot by the previous ruling elites to regain power.
Peru was hard-hit by Covid-19. In addition to having the current highest mortality rate in the world (5997 deaths for every million people, according to Worldometer), it also led to widespread economic distress, which exacerbated poverty and reduced the size of the middle class. Peru was particularly affected by the massive inflation brought on by the Ukraine conflict because of its reliance on imported oil (unlike many of its neighbours). Although Castillo was born into some of the issues, his inability to lead Peru out of the predicament ultimately proved to be his downfall.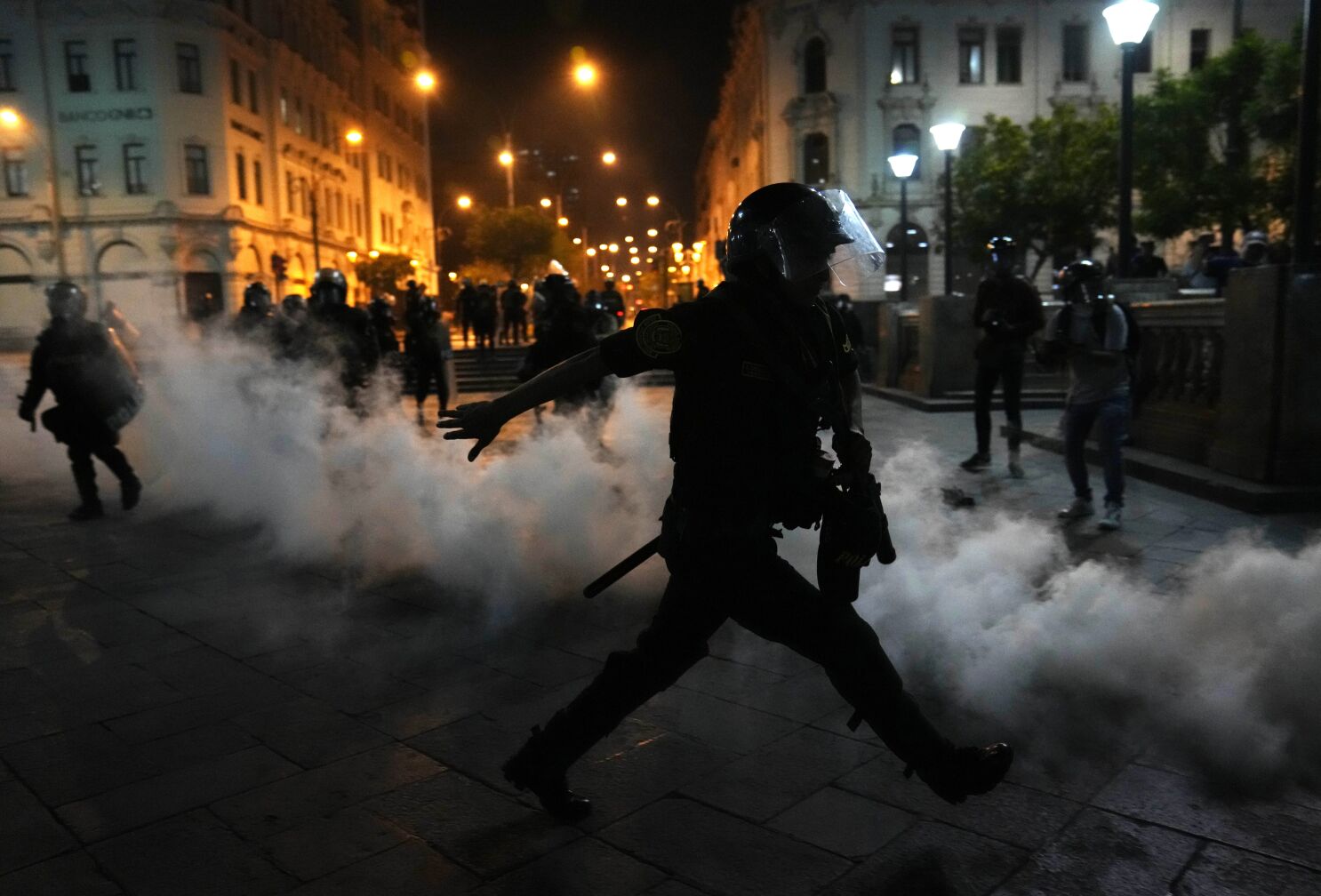 What kind of protests have there been?
March saw the start of demonstrations after Castillo's impeachment motion was rejected by the parliament. To demand Castillo's resignation, thousands of protesters marched through Lima, the country's capital. Castillo used riot police to drive away the protesters. Carola Suarez, a protestor, said to Reuters, "We are here in the name of millions of Peruvians. Peru is at its breaking point. Economically speaking, everything has stagnated, and we are on the brink.
A large portion of rural Peru, which was once Castillo's stronghold, was also engulfed in protests. Some of these protests, which were severely impacted by rising fertiliser and fuel prices, turned violent and turned into riots, vandalism, and looting. Multiple people had already died and been injured during the protests in March and April, and authorities frequently used brutal force to repress the demonstrators.
After promising reforms at the end of April, there was a brief respite, but by May, another scandal had broken, this time with accusations that Castillo had plagiarised his master's thesis. Since then, protesters and opposition parties have both increased their pressure. The results of a criminal investigation that singled out Castillo led to the resignation of Prime Minister Anibal Torres in August.
By December, Castillo was up for another vote on impeachment, but this time he had less support than before.
A long-lasting "coup"
Pedro Castillo decided to dissolve Congress and impose a curfew on December 7 after sensing his hold on authority slipping. But he would almost immediately fail, with the military issuing a swift statement denouncing his actions and his political allies deserting him. Castillo had exaggerated his level of political and popular support. It was past his time.
On that day, Castillo was finally impeached by the Peruvian Congress and then taken into custody. Castillo's rule ended abruptly, but Peru's issues persisted for a very long time. Dina Boluarte, a former ally of Castillo's who served as his vice president until she publicly criticised him and resigned, succeeds him. But the majority of the nation was not content.
Demonstrators demand new elections
After Boluarte was sworn in as the country's first female president and had only been in office for a day, protesters again took to the streets to demand her resignation. They demanded new elections. Demonstrators, many of whom were Castillo supporters, have been calling for Peru to hold elections for days in order to prevent Boluarte from remaining in power until Castillo's official term ends in 2026, the Guardian reported.
Violence was reported in numerous other locations during clashes with police on Sunday in the city of Andahuaylas, where two teenagers, ages 15 and 18, died "possibly as a result of gunshot wounds."
Dina Boluarte responded by announcing earlier today that she would push back the scheduled date of the general elections by two years, to 2024.
Dina Boluarte, the country's newest leader, acceded to protesters' demands early on Monday and declared in a speech broadcast nationwide that she would also send Congress a proposal to advance elections.
In order to get Boluarte to resign and call elections to replace her and Congress, thousands of protesters marched through the streets of Peru on Sunday for a second day. Officials say that at least two people have mainly died as a result of the deadly protests in a remote Andean community.
Boluarte stated that she will suggest holding the general elections in April 2024.
In the ongoing political crisis, many protesters are calling for the release of Pedro Castillo, and the centre-left president who was removed by lawmakers on Wednesday after he also attempted to dissolve Congress ahead of an impeachment vote.
Additionally, hundreds of people demonstrated in the nation's capital of Lima, where riot police used tear gas to repress the crowd.
Particularly in rural areas, where Castillo, a former teacher and political newcomer from a destitute Andean mountain region, enjoys support, the protests roiling Peru intensified. In addition to marching through the streets, protesters vandalised a small airport used by the military and set a police station on fire.
Congresswoman Maria Taipe Coronado said a 15-year-old boy died from injuries sustained during a main protest in the remote Andean community of Andahuaylas as she pleaded vehemently for Boluarte to resign from the capitol building.
For failing to submit her resignation, Taipe, who is a member of the party that supported Castillo and Boluarte in their campaigns for president and also vice president, respectively, last year, before both of them were expelled from the organisation, claimed responsibility for the death of this countryman. When did protesting become illegal?
Taipe alleged that the government was suppressing protests with an overbearing hand. However, the boy's cause of death is still unknown, and state media reported a current second death in the same community without providing further information.
The second protester to pass away was an 18-year-old, according to Anthony Gutiérrez, director of a nearby hospital, who told a local radio station. There were also reports of at least 26 injuries.
After shocking the nation by ordering the dissolution of the Congress, which in turn also dismissed him for "permanent moral incapacity," Boluarte, 60, was very quickly sworn in to replace Castillo at midweek. Castillo was detained on suspicion of rebelling.
A third attempt at impeachment against Castillo was about to begin when he made his unsuccessful move against the opposition-led Congress.
Protests in various locations across the nation have persisted for days. A hospital in Andahuaylas treated 16 patients for concussions on Saturday, and one of those patients was said to be in a current critical condition.
In order to recover from the most recent upheaval, Boluarte has called for a period of national unity.
Following Taipe's speech in Congress on Sunday, Boluarte tweeted, "No Peruvian deserves to have their life sacrificed for political interests. "I offer my condolences for the passing of an Andahuaylas resident. I urge you once more to engage in dialogue and put an end to violence."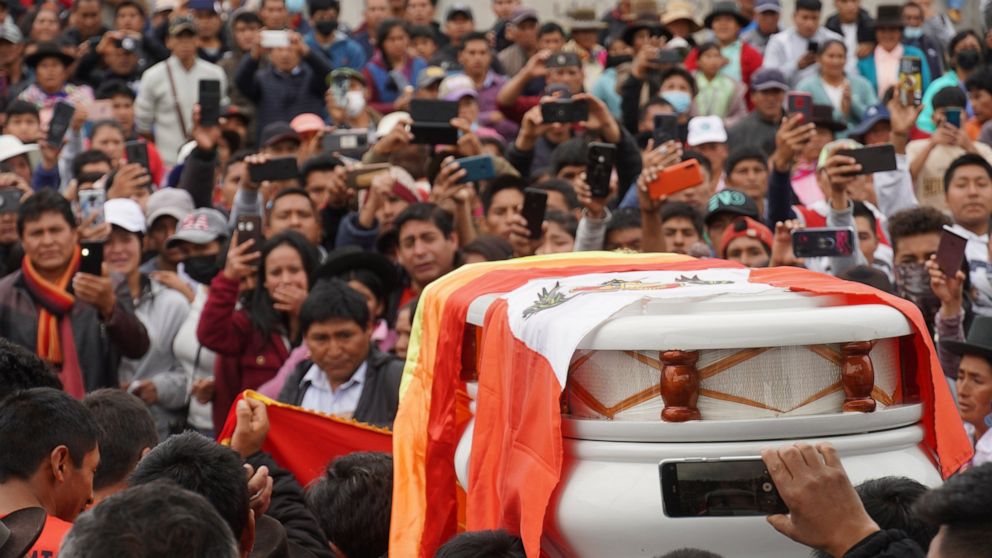 On Sunday, hundreds of people gathered once more in Lima outside the legislative building. While lawmakers were starting a session just inside the building, dozens of police officers in riot gear fired tear gas at the crowd. In the midst of gas clouds, police chased and beat protesters as they fled the scene.
Boluarte's Cabinet will meet Sunday night, according to Prime Minister Pedro Angulo, to assess the unrest and decide how to react.
In the past six years, Peru has had six presidents, including three in a week in 2020 when Congress exercised its impeachment powers.
As the Andes region and also its thousands of small farms struggle to survive the worst drought in a half-century mainly, the power struggle in the nation has persisted. The nation of more than 33 million people is also dealing with a fifth wave of COVID-19 infections; since the pandemic started, there have been about 4.3 million infections and 217,000 fatalities.
edited and proofread by nikita sharma