Trends
The Merch Of UBS And Credit Suisse Won't Effect The Indian Clients Service: Credit Suisse.
According to a bank spokeswoman who spoke to sources, the Swiss lender Credit Suisse's merger with UBS will not have an impact on the services provided to its Indian consumers. The bank is working on a seamless transition now.
The Merch Of UBS And Credit Suisse Won't Effect The Indian Clients Service: Credit Suisse.
The UBS-Credit Suisse Deal has shaken markets all around the world. When the two banks were coerced into joining forces by Swiss regulators to stabilize a faltering Credit Suisse, the union has been referred to being a forced union.
Both Swiss private banks have non-resident Indian teams and specific market heads to cover Offshore Territories, like the Southeast Asian countries of Indonesia, Thailand, and the Philippines. The overlap of managing directors produced for each sector will probably need to be lessened between the two institutions.
But the concern for India is, will this merger affect Indian employees?
The India-based technology back offices of UBS and Credit Suisse, which together employ about 14,000 people, are likely to see the notable effects of the massive bailout in Swiss banking as Job-reduction and a cost-conscious approach follow UBS's takeover of its distressed rival, leading to job losses at the multi-city facilities known locally for global in-house centers (GIC).
As concerns over which global bank will fall next have grown because of back-to-back failures, the future of employees at Credit Suisse's India-based technology back offices is in jeopardy.
In three Indian cities, Credit Suisse employs roughly 14,000 workers. Role rationalization following the merger might result in several job losses in these sectors because UBS will aim to keep only the best employees at Credit Suisse, according to sources.
There are Offices for UBS and Credit Suisse in Mumbai, Pune, Gurgaon, and Hyderabad.
According to a bank spokeswoman who spoke to sources, the Swiss lender Credit Suisse's merger with UBS will not have an impact on the services provided to its Indian consumers. The bank is working on a seamless transition now.
The company says that they don't estimate any Interruptions in client services. They are focused on Guaranteeing a smooth transition and seamless experience for Loyal Clients and consumers, added the spokeswoman.
There are worries that the acquisition could result in huge job losses in Switzerland and weaken competition in the crucial banking sector of the country, which employs about 212,000 people, or more than 5% of the total workforce.
The risk is serious for Switzerland. There will undoubtedly be overlap because the two banks together employ more than 37,000 people in the country, or around 18% of those working in the financial sector.
The Credit Suisse branch is right in front of the UBS bank in the city where I live, thus, one of the two will undoubtedly close, according to a message from Bris of IMD.
Ralph Hamers, CEO of UBS, stated during a call with Analysts that the bank would aim to Cut Expenses by 8 billion francs ($8.9 billion) year by 2027, 6 billion francs ($6.5 billion) of which would come through job reductions.
Experts predicted that UBS will continue to operate in India.
As things are still in the planning stages, it is too soon to make any Generalizations about Credit Suisse's (CS) Indian Activities. They will most probably work under the name Union Bank of Switzerland (UBS). If everything goes according to plan, it will be moved forward, said Stakeholder Empowerment Services' J. N. Gupta.
Thus, the merger ought to go rather well. Some corporate office consolidation is estimated, and top management may transfer to other companies, possibly domestic ones, said Vikas V Gupta, CEO and chief investment strategist of OmniScience Capital, a global investment management company.
Gaurang Shah of Geojit Financial Services added to it by stating that CS has a history of acting improperly, beginning in 1997. He wishes them the best. American regulators need to check how they operate, according to Shah.
Ajit Kabi, LKP Securities' Banking Analyst, said CS has an asset of Rs 20,000 crores in India. Just 0.1 percent of all Banking Assets are represented by it. They estimate some reorganization in India's investment banking industry.
What happened, and why USB decided to merge with Credit Suisse?
For years, Clients and investors had been losing faith in Credit Suisse (CS). Since the start of the global financial crisis in 2022, it has suffered its biggest loss.
The failure of Silicon Valley Bank and Signature Bank, which fueled worries about weaker institutions at a time when rising interest rates have decreased the value of some Financial Assets, and its admission of material weakness in its bookkeeping, respectively, caused confidence to collapse.
The 167-year-old bank's shares, according to the sources, fell 25% during the week as capital poured out of the investment vehicles it manages, and customers at one point withdrew deposits totaling more than $10 billion each day. The Emergency Loan of over $54 billion from the Swiss National Bank was not enough to stop the damage.
Although it did "create a bridge" to the weekend, allowing the rescue to be put together, Swiss officials said.
In an emergency attempt to calm the financial markets after the bankruptcy of two US banks earlier this month, Switzerland's largest bank, UBS, has decided to purchase its struggling rival, Credit Suisse.
The Swiss National Bank released a statement announcing UBS' acquisition of Credit Suisse. According to the report, the rescue would insure Financial Stability and Safeguard the Swiss economy.
After markets closed, Credit Suisse was valued at nearly 60% more than UBS is paying for it today: 3 billion Swiss francs ($3.25 billion). In exchange for their stock, which was valued at 1.86 Swiss francs, Credit Suisse stockholders will receive just 0.76 Swiss francs in UBS shares, effectively wiping them out.
Owners of other tier-one bonds, a riskier category of bank debt valued at $17 billion will be totally out of luck, according to Swiss regulators.
Exceptionally, the deal will not need shareholder approval after the Swiss government agreed to alter the rules to remove legal ambiguity.
UBS chairman Colm Kelleher told reporters this Deal is advantageous to UBS shareholders, but for Credit Suisse, this is an emergency rescue.
After several days of tense talks involving financial regulators from the United States, the United Kingdom, and Switzerland, the emergency takeover was done. In the world financial system, UBS (UBS) and Credit Suisse are two of the top 30 banks, and their combined assets total close to $1.7 trillion.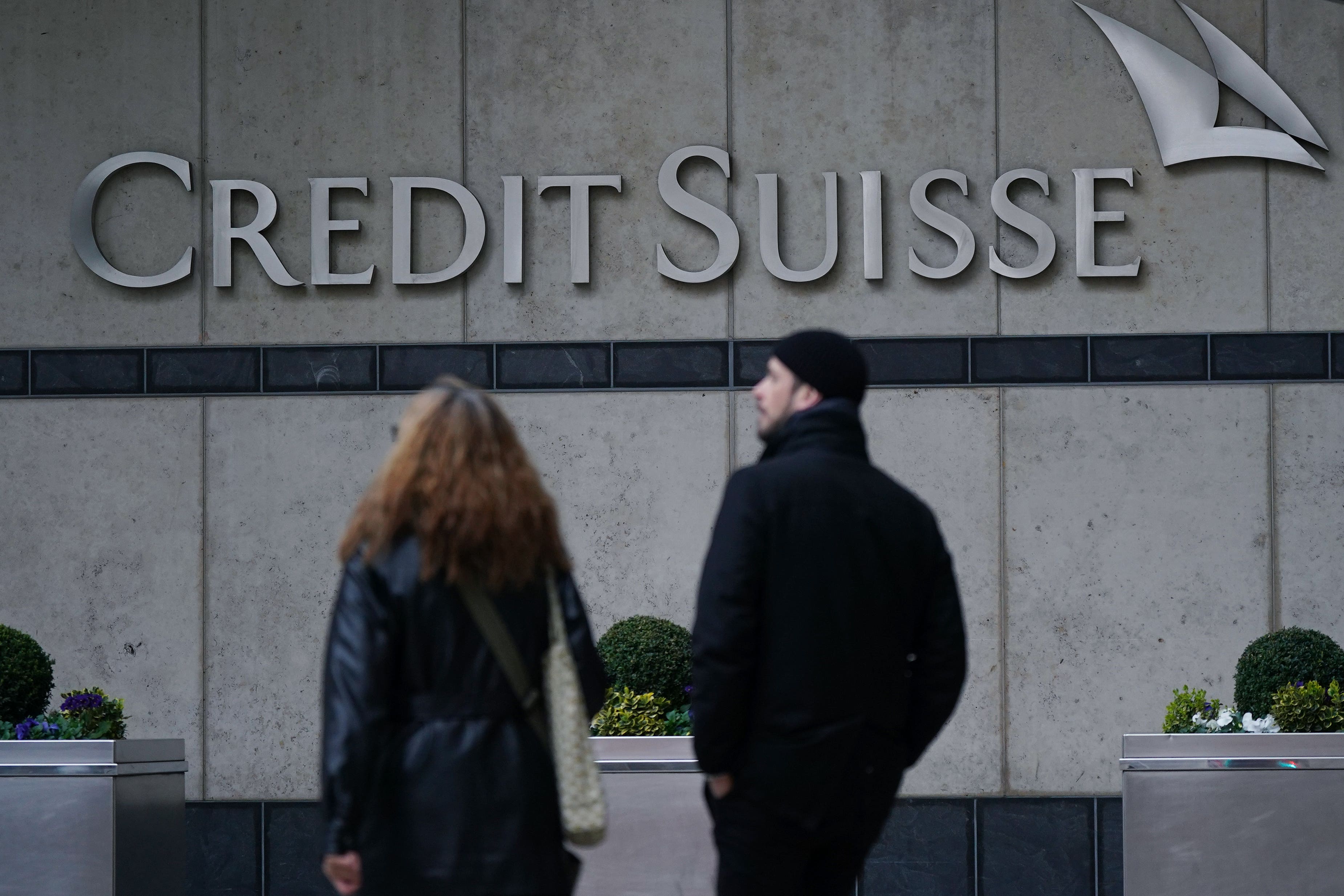 Global financial market regulators applauded UBS' decision to acquire Credit Suisse.
Switzerland's reputation as a secure and stable international financial hub has also been damaged by its failure, particularly after the government effectively deprived shareholders of their voting rights of completing the purchase.
Also, Swiss Authorities eliminated some bondholders before shareholders, upending the conventional order of losses in a bank failure and damaging the country's standing among investors.
According to US Authorities, they assisted in the takeover and closely worked with the Swiss central bank to support the action.
With $5 trillion in invested Assets, the acquisition will strengthen UBS' Position as the largest wealth manager and support its expansion plans in the Americas and Asia. According to UBS, by 2027, it hopes to save $8 billion annually.
In a last-ditch effort to stop the crisis from spreading to the rest of the world's financial system, Swiss Authorities began looking for a private sector solution with only a little state assistance while reportedly pondering Plan B—a full or partial nationalization.
In Zurich, the Global Offices of UBS and Credit Suisse are only 300 yards away, but recently, the fortunes of the two banks have taken very different turns. UBS's stock price has increased by 15% during the last two years, and in 2022 it reported a $7.6 billion profit. Refinitiv estimates that its stock market value on Friday was around $65 billion.
Over the same period, the value of Credit Suisse's shares decreased by 84%, and the company reported a $7.9 billion loss in 2017. It only had an $8 billion value a few days ago.
In addition to being the second-largest bank in Switzerland, it provides global investment banking services and manages the money of many of the world's wealthiest people. Towards the end of 2022, it employed over 50,000 people, 17,000 of whom were based in Switzerland.
To increase liquidity, the Swiss National Bank announced it will lend UBS and Credit Suisse 100 billion Swiss francs ($108 billion).
Edited by Prakriti Arora