Trends
The Senate control could not be decided by the races
At this point, the battle for the control of the Senate is a tie. While projections previously favoured Democrats, Republicans' path to a majority appears to be becoming more plausible. With less than once a week until Election Day, FiveThirtyEight's model predicts a 50-50 split in the upper chamber for Democrats and Republicans.
According to Cook Political Report, a nonpartisan political analysis group, nine of the 35 Senate seats up for the current election this cycle is indeed in play. These include Republican-held swing states such as Pennsylvania and Wisconsin and Democrat-held battleground states such as Nevada, Georgia, and Arizona, all of which could change hands this fall.
Here's a look at the central dynamics in these critical races and then a preview of what each of them could mean for the respective parties' futures and Senate control.
Five states are a dead heat.
Pennsylvania
John Fetterman, Democrat
Mehmet Oz, the Republican
Trump's choice for reality show doctor Mehmet Oz has already spent heavily to suggest that also he'd be tougher on crime than Fetterman, capitalizing on fears about areas of the state that have seen an increase in violence as a result of the pandemic.
He's also taken conservative policy positions, such as support for abortion restrictions and broad gun rights, notably stating during a recent debate that the decision to have an actual abortion should be made by "women, doctors, and local political leaders." Aside from his policy positions, Oz has received criticism from Fetterman's campaign for also living in New Jersey for years and then moving to Pennsylvania just before his Senate run.
Why this race is important: Democrats need to win this seat if they want to keep control of the Senate and expand their majority. It will also reveal how effective the Republicans' "soft on crime" messaging ultimately is, as Republicans have sought to portray Democrats — particularly Fetterman — as ill-equipped to address the issue.
Democrats hope to flip this seat because of Fetterman's popularity in the state and Biden's success in 2020. After the Democrat also struggled to provide in-depth all answers during a late October debate, questions about Fetterman's health also have played a role in the race.
According to Cook, the race is a toss-up, and FiveThirtyEight's polling aggregator has Fetterman ahead by 0.3 percentage points as of November 3.
Blake Masters, Republican
Blake Masters, a venture capitalist with the backing of tech billionaire Peter Thiel, is one of the election deniers running this year. Masters has also supported Sen. Lindsey Graham's 15-week federal abortion ban, but has attempted to soften his hardline stance on the issue as it has become clear that the politics have been also less favorable to Republicans. He's been chastised in the past for making divisive statements, such as blaming Black people for gun violence.
Why is this Senate control race interesting?
This race could reveal whether a far-right Republican candidate can win in a battleground state. Kelly has built a strong base of support by reaching out to independents and moderate Republicans, but Masters is still likely to benefit from some of the opposition party's usual midterm momentum, as well as surging enthusiasm among Republicans.
The race is a toss-up, according to Cook, and Kelly leads the polling aggregator FiveThirtyEight by 2.4 percentage points as of November 3.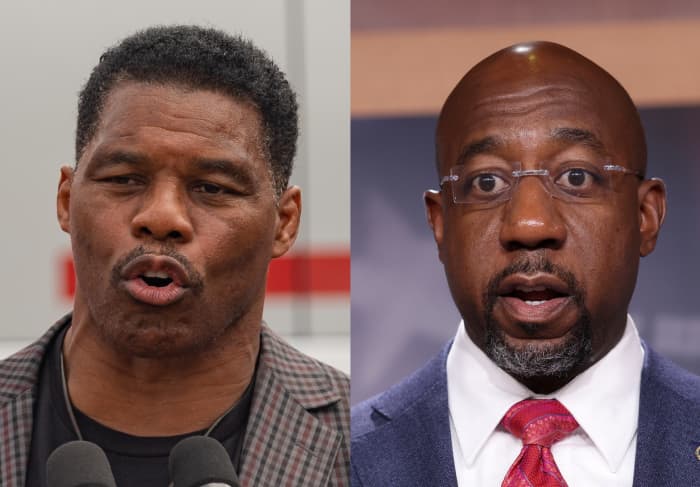 Raphael Warnock, Democrat, Georgia
Sen. Raphael Warnock won a tight runoff in January 2021 and is now running for reelection. Warnock, who is a pastor at Atlanta's Ebenezer Baptist Church and where Martin Luther King Jr. once served, has emphasized his efforts to reduce insulin costs and his support for Medicaid expansion. He has also attempted to distance himself from President Joe Biden, who has received lower approval ratings in the state.
Herschel Walker, a Republican
Herschel Walker, a former football star, is one of the Republicans struggling with candidate quality this election cycle. Most recently, he has been accused of paying for two women's abortions in recent, despite his support for abortion restrictions. Walker has denied both charges.
In addition to all these recent issues, Walker has faced allegations of domestic violence and scrutiny for misrepresenting his business record and law enforcement experience. Walker's celebrity status and Trump's support, on the other hand, have given him a boost among some voters.
Why is this race interesting?
Georgia is one of the most competitive races this cycle, and it may well go to a runoff if no candidate gets also more than 50% of the vote this fall. It's also a true test of whether Republican candidate quality issues can sink the party's nominee, or if factors in the GOP's favor — such as a strong top of the ticket and also a voter base advantage — will be enough to save the Walker.
Warnock is considered the most stronger candidate of the two due to his incumbency and also favorability, but other headwinds for Democrats, such as inflation and the crime concerns, as well as historic midterm trends, may benefit Republicans.
The race is a toss-up, according to Cook, and Walker leads FiveThirtyEight's polling aggregator by 0.3 percentage points as of November 3.
Nevada's Democrat is Senator Catherine Cortez Masto.
Sen. Catherine Cortez Masto, the first Latina elected to the Senate and is running for reelection and is emphasizing her support for abortion access. Cortez Masto also served as the state's attorney general before being elected to the Senate in 2016, and she is known for taking more moderate positions.
Adam Laxalt, Republican
As he attempts to flip the state, Adam Laxalt, a former Nevada attorney general, has focused on the economy and law-and-order rhetoric. He is also an election denier and has previously attempted to limit abortion rights as AG. Laxalt is the grandson of Paul Laxalt, the state's former governor and senator.
Why is this race interesting?
Because of how the competitive the polls have been thus far, Republicans are eyeing Nevada as a potential pick-up state. The race pits a low-key Democrat who has emphasized her support for abortion rights against a hard-line election denier and the "law and order" candidate. Republicans hope to build on their gains with Latino voters in the state by emphasizing economic policy changes. Laxalt's emphasis on inflation, in particular, is intended to win over working-class voters in the state and where the tourism industry was decimated by the pandemic.
The race is a toss-up, according to Cook, and FiveThirtyEight's polling aggregator has also Laxalt up by 0.6 percentage point as of November 3.
Lt. Gov. Mandela Barnes of Wisconsin is a Democrat.
Barnes has faced relentless, and then sometimes racist, Republican attacks in recent months for his support for criminal justice reforms, such as policies to eliminate cash bail and also reduce the state's prison population. While he has taken all of these positions, Republican advertisements have sought to distort them in order to suggest that they would result in more violent criminals on the streets.
Republican Senator Ron Johnson
Senator Ron Johnson is defending his current seat in a state that Biden won by less than a percentage point in 2020. Johnson is a very longtime fiscal conservative and Trump supporter who has made contentious remarks downplaying the January 6 insurgency and questioning vaccines during the pandemic. He's also heavily invested in "soft on crime" messaging against Barnes, claiming that he'd take a tougher stance on these issues.
Why is this race interesting?
Given Biden's success in the current state, Johnson was considered the most vulnerable Republican this cycle, despite maintaining a solid polling lead. This race could demonstrate how effective Republicans' soft-on-crime messaging is, as well as whether a contentious incumbent can win reelection in a swing state.
The race is a toss-up, according to Cook, and Johnson leads the polling aggregator FiveThirtyEight by 3.8 percentage points as of November 3.
Democrats have the upper hand in Colorado and New Hampshire.
Colorado
Senator Michael Bennet is a Democrat.
Senator Michael Bennet, a two-term incumbent, is running for reelection. During his time in the Senate, Bennet has also focused heavily on expanding the child tax credit and touting the funding he has brought back to the state for infrastructure improvements.
Joe O'Dea, Republican
Joe O'Dea, the CEO of a construction company and a more moderate Republican, is attempting to appeal to center-right voters by taking more measured positions such as opposing the Supreme Court's Roe v. Wade decision.
Why is this race interesting?
O'Dea is more moderate than several other Republican Senate candidates, and his success in portraying himself as a moderate senator could make this race more competitive. However, as Vox's Nicole Narea explained, O'Dea still holds many traditional Republican positions. He previously voted for Trump and also supports the construction of a border wall, and has stated that he would have voted to confirm all the conservative Supreme Court justices who have played a key role in restricting abortion access.
Historically, the state has leaned Democratic. In 2016, Bennet received 50% of the vote, while Republican Darryl Glenn received 44%. It's worth noting, however, then that Bennet did not receive a majority of the current vote in either of his Senate elections, implying that those victories were less decisive and also that a late shift in the race dynamics could benefit O'Dea, whose candidacy could provide Republicans with a road map for regaining bluer states.
The current state of the race: Cook rates the race as Democratic, and as of November 3, the FiveThirtyEight polling aggregator had Bennet leading by 9.7 percentage points.
Maggie Hassan, Democrat, New Hampshire
Senator Maggie Hassan has made abortion rights a centerpiece of her own campaign, while her current opponent has praised the Supreme Court's actual decision to overturn Roe v. Wade. Hassan is running for a second term in the Senate after previously serving as governor of New Hampshire.
Don Bolduc is a Republican.
Far-right candidate retired Brigadier General Don Bolduc previously leaned into claims that Trump won the year 2020 election and also told Hassan to "get over it" regarding Roe v. Wade. He has attempted to retract his election denial, most recently stating that Biden's victory was "legitimate." He has also stated that he will not support Sen. Lindsey Graham's (R-SC) bill that would prohibit abortion after 15 weeks, stating that the decision should be left to the states.
Why is this race interesting?
The race will be another indicator of how far-right candidates can gain traction in a swing state general election. Democrats see Bolduc as an easier opponent to then beat in a state that has gone blue in recent presidential elections because he is more extreme than other possible candidates. However, given the narrow margins by which Hassan won in 2016 and also the national trends that could favor Republicans this year, New Hampshire remains a battleground. Republicans are also increasingly uniting behind Bolduc, causing polls in the state to tighten.
The current state of the race: Cook rates the race as Democratic, and as of November 3, the FiveThirtyEight polling aggregator had Hassan up by 2.9 percentage points.
Republicans hold the upper hand in North Carolina and Ohio.
North Carolina (NC)
Cheri Beasley, Democrat
Cheri Beasley, a former chief justice of the North Carolina Supreme Court, is a moderate who has focused on reaching swing voters. She has spoken out in support of abortion rights while claiming independence from her party. If she wins, she will be the only Black woman in the Senate.
Rep. Ted Budd is a Republican.
Rep. Ted Budd, a self-described "conservative warrior," has run a more low-key campaign with few large events, focusing on issues such as inflation. Budd, the owner of a gun store, was one of the Republicans who challenged the certification of the 2020 election results.
Why is this race interesting?
This seat has been vacated by retiring Senator Richard Burr, so Republicans have no incumbency advantage. It's a race that will hinge on whether a centrist Democrat can reach out to independents in a Republican-leaning state. North Carolina has also become more diverse over the last two decades, which Democrats could exploit if they engage in effective voter outreach.
The current state of the race: Cook rates the race as lean Republican, and as of November 3, the FiveThirtyEight polling aggregator had Budd up by 3.8 percentage points.
Ohio's Democrat is Rep. Tim Ryan.
Tim Ryan, a former presidential candidate, is a moderate who has focused his campaign on bringing manufacturing jobs back to the state. He has stated that he will work across the aisle and has previously challenged Speaker Nancy Pelosi's role in the House. Although Ryan faces an uphill battle in the staunchly Republican state, he's garnered more attention for viral moments such as taking on Vance in a recent debate and running a more aggressive campaign than expected to reach swing voters.
J.D. Vance, Republican
J.D. Vance, a venture capitalist and the bestselling author of Hillbilly Elegy, tacked hard to the right to win the Republican nomination, and has supported conservative policies such as Graham's 15-week abortion ban. Vance has also faced some candidate quality questions as a result of controversial statements he's made, such as those implying that parents should stay in violent marriages for the sake of their children.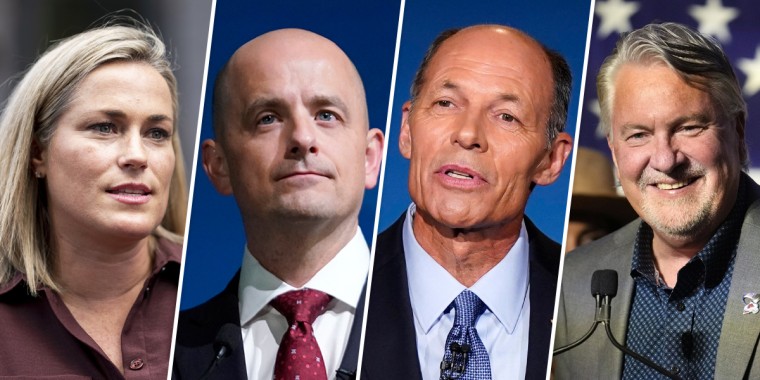 Why is this race interesting?
The race is a microcosm of Democratic efforts to reclaim white working-class voters lost to Trump, as well as evidence of how valuable close alignment with the former president remains for some Republican candidates. Vance's controversial statements and policy positions may have made this race more competitive than it would have been otherwise in this Republican-leaning state. Ryan has also established a fundraising advantage, and the race is still extremely close.
edited and proofread by nikita sharma