Trends
Top 10 Best POS In India 2022
Top 10 Best POS In India 2022
A retail business's POS system is one of the most important components of its success. A retail business with a high turnover rate needs an intuitive point-of-sale system that is easy to train new employees. Your Point of sale should also automatically capture customer and employee data as well as sales and inventory information. Your profits will increase as a result.
How does a retail Point of sale make a difference? In a nutshell. Point of sale systems that offer good inventory management, transparent pricing, strong reporting tools, and easy operations are the best for retail. In addition, ensure that the system you choose has built-in loyalty and marketing features so that customers know to return to your brick-and-mortar store, as well as features like curbside pick up and BOPIS.
Retail Point of sale systems differ based on your particular business requirements; your needs determine the best one.
The point of sale is an electronic system that allows merchants to figure out their customers' amounts to pay. Through this system, transactions are completed. Therefore, it has also been called the point of purchase.
Customer profiles can be created and stored in Point of sale systems. These profiles can be used to manage inventories. With this system, you can gain important business insight. In addition, small business owners with limited products can use free POS software to meet their needs.
Since many restaurants and retail outlets have closed due to the pandemic, many people move their needs and want online. As a result, Point of sale systems has become less relevant. It's no surprise that consumers turn to online shopping for goods and restaurants for ordering online. Are point-of-scale systems old-fashioned? 
Retail Point of sale market size is expected to increase from $15.8 billion in 2020 to $34.4 billion in 2026, which is an overestimate for many people. However, according to industry analysts, the market has grown despite the economic crisis.
This is the growing popularity of internet shopping for retail products.
A point-of-sale system can be installed on-premises or in the cloud. Mobile Point of sale systems is most typically used in the restaurant industry. The classic POS system is on-premises. It uses local servers and runs on an internal network.
Cloud technology is used in a cloud-based Point of sale system. This platform gives you the freedom to utilize it anywhere, at any time, as long as you have an internet connection. It has a lot of features that are ideal for small businesses. It includes a variety of pricing options and is compatible with most hardware.
These systems can be used on mobile devices is their biggest advantage. In addition, Point of sale systems has numerous advantages, including the ability to speed up the checkout process, organize sales data, and store customer information.
What is a Point-of-Sale (POS) Machine?
The term "point-of-sale" refers to a transaction between a merchant and a customer. A Point of sale system is made up of POS hardware and POS software used to establish a POS machine for processing payments.
A point-of-sale (POS) machine is an electronic device that accepts credit card payments. It is preferable to be particular and choose the one with all of the qualities you require.
Acceptance of credit and debit cards, reporting, and inventory management are all capabilities that every Point of sale machine possesses. Features might also be industry-specific.
Point-of-sale systems (POS) are commonly used by retail and hospitality businesses to accept mobile and card-based payment methods. However, small business owners may find it difficult to select the best POS product for their needs with so many available on the market. In general, POS systems offer businesses the capability of accepting debit cards, credit cards, and mobile payments. In addition to secure payment processing, the best POS systems will also include integrated accounting and administrative software.
It would be best if you considered what features your business needs from your POS system – whether you require basic accounting and invoicing functions, transaction processing, or inventory management capabilities. Further, you may also want to think about the total cost of owning a POS system (including rental fees, software, and hardware).
Types of POS Machine
POS machines include several components that work together to ensure secure checkout. They include card drawers, card machines, barcode scanners, receipt printers, ePOS (electronic point of sale) software, cash drawers, etc.
Payment via cash, credit cards, or debit cards is accepted in modern checkout processes. They can accept cash, debit cards, or credit cards without the hassle.
Standalone Card Terminal

: These POS terminals do not require to be connected to a cash register or POS software. After you've totalled the things, you'll need to enter the total sales on the card machine's keypad. It also communicates with the merchant bank and the card issuer for transaction authorization before printing the receipt.

Integrated Terminal:

This sort of POS equipment is linked to an electronic point-of-sale system. It simplifies transmitting the payment process from the till display to the card terminal. It automatically displays the payment total and prints a receipt.

Cash Drawers:

Cash drawers are frequently linked to the main system or tablet, and they open instantly as soon as the amount to be paid is entered on the till screen. It also displays the amount that must be repaid to customers and guards against theft.
The greatest POS systems can do more than just process sales and accept payments. Tools that help you evaluate sales data, maintain inventory, connect with customers, and manage workers make it easier to run your entire organization. Email marketing, loyalty programs, and other capabilities that ease procedures and save time are included or have integrations. In addition, the finest POS vendors offer solid customer service that is available 24 hours a day, seven days a week, so you can get help whenever you need it, even if your business operates on odd hours or you work late.
When comparing POS machines and software, seek systems that offer the most flexibility, such as monthly software subscriptions, a variety of payment processors, and connectivity with third-party POS technology that you can buy upfront. You won't be trapped into a network or a rent for a few years this way, and you'll be able to swap out whatever components of the system you want, whenever you want – whether you're missing features, services aren't fulfilling your expectations, or you've found a better offer elsewhere.
The rise in non-cash transactions, the requirement for POS on product delivery, and the data visibility provided by web-based POS systems are all important growth factors in the worldwide POS market. Furthermore, as a result of technological advancements, an increasing number of consumers are transacting via their mobile devices.
It's still a wise move to invest in a POS system as several POS vendors offer products with robust features at an affordable price. 
One of the most important attributes of modern POS systems is performing advanced orders and checkouts. Due to the Coronavirus pandemic, contactless payments are increasingly popular. As a result, there is a need for POS systems that support contactless payments to allow customers to pay for food and merchandise safely and securely. 
The pandemic has also led to a growth in self-serve ordering. Tablets and smartphones can be turned into portable ordering stations with the help of many POS systems. In this way, customers can order food and beverages without physically approaching employees.
POS in retail: How to Use It
The Retail outlets and grocery stores benefit from POS systems, whether paid for or free, by speeding up transaction times and increasing efficiency. The following steps must be followed once you have a retail POS system. 
Add products for sale:

When you scan a product's barcode, the details of that product appear on the retail POS system monitor. As a result, you can rapidly search for any item and determine its sale frequency.

Add different discounts:

You can use the POS system to give discounts in your retail store on certain items or the entire item in the cart.

Accept payments:

The POS system allows you to accept cash, credit cards, and mobile payments. Gift cards, loyalty points, and pay later alternatives are also available.

Make notes for future reference:

You can make notes for specific sales in the POS system to highlight client problems or requests.
1. Lightspeed Retail
Fast-growing retailers wishing to keep track of large inventories and sync online and in-person sales should turn to Lightspeed for its excellent inventory management and multichannel selling capabilities. Additionally, Lightspeed enables you to create and complete purchase orders across several vendors as it has unique inventory features. Additionally, Lightspeed offers fairly advanced loyalty features, which allow customers to be stored, and specialized discounts can be offered.
Lightspeed Features:
Tags that can be customized:

Teach yourself how to create your inventory taxonomy and organize your items.

Item variations:

You can add multiple attributes to your inventory management system (large, black, leather, etc.). Bundling items, including serialized items, is also possible. Furthermore, you can manage bulk items sold individually and those purchased in bulk.

Returns & Exchanges:

Open a support ticket directly from a customer's profile to simplify returns and exchanges with Lightspeed eCommerce.

Shipping Tools:

Lightspeed Retail's mailing tools can help you stay organized when it comes to shipping out your products. You can organize, amend, and view shipments from the back end, send customers tracking codes, and link with shipping APIs like ShipStation and EasyPost.

Holds and Layaway:

You can put sales on hold or suspend them so you can come back to them later or move them to some other device. You can also put products on hold or put them on layaway for clients to pick up later. It's simple to add new/existing customers to a sale from the POS interface.

Gift Certificates & Gift Cards

: Gift certificates and cards feature a barcode for easy use and can be redeemed many times (their balances can be changed).

Customer Loyalty Program:

With its point-based loyalty program, Lightspeed Loyalty enables you to thank your consumers online and in-store. You can quickly add consumers, automate marketing campaigns, categorize incentives, and offer yet other incentives for anniversaries celebratory events, or thank your VIP clients with this fully integrated program. This add-on also includes a drag-and-drop email builder and allows you to construct automated marketing campaigns using SMS.
Basic POS functionality starts at $69 a month, but you'll have to pay extra for services like loyalty, eCommerce, analytics, and accounting software connection. Lightspeed Retail interfaces with payment processors such as Vantiv Integrated Payments and Cayan but prefers to use its payment processor, Lightspeed Payments.
2. TouchBistro
It is an innovative, intuitive platform for the restaurant management system. This is an all-in-one system that includes all of the features needed to run a restaurant. It's a powerful system that's quick and dependable. It aids in the simplification of processes and the growth of sales.
Features: 
It includes online ordering capabilities, streamlines bookings, and aids in capacity management and, as a result, reservations. Payments, self-service kiosks, digital menu boards, kitchen display systems, customer-facing displays, and other features are available.

It is a platform that is simple to use. It's a quick and dependable option that will help you boost sales. It provides you with order accuracy as well as the ability to serve consumers via takeaway, dine-in, and delivery.
3. Clonet POS
It is a point-of-sale system used by retailers and restaurants to manage menus, inventory, and sales. Aside from an extensive inventory management feature, the POS software provides order management capabilities. Voice alarms and cash drawer functionality are included in the POS system. Clonet POS restaurant POS software also allows you to build and edit menus, handle billing, generate receipts, split invoices, and more.
CloNet POS has the following capabilities:
Access to several stores and locations 

Sales analytics and workforce management 

Offline mode for restaurant management

Kitchen printers and a display screen in the kitchen 

Sales Administrator via online and offline orders 

Electronic self-labelling
4. Square
The POS system from Square is noted for its simple pricing, minimum hardware, and user-friendly interface. Square's POS system includes invoicing, inventory management, software for customer relationship management, customer loyalty, and reporting and analytics, in addition to standard payment acceptance. Square's POS app and its sales-focused Square Dashboard both offer a range of analytical insights, including growth comparisons, busiest hours, sales summaries, and staff sales, among other statistics. Monday through Friday, the company provides free phone help, as well as additional support via social media, email, and live chat.
Pricing for Square chip card readers is free; a reader that accepts contactless payments is $49 for a reader. A Square Stand that works with an iPad is available for $169, and the Square Register (which includes a display and stand as well as a customer-facing display for contactless and card payments) is $799 plus fees. In-person payments through Square are subject to a 2.6% transaction fee plus 10 cents. Unlike online and over-the-phone payments, where the fees are lower, manually entered card payments cost an extra 3.5% plus 15 cents.
5. Clover
Business owners with varying budgets can take advantage of Clover's affordable POS software and exceptional POS hardware. Clover's POS is available to test out for 30 days at a low monthly cost of $9.95. Contactless payments and online ordering are supported. With Clover, you can purchase your POS hardware through third-party affiliates or use your hardware (if compatible). This allows you to find the lowest price possible for your POS hardware.
In addition to its Clover Station package for $1,399, or $466 per month for three months, the company offers a simple yet comprehensive POS system; it includes a cash drawer, receipt printer, and POS terminal. Using Clover Station Pro, you get a POS terminal, cash drawer, receipt printer, and customer-facing screen, all for $1,649 or $549 per month for three months. 
Clover Mini costs $749, or $250 per month for three months, while Clover Flex costs $499, or $166 per month for three months, for those who need a POS system with a more compact design.
Clover GO is a $69.99 card reader that can be used with any iOS or Android device as a payment solution. Clover's restaurant POS hardware with preloaded Clover Dining features is an ideal solution for table-service establishments that want full-service restaurant POS. In-person transactions cost 2.3%, and manual transactions cost 3.5%. The monthly cost is $69.95, plus payment processing fees.
For a complete POS solution, Clover also offers a variety of hardware peripherals. Among the many features you can choose from are cash drawers, barcode scanners, weight scales, POS stands, label printers, printer paper, kitchen printers, and PIN shields. Claver also provides the hardware types that are compatible with the accessories (e.g., Station, Flex, Mini, GO) to help you find the right hardware for your system quickly. Clover's software also lets users manage inventory (order and delivery, auto inventory syncing, stock levels), customers, employees, and manage integrations, completing the POS system.
6. Busy
In addition to accounting functions, Busy software now includes inventory and GST billing features. Accounting software that supports GST is also referred to as Busy 17. GST-related operations at the company are primarily handled by the GST software. Financial management, taxation, accounting, invoicing, etc. Apart from accounting for multiple companies, it also provides POS functionality via barcoding, billing, material billing, and warehouse management.
7. Revel Systems
Thanks to its robust back-end features, Revel was once a leading player in the restaurant sector, but by continuing development, it is now able to tackle retailers as well, even supplying nationwide chains such as Goodwill. The Revel reporting feature provides you with critical sales, employee, customer, and inventory data. In addition to setting up email and marketing campaigns, Revel customer management lets you reward loyal customers.
Revel Features
Intelligent Reporting Suite:

It is easy to read Revel reports, and they are quite extensive. In addition to transaction details and sales summaries, there are also dozens of reports available, including PLU report, ingredients sold, refunded/exchanged items, available/used gift cards, total credit transactions, total voids, and labor percentage reported against sales.

Real-Time Inventory:

With Revel, the only information you need to enter is the price and item (though other fields, such as cost and SKU, are also available). A style matrix may be used to quickly enter similar items whose color, size, or style differ.

Purchase Order Management:

Revel helps you manage how stock items arrive into your inventory, in addition to creating POs and tying inventory to vendors. If you receive partial orders from vendors, you can notate them and complete orders after the supplier has delivered the entire order.

Till Management:

Under the Settings tab, you will find all cash management functions: We can process batches of transactions, track over and under tills, and present reports, such as total cash/credit/check/gift certificates for the night, items sold, and time management.

Loyalty & Gift Cards:

Revel works with a variety of gift card providers to give you more alternatives, and its loyalty features are growing. You can reward your consumers in whatever way you choose, and the software can monitor and save data for the study.

Deliveries:

Orders may be tracked in real-time right from your POS. Customer information and order history are stored in the system, and delivery routes are automatically optimized.
Revel isn't the cheapest iPad POS on the market — prices start at $99 a month per terminal with a three-year processing and commitment and a two different threshold — but it is among the most efficient. From kiosk browsing to plan to integrate eCommerce, Revel can be configured to meet practically any retail POS demand. Because of Revel's open API, you can integrate it with nearly any other enterprise application you use. A custom-built Revel system will provide everything a midsize or bigger business with several locations requires.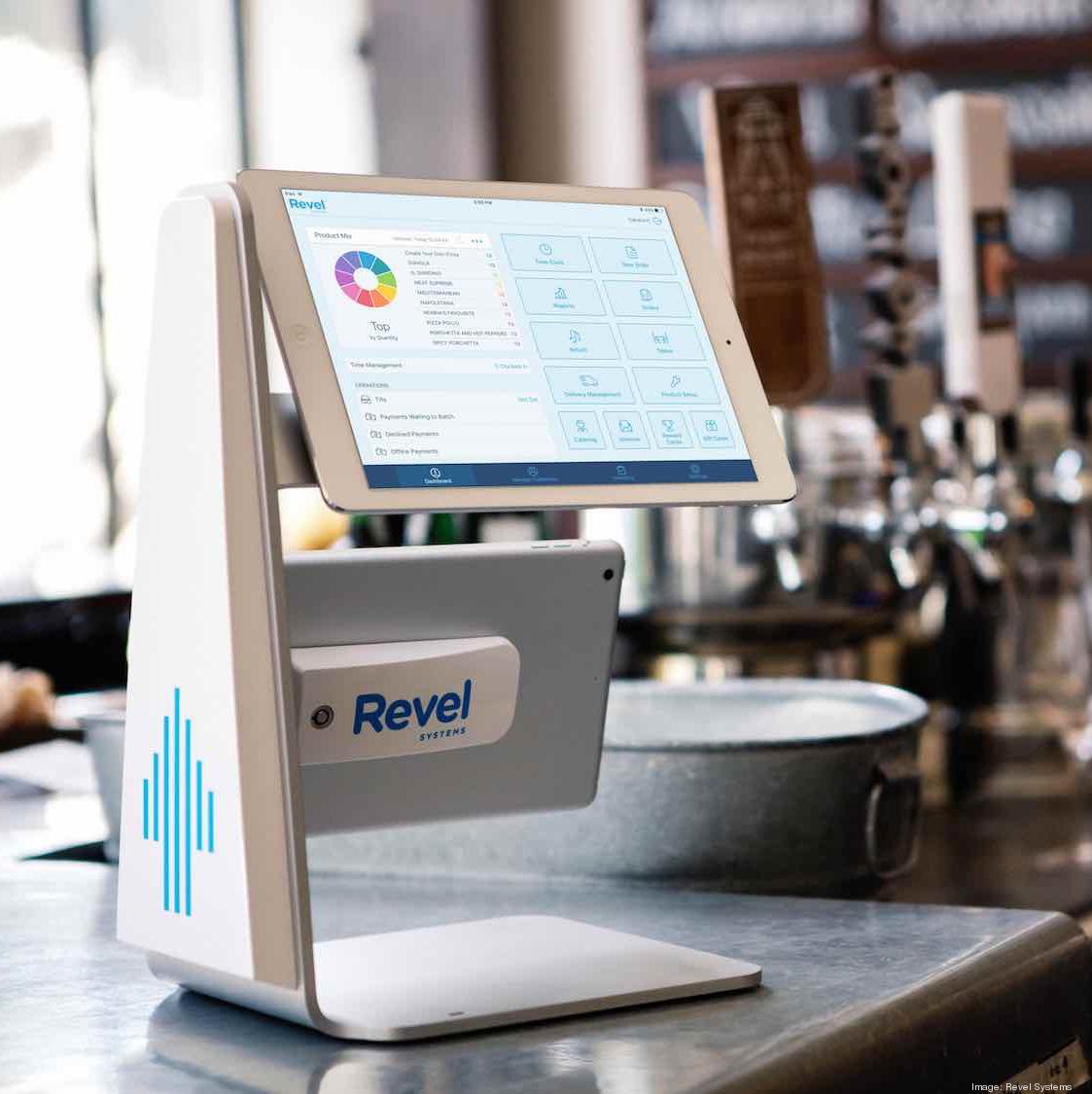 8. eHopper
This plan is limited to one POS and is offered for free by eHopper. You will get all the features and functionalities you need on this free plan. In addition to free features, eHopper also offers paid plans, starting at $39.99 per month per register, which offer additional features like a menu builder and ingredients management.
The eHopper free POS software lets you run your business using Windows PCs, iPads, Android tablets, and Poynt terminals. It's cross-platform capable. Among its many features is the ability to process payments, generate reports, manage employees, and keep track of inventory.
Features:
Notifications of low stock levels for inventory management.

A functional order management system with the ability for customers to note their special requests.

Various forms of payment can be accepted, such as cash, credit cards, debit cards, or other forms.
9. AirPAY Mobile POS
Mobile POS from AirPAY makes it simple to accept e-money and credit cards with a mobile device. You can easily take and track orders on your iPhone or iPad with just a card reader. You will be able to have an even smoother business operation if you incorporate this POS machine with AirREGI, an app for POS cash registers that you can download for free.
Key Points of AirPAY Mobile POS:
A variety of locations across the country offer it to retail shops and restaurants.

The application accepts MasterCard, Visa, American Express, JCB, Diners Club, and a host of other cards.

Payments can be made 3-6 times per month with no fees, and money transfers are free.

Email is used to inform remittance dates and reduce settlement time.

IC chips and PIN code readers are required, guaranteeing data security.
10. Vend POS
Retailers are known for using Vend for ease of configuration and customization, which is also owned by Lightspeed. The vendor provides a range of analytics tools and reporting for managing sales, customer data, inventory, and customer experience. Customers can contact Vend by phone, email, and live chat for free, regardless of their plan level.
POS software from Vend can be used with multiple devices, including PCs, Macs, and iPads, and is supported by third-party hardware, such as barcode scanners, receipt printers, and cash drawers. Vend's payment processing network is not its own and instead integrates with third-party providers like Square, PayPal, and CardConnect. 
Vend offers three price plans: 
A Lite plan for $99 per month (when billed annually)

A Pro plan for $129 per month (when billed annually)

An Enterprise plan that requires a custom quote. 
Article Proofread & Published by Gauri Malhotra.