Trends
Top 10 Best ERP (Enterprise Resource Planning) in India 2022
Top 10 Enterprise Resource Planning in India 2022
Enterprise Resource Planning, like technology, is changing at a breakneck speed.
Enterprise Resource Planning (ERP) software can significantly assist in managing any corporate function, including purchasing, sales, finance, human capital, and marketing.
As we know it today, it is the result of more than four decades of development. It is due to ongoing changes in buyer behavior, economic conditions, rivalry, and technology improvements. As a result, modern-day Enterprise Resource Planning enables businesses to achieve operational excellence while meeting their financial objectives.
We have seen the evolution and innovation of enterprise resource planning as firms evolve, from a simple MRP (Material Requirement Planning) system primarily focused on managing inventory and natural resources purchasing to the contemporary Enterprise Resource Planning. To fulfill the demands of clients and achieve a competitive edge, the businesses are actively using a multi-functional and enlarged ERP software capable of providing intelligent insights, creating personification in client interactions, supporting remote working, and being ready for enhanced automation.
As the Enterprise Resource Planning technology economy grows and evolves, so does the evaluation process and choosing a business solution. Therefore, it might be challenging to limit a search to only the suppliers who offer software with the credentials a company needs, especially with so many different treatments for specific sectors, business sizes, and to use situations.
One-size-fits-all Enterprise Resource Planning system, there is no such thing, so every group should devote time to researching the abilities, advantages, and disbenefits.
The authors of Solutions Review have created the best Enterprise Resource Planning software providers in the market to aid businesses in their quest for the right tool for their needs.
An Enterprise Resource Planning system is a program that analyses, interprets, and executes the everyday primary activities of your company's numerous departments. Organizations may manage all systems and processes via one system with this business management platform.
Enterprise Resource Planning is among the quickest modern applications in the IT sector. It unifies the company's essential business operations into a single software suite that can use across the board. It includes modules like accounting, marketing and sales, human resources, trade and logistics, and others that make doing business easier, streamline operations, and manage data.
Microsoft Dynamics 365 for Accounting and Finance users are by far the most likely to suggest their Enterprise Resource Planning system to industry colleagues looking for Enterprise Resource Planning solutions, with 84 percent saying they would.
Oracle Enterprise Resource Planning Cloud has the best availability and training quality among 22 Enterprise Resource Planning vendors, with 82 percent of users stating they are satisfied. Additionally, unit 4 Users to manage are the most confident with vendor assistance, at 83 percent, outperforming all other ERP providers in the comparison.
These and many other noteworthy facts come from SoftwareReview's newest user rankings for ERP Systems, released today in their Data Quadrant Report. The research is solely based on attitudinal data collected from verified ERP system owners. A total of 1,107 customer reviews were completed, with 22 vendors being evaluated.
SoftwareReviews is a branch of Info-Tech Research Group, a world-class IT research and consulting organization. Can download the Enterprise Resource Planning Data Quadrant Report and the Enterprise Resource Planning Emotional Footprint Report here. Info-business Tech's model is built on offering research to enterprise purchasers on a subscription basis, removing the need to rely on vendor revenue and allowing them to remain objective in their numerous customer satisfaction evaluations.
ERP Software's Advantages
Enterprise Resource Planning typically employ common databases to allow data to flow from one module to the next, allowing for a single tool across the enterprise.
Payroll, for example, might be considered an HR function. However, because money is involved, the Finance department is also involved. Therefore, data must flow between Finance and HR modules in such circumstances. As a result, Enterprise Resource Planning Systems will allow you to run your business better on a day-to-day basis as well as for long-term planning.
What Does Enterprise Resource Planning Do?
The goal of an Enterprise Resource Planning program is to enhance efficiency (and thus profitability) by better allocating firm resources, whether they are time, money, people, or something else.
You can grow your firm more quickly and responsibly if you can lower the number of personnel and use it without compromising performance and quality.
Enterprise Resource Planning software brings together a variety of information and KPIs from many divisions into one place.
This makes getting a complete view of what's happening on however assets are being utilized much easier.
You can gain vital insights into how processes can be changed or resources better invested to create superior development from this lofty perch of the firm. It becomes much more suitable to expend funds in techniques that fail without the need for an Enterprise Resource Planning system and thorough planning on how assets should be allocated to make the business successful and the result.
A good Enterprise Resource Planning software platform, on the other hand, enables a company to allocate funds away from undEnterprise Resource Planning Performing approaches and toward those that are yielding positive results.
Because everything is in one place, an Enterprise Resource Planning system makes it easier to access the information or report you need.
You shouldn't have to sift through spreadsheets or multiple business programs to find the information you need; it's all right there on the Enterprise Resource Planning interface.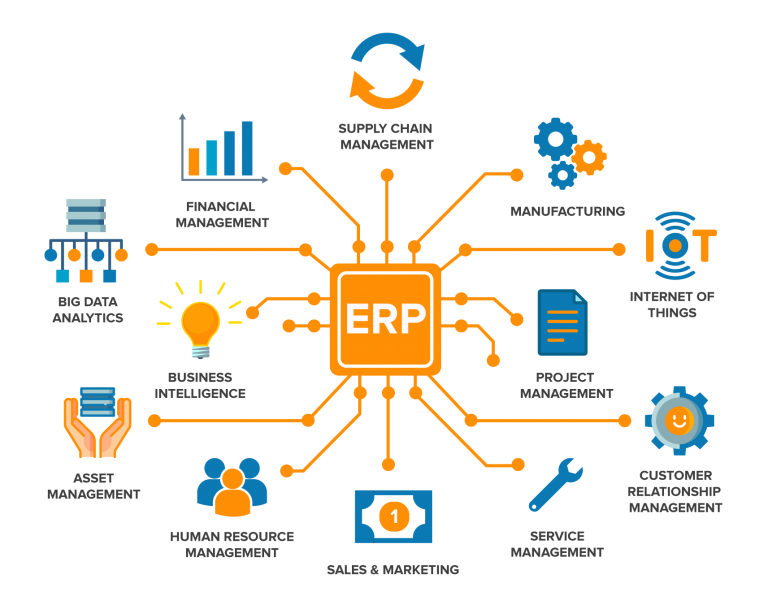 How long does it take to obtain the ERP system's outcomes?
The ERP software might be expensive upfront for small and medium-sized organizations. However, monthly subscription options are available for cloud-based solutions, allowing businesses to access the solution every month.
ITWeb conducted the poll and discovered that firms saw significant benefits in just nine months. In addition, EPR systems have a short payback period. Thus it is worthwhile to invest in them.
Enterprise Resource Planning in India 2022
1. ERPNEXT
Because it is a complete, versatile, and durable system, ERPNEXT is among the most agile softwares available in the market. It is designed to be simple to use and efficient, assisting the organization in achieving its business objectives. This ERP system includes all of the capabilities you need and easily connects with other programs.
ERPNEXT also offers a fourteen-day free trial edition of the software so that you can see how adaptable it is. A new account can also be registered and begin using it in just a few clicks.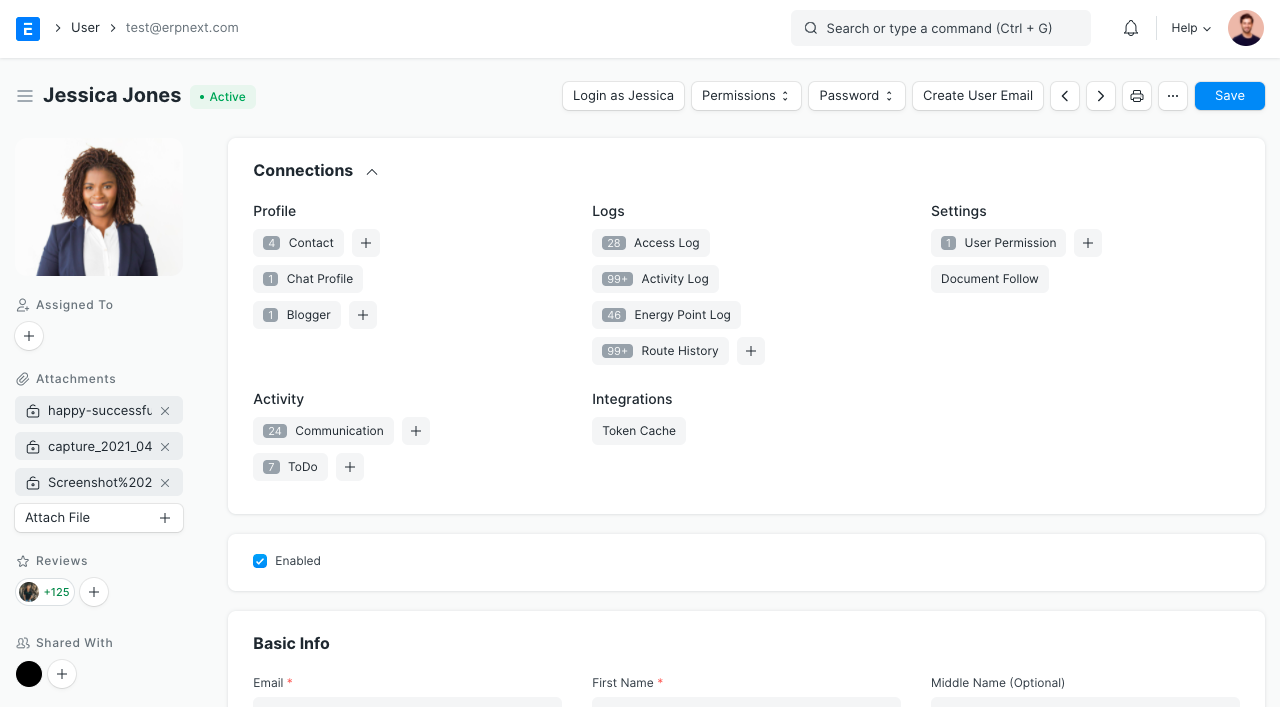 2. Microsoft Dynamics 365 Business Central 
For developing enterprises, it offers cloud-based corporate resource planning software solutions. Manufacturing, project management, sales management, analytics, reporting, operations manager, and many other features are included.
Rushda College Management Software
It is a unique college ERP software with a well-integrated module structure. A user-defined password scheme allows any college to tailor its security features. Furthermore, thanks to its simple interface, you may generate reports whenever you want.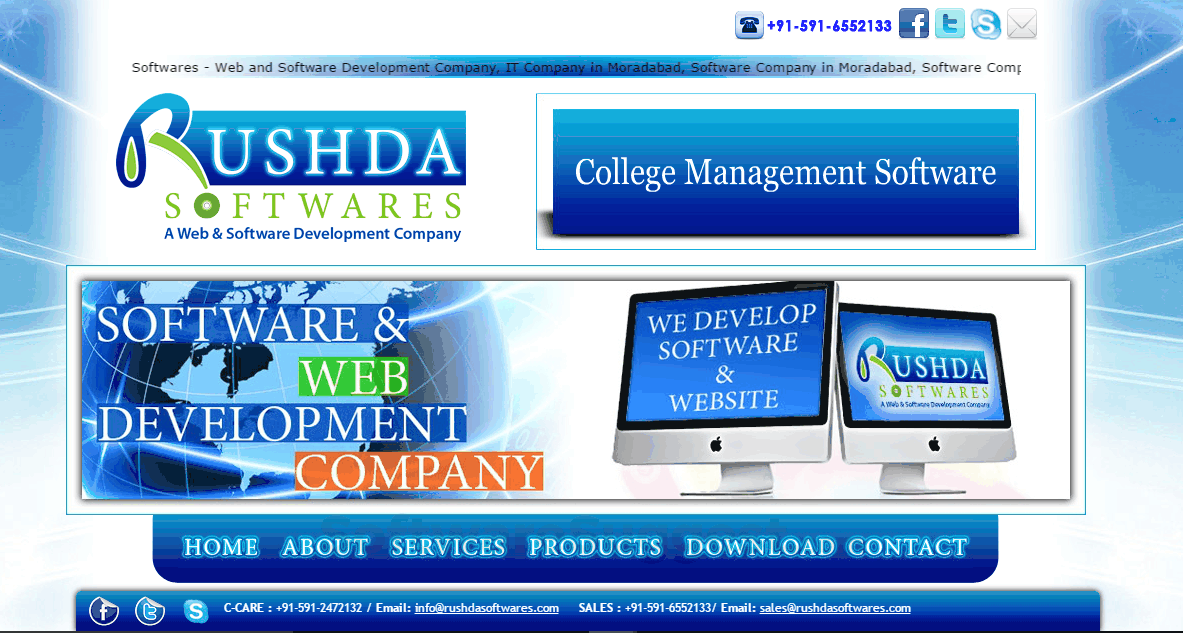 4. Acumatica
Small and mid-sized organizations can use Acumatica's cloud and web business and management software.
The Acumatica ERP solution provides clients with a suite of integrated financial, retail, distribution, manufacturing, construction, project accounting, and CRM applications that are all built on a single cloud-based platform. The company also has an extensive network of global partners and additional applications that users can employ to extend the functionality of Acumatica's products.
5. Oracle NetSuite
Oracle Corporation has purchased NetSuite and is marketing it. NetSuite comprises five suites: ERP, Professional Services Automation, CRM, Human Capital Management, E-Commerce, and NetSuite OneWorld, which allows NetSuite to be implemented in several currencies and manage multiple subsidiaries.
Financial management solutions with built-in business intelligence are available in NetSuite.

Its finance capabilities will reduce cycle times and improve the quality of your planning.

It provides order management tools that make the order to cash process faster.

It has Procurement, Warehouse & Fulfillment, Supply Chain Management, and Production Management features and functionalities.
NetSuite will improve business procedures. It has integrated business intelligence, which mixes data and visual analytics. In addition, it's a highly scalable solution that allows you to add and change features as your company expands effortlessly.
6. Focus 9
A cloud-based system gives your processes more intelligence and simplicity. It's a sophisticated system that aids in transforming and accelerating corporate functions. Organizations can utilize this technology to automate the most critical tasks related to new business development.
It's one of the best ERP systems in India, with all the capabilities you need to innovate. In addition, this software solution may communicate easily with the staff, vendors, and investors.
7. Infor LN™ 
It is a cloud solution that caters to the needs of discrete manufacturers worldwide, giving them the visibility they need to respond rapidly to the customer, supplier, and regulatory demands—all without the need for software changes.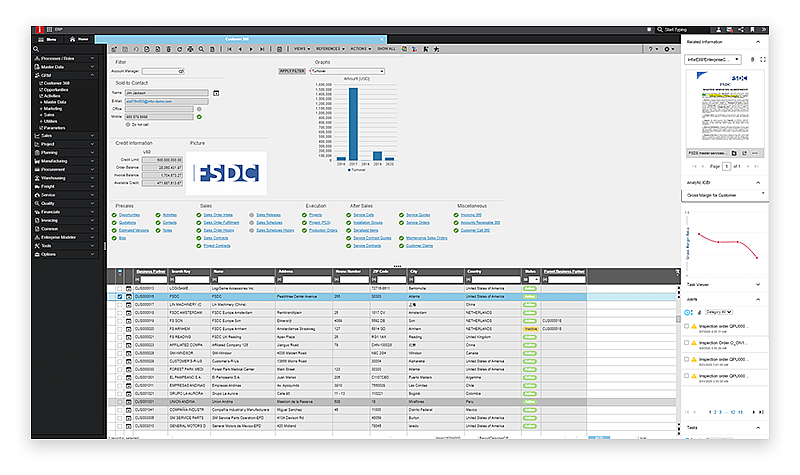 8. Qualsoft eCollege
Not to mention Qualsoft eCollege, one of India's best college software, was conceived and built by a collegium of technical and managerial professionals. It contributes to the development of a learning ecosystem and encourages social learning. Moreover, it fosters learning using audio, videos, and chat in virtual classrooms utilizing the power of current technology.
9. Aptean
Aptean is a global provider of industry-specific software for specialist manufacturers and distributors in 20 countries. ERP, supply chain, product lifecycle, transportation management, warehouse management, manufacturing execution, customer experience, and other solutions from the organization may assist businesses of all sizes in scaling and adapting to industry trends. In addition, Aptean offers cloud and on-premise deployment solutions to satisfy each client's specific requirements.
10. SAP S/4HANA
When it comes to ERP software, SAP is the market leader. SAP solutions are the most extensively used ERPs, accounting for a sizable industry. SAP S/4HANA is SAP's business solution for medium and large businesses. SAP S/4HANA has extensive real-time data processing capabilities and can be installed on-premises, in the cloud, or a hybrid environment.
It includes the HANA (High-Performance Analytic Appliance) in-memory relational database management system, primarily utilized for advanced analytics and data processing.
It offers an in-memory database and a streamlined data model. 

It provides capabilities and best practices for a wide range of sectors.
SAP S/4HANA is an AI-enabled system that offers 100 times better analytics, real-time actionable insights, and simplified data visualization. In addition, it comes with a variety of deployment choices.
Let's take a closer look at each of these ERP developments.
#1 Make decisions based on data Using Analytics and Big Data
Big Data analytics-powered solutions can gather data from various sources and integrate it into comprehensive reports, allowing you to gain more profound and forward-thinking company insights. Because businesses are increasingly likely to make data-driven choices and prioritize forecasts to stay ahead of the competition, investing in ERP solutions that prioritize big data and analytics is critical.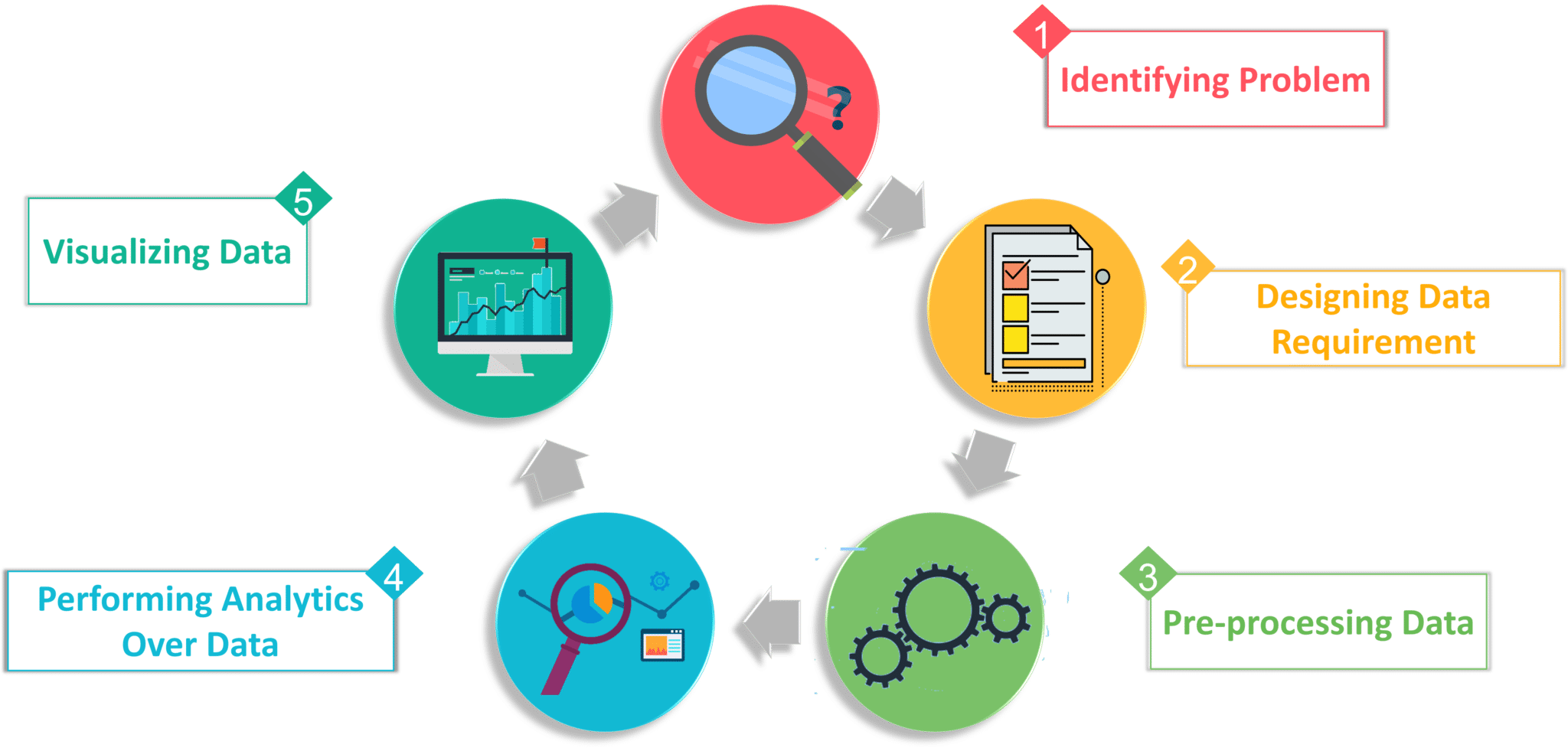 #2 With The Best ERP Platform, You Can Automate & Simplify
Business leaders are increasingly looking forward to implementing best-in-class technologies, such as enhanced automation, across many departments and operations. Manual entries are no longer required thanks to automation, and the team that was previously focused on mundane duties is now free to focus on critical things to the company's survival and growth. ERP automation allows simplified processes, leading to increased production and efficiency. You can be confident that you have the correct information at your fingertips at the right time because all of the information is in one centralized area that can automatically flow across the entire organization and in a simplified manner.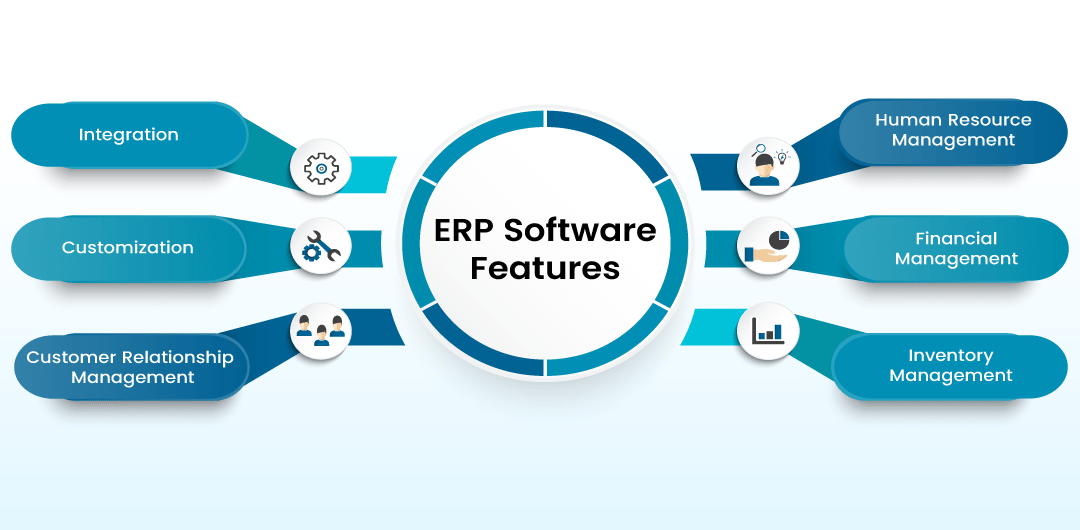 #3 Use Low Code / No Code Applications to Get Things Done Faster
Many ERPs now have low-code/no-code customization options, allowing employees to tailor the program to their specific needs even if they lack technical skills. Gone are when people would wait months to add a function to their ERP. Instead, you can quickly make modifications to your ERP and make it work according to industry standards thanks to the enhanced development flexibility given by minimal code/no code, allowing you to innovate and stand out from the competition.
#4 The Use of Three-Tier ERP Is Increasing
Multi-tier designs, often known as n-tier structures, are becoming more common in ERP software. For example, a three-tier ERP spreads among three or distinct devices in a connected network. The application logic, database, and user interface are kept independently in three networked devices. As a result, three-tier systems are more scalable, fast, secure, adaptable, and durable, and they can incorporate data from numerous sources, making them an ideal choice for developing businesses.
#5 Mobility Will Remain A Game-Changing Factor.
In this competitive environment, ERP mobility is a game-changer for every company. For example, your salesmen may need to contact clients outside of the office, therefore equipping them with the ability to check real-time sales numbers and stock information from their mobile device is critical to closing deals. In addition, employees, suppliers, and stakeholders will benefit from an ERP system responsive to many platforms and devices since it keeps them linked even when they are on the road.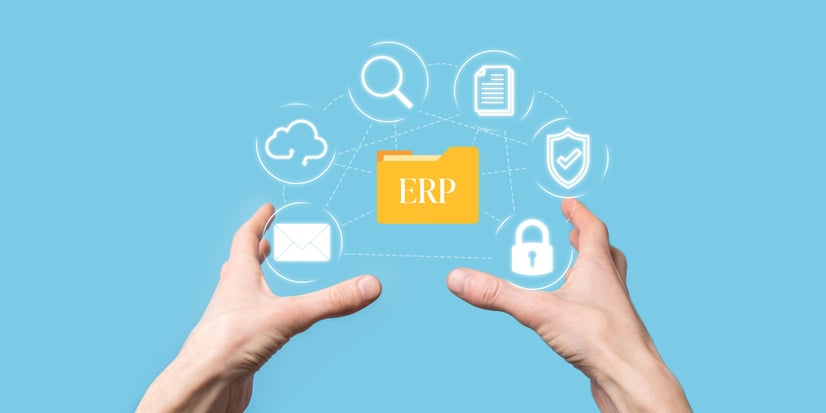 #6 An Uncomplicated Approach to Headless Architecture
Getting several things done through a single interface has long been a popular method. However, in ERP, the headless architecture makes difficult jobs more accessible and dramatically simplifies user experiences. The headless architecture of powered-ERP isolates business logic from data, making it simple to implement task-specific interfaces specifically tailored to provide each end-user with personalized experiences. For example, compared to a sales executive in an organization, a warehouse manager will come across multiple interfaces while accessing ERP but will only have access to select modules based on the activities and requirements.
#7 Internet of Things (IoT) Enabled ERP Systems to Rule 
IoT-enabled ERP systems are becoming increasingly popular in manufacturing and other industries that require fully-automated data collecting. Many characteristics, including raw material shipments, assets, warehouses, and so on, must be watched and tracked 24 hours a day, seven days a week, depending on the type of business. IoT devices put at locations and components that need to be monitored 24 hours a day give data to ERP systems, which collect the data and generate real-time reports for greater visibility and decision-making.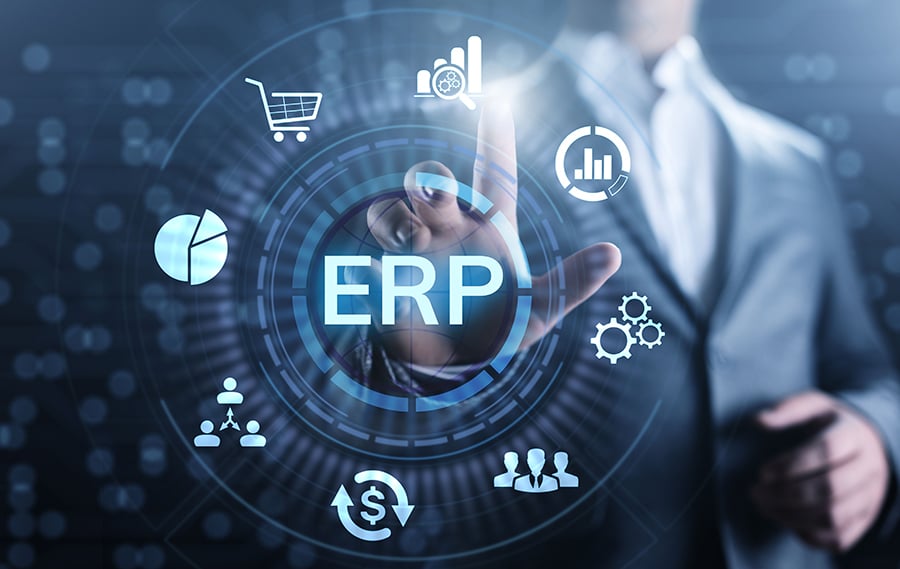 #8 There's a Growing Demand For Healthcare ERP
For a better patient experience, lower operating expenses, and lower overheads, hospitals and healthcare organizations require an integrated system to maintain support services, back-office operations, and core services together. Thanks to new ERP developments, healthcare organizations and multi-specialty hospitals can now improve patient care by keeping doctors, patients, and clinical staff connected in real-time. ERP is also utilized as a database to store safety procedures that assist healthcare firms in adhering to government and industry rules and policies.
#9 Cloud-based ERP Will See The Most Expansion
Cloud ERP software, often known as SaaS ERP software, has been in use for a long time. However, since the pandemic outbreak, businesses have begun to place a greater emphasis on cloud technology due to its ease of adoption, low deployment costs, and better collaboration capabilities. As a result, the demand for cloud-based ERP is increasing since it allows for real-time data access, remote working, and high-end data protection. Furthermore, cloud-based ERP software does not require a significant complex technological infrastructure, upfront investment, or resources. Therefore, it is a good fit for small and medium businesses.
#10 Artificial Intelligence and Machine Learning Will Prevail
Artificial Intelligence (AI) plays a significant role in digitally altering the way ERP runs within enterprises. Artificial Intelligence (AI) plays an important role. Whether it's automating repetitive processes or proactively solving problems, AI can help you reduce inefficiencies and boost productivity in your company. AI uses predictive analytics and hyper-automation to take ERP integration to the next level, resulting in better decision-making and customer experience. FOR EXAMPLE, AI-enabled ERP solutions that use natural language processing, machine learning, and chatbots can help you accomplish your ultimate business goals of lower costs, higher productivity, and better operations.
Article Proofread & Published by Gauri Malhotra