Trends
Top 10 Best Personalized mobile apps in India 2022
Have you noticed a drop in engagement with your app? Do you seem to be losing users by the dozen? Personalize mobile apps is a good idea, and it is getting tiresome to interact with apps generically. Notifications and content that aren't relevant to them are a big part, and it happens all the time. 
Would you use a mobile app that doesn't solve your specific problems or meet your particular needs? It wouldn't make sense. Mobile marketing includes personalization, so make sure you incorporate it into your strategy. Engaging and retaining users will increase.
What Is Personalized Mobile App?
A customizable app lets the user make changes and choose what they want. Real-time personalization is more dynamic than customization, and the goal is to customize the app experience to meet the individual needs of users. Starbucks customers who order soy milk, sugar, and extra foam a latte customize the beverage. Personalized service, however, is when the barista already knows the type of coffee you prefer, and that's what makes it more personalized.
Humans want to feel special; that's just how we are. Feeling understood and having our needs met is extremely important to us. People love personalization for that reason, and it is as if they are the only ones receiving this kind of service. Push notifications, recommendations, suggestions, tips, discounts, special offers, and other personalized mobile features are possible. All of these features can be tailored to the user's preferences.
Top 10 Best Personalized Apps In India 2022
1. ZEDGE Wallpapers & Ringtone
Android users can download Zedge's free ringtones and wallpapers to their smartphones. Additionally, it offers high-quality audio and HD images, so the content is free and high quality.
You can easily use Zedge. Choose a wallpaper, animated background, or notification tone from the menu on the side of the screen to begin. Upon choosing a category, you will find several options and a list of trending songs, sounds, and images. However, you can also search for wallpaper or ringtone in the upper right corner of the app.
It is also great to download and apply the content directly from the app. To put it simply, you do not have to go into the phone's options menu to set the new ringtone or animated wallpaper, as you can do it right from the app and enjoy your new wallpaper immediately.
2. Ultra Junk Cleaner
The Ultra Junk Cleaner gives you a fast, clean phone.
The following are some of the features of Ultra Junk Cleaner: 
Organize your space so you can focus on what's important.

Extend the life of your battery.

Bloatware can hinder productivity.

Fast performance is yours all day.

Using memory cleaner allows you to reserve RAM for critical data. 

Store valuable information on your phone by optimizing the space. Look for and delete redundant files and dormant apps. Let your phone run fast down a clean memory lane!

Clean your phone's cache from every angle. Identify and eliminate bottlenecks. Release space by removing temporary files, application cache, and residual information. Remove bloatware that drains your battery.

Improve the lifespan of your phone's battery with ultra-optimized settings. With advanced cleaning, your phone's battery will last longer.
3. Edge Lighting
Apps edge enables you to access your five most frequently used apps at a glance.
Like Tasks edge, Tasks edge allows you to speed up things a bit for you. Take selfies, create new calendar events, or send a text. These are all apps and functions that you enjoy using most with your phone, and standby mode allows the edge panel to function.
Swipe your finger along the edge to read news updates and weather forecasts in standby mode. Edge lighting illuminates the edged screen when you receive calls or notifications when the screen is facing down. All other contacts or notifications will appear in bright neutral light, while up to five coloured contacts will appear when they get in touch.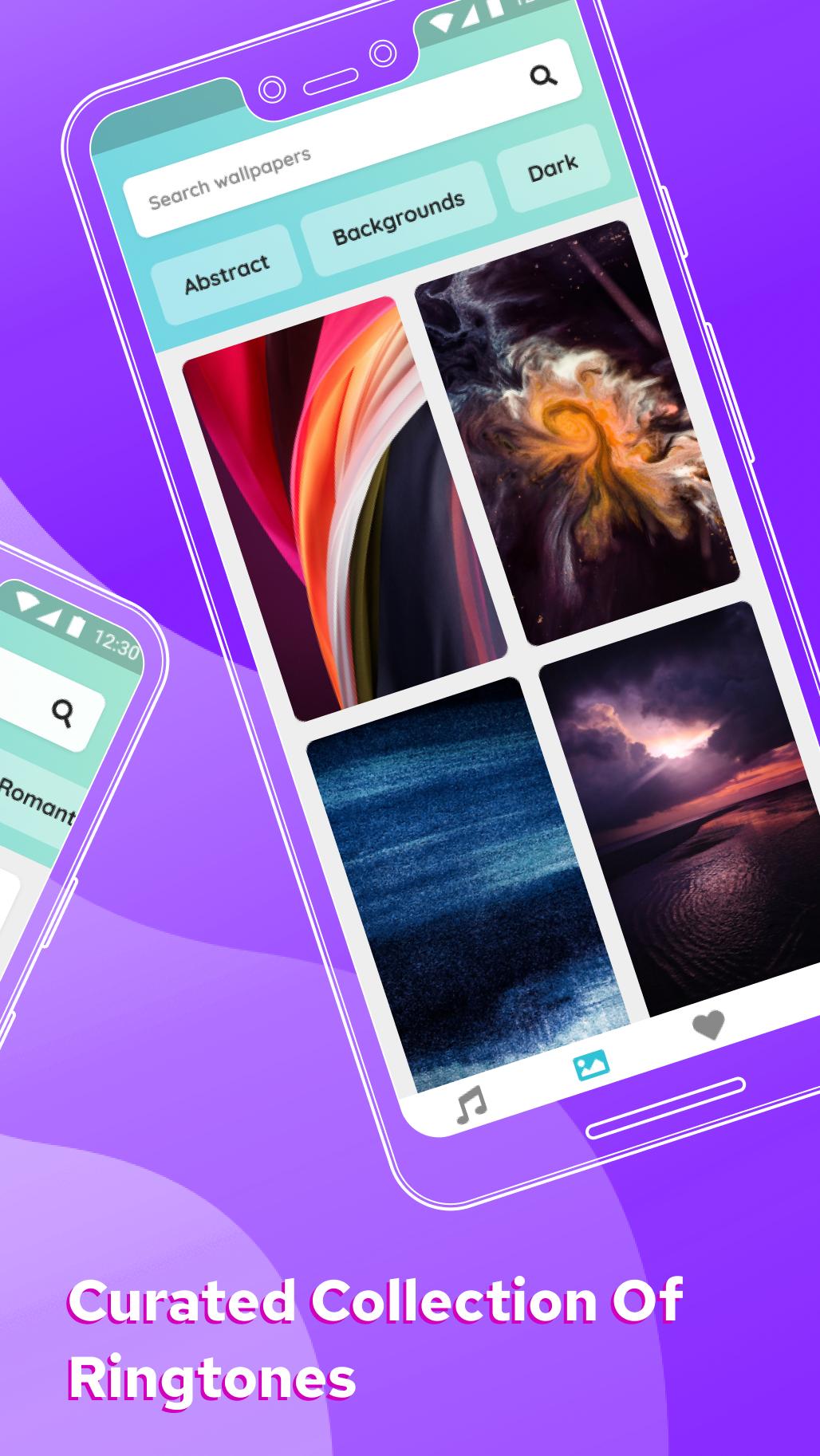 4. MobCup
A developer active in the Android arena since 2013, MobCup has released one app in the Google Play store (MobCup Ringtones & Wallpapers). "Personalization" is the category for MobCup Ringtones & Wallpapers. With more than 5 million downloads, it is also one of the Android apps.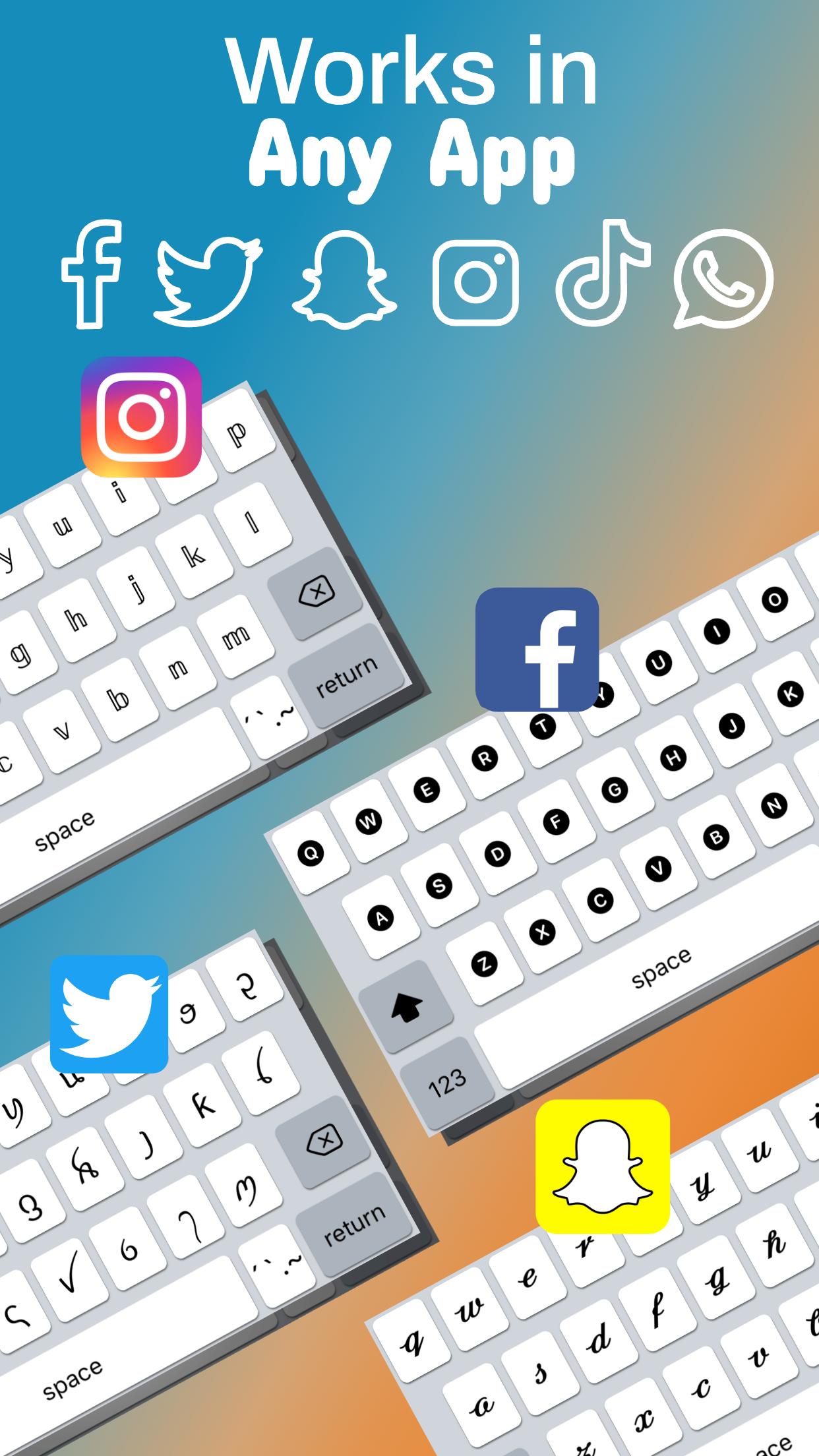 5. Fonts Keyboard
With the most downloaded Fonts keyboard in the world, you can express yourself however you want! Got a gothic feeling?
Are you interested in something more romantic? Are you bold or playful today? Do you want to keep it fancy, or do you want to keep it plain? You're covered with Fonts!
Send excellent texts to your friends or stand out on social media with Fonts. Make a statement!
Fonts keyboard can be used for:
• Text messages
• Social media bios
• Post descriptions
Your imagination is the only limit to your stories!
You can use fonts on Instagram, Snapchat, Facebook, Messenger, Telegram, TikTok, Roblox, WhatsApp, Twitch, Discord, and many other places! Various fonts and symbols are available on the keyboard to be creative while texting: Numerous fonts, stickers, Kaomoji's, and more to choose from! Take your creativity to the next level!
6. GB Version 21.0
This is an application that has similar features to Whatsapp and GB Whatsapp Version 12.0, It helps you get the Whatsapp application. It is a tool for you to download a communication app to stay in touch with your family and friends; we want you to access some exclusive extensions of Gb Whatsapp Plus that are only available through this tool.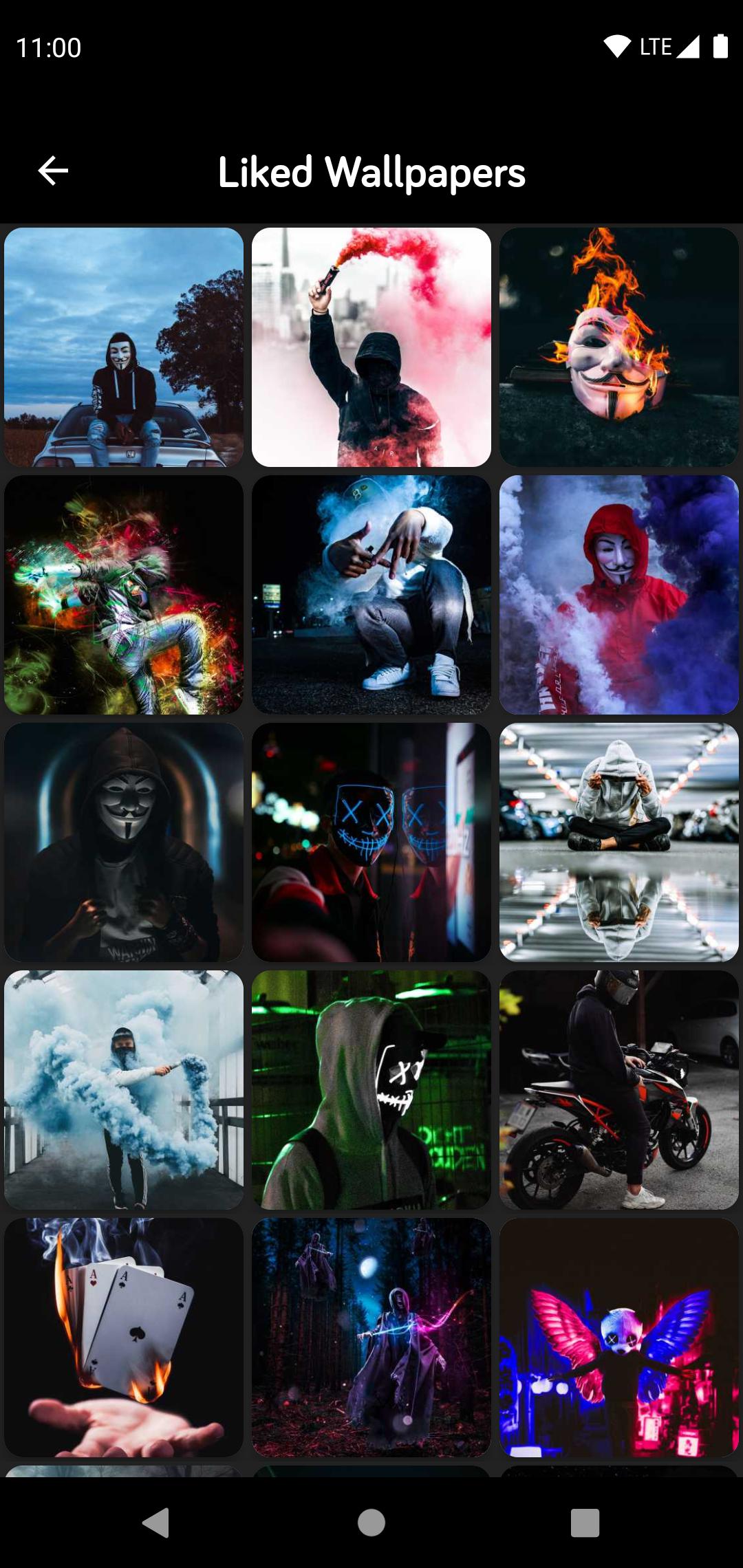 7. Wallpapers HD
Personalize your phone with this application! There are many different backgrounds to choose from! Make your friends jump for joy with 3D wallpapers, live wallpapers, 4K wallpapers, and call screens. Use Wallpapers HD to stand out from the crowd!
8. Photo Lock App
Photos and videos can be hidden entirely for free with Photo Lock App. How personal should your life be? When the Photo Lock app is installed on your smartphone, you don't have to worry about sharing your gallery with friends and family.
The top features:
With the Hide Pictures & Videos feature, your photos and videos will be hidden from others and can only be viewed by entering a numeric PIN or pattern.

Using the safe browser, you can browse the internet and download photos and videos stored secretly within the app. It also allows you to bookmark websites to access them at any time.

Mobile App Lock: Secure social and private apps with a powerful mobile app lock system and fingerprint recognition for compatible devices.

Share to Hide: Using the Photo Lock app, you can directly hide photos and videos from the gallery on your phone or SD card.

Fake Vault: To store faked photos and videos, create a fake vault with a different password.

Stealth Mode (Replace app icon): As the app icon for Photo Lock disappears, a new icon will appear, e.g., News, weather, radio, etc. This app can also be accessed from the Settings/Apps/Photo Lock/Manage Space menu on your phone.

Face Down Lock: When your device faces downward, the app will perform the action you specify. The app can be closed in an emergency, or another app opened.

Fake Cover: Make your app's lock screen unrecognizable to prevent hackers from stealing your password. Fake force close dialogues and fingerprint scanners make the lock screen unrecognizable.

Intruder Selfie: Intruder selfies are taken automatically when someone attempts to break your privacy by entering the wrong password or pattern.

Inbuilt Image Viewer and Video Player: The built-in image viewer displays pictures and slideshow them with transition effects. Play videos with the inbuilt video player on your phone or any media player you have installed.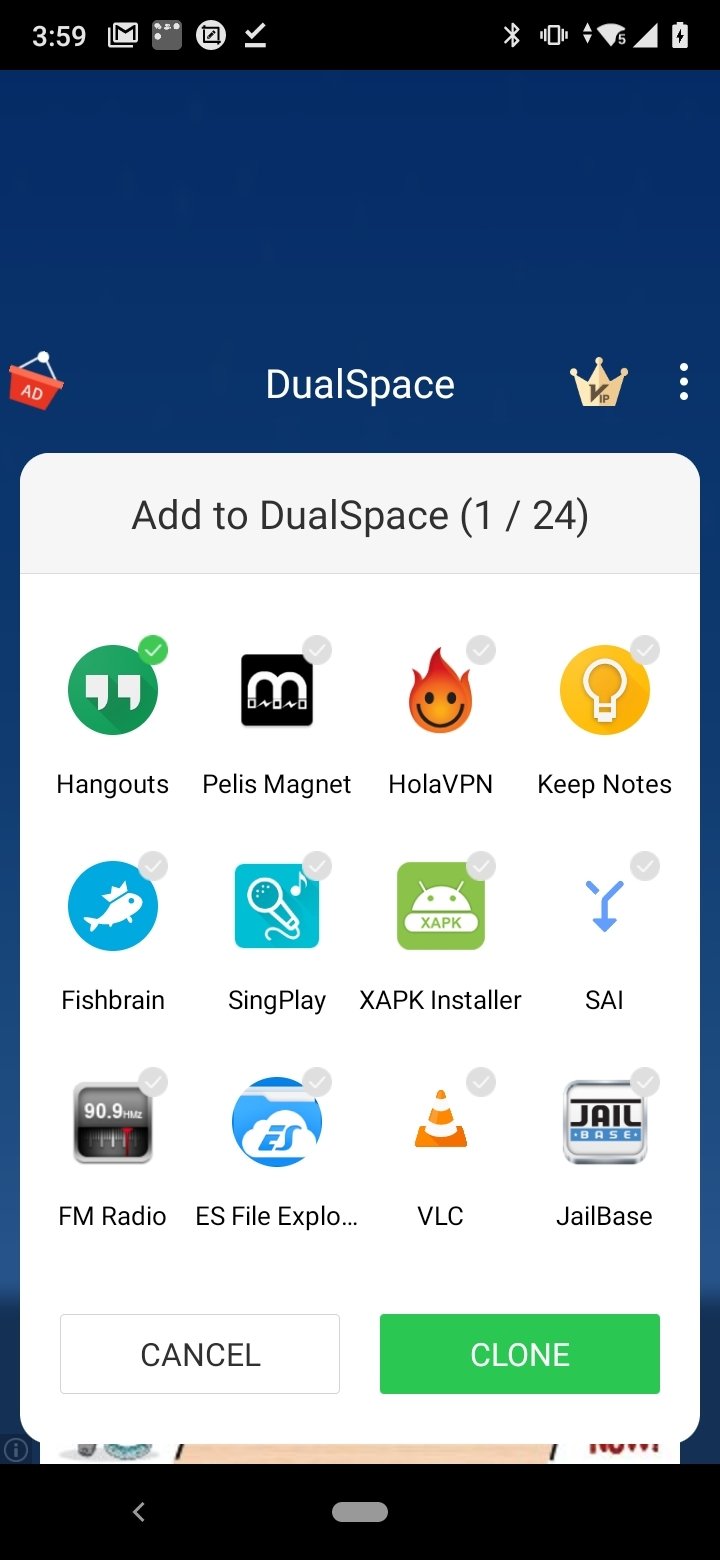 9. Dual space
You can create a secret account if you wish. It will help you maintain a balance between your personal and professional lives. This app is the best for you if you need Parallel space and multiple accounts. You can create your own private space with this app. You can hide your private account with dual space blue, and Double-space protects your privacy.
Parallel space and multiple accounts are two features of Dual Space.
There are no restrictions on social media apps, android apps, or games formats.

Thanks to an easy-to-use interface, users can manage multiple social accounts with ease.

MultiApp Clone: Creates a clone of multi-app maintains & runs in parallel spaces while keeping data private with a passcode Clone app Multiple spaces: Creates an app clone of multi-app maintains & runs in parallel.

Logging into your work and personal accounts simultaneously is possible with parallel accounts.

The app lets you manage multiple social media accounts at once and switch between them quickly.
10. Diamond live wallpaper and an animated keyboard
Combined with stunning graphics and beautiful animations, Diamond Live Wallpaper & Animated Keyboard is the most attractive looking theme available. Watch the cool animations and enjoy the stunning graphics. No installation is required. Using caller screen themes allows users to customize the after call screen in a beautiful, dynamic, and stylish way.
Creating a personalized application offers many benefits
Do you still wonder why mobile personalization is necessary? Check out these benefits:
Knowing what your users like and dislike is one of the keys to growing your app. In addition to collecting data on user behaviour, you can also survey users directly to discover their preferences. 
Knowing your users helps you increase overall app usage and make them stay as long as possible. 
Depending on your app type and goals, you will enhance user awareness in various ways. You can send notifications about up-to-date events, reports, news, etc., to encourage users to return to your app. 
A relevant and valuable set of features, but not too aggressive, are essential for this strategy to succeed. Don't go overboard with these, as this could have the opposite effect. 
App stores are very crowded, with more than 5.23 million apps available in app stores right now. There are many similar apps in the app store; why would anyone download yours? Considering that 75% of users abandon apps after just one day, your app's future doesn't appear very bleak. 
Still, don't give up. Customization is the answer.
You give users more reasons to keep using your app by creating a customized experience for them rather than just ignoring it. Wouldn't you use an app that gives you relevant offers, discounts, or recommendations that are tailored to your needs?
Your app will also stand out from the crowd with personalization. But why? Only 28% of all apps, according to Evergage, are personalized. That's an excellent way to gain an edge over your competition and increase app retention in a crowded market. The Evergage research found that 84% of businesses attribute personalization to the customer experience.
Better Customer Experience
Which app would you prefer as a customer?
Apps offer you generic products and promotions that don't fit your interests.

Your shopping history, interests, and preferences are used to provide products and services tailored to your needs.
That's the second one.
A significant portion of the customer experience is influenced by mobile app personalization. Making things more convenient, easier, quicker, and more convenient for the users is what it does.
35% of users in an eMarketer study want more personalization, according to the study. Listen to what clients have to say if you're going to improve the customer experience. Research conducted by Evergage suggests that 84% of businesses attribute their ability to personalize to customer experience.
More Engagement and Conversions
Everybody knows that an app is just software, not a natural person. In any case, we don't want to feel like a robot is sending us emails. Personalization is the way to go, and it gives them the impression I'm talking to them personally.
They become more engaged as a result. Engaging users will occur when they see relevant and tailor-made content. People will engage when choosing what they want, need, or like. It's as simple as that.
It Can Boost In-App Purchases
Can you explain what happens when you send an offer or discount that is personalized? The likelihood of them making a purchase is much higher, and showing you understand them will lead to them making a purchase.
In this way, you can segment users who left their carts after purchasing something. Personalizing push notifications for these users is a great way to get them to return to the store repeatedly.
Brand loyalty is essential no matter what type of business you run. A loyal customer makes repeat purchases, recommends you to friends, and engages with you frequently. Localytics estimates that they generate 25% more in-app purchases than others. Brand loyalty goes up with a personalized application. Providing users with a tailored experience rewards them with loyalty.
According to Accenture, 33% of consumers abandon businesses because personalization is poor or nonexistent. Focus on mobile personalization if you want your customers to remain loyal to your brand. Personalization increases brand loyalty and revenue as well. According to Gartner, digital businesses will improve profits by 15% through personalization by 2021.
How to Personalize Your Mobile App?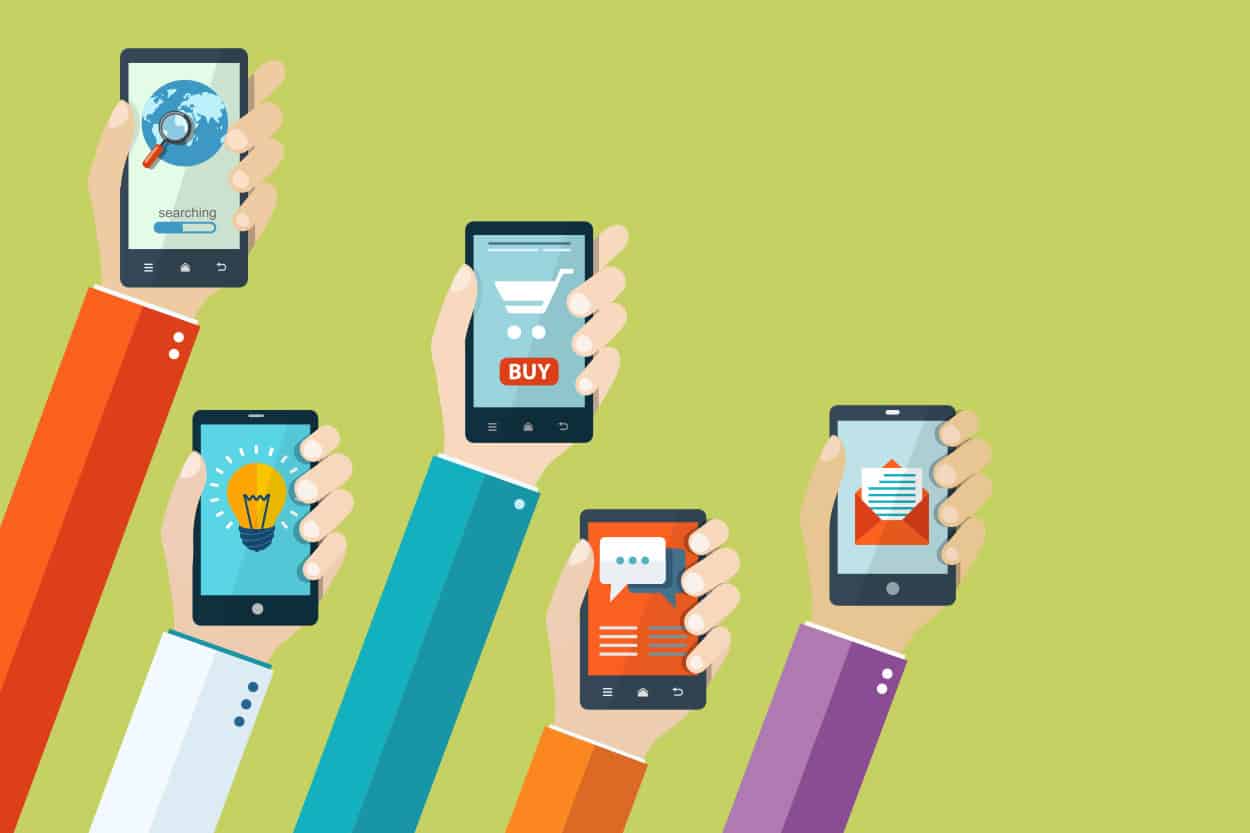 Let's talk about how personalization is done now that you know why it's essential. The process isn't hard to follow.
You must collect user data before you can personalize your app. Thus, you will better understand your users – who they are, what they want, need, and prefer. With a clear understanding of that, you can design a custom experience.
It would help if you collected the following types of data:
Age

Gender

Interests

Profession

Location

When they're using the app

Which devices they're using

User preferences

Likes and dislikes

Purchase history

App activity
Observe patterns that emerge after collecting all the data and divide users into groups. By segmenting users, personalizing the app becomes much more accessible.
According to Responsys, 68% of users receive push notifications.
Make it easy to log into your app by allowing users to use their social media accounts.
Onboarding is made faster and easier with this method since it gives you personalized information and allows for easy personalization.
Personalize Push Notifications
Were you aware that 68% of users are enabled to receive push notifications? The users are not unwilling to interact with the app, and getting them to engage with push notifications is the challenge. Keep things interesting by personalizing notifications based on demographics and behaviour.
Various methods can be used with push notifications. Localization is one method. Several studies show that location-based marketing results in higher profits for 9 out of 10 marketers. The user will get a discount code near the store, so perhaps you can send one when the user is nearby. Another option is to suggest a restaurant they might like nearby. Another option is to inform them of severe weather in the area.
A reminder can be sent if they have not used the app for a while. Tips can be sent according to their interests. Maybe you'll send them a notification about a sale with their favourite shoes. There are so many possibilities. Personalized push notifications are helpful for any app.
Please keep in mind that the users must choose to receive them. They should also be able to opt out easily. People shouldn't feel harassed.
Personalize In-App Messages
While users are using an app, they receive in-app messages instead of push notifications. It is essential that you personalize these messages as well.
Addressing each user by their name is a simple way to personalize in-app messages. Although it's a simple gesture, it does make a difference. A milestone may also be triggered whenever a user completes an activity within your app. The product recommendations can be based on the customer's interests, needs, purchase history, etc. Did you notice the user did not purchase anything? Give them free shipping as an incentive to buy.
49% of people purchased after getting a personalized recommendation, according to Segment's study.
It would be best to tailor in-app messages to each user no matter your approach. This is a great idea.
Respect the privacy of the Users
Lastly, it is essential to note that users' privacy is critical. According to studies, users are generally willing to provide data to get more personalized services. 57% of people are ready to trade personal data for personalized offers, according to a study conducted by Salesforce.
In a Statista survey, 48% of consumers agree that businesses create customized recommendations based on their purchase history. However, they would like the option to opt-in or out at their discretion.
As a general rule, people accept collecting their data in exchange for personalized services. However, it would help if you didn't abuse that trust. Communicate the types of data you collect and how they are being used.
Notifications work the same way. Avoid going overboard. It doesn't mean you should spam them 50 times a day because they've enabled push notifications even if the reports are personalized, and you'll lose them quickly.
To Sum-Up on Mobile App Personalization

Customizing an app is no longer sufficient. The user wants content that will make them feel heard and respected. Your main goal is to provide them with a customized experience in your app, and they will appreciate the ease of use and utility of the app. The result will be a higher engagement rate, customer retention, and brand loyalty.
edited and proofread by nikita sharma