Trends
Zomato Pays A Fine Of ₹8,362, After It fails To Deliver Order To Delhi University Student
Recently, a student from Kerala ordered food through Zomato but did not receive either the order or the reimbursement for the food. In addition, the student stated that he placed two separate orders on the same night and did not receive either of them.
Zomato, a food delivery company and one-stop food service, has to pay ₹8,362 as compensation after it was unsuccessful in delivering the said order to a customer. Recently, a student from Kerala ordered food through Zomato but did not receive either the order or the reimbursement for the food. In addition, the student stated that he placed two separate orders on the same night and did not receive either of them.
Now, the Kerala consumer court has ordered the delivery company to pay ₹8,362 as compensation to the student. According to a Bar and Bench report, a law student filed a case against the company. The student reportedly mentioned that the service company did not refund the money. 
Zomato Foundation
Founded by Pankaj Chaddah and Deepinder Goyal, until November 2010, Zomato was known as "Foodiebay". Once, they saw their colleagues looking for the menus of various restaurants to order food. That's when the idea was born, and they thought of converting these manual menus into a digital format. In 2012, Zomato spread its wings worldwide and started listing the number of restaurants in the market.
Before UrbanSpoon entered the market, Zomato found its feet and is now present in 22 countries with more than a million restaurants worldwide, taking 1.25 million orders daily. Users can share reviews, share their opinions and allow users to create stories based on their food experiences. This initiative makes Zomato more social. More than 1 million users in 22 countries, including Australia and New Zealand. Now, Zomato allows them to get food right at their doorstep without any hassle using their mobile food ordering device.
As a result of conversion to a public limited company under the Companies Act, 2013, by a special resolution passed by the shareholders on 5 April 2021 and a fresh memorandum of association dated 9 April 2021 issued by the RoC, the name of the company has been changed to Zomato Limited. The company's technology platform connects customers, restaurant and delivery partners, and other intermediaries such as call center operators, to serve their diverse needs.
The customer orders the food from the website. In turn, the company provides restaurant partners with industry marketing tools to acquire customers. It also operates an end-to-end purchasing solution, Hyperpure, which supplies high-quality ingredients to restaurant partners. The company provides supplier partners with transparent and flexible earning options. In addition, the company has also contracted with a global data management system service provider to primarily host payments for payments and store data.
In addition to business-to-business (B2B) and Hyperpure, the company has two main business-to-customer (B2C) offers – food delivery and Dining-out. The Company has achieved the following milestones and listed key events over the years as listed below: In 2011, the Company raised its first institutional fund. In 2015, the Company started food delivery in India. In 2016, the Company launched table reservations.
In 2017, the Company currently launched Zomato Pro's customer membership program. In 2018, the company added hyperlocal delivery platform capability with the acquisition of Carthero Technologies Private Limited. In 2018, the Company was awarded the Technology Fast 50 Winner by Deloitte Touche Tohmatsu India LLP INCA Technology/Application of the Year by the National Restaurant Association of India.
How Does Zomato Work?
Zomato has been growing rapidly since 2008 and is one of the most successful start-ups in India. Zomato's main task is to suggest local and nearby restaurants to users and take orders from them. Users can order from their favorite restaurants based on ratings and reviews shared by previous customers.
Perhaps this is the reason why more and more start-up owners are interested in developing a Zomato-like app. It offers users convenience and helps business owners take their local food business to new heights. Zomato's workflow is simple; let's see how consumers can enjoy a delicious meal within minutes.
From the desiccated application solution or website, users can explore various restaurants and order meals.
Specific restaurant owners receive the order request and start preparing the food.

Once the food is ready for shipment, it will be handed over to the suppliers.

Delivery providers deliver the food to the customer's preferred location.

Payments can be done via various modes.
Value Proposition
Zomato is the perfect online platform that allows users to order food online from a wide range of nearby options. We can say that Zomato is bridging the gap between restaurant owners and consumers. After placing an order, users can track their orders in real time with an estimated arrival time. With advanced search and filtering options, customers can place orders without any hassle. Zomato's Gold service comes with additional benefits.
Since its inception, Zomato has strengthened its presence in the grocery market globally. Zomato has generated a lot of revenue streams and some of them are given below which will help you to understand in detail how the company earns huge profits due to its business model and diversification.
Ads on Zomato – Advertisements are one of the trusted and major sources of revenue for the company, as it offers an advertising policy to restaurants that want to maximize their profits.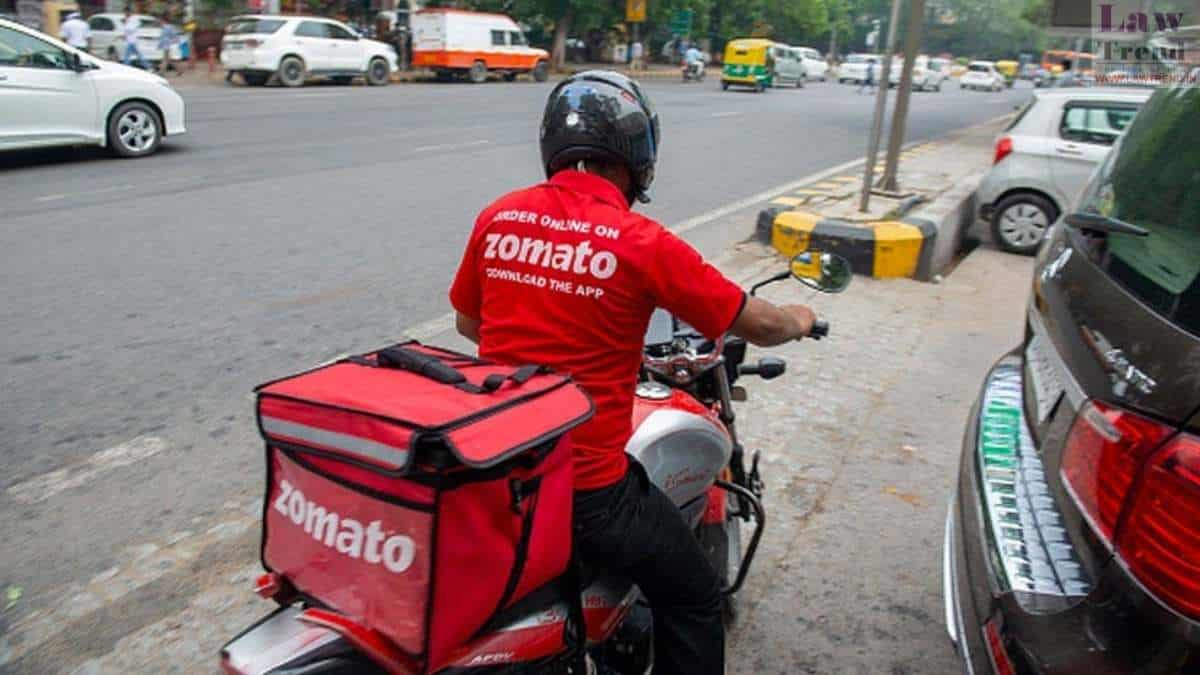 Zomato subscription – The app can predict user behavior like what they are looking for, what they are not looking for, which food is trending, which food is more in demand, etc. Restaurant owners have to pay a certain amount to the company in exchange for this information. Based on this, they can improve their services and meet customer expectations.
Zomato Food Delivery Services – The firm charges a 20-25% commission from a particular restaurant for every order placed. 
Event organization Zomato – In collaboration with some restaurants, the company organizes several events like Christmas Eve, New Year's Eve, or any other events to promote sales. People who want to attend these events must purchase tickets.
The boy, Krishnan, was not present to take his order, According to the company. Besides, the delivery service claimed there was a problem with Krishnan's address and the company told him to correct his address in the app. In his complaint, Krishnan mentioned that he spoke to the owner of the restaurant and mentioned that the company indulges in similar malpractices during peak hours or rainy seasons.
Therefore, Krishnan sought a refund of the amount and compensation of ₹1.5 lakh as well as ₹10,000 as legal costs. After examining his documents, the Kollam District Court ordered Zomato to pay a total of ₹8,362 to Krishnan.
Edited by Prakriti Arora