Stories
18 Founders Who Were Fired From Their Own Businesses
18 Founders Who Were Fired From Their Own Businesses
One of the most appealing aspects of entrepreneurship is the ability to work for yourself. However, you rarely work for yourself in reality, especially if your firm is profitable. Your employer becomes your board of directors, shareholders, and investors, which implies you may be fired from the firm you founded at some point.
Imagine being the company's creator. You start from the ground up, work like a dog, deal with all sorts of problems before progressing to the next level, and one day someone says that you are fired from your own company.
Just because you started your firm doesn't guarantee you'll always be in charge. You're no longer the only one running the business, whether you've gone public or have a powerful board of directors, and you've got to start taking others into account. Unfortunately, several well-known innovators and entrepreneurs have discovered this the hard way, with their businesses being ripped out from under them.
When you first establish a business, you expect to take it to the top and beyond. However, Sometimes, the organization needs to be led by someone with more experience. Other times, it's because your firm's vision is at odds with the direction it's taking. And there are occasions when you commit too many errors.
It's a tough time to be a business owner right now. When things go wrong, entrepreneurs who have been rewarded for taking chances and following their instincts are frequently given pink slips. Social media outbursts and viral videos are becoming sufficient grounds for removing CEOs from the firms they fought to build. Influence and reputation are essential in corporate governance, especially at public companies. An unfavorable public opinion of a company's leader might have significant financial consequences. A disappointing quarter or a public relations blunder can drive shareholders on a hunt for the culprits, and the buck often stops where it started in the first place.
From Steve Jobs' historic firing at Apple to Travis Kalanick's ouster at Uber, let's look at some other examples of being forced out of their businesses and what they're doing now, what happened to their innovations, and how their stock has done since they left.
Also check: How To Optimize Your Investment Returns!
Steve Jobs, Apple
While Steve Jobs was noted for his humor and intelligence, his short temper was also well-known, to the point where it cost him his position as CEO. In the 1980s, Apple's board of directors deemed Jobs too young and temperamental to lead the firm, so Jobs hired John Sculley, a former PepsiCo executive. After many differences and arguments, Sculley persuaded the board to fire Jobs in 1985. Jobs was rehired by the business when it acquired his startup, NeXT, just a decade later.
Steve Jobs, Founder of Apple
Steve Jobs was thrown out of the firm he established before helping it become one of the most successful in the world. He would later return to Apple and eventually become their know-it-all. According to Steve Jobs, getting fired from Apple was the best thing ever to happen to him.
Until Jobs returned, Apple lost market share and became a niche company on the verge of going out of business. His return ushered in the era of the iPod, iPhone, and iPad, which have helped Apple grow into a behemoth with a market capitalization of more than $555 billion.
Jack Dorsey, Twitter
Jack Dorsey, Evan Williams, Biz Stone, and Noah Glass started Twitter in 2006. Dorsey was named CEO in the early days of the company. Still, it wasn't long before complaints about his lousy management style, lack of communication with board members, and failure to solve the company's continuously malfunctioning servers arose.
Jack Dorsey, founder of Twitter
However, rumor's that Dorsey was spending more time learning about his hobbies of fashion design and yoga than running Twitter led to his ouster in 2008 by co-founder Evan Williams, who was also the company's key investor and chairman.
On the other hand, Dorsey bounced back, returning to Twitter in 2011 as Executive Chairman. He was also successful as Square, Inc., a mobile payment startup.
Noah Glass, Twitter
Noah Glass, founder of Twitter
One of Twitter's co-founders, Noah Glass, is credited with coining the term "Twitter." But he's also the co-founder who goes unmentioned.
It's because, in 2006, he was fired from the corporation. In 2011, Glass told Business Insider that being removed from Twitter's history was challenging at first.
Glass eventually understood, however, that the company's history isn't always about the individual founders but rather about the actual product. He is currently seeking to keep a low profile. His Twitter bio reads, "I started this."
About seven years after they removed Glass, Twitter went public on Nov. 7, 2013. The social network platform has had several high-profile management changes during its history, and none of its co-founders are now in charge.
Travis Kalanick, Uber
Travis Kalanick, founder of Uber
Uber Technologies Inc's founder and CEO Travis Kalanick resigned in 2017 after several high-profile sexual harassment allegations surfaced. Kalanick founded the ride-hailing app Uber in 2009 and valued the company at $70 billion by 2017.
The globe watched as more and more Uber controversies unfolded during 2017. The list goes on and on, from sexual harassment charges to self-driving car mishaps and Google litigation. Kalanick was urged to resign in 2017, so the company could begin to recover its tarnished reputation after cultivating a company culture notorious for frat boys and out-of-control parties. Despite stepping down as CEO, Kalanick remained on the company's board of directors.
Andrew Mason, Groupon
Andrew Mason, founder of Groupon
Follow Andrew Mason's lead if you want to create a lasting impression on your firm. Mason is now regarded as one of the best CEO resignation letters ever written. Mason saw Groupon's revenue grow from $600 million in 2006 to over $800 million in 2010.
Mason has recently published 'Hardly Working,' a seven-song album of encouraging business music. On the other hand, Groupon has struggled to achieve consistent revenue growth. The company made several acquisitions, including flash-fashion store Ideal and LivingSocial's Ticket Monster business in South Korea.
Groupon went public after passing down a 5.3 billion dollar takeover offer from Google. However, as the stock price dropped to $2.93, everyone realized something needed to be done. When Mason was sacked in 2013, he made such modifications.
Also check: GST – Does It Benefit The Common Man?
Jerry Yang, Yahoo
Jerry Yang, founder of Yahoo
You could thank Yahoo.com founder Jerry Yang if you arrived here from Yahoo.com. The internet directory was launched in 1994 by Yang and co-founder David Filo. During the 2000s, Yang benefited from Yahoo's meteoric rise, which saw the company's market valuation reach roughly $22 billion.
After refusing a takeover offer from Microsoft in 2008, Yahoo co-founder Jerry Yang stepped down as CEO and returned to his previous position of "chief Yahoo." On the other hand, Yang only resigned from the company four years later when its stockholders wanted to sell it — a decision Yang strongly opposed.
After Yang's departure, the C-suite was in disarray. Carol Bartz took his place, and Scott Thompson took his position soon.
Yahoo's stock soared about 9% the day after Yang was fired. His exit effectively put a floor under the long-suffering store, though shares mostly drifted sideways until late 2012, when they began to rise. The last time they quoted them, it was $34.65.
David Neeleman, JetBlue
David Neeleman, founder of JetBlue
On May 10, 2007, David Neeleman, the creator of JetBlue JBLU, +4.14%, was fired as CEO three months after the airline canceled 1,700 flights and stranded 130,00 passengers in a winter storm on the east coast. The mishap cost the airline $22 million, bringing the airline's two-year losing streak to an end.
Currently, Neeleman is the CEO of Azul Brazilian Airlines, which he started in 2008.
JetBlue, like most American airlines, struggled during the financial crisis of 2008-2009 but has subsequently thrived and flourished as a low-cost carrier.
Following Neeleman's departure, stock prices temporarily increased, but the recession hit hard. While they've recovered since then, they're still roughly 25 cents a share below when Neeleman left.
Mark Eberhard, Tesla
Mark Eberhard, founder of Tesla
While many people believe Elon Musk is the brains behind Tesla's environmentally friendly premium car line, the company's founder is Martin Eberhard. Eberhard co-founded Tesla in 2003 and was its CEO until 2007, when Musk, who was only chairman, sacked him. Following a board meeting in which Eberhard was not present, Musk called him to inform him that he would no longer be the company's CEO. Eberhard couldn't be fired because the secret meeting broke the company's bylaws, so he was promoted to president of technology, a position with little authority or oversight.
Tesla went public on June 29, 2010, 212 years after Eberhard was removed from power. Since then, the firm has become a popular momentum stock, and Musk promotes the company and his many projects on TV and in print daily.
Tesla is currently trading at over $230 per share, nearly 14 times its $17 IPO price.
Also check: 3 Steps to Creating a Profitable Business Idea
Rob Kalin, Etsy
Rob Kalin, founder of Etsy
Rob Kalin founded Esty.com in 2005 stepped down from his position as CEO in 2008, three years after they created the company. Maria Thomas, National Public Radio's senior vice president for digital media, was hired to take over. Two years later, Kalin reclaimed control of the company and reclaimed his CEO title. As he tried to scale the company, the corporation quickly fired Kalin. Chad Dickerson, the company's CTO, took Kalin's post.
Dov Charney, American Apparel
Dov Charney, founder of American Apparel
The collapse of American Apparel's Dov Charney was similarly sensational and well-publicized as that of Uber's Travis Kalanick. Charney was fired from the organization in 2014 due to inappropriate behavior and misconduct. Eventually, graphic evidence of Charney's sexual misconduct surfaced, as did ongoing talk within the organization, leading to his dismissal. After he was sacked, the firm kept him on as a consultant, but it wasn't long before Charney was fired for good after his failed attempt to purchase back majority ownership of the company.
The stock of American Apparel surged to 22% after the news broke on Thursday but has subsequently lost most of its gains. They were recently trading at 67 cents a share, up 5%.
George Zimmer, Men's Wearhouse

George Zimmer, founder of Men's Wearhouse
A co-founder of Men's Wearhouse, George Zimmer, did not leave the company on good terms. Zimmer was sacked from the corporation in 2013, claiming that the board of directors did not properly listen to his concerns. Zimmer, on the other hand, refrained from endorsing the firm's CEO, a post he had vacated two years earlier, and instead advocated for drastic reforms that would benefit him and allow him to reclaim control of the company, according to a statement made by the company.
Men's Wearhouse has forged ahead without its primary spokesman, completing a successful deal for smaller rival Jos A. Bank Clothiers Inc. this week. Since Zimmer's departure, Men's Wearhouse stock has increased by 50%.
Aubrey McClendon, Chesapeake Energy

Aubrey McClendon, founder of Chesapeake Energy
McClendon, who created Chesapeake Energy in 1982, was briefly the highest-paid CEO. Over his 20 years of employment, he was an extraordinarily successful leader of his company, bringing in at least a 20% return on investment.
All of that changed when his stockholders revolted, opposing his company's course. McClendon resigned as chairman in 2012 as a result of the uprising. He agreed to resign as CEO in 2013 after being accused of self-dealing and unethical business activities.
Mike Lazaridis and Jim Balsillie, Blackberry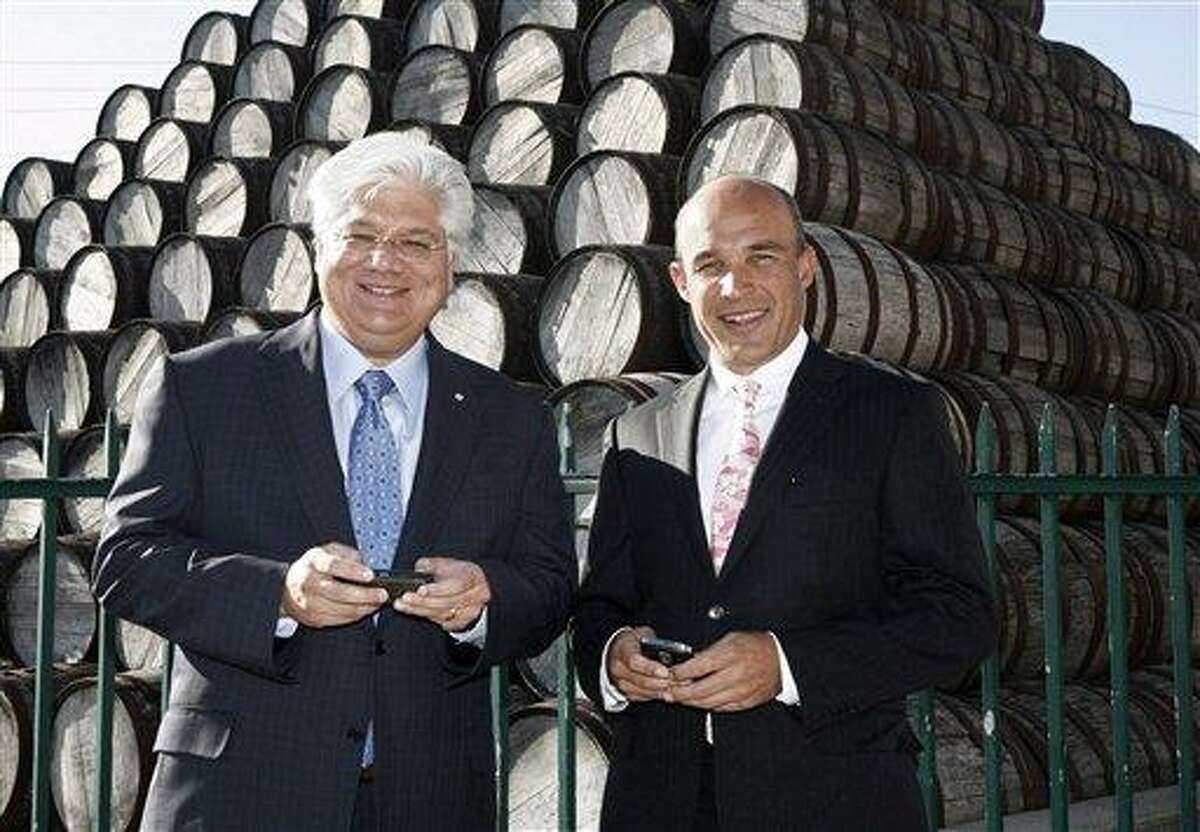 Mike Lazaridis and Jim Balsillie, founders of Blackberry
Mike Lazaridis and Jim Balsillie, the founders of Research In Motion Ltd US: BBRY, were fired in 2012 January as part of a management shake-up after the faltering Blackberry maker lost market share to Apple and devices using Google's Android software. After months of shareholder pressure and a dramatic reduction in BlackBerry brand sales in the United States, the CEOs stepped down.
Since the founders' dismissal, Research In Motion, now BlackBerry Ltd., has struggled to recoup market dominance and keep up with competitors, with recent product releases falling flat. New CEO John S. Chen has attempted to minimize costs and concentrate on software and services rather than phone sales to increase revenue. The company startled investors earlier this week by declaring a modest profit for the most recent quarter, despite revenue falling 69 percent. Since the founders were fired, the stock has dropped by half.
Sandy Lerner, Cisco
Sandy Lerner, founder of Cisco
Sandy Lerner, one of Cisco's co-founders, has left the company after losing control to a management group led by Sequoia Capital's Don Valentine, the company's early investor.
She was sacked from Cisco shortly after the company went public in 1990. Cisco is now valued at over $140 billion.
In an article for Inc Magazine, Lerner wrote that she was too naive when she accepted Valentine's $2.6 million investment for a 30% stake in the company because Valentine was the one who fired her.
Mark Pincus, Zynga
Mark Pincus, founder of Zynga
Don Mattrick's term as CEO of Zynga came to an end less than two years after assuming the position when he was succeeded by Mark Pincus, the company's co-founder, and former CEO. Pincus' reign was contentious, so he was immediately demoted from his position as CEO.
While Pincus was fired as CEO, he retained his chairmanship. However, when Mattrick could not boost its profitability, the corporation turned to its prior CEO for help.
Chip Wilson, lululemon
Chip Wilson, founder of lululemon
After an inspired yoga lesson on the beach in Vancouver, B.C., Chip Wilson founded lululemon in 1998. With stores designed to act as community centers for healthy living, the firm has cornered the market on "athleisure" gear.
Wilson has made several incredibly insensitive and unpleasant remarks, including support for child labor. He told the National Post Business Magazine that he chose the company's bizarre name to make it difficult for Japanese speakers to pronounce it, adding, "It's hilarious to see them try to say it." "Frankly, some women's bodies just don't truly work [for yoga pants]," Wilson remarked when customers complained that the company's Luon yoga trousers were see-through. Wilson stepped down as non-executive chairman in 2013 December; however, he remains on the lululemon board of directors.
Also check: The road to 5G in India is full of challenges
Sean Rad, Tinder
Sean Rad, founder of Tinder
Rad was fired in 2014 after co-founder, and former VP of marketing Whitney Wolfe made a very public sexual harassment claim. She sued Tinder, claiming that her former lover, CMO Justin Mateen, had stripped her position as co-founder due to her gender and had publicly dubbed her a slut and a whore.
Rad, accused of ignoring Wolfe's complaints, is also mentioned in the lawsuit for informing Wolfe that she had to accept the decision or face termination. Chris Payne, a senior executive at eBay and Microsoft, was brought over Tinder. Still, Rad returned as CEO of Tinder only five months after losing his previous position.
Sachin Bansal & Binny Bansal, Flipkart
Sachin Bansal & Binny Bansal, founder of Flipkart
Flipkart was established by Sachin Bansal and Binny Bansal in 2007. During the Walmart purchase talks in 2018, Sachin Bansal had a falling out with the Flipkart Board of Directors. After selling his whole stake for more than a billion dollars, he quit. Binny Bansal was fired from his position as CEO months after Sachin Bansal was fired for personal reasons.
Conclusion
It's never easy to be fired, especially when you hire the people who fired you. Careers at the C-level are typically binary—you're either in or out. For founders, personal shortcomings and political fighting at all levels tend to become important news stories. Winners don't always return, but they usually shake it off and move on to something else.