Stories
Ghaziabad-Delhi border will be sealed again from midnight as Ghaziabad witnesses increase in Covid-19 cases.
Given the increasing cases of coronavirus in the district, once again on the lines of lockdown 2, the administration has decided to seal the Delhi-Ghaziabad border. Under this, the Delhi border will be sealed from midnight on Monday. The administration has admitted that due to movement in Delhi, there has been an increase in coronavirus cases in the district. Due to this, on the recommendation of the Chief Medical Officer, District Magistrate Ajay Shankar Pandey has decided to seal the Delhi border. The movement in Delhi has been banned from today with some relaxations.
District Magistrate Ajay Shankar Pandey said that there has been an increase in coronavirus positive cases in the district in the last few days. A large proportion of these increased cases are related to those traveling between Ghaziabad-Delhi. Therefore, based on the recommendation of Chief Medical Officer Ghaziabad, the district administration has decided to seal the Delhi-Ghaziabad border as before. With this, a decision has been taken to implement the rules more strictly for hotspot areas in the district.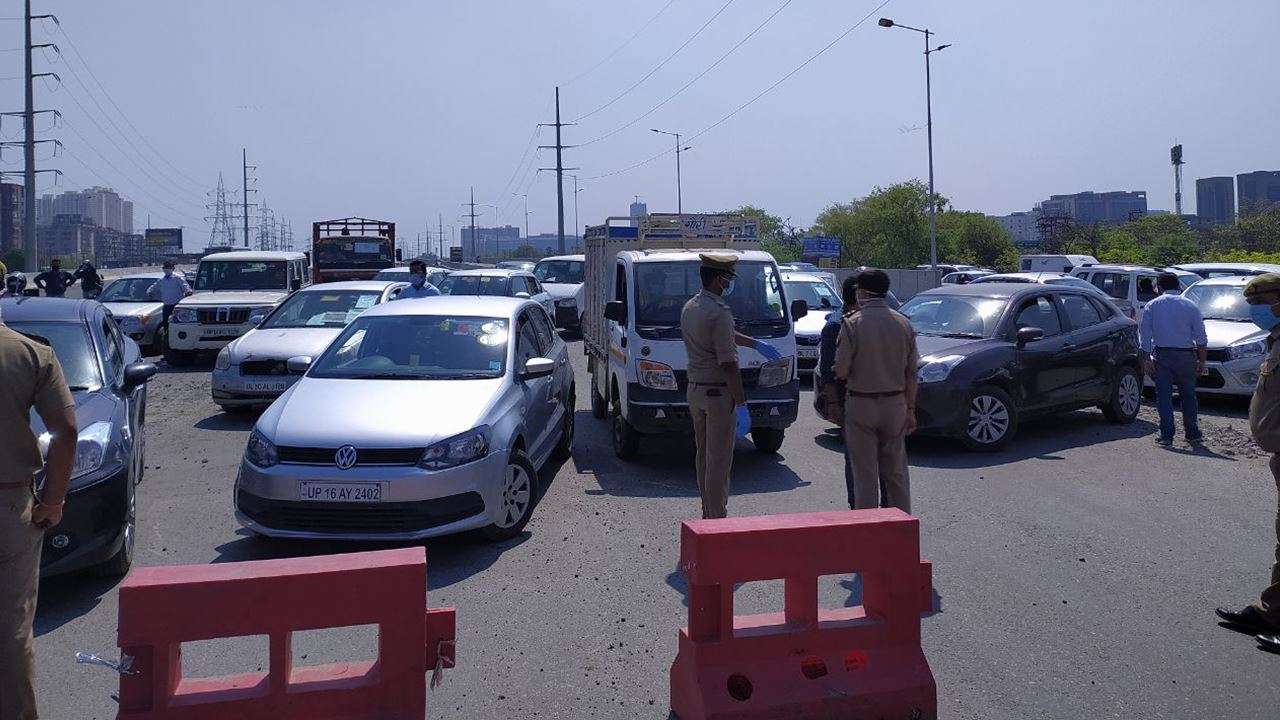 These instructions will be followed in the border seal.
Vehicles varying from heavy vehicles like trucks, vehicles connected with banking facilities, and vehicles associated with essential goods and medicines will be allowed to enter the border without any pass and inquiry.
No pass will be required for doctors, paramedical staff, police, bank personnel, these people will carry their identity cards, this identity card will be recognized.
The ambulance can travel without any interruption.
The Deputy Secretary and officers working above this position in the Government of India who goes from Ghaziabad to Delhi, only need to show their Identity Cards. By giving recognition to these identity cards, there will be relaxation in traffic
A large number of third and fourth class government employees live in the district, who work in Delhi Government, Government of India and various offices. For such government employees, there is a directive to attend the offices, setting a limit of 33 percent, but its compliance is not being ensured.

This category of employees is in thousands, and they want to travel based on permanent identity cards issued by their respective offices. The administration has appealed to issue separate passes for such employees by their offices within the limit of 33 percent. These passes can be on a daily or weekly basis. Officers and employees of this level will not be allowed to travel based on only the identity card without any separate pass.

For the prevention of Covid-19, the pass issued at the competent level to employees and officers on duty (water supply, electricity, sanitation, medical) will be recognized by offices in various districts of Government of India and Government of Delhi. Till the pass cannot be issued, only the identity card issued by his office will be recognized. It will be necessary to inform the various offices of the Government of India and the Government of Delhi that a limited number of passes will be issued as per the guidelines of the Government of India.
Media personnel only need to show their authorized identity cards. Recognizing these credentials will provide relaxation in traffic.

Apart from this, in special circumstances, if a pass is issued from any competent level of the Central or Delhi Government, then it will be given full recognition.

Most of the offices working in the Delhi Government and Central Government are scheduled from 9 AM to 6 PM. Therefore, the officers and employees working in Delhi Government and Central Government should keep the identity card and the passers-by 9 a.m. for Delhi from Ghaziabad border. Similarly, they will be given admission in the district only after six pm after the completion of work. Workers in different shifts and essential services will be exempted from this arrangement.
Advocates going to various courts of Delhi will be given the recognition of travel by showing identity cards.
Persons coming from Delhi's hotspot area will be completely banned from entering Ghaziabad.
The entry of people coming from any area, including Delhi, will be completely banned in the hotspot area declared in the district. Similarly, people going out of the hotspot area of ​​the district will also be completely banned from leaving essential goods and services.